Bitcoin Cash Price Prediction as Grayscale's SEC Lawsuit Ruling Sends BCH Soaring – What's Going On?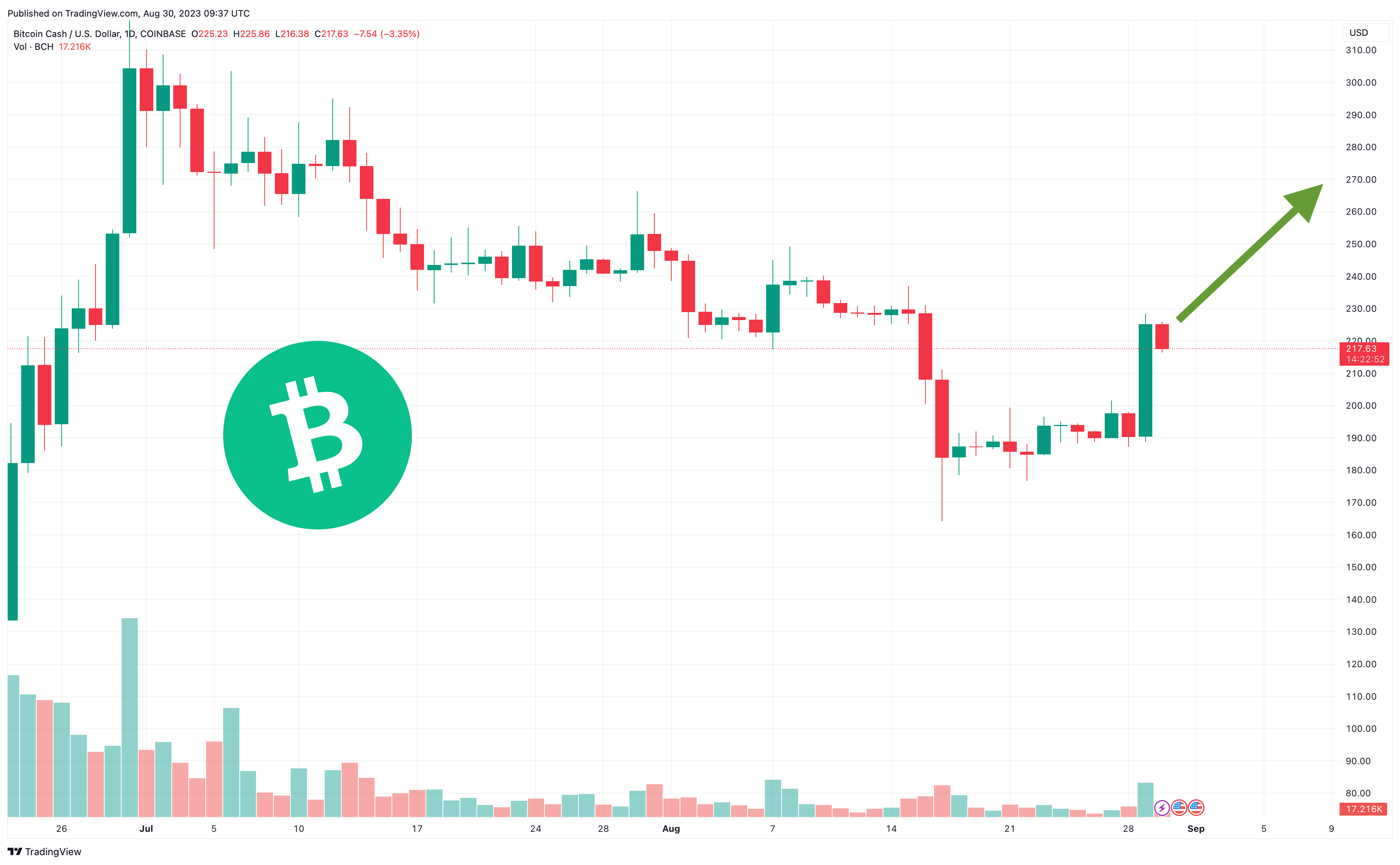 The Bitcoin Cash price has risen by 15% in the past 24 hours, with its jump to $219.44 following yesterday's news that Grayscale has won a court appeal against the Securities and Exchange Commission.
Grayscale's victory now means that the SEC has to re-review Grayscale's application for a spot-based Bitcoin ETF, a development which has given a boost not only to BTC, but to BTC-related tokens such as Bitcoin Cash (BCH), Bitcoin SV (BSV) and Stacks (STX).
BCH is now up by 17% in the past week, with the altcoin also having risen by 128% since the beginning of the year.
And with the increasing probability of a spot BTC ETF, there arises the possibility that a BCH ETF could follow not long afterwards.
Bitcoin Cash Price Prediction as Grayscale's SEC Lawsuit Ruling Sends BCH Soaring – What's Going On?
BCH's technical indicators reflect yesterday's surge, with the coin's relative strength index (purple) jumping from under 40 to almost 60 in a few hours, signalling the increase in momentum.
At the same time, BCH's price has soared above its 30-day (yellow) and 200-day (blue) averages, which again indicates rising momentum.
What's promising about these movements is that they have really only just begun, meaning that Bitcoin Cash still has more space left to rise before it becomes overbought and in need of a downwards correction.
With its support level (green) rising strongly, it will be interesting to see if the coin can break through its current resistance level (red), which stands at around $253.
If it does, then further sustained rises could follow, although it's hard to say just how sustained they could be.
This uncertainty stems from the fact that BCH's rally today has been caused by news that doesn't directly relate to it, with Grayscale's successful appeal relating specifically to Bitcoin (BTC).
Still, the acceptance of spot BTC exchange-traded funds would potentially pave the way for BCH ETFs, something which would undoubtedly provide a massive boost to BCH.
Yet so far there's no real indication that institutions such as Grayscale and BlackRock are much interested in launching Bitcoin Cash-based ETFs, so it would be premature to assume that BCH will continue benefitting strongly from yesterday's news and the implications of this news.
As such, it's possible that BCH may rise to $250 in the next few weeks, and potentially back up to $300 if a Bitcoin ETF is ultimately accepted, but it's hard to see it rising much further without having some news specifically of its own to celebrate.
Incoming Altcoins With Incoming Rallies
As an alternative to BCH and other tokens that may (or may not) indirectly benefit from Bitcoin's successes, some traders may consider newer altcoins that look ready to rally in the near future.
Of course, while rallies can usually never predicted, this isn't necessarily the case with presale tokens, which do often rally significantly when they list on exchanges for the first time.
This is something that could happen with Sonik Coin (SONIK), an ERC-20 meme token that has raised more than $750,000 since beginning its sale earlier in the month.
Basing itself and its memes on the Sonic the Hedgehog franchise, SONIK has a distinctively playful and edgy character that has helped it attract investors and supporters since emerging on the scene only a few weeks ago.
It will have a total maximum supply of 299,792,458,000 (which happens to be the speed of light in mm/s), and is aiming to become the fastest coin to hit a market cap of $100 million.
Encouragingly, 50% of its supply has been reserved for its presale and another 40% is being kept for staking rewards, with the remaining 10% going towards liquidity.
This makes it a highly decentralized meme token, meaning that, in contrast to many other new meme coins launched this year, it has reduced exposure to large selloffs from single holders.
So combined with its brash stylings, it has all of the ingredients to succeed as a meme token, with new investors able to join the presale by visiting the coin's official website.
However, buyers have only a week left if they want to buy SONIK at a discounted price, since the token will be listing on exchanges as soon as the sale ends.
Disclaimer: Crypto is a high-risk asset class. This article is provided for informational purposes and does not constitute investment advice. You could lose all of your capital.
---