Bitcoin All-Time High: What Is Peak Bitcoin Anyway?
All eyes are on bitcoin (BTC), as investors take bets on whether the flagship cryptocurrency has enough gas in the tank to reach a new all-time high (ATH) in this cycle. Incidentally, that threshold means different things to different people and companies, depending on who you ask.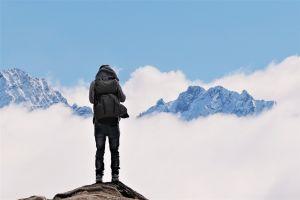 The all-time high ranges from below USD 20,000 to above that psychologically important level in the most bullish of record books. At last check, the BTC price is hovering at USD 19,303 on CoinMarketCap. And while it has taken the leading cryptocurrency three years to near this milestone, the ambiguity surrounding its peak price is a reminder of the nascent nature of the industry.
If you want to learn the all-time high for the Dow Jones Industrial Average, you will find that it reached a peak of 30,000 today. The historical data is not contested, as the index is managed by the S&P Dow Jones Indices. Bitcoin, however, doesn't belong to any centralized entity, which makes it trickier to establish precise market data.
Let's take a few examples where not only the all-time price differs but also the day on which the record price was reached. On Coinpaprika, a crypto market research platform, BTC reached a high of USD 20,089 on December 17, 2017. Meanwhile, over at CoinGecko, bitcoin peaked at USD 19,665 on December 16, 2017. Binance-owned CoinMarketCap has the bitcoin ATH at USD 20,089 reached on December 17, 2017. Wikipedia says that the BTC price peaked on December 17 at USD 19,783.06.
Sophisticated trader Eric Wall, Chief Investment Officer at Oslo-based crypto hedge fund Arcane Assets, isn't letting the semantics get him down.
"Hard question because each exchange has a different ATH. The Wikipedia one is from the Coindesk price index and it works fine [in my opinion]," he told Cryptonews.com.
Meanwhile, it's not just the crypto market data providers that have discrepancies in their data. Popular trader, known as CryptoGainz on Twitter, told Cryptonews.com,
"ATH is dependent on exchange lol. Last time price was so inefficient, [different] exchanges had [different] prices and [different] currencies denominating BTC had [different] prices when converted to USD".
Indeed, crypto exchanges have their own versions of bitcoin's all-time high price, the most eye-popping of which is BitMEX, which, according to Twitter account IamNomad, had BTC trading near USD 50,000 for a few minutes in 2017. According to IamNomad, "chart systems like TradingView remove outliers that distort the chart enough."
Mati Greenspan, who is at the helm of Quantum Economics, pointed out in a recent newsletter that it's not just bitcoin nearing record levels, as a bunch of altcoins are also trading close to all-time highs not seen since 2018. Greenspan described a scenario in which some traders, including himself, are taking profits in BTC and redirecting those funds into altcoins. One altcoin that has been soaring of late is XRP, which is up 118% in the past seven days.
He also observed the nuances in bitcoin's all-time high price, saying that it's "different depending on what chart you're looking at." He provides a range of USD 19,666 to USD 20,155, with Bitstamp at the low end and eToro at the high end.
"So if and when we do see that new high will actually be quite subjective," Greenspan added.
Given the speed at which the bitcoin price has broken through resistance levels lately, it could reach a new all-time high at any moment, whatever that might actually be. When it happens, be prepared for an onslaught of data.
___
Other reactions:
___
Learn more:
This Is The Main Story in Bitcoin Now According to Pantera Capital CEO
3.4m Bitcoin Available As BlackRock's CIO Says BTC to Replace Gold
New Bitcoin Narrative Targets Multitrillion Bond Market
___
(This article was updated at 17:00 UTC to add the latest data on a new Dow peak.)
---