BitApp24 Review - Scam or Legitimate Trading Software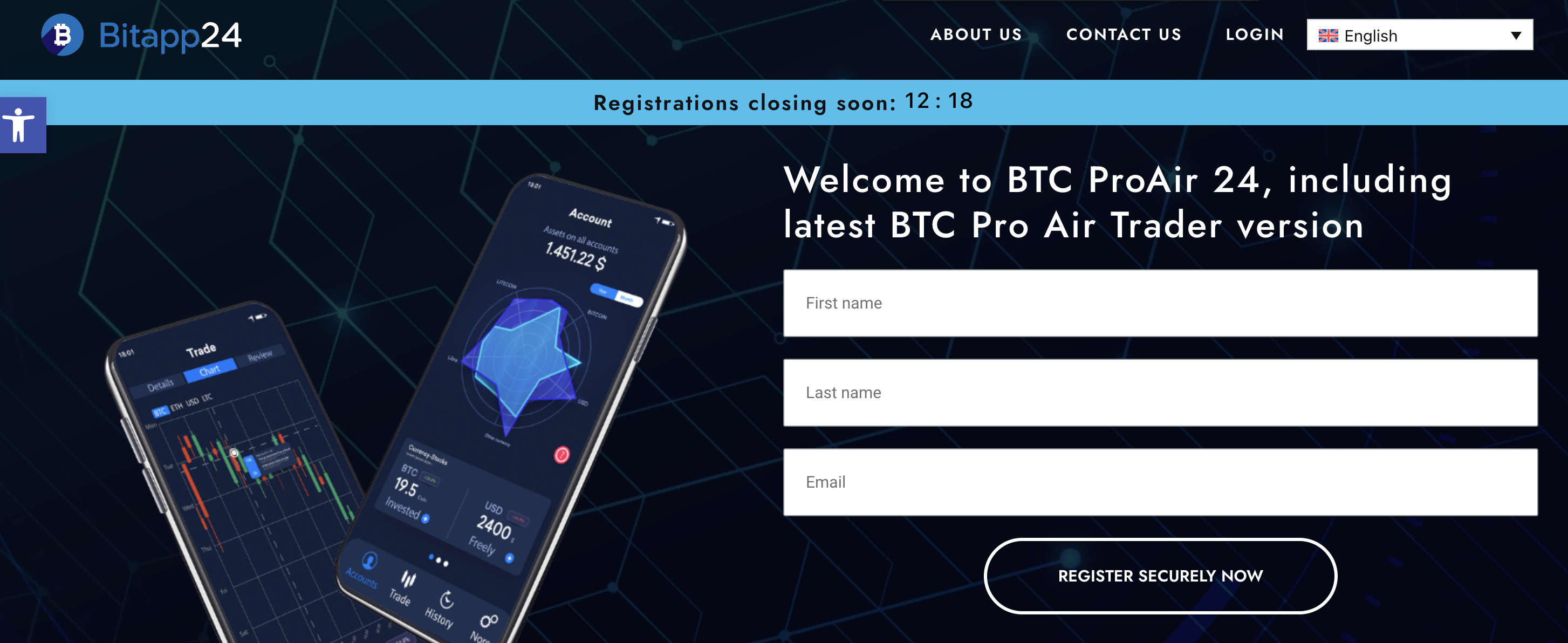 Disclaimer: The text below is an advertorial article that is not part of Cryptonews.com editorial content
BitApp24 is a trending crypto trading platform that recently released its latest version, BTC Pro Air Trader, or 'BTC ProAir 24'. It advertises AI-enabled features that deliver a more sustainable ROI for traders.
Does BTC ProAir 24 really work however? Our BitApp24 review assesses all the claims of the website and its latest upgraded software version.
BitApp24 Summary
According to the BitApp24 website, its platform is 100% autonomous, focusing only on hands-free trading features backed by smart trading technology. But before we assess these claims, here are the key points to know about it:
| | |
| --- | --- |
| Supported Crypto | Multiple cryptocurrencies |
| Claimed Success Rate | No specifics available |
| Available on Mobile? | No mobile app is available |
| Fees | No fee details |
| Customer Support | Accessible to registered users |
| Withdrawal Speed | Claims to be instant |
| Minimum deposit | $250 |
Cryptocurrencies are unregulated. Trading with unregulated brokers will not qualify for investor protection
What is BitApp24?
BitApp24 is an automated trading platform that claims to stand out from the rest with its sophisticated algorithms that can quickly detect market movements, allowing investors to enter and exit trades at precise points in order to make gains when the market is volatile.
Claiming to leverage the thrilling space of crypto trading, BitApp24 states that its AI-enabled tools are capable of turning people into "instant millionaires". Helping with this endeavor are simple UI and intuitive trading tools that let investors make changes to the trading bot before investing.
"Beginners can grasp the mechanics of the crypto markets", BitApp24 states, and experienced traders can eliminate emotions from trading, allowing them to set the right trading strategies before investing.
However, there is no information online to verify these claims. Third-party reviews are rare, and customer testimonials outside the platform are none to be found. Therefore, we recommend exercising caution when trading. It is a key aspect to pay attention to since a deposit of $250 is required to get access to this platform's trading facilities.
BitApp24 Pros and Cons
BitApp24 is very limited in terms of information provided in its marketing copy. But we found the following pros and cons upon reading what was available:
Pros:
AI-supported trading facilities
Emotion-free trading
Claims to implement smart trading technologies
Simple sign-up process
Cons
The website's content is not well-detailed
No information is available about the founders of the platform
A deposit of $250 is necessary to start trading
How Does BitApp24 Work?
From the content available on the website, we gathered that BitApp24 works the same way as other AI crypto trading bots. If that's the case, it would involve the following three steps:
Adjustment to the trading system - Once a user creates an account, they may adjust the stop loss and take profit settings in order to dive into the AI-enabled trading systems.
Market analysis and pattern recognition - The trading system may then scan the market for the latest price action and compare it with the historical data to recognize repeated patterns
Trade execution - BitApp24 may then look for intra-day lows to buy an asset and intra-day highs to sell it based on the preset conditions in order to generate gains for investors.
This ideal approach can help investors generate profits even under volatile market conditions. However, care must be taken since crypto investments never guarantee profits.
BTC Pro Air Trader Key Features
Listed below are some of key features advertised on the BitApp24 site:
Fast Registration Process
BitApp24 has done away with the complex registration process, the site claims. The sign-up button is accessible through all the devices and only requires users to enter key details.
Support for Multiple Cryptocurrencies
The BTC ProAir 24 version of BitApp24 reportedly supports multiple cryptocurrencies. This approach is helpful for those who seek to keep their investment diversified. However, the app hasn't listed the name of all the cryptocurrencies it supports.
Quick Trading Signals
BitApp24 claims that it also delivers quick trading signals to the trading system to act upon. It states that it uses advanced mathematical algorithms to establish repeatable patterns to generate these signals.
Automatic Order Management
BitApp24 claims that it centralizes all the buy and sell orders to ensure that they are attuned to an investor's trading requirements. This approach would ensure that the investors are only focusing on assets they are interested in.
Cryptocurrencies are unregulated. Trading with unregulated brokers will not qualify for investor protection
BitApp24 Account fees
BitApp24 hasn't provided any fee details on the official website. There is no mention of a transaction fee, an account fee, or a deposit fee. However, make sure to talk to the customer support team to confirm. Some third-party reviews have stated that BitApp24 doesn't exactly have a fee-free structure as the website's copy portrays it to be.
BitApp24 Minimum Deposit
Like most crypto trading platforms that we have covered in the past, BitApp24 also requires a minimum deposit of $250. According to the website, this amount is used by the onboarded trading systems to buy assets.
BitApp24 Compatible Devices
We opened BitApp24 on multiple devices and found it to be working optimally on all fronts. Whether we used desktop, laptop, tablet, or mobile. the website's content was clearly visible to us. The buttons were also interactable, and the sign-up process can be initiated on any of them. However, we can only give this review on how the website looks and not on how the platform works.
Is BitApp24 a Scam?
Based on the limited information provided by BitApp24, can we conclude that it is a scam? The answer to this question is not as cut and dry.
On the negative side, we saw many aspects of the website that came across as red flags. The site's content, for example, is very vague. It has repeated many of the same aspects over the entire page, which doesn't allow people to look deeper into the app's functionality.
There is also no information available on the makers of the website. Even third-party review sites don't say anything about them other than the fact that they are traders and software experts.
The third reason is the lack of independent audits available. There is no way to test the platform without making the minimum deposit, as the demo trading account is locked behind a deposit requirement.
Another reason is the lack of historical data to support any of the site's claims. Adding to these issues is the confusion around the site's name. Throughout the content, BitApp24 has been addressed differently. In some instances, it is known as Bitcoin Pro Air 24. In others, it is Bitcoin App 24. It has also been portrayed as 24 XBT in one instance. This adds another layer of ambiguity around this platform.
On the flip side, however, the site is responsive, looks good on all devices, and loads quickly. The sign-up process is also simplified, and it makes no big claims about its win rate.
This gives us a mixed image of what this platform can and cannot do. Therefore, we recommend only investing the minimum amount when starting and increasing the investments only after you've confirmed that it meets your requirements.
BitApp24 Customer Support
While there is mention of 24/7 customer support, it is only meant for registered users. Registered users can reach out to the customer team through multiple modes - live chat, phone, and email. The site also claims that it is always ready to answer all queries that customers might have.
How to use BitApp24?
Here are the steps to follow to start using BitApp24:
Step 1 - Visit the BitApp24 Website
Go to the official BitApp24 website to start the registration process. Enter your name, phone number, and email to proceed. An account manager will reach out to you, or you will receive an email to verify your identity.
Step 2 - Make the Minimum Deposit
Deposit the minimum required amount, which is $250, using the options available on the platform.
Step 3 - Start Trading on BitApp24
Once you've funded your account, start trading on BitApp24. Make sure to invest only the minimum amount, and remember to assess your risk tolerance before investing.
How to Delete a BitApp24 Account?
While there is no information available online about how one can delete their BitApp24 account, there are a couple of things you can try:
Talk to the customer support team - Reach out to the customer support representative and request them to close your account.
Go to the settings and manually terminate your account - Go to your dashboard and navigate to settings. Find the "terminate account" button, click it, fill out the form, and follow the on-screen steps.
Is BitApp24 Endorsed by Celebrities and Big Brands?
BitApp24 hasn't been endorsed by any celebrity or big brands. Hardly any third-party website has talked about it, and the platform itself has not made any such claims. If you come across such rumors, it is best to ignore them and instead focus on what the site is capable of doing.
Who is the Founder of BitApp24?
The About Us page of the website does not talk about any team. Only third-party sites have touched on them, and even they aren't thorough or clear about this information. It is likely that the team is anonymous. While there is nothing wrong with it, since crypto trading is rooted in anonymity, this year has seen the demand for transparency rising. That makes the lack of information around the team to be a red flag.
Latest Bitcoin News
Here are the key updates about Bitcoin for the week ending on 24th September 2023:
Bitcoin momentarily blew past its $27k resistance before moving down slightly. While the breakout didn't persist for long, bulls are trying to take action.
The US Federal Reserve reported a loss of $100 billion, which has contributed to the recent bullish action around Bitcoin.
The current volatility has seen many exiting the market and moving to low-cap crypto assets that have gone live on Uniswap or investing in crypto presales for high upside potential.
The Verdict
BitApp24 says that it uses AI-enabled technologies to help investors buy and sell crypto without being directly involved with the market. While it does not make any large claims about its win rate, it also does not tell how it works either.
There is no info about this site on social media. No one knows who is running the website, and there is no historical data or a free demo trading account to assess the site. Therefore, tread carefully when using this trading software. Diversify your investments by not relying on a single trading platform and hedge market risks by investing in upcoming crypto ICOs.
Cryptocurrencies are unregulated. Trading with unregulated brokers will not qualify for investor protection
BTC ProAir 24 FAQs
What is BTC ProAir 24?
BitApp24 is a trading system that claims its latest 2.0 version 'BTC ProAir 24' is 100% autonomous, and that its smart technologies can help all types of investors make gains in the current crypto market. It takes a minimum deposit of $250 to start trading here, and the trading system is backed by an intuitive UI. However, most of the BitApp24 website's claims are unverified.
Does Elon Musk endorse BitApp24 or BTC Pro Air Trader?
Elon Musk hasn't voiced his support for any crypto trading platform. So, it is safe to say that a relatively new site like BitApp24 will not have gotten his attention either. We rate claims that the Tesla and X CEO endorses the site or its false.
---