Binance Loses 16% of Market Share After End of Zero Fees on BTC Pairs and Rising Regulation Troubles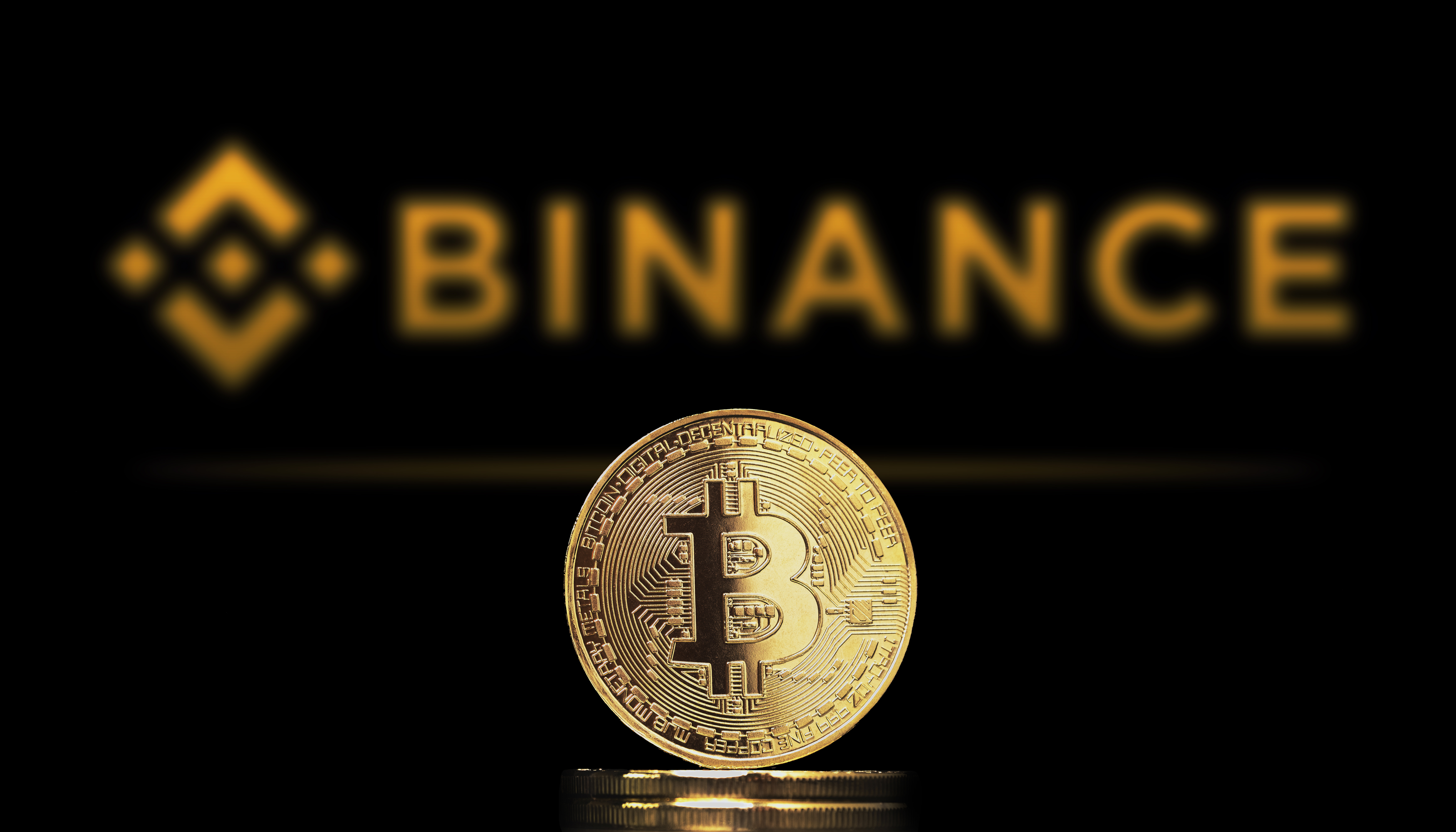 Binance has lost a big share of its total trading volumes since ending its zero fees on Bitcoin pairs and in wake of the US Commodity Futures and Trading Commission (CFTC)'s lawsuit against the firm.
That's according to the latest blog post by crypto analytics firm Kaiko, which says that Binance's market share has dropped by a stunning 16%.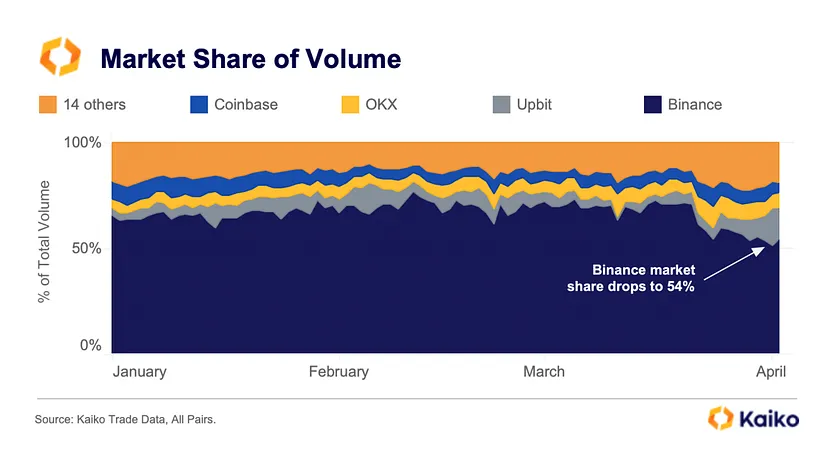 That being said, Kaiko notes that Binance remains far and away the largest crypto exchange in the world by volumes, maintaining a 54% market dominance.
None of the 17 other exchanges analyzed by the crypto analytics firm managed to claim an outsized proportion of the up-for-grabs market share versus each other.
That's because, according to Kaiko, "Binance's excess volume largely vanished".
US Regulators Are Amping Up Pressure on US Crypto Firms
The CFTC announced a lawsuit against Binance last week, claiming that the firm has been illegally operating as a US commodity exchange.
But US regulators have been going after other major US-based crypto players.
Coinbase was recently issued a Wells Notice by the US Securities and Exchange Commission (SEC) regarding its securities law violations.
A Wells Notice is essentially a warning that the agency will soon take regulatory action.
Other firms have been shuttering US operations. Last month, Kraken closed its staking program after paying a fine to the SEC for alleged securities violations.
And last week, Bittrex shuttered is US operations in their entirety amid regulatory uncertainty.
Binance.US Gaining Ground on Coinbase
Despite the falling market share of its global parent company Binance, the cryptocurrency exchange's US platform called Binance.US has been gaining ground on Coinbase recently.
According to Kaiko, during Q1, "Coinbase's market share dropped from a weekly average of 60% to just 49%... Surprisingly, Binance.US has largely picked up the slack, despite a lawsuit against the global entity. Its market share has tripled from just 8% to more than 24%".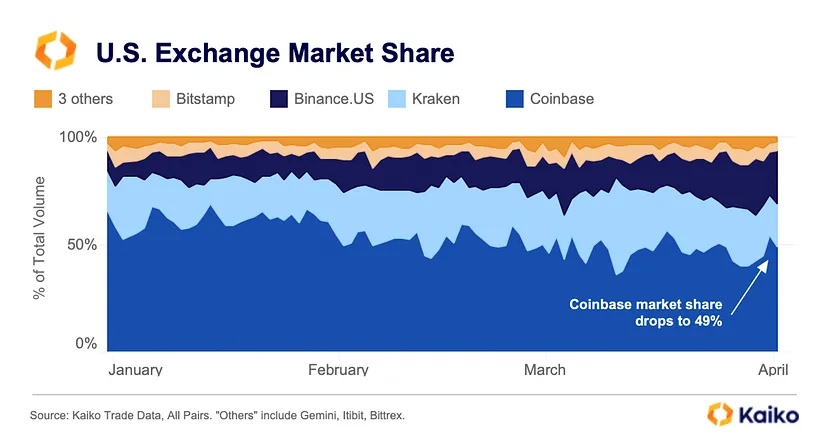 That could suggest that Binance's recent loss of market share might have more to do with the removal of zero trading fees on BTC pairs than fears about regulatory pressure in the US.
After all, if US regulatory concerns were weighing on Binance trading volumes, Binance.US would be the first platform where you would expect these volumes to drop off.
Crypto Trading Volumes Dip, Worrying Sign For Crypto?
The end of zero-fee trading on BTC pairs on Binance has coincided with a substantial dip in the cryptocurrency market's overall trading volumes.
According to crypto data and news analytics firm The Block, the seven-day moving average of volumes was around $22.5 billion as of Monday, down from around $46 billion in mid-March.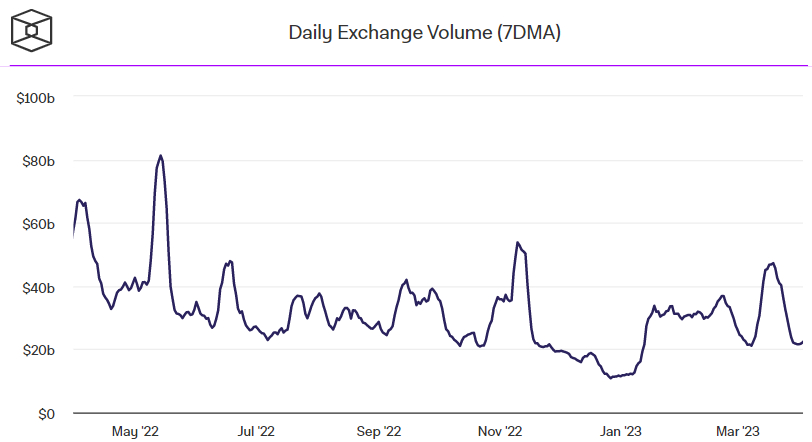 Lower volumes come at a time when Bitcoin and much of the broader cryptocurrency market have been going mostly sideways, albeit with an upside bias, in recent weeks.
Some might view lower volumes as a bearish sign that demand is fading, but many analysts expect macro tailwinds to keep crypto demand underpinned for the foreseeable future.
Those macro tailwinds include a mix of 1) bets that the Fed won't do much more tightening and will soon be cutting (which is weighing on the US dollar and US yields, which is good for crypto), and 2) concerns about a banking crisis, which is pushing up demand for a decentralized alternative financial system (which crypto represents).
---