Best Crypto to Buy Now November 8 – Toncoin, Kaspa, Gala
Disclosure: Crypto is a high-risk asset class. This article is provided for informational purposes and does not constitute investment advice. By using this website, you agree to our terms and conditions. We may utilise affiliate links within our content, and receive commission.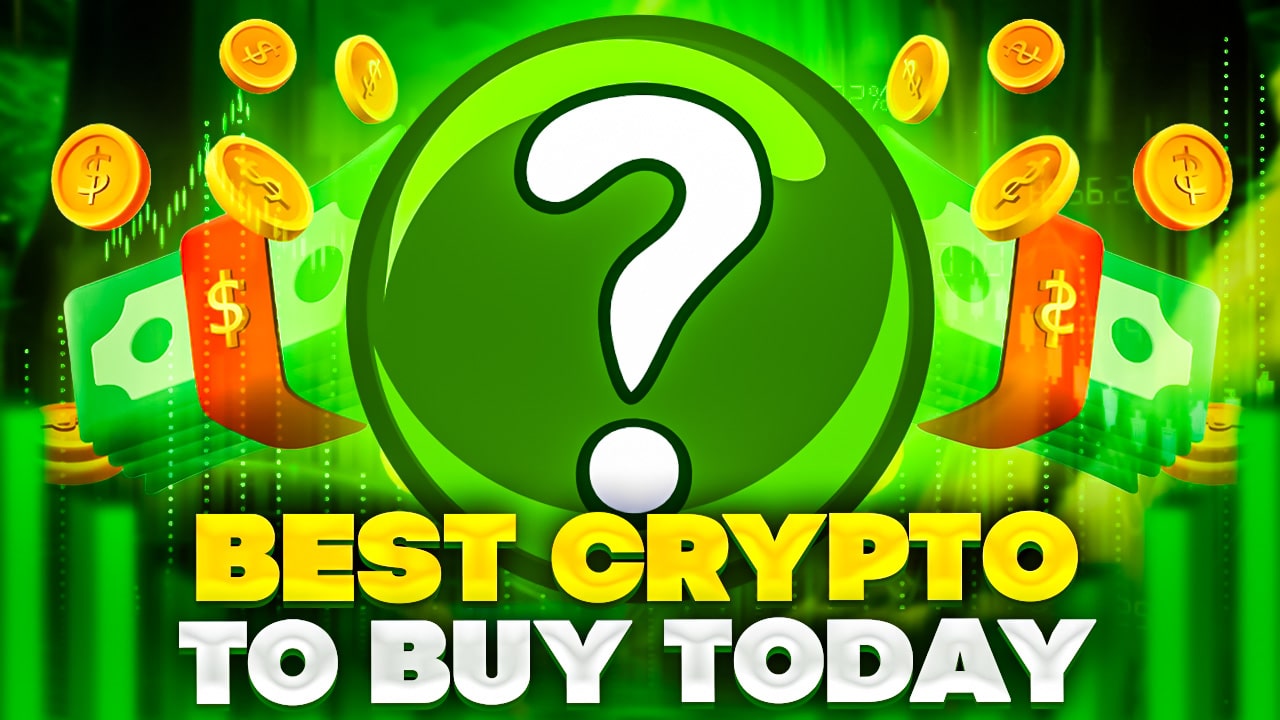 Gala seems to be one of the best crypto to buy now, as the Gala price is surging by over 8% following the project's participation in Binance Blockchain Week in Istanbul.
Toncoin and Kaspa are also turning heads by shattering blockchain speed records and setting new all-time high prices.
Additionally, Bitcoin Minetrix and Meme Kombat continue to be among the best crypto presales to consider for 2023.
Best Crypto to Buy on The News

Toncoin (TON), linked to the popular messaging app Telegram, currently tops the list for weekly gains among the top ten cryptocurrencies on CoinMarketCap.
The Open Network (TON), which Toncoin operates, has recently achieved the world's fastest blockchain protocol status after hitting 104,715 TPS (transactions per second).
This could enhance the cryptocurrency's attractiveness for broader adoption.
Despite a short-term prediction indicating a minor price dip to $2.60, Toncoin's long-term outlook remains positive with forecasts suggesting a retest of $3 for the following weeks.
Kaspa (KAS) has achieved a milestone today by reaching a new all-time high (ATH) of $0.074798. The KAS price is currently trading at $0.073396 up by nearly 8% so far today.
The cryptocurrency has been following a materialization of an ascending triangle pattern, solidifying its upward trajectory.
With the current oversold RSI conditions, there's a possibility of a retracement toward the Fib 0.786 level at $0.067585 in the coming days.
The listing of Kaspa on the Korean exchange Coinone has played an important role in generating attention and interest for the project.
Additionally, an interactive AMA session held in Japan has allowed community members to directly engage with the project team, further bolstering its popularity.
Gala (GALA) has seen its price soar nearly 80% from $0.01251 in late October to the current level of $0.02255.
👀#GalaChain へのお問い合わせEmail…✉️ https://t.co/JLi5fAMG2u

— Gala Games Japan🌟チャンピオンズアリーナ稼働中🔥レガシー10/27ローンチ!⚡️ (@GoGalaGames_JP) November 7, 2023
Gala set a new multi-month high of $0.02303 earlier today which coincides with Gala Games' participation in Binance Blockchain Week in Istanbul, where it presented its $GALA-powered L1 blockchain, GalaChain.
The event featured unique opportunities for attendees to interact with the Gala ecosystem and potentially receive digital items through Mystery Boxes.
Although there has been a notable rally, forecasts for the end of November show varying expectations, with the average rate for GALA predicted to stabilize around $0.02300, and some analysts suggesting a possible maximum of $0.02500.
Amidst these established tokens, crypto presales such as Bitcoin Minetrix and Meme Kombat are introducing fresh Bitcoin alternatives to the cryptocurrency market.
While they are at an early stage, these projects are drawing attention to their potential in the cryptocurrency space.
Let's explore the technical and project fundamentals positioning Toncoin, Kaspa, Gala, Bitcoin Minetrix, and Meme Kombat among the best crypto to buy now.
Toncoin's TON Price Momentum Shows No Signs of Stopping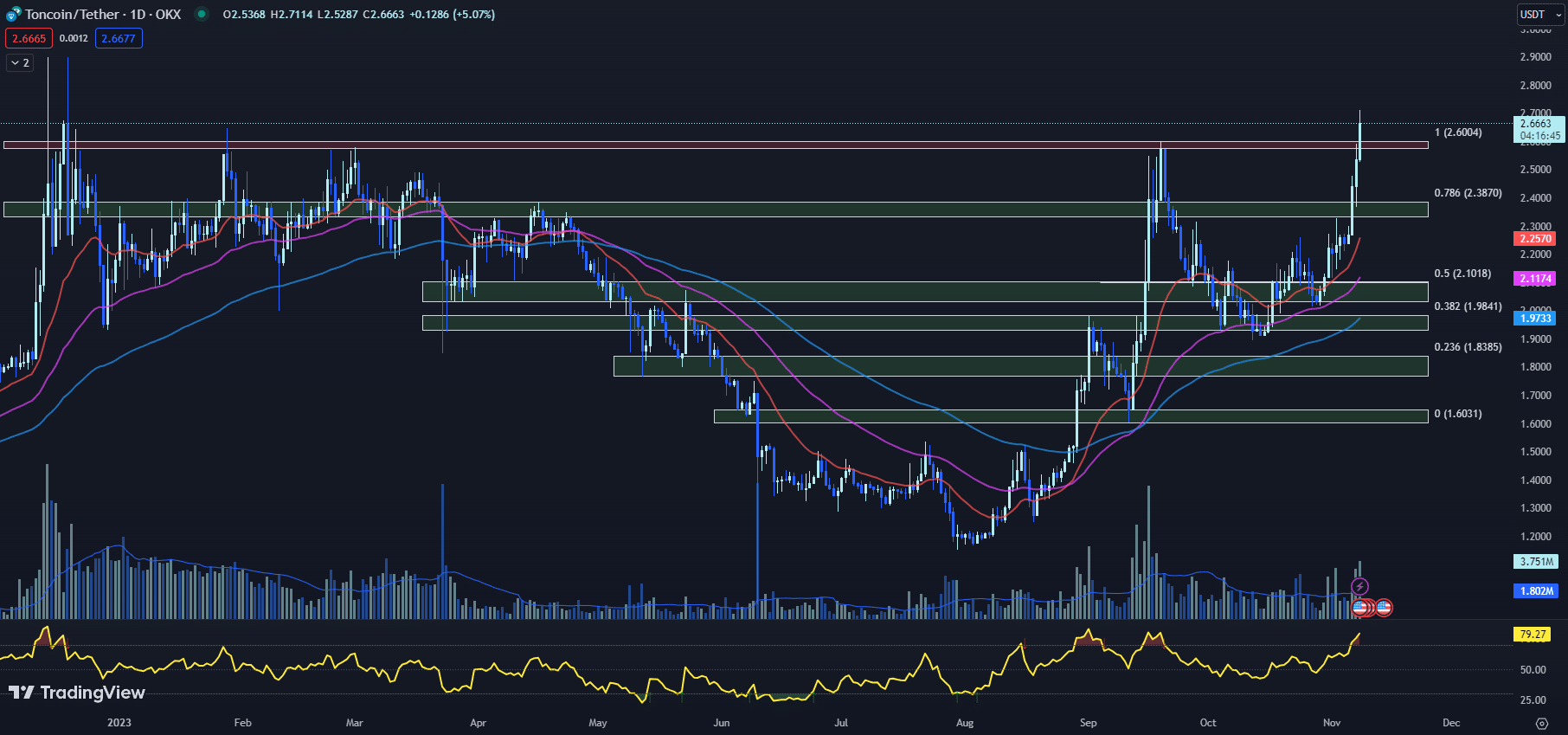 The Toncoin (TON) price has seen a strong uptrend in recent weeks, with the cryptocurrency posting a YTD high of $2.7144 earlier today.
TON is currently trading around $2.6663, up 5.07% on the day so far.
From a technical analysis perspective, the bullish momentum behind the TON price appears to remain strong.
The 20-day EMA for TON currently stands at $2.2570, while the 50-day EMA is at $2.1174.
With the faster-moving 20-day EMA above the 50-day EMA, this is considered a bullish signal by traders.
Additionally, both EMAs are sloping upwards, indicating the existing uptrend is intact.
TON's RSI is currently at 79.27. This is up from 75.46 yesterday and means TON is approaching overbought territory above 70.
While this suggests some cooling off may occur, the RSI can remain elevated during strong uptrends.
The MACD histogram is printing at 0.0499, up from 0.0367 yesterday. The positive and growing histogram supports the rising upside momentum behind the TON price.
In terms of key levels for the TON price, resistance stands between $2.5758 and $2.6003 where the price has struggled to break above.
A decisive move above this zone would likely ignite further buying interest.
On the downside, initial support appears at the horizontal area between $2.3336 and $2.3866.
This zone aligns closely with the Fib 0.786 retracement level at $2.3870, adding to its technical relevance.
As long as the TON price holds above these levels, the uptrend looks well-positioned to continue.
In summary, the technical picture remains bullish for TON in the near term.
The price continues trending higher above key moving averages, while momentum indicators reflect strong upside energy.
A breakout above the $2.58-2.60 resistance area could see TON target new highs.
Traders may look to buy pullbacks to the $2.33-2.39 support zone.
Upside targets include the psychological $3.00 level if the uptrend persists.
Kaspa KAS Price Breaks Out From Consolidation, Surges to All-Time Highs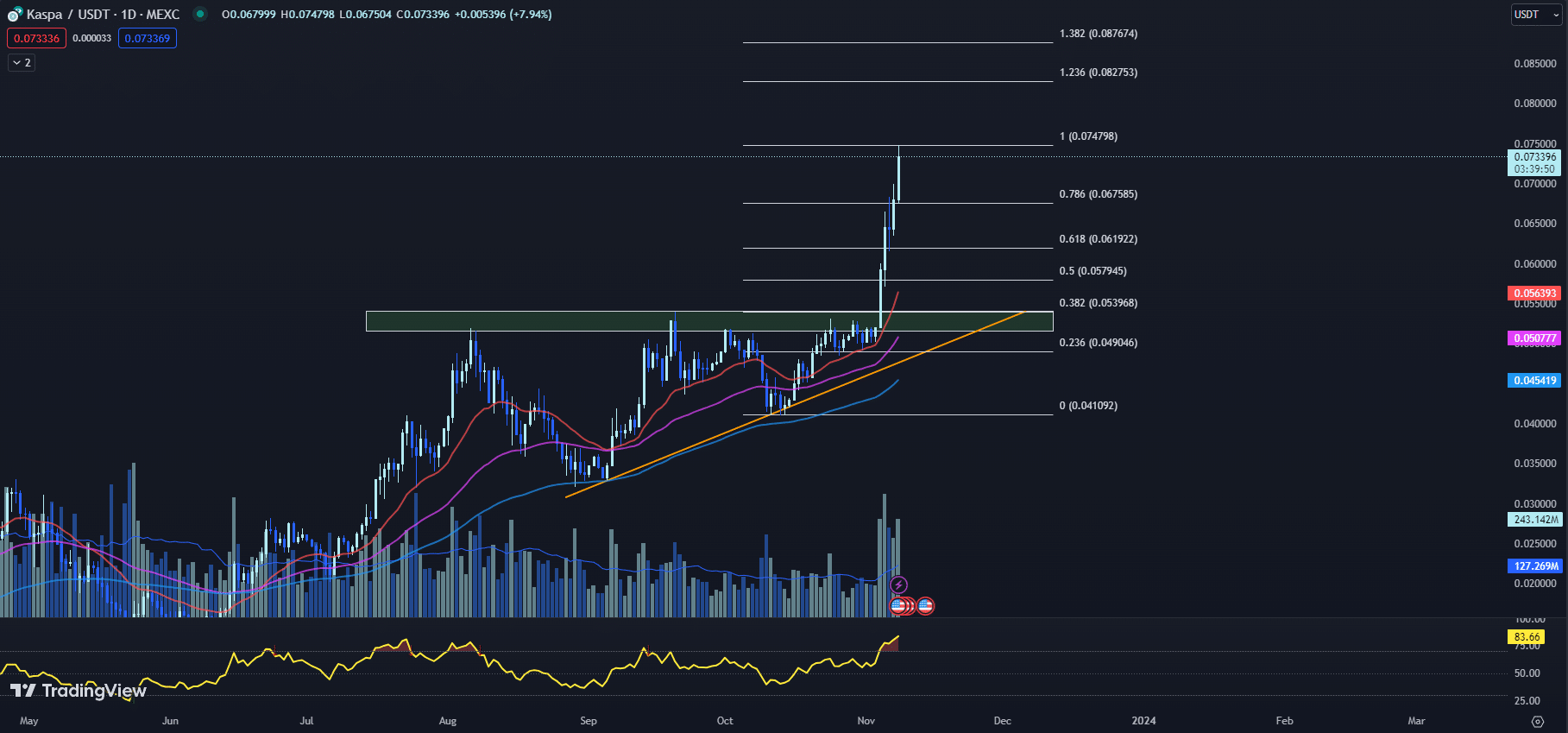 With Kaspa (KAS) breaking through previous resistance and setting new all-time highs, the market's attention is firmly fixated on the KAS price.
After a three-month consolidation in an ascending triangle pattern, the cryptocurrency has embarked on a rally. Today, it reached an all-time high of $0.074798.
The KAS price currently trading at $0.073396 marking a 7.94% increase so far today.
Examining the technical indicators, the 20-day EMA for the KAS price stands at $0.056393, significantly above both the 50-day EMA of $0.050777 and the 100-day EMA of $0.045419.
The distance between these EMAs and the current KAS price indicates a strong bullish momentum. However, investors should exercise caution as the overextended nature of this rally could lead to a potential correction.
The RSI currently stands at 83.66, up from yesterday's 80.11. This is well into overbought territory (an RSI above 70), suggesting that the KAS price may be due for a pullback.
However, in strong trending markets, overbought conditions can persist and should be interpreted in the context of other indicators.
The MACD histogram is currently at 0.002154, almost unchanged from the previous day's 0.002156. This indicates that the bullish momentum is still strong and the upward trend is intact.
As the KAS price enters price discovery mode, traders should be looking at Fibonacci extension levels for potential resistance.
The Fib 1.236 level stands at $0.082753, followed by the Fib 1.382 level at $0.087674. These levels could act as potential price targets if the bullish momentum continues.
On the downside, the immediate support level to watch for is the Fib 0.786 level of $0.067585. This could act as a potential pivot point for the KAS price in the event of a retracement.
The technical indicators are pointing to strong bullish momentum for the KAS price. However, the overbought RSI and the distance from the EMAs suggest the possibility of a pullback.
Traders should be prepared for increased volatility and should consider implementing risk management strategies to protect their portfolios.
GALA Price Eyes Breakout Amidst Strong Momentum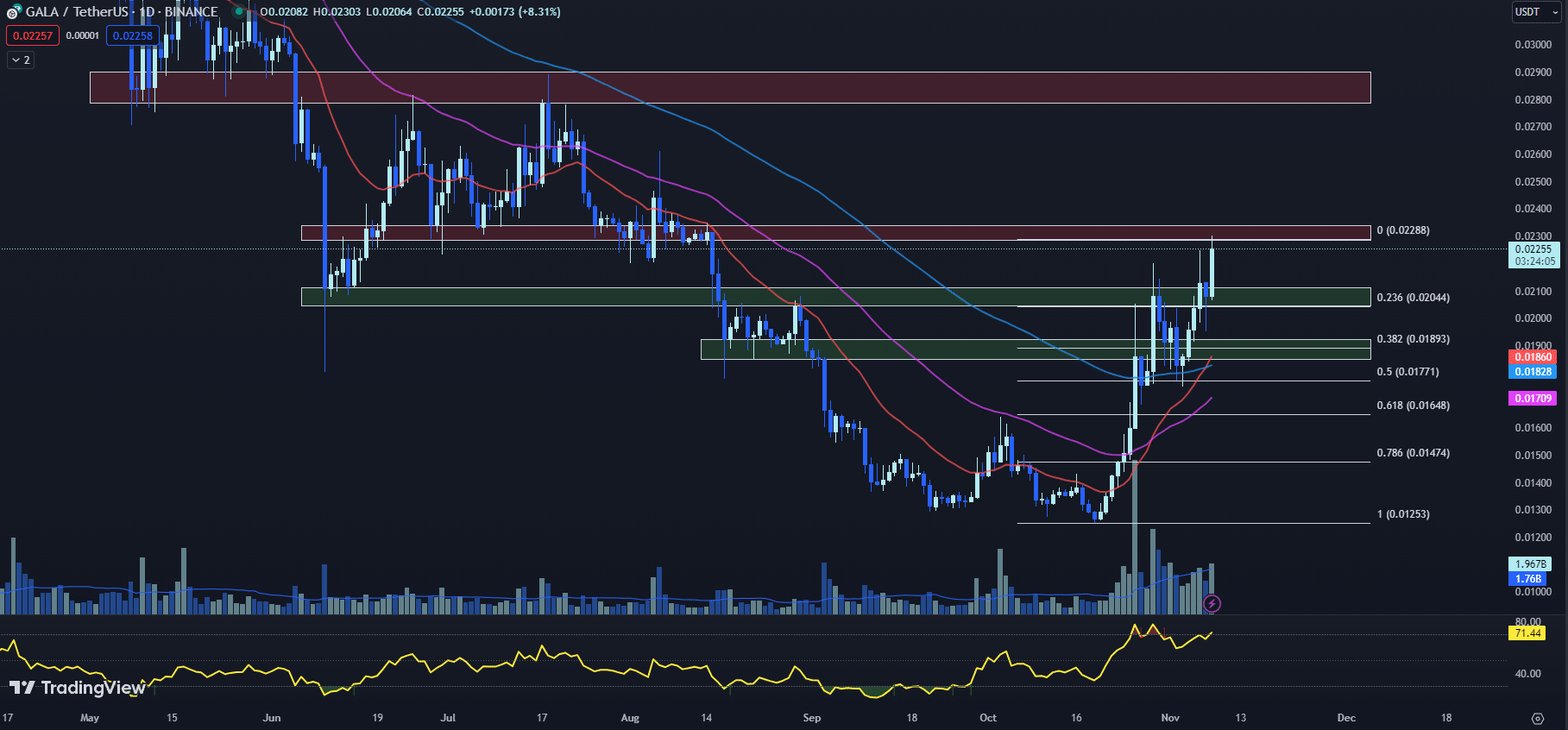 The GALA price continues its upward trajectory after rebounding off the 100-day EMA on November 3. GALA is currently attempting to break out from its immediate resistance level as it set a new multi-month high of $0.02303 earlier today.
The 20-day EMA for the GALA price stands at $0.01860, crossing above the 50-day EMA of $0.01709. Typically, when the short-term EMA crosses above the long-term EMA, it signals a bullish trend.
The widening gap between these EMAs confirms the strong bullish momentum behind the GALA price.
The RSI jumped to 71.44 from yesterday's 66.46. This shows GALA has entered the overbought territory, indicating the GALA price may be due for a minor pullback or consolidation before its uptrend resumes.
The MACD histogram increased to 0.00034 from yesterday's 0.00028. The growing positive value reinforces the bullish sentiment propelling the GALA price higher.
With GALA stabilizing above key support levels, technical indicators signal immense upside potential despite overbought conditions. Trading within defined risk limits while awaiting confirmation of the breakout past resistance could be prudent.
GALA is currently attempting to break out from its immediate resistance zone between $0.02285 to $0.02340. Overcoming this barrier could provide the catalyst for GALA to surge towards its next target.
Simultaneously, GALA has strong support between $0.02046 to $0.02112, which aligns with the Fib 0.236 level at $0.02044. As long as GALA holds above this support zone, the uptrend remains intact.
A decisive break past the immediate resistance or bounce off the key support could determine GALA's next major move.
With technicals and sentiment aligning bullishly, the path of least resistance appears to be the upside for the GALA price.
Patient traders could capitalize on a confirmed breakout or support bounce to ride the next leg higher.
As interest builds around TON, KAS, and GALA, investors are also focusing on finding the next big cryptocurrencies.
Bitcoin Alternatives? Here Are Some Crypto Presales Worth Checking

For those looking beyond Bitcoin, a wise crypto investment strategy can be getting involved in promising presale opportunities.
Crypto presales allow investors to buy tokens early from emerging crypto projects, often at heavily discounted prices.
Presale investors may witness potential returns if these projects achieve success.
Bitcoin Minetrix and Meme Kombat are two of the most interesting presale opportunities out there for 2023 for those looking for Bitcoin alternatives.
Careful research is required, but crypto presales can be smart Bitcoin alternatives with major upside potential if you pick the right projects.
Bitcoin Minetrix's $BTCMTX is the Best Crypto to Buy Now for Easy Bitcoin Mining

The ongoing presale for Bitcoin Minetrix (BTCMTX), a new cloud mining platform, has raised over $3.68 million so far, nearing its current presale stage goal of $4.407 million.
The project seeks to make Bitcoin mining more accessible by enabling token holders to earn mining rewards without expensive hardware or technical knowledge.
Delving into $BTC mining alongside #BitcoinMinetrix! 🔍#Cloudmining opens the door to the world of #Crypto:

💡 Simple start for novices.
💸 Economical without hardware costs.
🌃 No concerns about space, noise, or overheating.
🔧 Hassle-free upgrades. pic.twitter.com/N3zwTDRYjq

— Bitcoinminetrix (@bitcoinminetrix) November 7, 2023
BTCMTX has quickly received attention for its stake-to-mine model that allows earning Bitcoin through cloud-based services.
By purchasing and staking BTCMTX tokens, users can receive Bitcoin payouts in a simplified process requiring just an Ethereum wallet.
Bitcoin Minetrix's (BTCMTX) one-of-a-kind model has won considerable support from the crypto space, translating into a stake of more than 259 million BTCMTX tokens as of writing.
The BTCMTX token currently sits at $0.115. The next stage of the presale will focus on initiating Bitcoin withdrawals to wallets and implementing staking features on desktop and mobile apps.
There are also plans to allow converting mining credits into hash power.
Looking ahead, Bitcoin Minetrix has outlined several key objectives, including major exchange listings, multimedia marketing campaigns, and partnerships within the cloud mining industry.
The project also intends to expand the team while developing desktop and mobile platforms.
With its user-friendly interface and affordable entry point, Bitcoin Minetrix is positioned to open crypto mining to a wider audience.
The presale's success signals strong interest in the project's potential, positioning it as one of the best crypto to buy in 2023.
Capital Flowing Back into Meme Coins, Is Meme Kombat the Best Crypto to Buy Now?

There is speculation that Dogecoin's recent rally could signal a revival for the once-hyped meme coin sector.
While some analysts doubt Dogecoin can regain its former celebrity status, the rally did get the market's attention.
This has raised expectations that capital may start returning to the meme coin niche amid the renewed interest in Dogecoin
This could provide a boost to new projects like Meme Kombat (MK), which is quickly gaining momentum.
We did it fighters!

The $1.3 million milestone did not last long in kombat⚔️ pic.twitter.com/S9uxItETaT

— Meme Kombat (@Meme_Kombat) November 8, 2023
Meme Kombat seeks to capitalize on the meme coin hype with its unique platform that lets users wager on meme faceoffs.
The app pits popular memes against each other in battles, with players able to bet MK tokens on match outcomes.
With Dogecoin sparking fresh excitement around meme coins, the timing may be right for Meme Kombat to gain traction.
Meme Kombat's ongoing presale has already raised over $1.34 million so far.
With Dogecoin rallying, Meme Kombat may get the hype it needs to drive a successful presale.
The presale price for MK starts at $0.183 but will increase in later phases, incentivizing early participation.
If interest in meme coins continues to build, Meme Kombat could see substantial gains when it eventually lists on major cryptocurrency exchanges.
The staking rewards of up to 112% APY also make holding MK tokens attractive.
The meme coin sector shows signs of renewed energy thanks to Dogecoin's rise.
All eyes are now on Meme Kombat to see if it can ride the mounting hype to presale success and beyond.
Crypto investors seem ready to give meme coins another shot.
Disclaimer: Crypto is a high-risk asset class. This article is provided for informational purposes and does not constitute investment advice. You could lose all of your capital
---