Best Crypto to Buy Now 4 May – Rocket Pool, Stacks, Render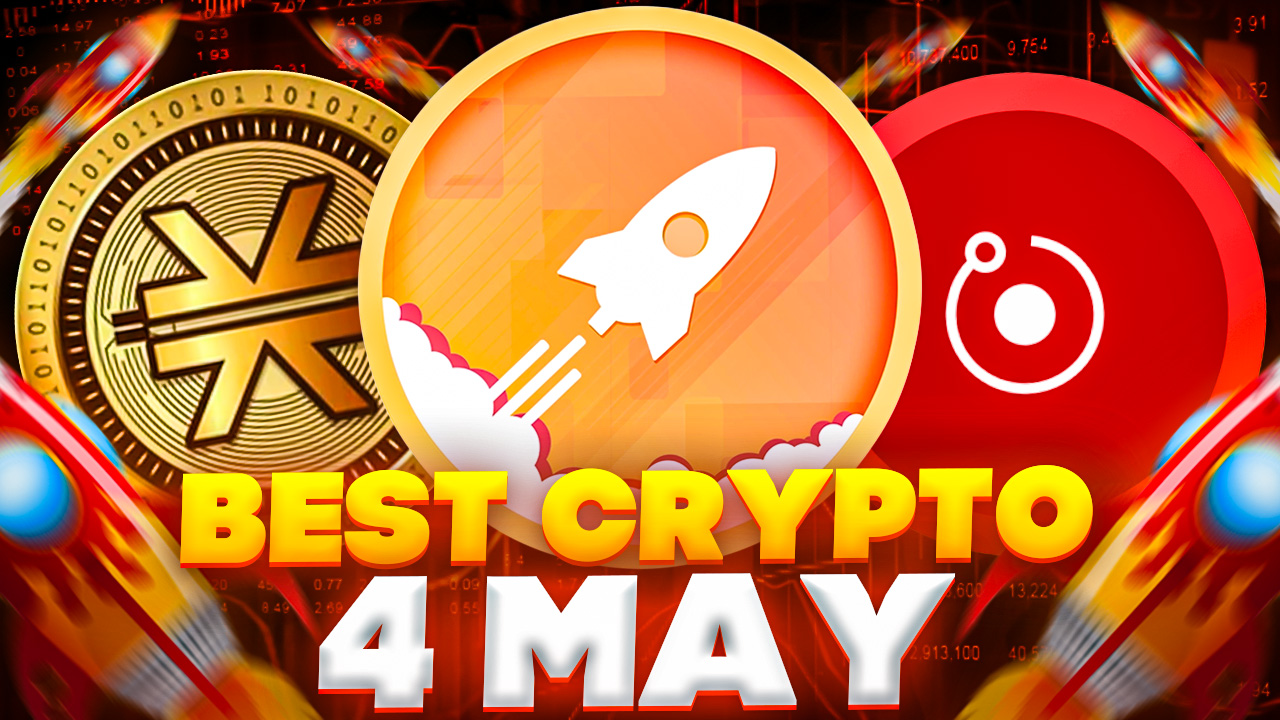 Bitcoin is presently hovering just below the $29,000 mark following a successful close of yesterday's trading session above the highly-monitored level, with a 1.89% price increase in the past 24 hours.
Despite achieving an intraday high of $29,387 earlier in the day, the digital currency is currently trading at $28,900.
Given Bitcoin's recent performance amidst an uncertain macroeconomic backdrop, what are the best cryptos to buy now?
Bitcoin's upward trajectory has prompted market observers to anticipate a robust and sustained rally.
The recent increase in Bitcoin's trading activity occurred shortly after the rate hike and coincided with reports of potential instability in the U.S. banking sector.
According to Matrixport, Bitcoin's price could experience a 20% surge to $36,000 if the recent rate hike marks the end of the current cycle.
Matrixport's research suggests that the digital currency's ascent is likely to encounter minimal resistance in the coming weeks.
The conclusion of the earnings season is also expected to usher in a new wave of stock buybacks, providing a favorable environment for risk assets and equities.
Based on fundamental and/or technical analysis, some of the best cryptocurrencies to buy now are AI, RPL, LPX, STX, ECOTERRA, RNDR, and YPRED.
AIDoge: Merging AI and Memes for Creative Expression
AiDoge recently raised $1.45 million in over a week during its presale for its unique meme-generating AI technology.
The $AI token has been drawing attention, as it blends the popularity of meme coins and AI. Stage 3 of fundraising is underway, with the token valued at $0.0000272.
AI is transforming various industries, and AiDoge is introducing a new kind of internet tool: meme generators.
Users will be able to create memes by providing a text prompt describing the desired meme.
Memes are a vital aspect of visual communication in the digital age, and AiDoge aims to position itself at the heart of this growing engagement paradigm.
AiDoge employs AI generative image technology akin to DALL-e and Midjourney.
The platform is training a large language model (LLM) using vast datasets of memes and crypto news. This enables high-quality and current meme generation based on user text prompts.
The AI will continuously improve as it receives and learns from more prompts, eventually predicting and generating memes likely to go viral.
To foster mass adoption and create a user-friendly experience, AiDoge will feature a public wall feed where users can vote for their favorite memes.
High-performing meme creators will earn $AI token rewards and gain exclusive access to premium features and voting rights.
As the platform grows, meme creators will find more opportunities to earn rewards and a consistent income.
AiDoge is pioneering the integration of AI and meme generation, offering users a chance to participate in a lucrative and innovative business powered by blockchain-secured AI.
Rocket Pool (RPL)
Rocket Pool (RPL), has recently experienced a surge in its price, marking a 7.80% gain on yesterday's candle close.
This price movement effectively concludes a consolidation trend that followed a sharp correction in RPL's value.
The Ethereum Shapella Upgrade, which introduced enhancements to Ethereum staking, has played a significant role in influencing RPL's performance.
The correction served to balance the significant rally that RPL experienced due to the Ethereum Shapella Upgrade.
As a result, Rocket Pool has seen net inflows amounting to $68 million, solidifying its position as a leading staking provider in the cryptocurrency ecosystem.
Over the past two days, RPL's price has experienced an approximate 13% increase, rebounding from the Fibonacci (Fib) 0.786 level and the 50-day Exponential Moving Average (EMA).
This upward movement has allowed RPL to break free from the price consolidation channel, which ranged from $44.10 to $49.49. The price surge presents an opportunity for RPL to re-establish its bullish trend.
After getting rejected from the resistance level of the Fib 0.5 level earlier today and achieving an intraday high of $53.45, RPL is currently experiencing a retracement, trading at $50.54 with a loss of 3.25% so far today.
Trading volume data from CoinMarketCap reveals a 20% decrease in volume over the past 24 hours.
This suggests that the current downtrend may be temporary, and RPL is attempting to find stability and consolidate within a higher price range.
Support may potentially be found at the Fib 0.618 level, which is currently at $50.33.
Investing in Web3 Innovation: Why LPX is One of the Best Crypto to Buy Now
Launchpad's vision is to provide a gateway for individuals to explore Web3's decentralized offerings and applications.
The platform aims to facilitate access to a variety of decentralized services, including gaming, data management, and ride-sharing, all through interaction with the LPX token.
The challenge of making Web3 accessible to the general public has been a persistent obstacle. For many, the concept of Web3 remains elusive, and even those who are aware of it may find it daunting to participate.
The process of onboarding, including selecting the appropriate wallet and ensuring secure interactions, can be overwhelming.
Launchpad is looking to address this challenge by offering a suite of products and services designed to reduce friction and enhance user experience.
The platform's goal is to simplify the adoption of Web3 products for both individuals and businesses. Businesses, too, face hurdles in entering the Web3 space.
The risk of associating with a Web3 project that underperforms or fails to deliver on its promises could have detrimental effects on a company's reputation.
Launchpad offers a reliable framework that enables prominent brands to introduce Web3 experiences to their clientele.
At the heart of Launchpad's integrated system lies the Web3 wallet, meticulously crafted for user convenience.
By providing either a phone number or an email address, individuals can promptly set up their wallets and gain access to Web3 offerings.
The wallet's capabilities extend to token swapping, asset management, and interaction with decentralized apps.
In addition to the wallet, Launchpad introduces a decentralized exchange (DEX) that accommodates trading enthusiasts of varying expertise.
The DEX aims to present a diverse selection of trading pairs, with future plans to roll out perpetual futures contracts for certain pairs.
To incentivize participation, the platform implements a staking feature for the LPX token, granting traders the benefit of lower exchange fees.
Beyond these offerings, Launchpad's platform incorporates an NFT marketplace, a discovery platform for Web3 presales, a centralized hub for play-to-earn gaming, and a comprehensive library of Metaverse experiences.
Launchpad's comprehensive ecosystem aspires to simplify the adoption of Web3 technologies and empower individuals to seamlessly explore the extensive array of decentralized digital offerings and applications.
Stacks (STX)
After a notable 6.60% rally yesterday, STX encountered a roadblock at the Fibonacci 0.382 level of $0.8251.
The digital asset is now grappling with uncertainty as it veers toward the Fibonacci 0.236 support, which aligns with the 100-day EMA. Currently, STX is trading below both the 20-day and 50-day EMAs.
The 20-day EMA, a short-term trend indicator, is at $0.7666, while the 50-day EMA, a medium-term trend indicator, is at $0.7866. With STX trading below these EMAs, the immediate market sentiment for STX appears to be bearish.
The RSI has dipped to 46.95 from yesterday's 52.57. This decrease suggests a weakening bullish momentum.
The MACD histogram has risen slightly to 0.0078 from 0.0070, indicating a potential shift in momentum.
STX's 24-hour trading volume has contracted by 54.95% to $93,744,851, which may signal reduced interest from traders.
STX is currently trading at $0.7533, with a loss of -6.44% so far today.
As STX navigates the market's ebbs and flows, two critical levels warrant attention: the immediate resistance at the Fibonacci 0.382 level of $0.8251 and the immediate support at the Fibonacci 0.236 level of $0.7097.
Recycle and Earn: ecoterra's Innovative Recycle2Earn Initiative
ecoterra's Recycle2Earn initiative has garnered significant attention, raising $2.987 million in just over a month through its presale of $ECOTERRA tokens.
The project's vision of building a smartphone app that rewards users for recycling and participating in "impact actions" has struck a chord with environmentally conscious investors.
"The Recycle2Earn app is the linchpin of our ecosystem," said Mihai Ciutureanu, CEO of ecoterra. "It provides users access to the recycled materials and carbon offset marketplaces, as well as the impact profile that tracks ecology impact actions."
The project's success is evident in the rapid pace of token sales.
With a mere $163,000 worth of tokens remaining in stage 4, ecoterra is on track to sell out ahead of schedule. The current token price of $0.0065 is set to rise to $0.0070 in Stage Five.
Cryptocurrency experts have recognized the promise of ecoterra, and the digital asset has achieved notable prominence, reaching a peak position of third on Google Trends under the search category "crypto."
ecoterra's recycled materials marketplace will connect companies with recycling businesses, facilitating the exchange of resources and promoting transparency.
The project will also employ non-fungible tokens (NFTs) to represent and reward ecological actions such as tree planting.
The ecoterra team has already begun integrating global brands like Heineken and Dr Pepper into the ecosystem, with more to come.
The goal is to create a network of scannable materials that users can earn rewards for recycling.
As ecoterra continues to make progress, it stands out as one of the best cryptos to buy now for those seeking to invest in a project with a positive environmental impact.
The beta version of the Recycle2Earn application is projected to be introduced before the conclusion of the current year, positioning ecoterra to play a significant role in making a meaningful contribution to the global efforts toward sustainability.
Render Token (RNDR)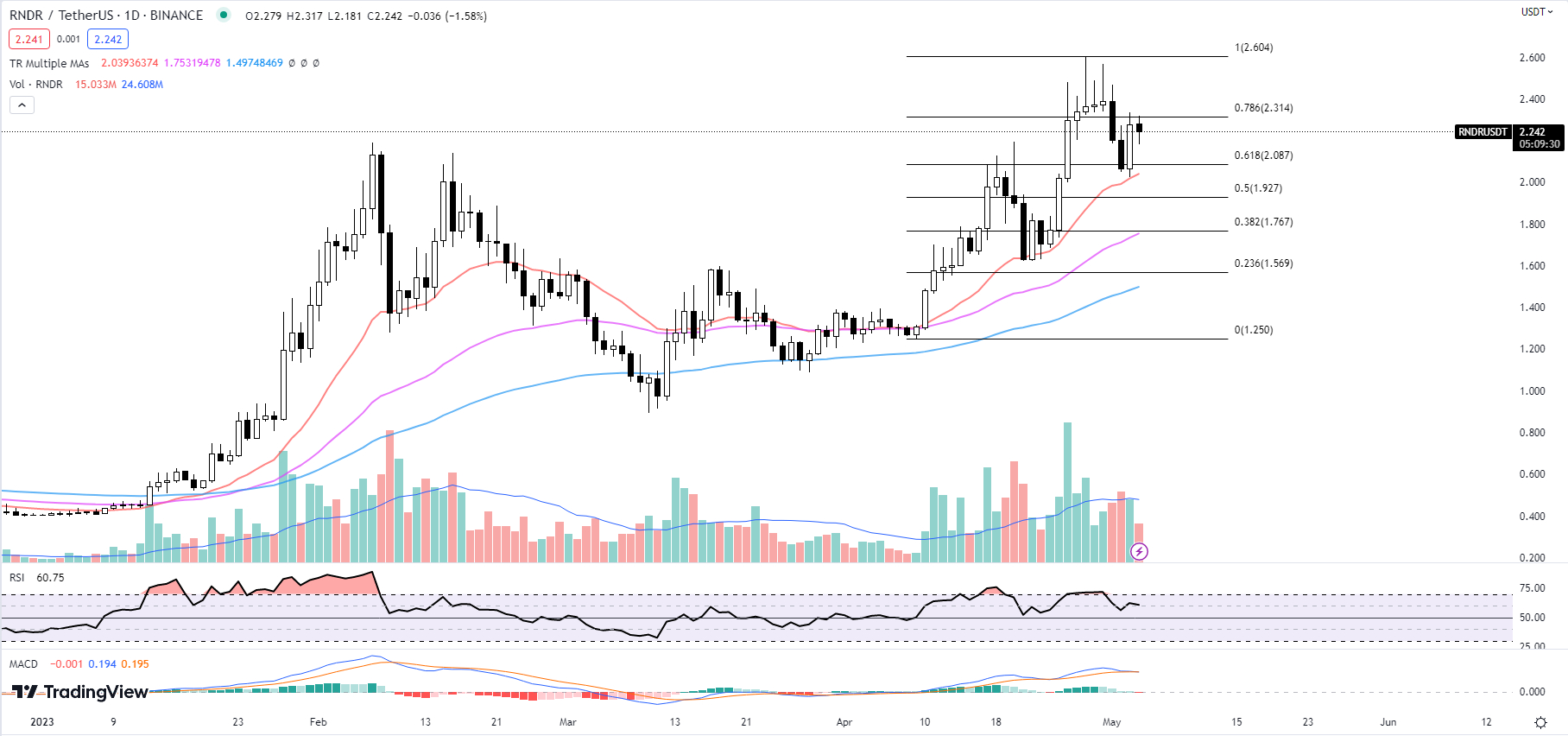 After a strong bounce from the EMA-20 yesterday, RNDR price broke out from the Fib 0.618 level, posting a 10.26% move to the upside.
However, the token faced rejection at the Fib 0.786 level of $2.314. As of writing, RNDR's current price stands at $2.242, with a loss of -1.58% so far today.
Render Token (RNDR) currently trades above key exponential moving averages, with its 20-day EMA at $2.0394, 50-day EMA at $1.7532, and 100-day EMA at $1.4975.
Render's current price position relative to these significant EMAs indicates a bullish trend for RNDR.
In terms of momentum, the RSI has cooled down slightly to 60.75 from yesterday's 62.69.
The MACD histogram also shows a slight dip, from 0.005 to -0.001.
Meanwhile, RNDR's 24-hour trading volume has increased by 9.79%, reaching $203,324,382.
These technical indicators suggest that RNDR is currently trading in a somewhat uncertain territory.
While it managed to break out from the Fib 0.618 level, it has yet to overcome the immediate resistance at the Fib 0.786 level of $2.314.
On the other hand, immediate support lies at the Fib 0.618 level of $2.087.
While Render Token has shown promise in its recent trading activity, its future trajectory remains uncertain.
Traders and investors are advised to wait for Render's price to establish support before entering a position.
yPredict (YPRED)
The financial markets are so complex and highly competitive that traders and investors are constantly seeking an edge.
yPredict is an AI-driven financial predictions platform that aims to simplify trading by providing actionable insights powered by artificial intelligence and machine learning (AI/ML).
The project has already made achieved notable progress, raising $500,000 in its presale and attracting significant interest.
yPredict's mission is to address the challenges faced by traders in a market dominated by algorithmic trading and automated systems.
Traditional methods of analysis struggle to keep pace with the lightning-fast decision-making of machine-driven trading.
yPredict's solution is to develop AI-powered trading tools that filter out market noise and provide a solid foundation for informed decision-making.
The platform's unique approach is reflected in its "free-forever" freemium pricing model, designed to boost adoption and make AI-driven insights accessible to all.
With over 20,000 individuals already on the yPredict waiting list, the project's appeal is evident.
While basic access remains free, users can opt for a membership with additional features, payable in $YPRED tokens, which serve as the utility and value driver for the platform.
yPredict's comprehensive suite of trading tools includes pattern recognition, sentiment analysis, indicator analysis, and transaction analysis.
These features will enable traders to detect chart patterns, gauge market sentiment, test technical indicators, and analyze transactional data for valuable insights.
The platform also offers opportunities for AI developers and data scientists to monetize their predictive models and analyses.
By selling their models on yPredict's marketplaces, developers can earn passive income in the form of $YPRED tokens.
yPredict's commitment to transparency and authenticity sets it apart from the often opaque and unreliable predictions offered by social media influencers.
The platform's predictions are generated through cutting-edge financial models and are publicly disclosed, providing traders with greater confidence in their decision-making.
---