Bitcoin Price Prediction: BTC Struggles to Break Above $27,500 Resistance; Downward Trendline Remains a Challenge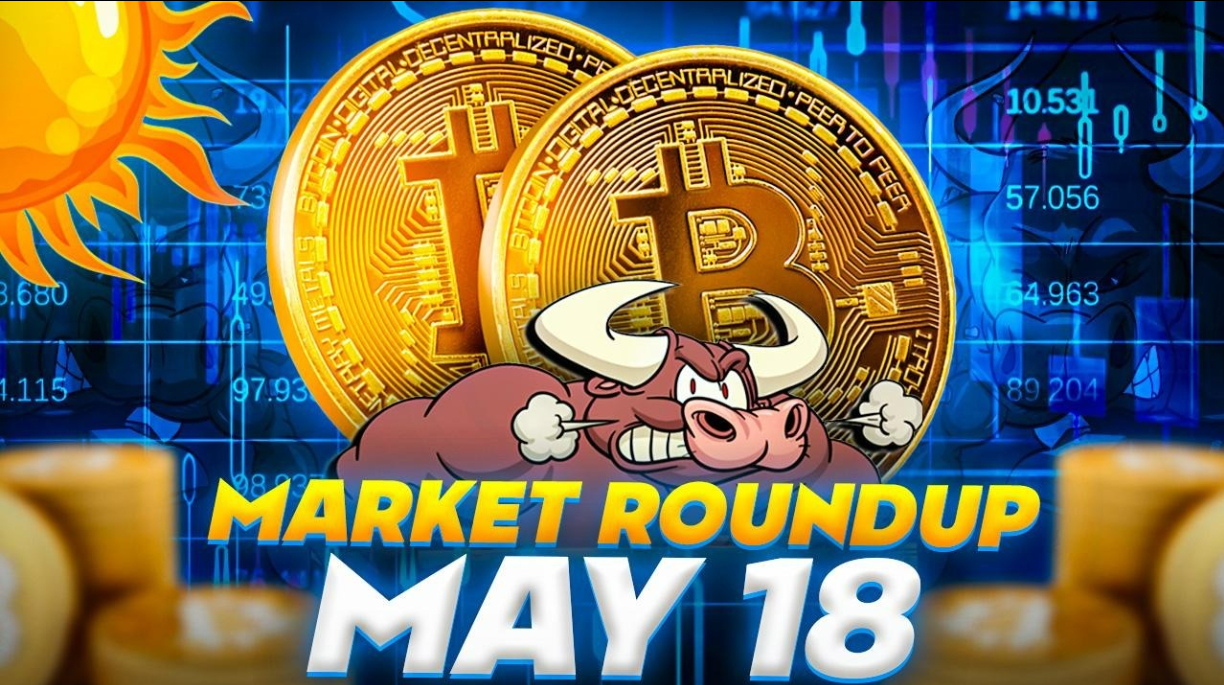 Bitcoin, the leading cryptocurrency, is facing difficulties in surpassing the significant resistance level at $27,500.
Despite recent bullish momentum, Bitcoin's upward movement has been impeded by the persistent downward trendline.
The market sentiment remains cautious as traders closely monitor Bitcoin's performance, waiting for a decisive breakthrough or a potential retracement.
The next price movements will likely be influenced by the ability of Bitcoin to overcome these obstacles and establish a new direction.
Tether Allocates Millions to Bitcoin as Part of its Reserves Diversification Plan
On Wednesday, Tether, the organization behind USDT, the largest stablecoin by total market cap, announced its intention to acquire Bitcoin as part of its reserve backing strategy.
By incorporating the leading cryptocurrency into its balance sheet, Tether joins the ranks of other prominent entities, diversifying their holdings.
The primary objective behind Tether's upcoming purchase of Bitcoin is to diversify its reserve holdings that back the USDT token.
This strategy ensures that the company maintains the 1-to-1 peg of USDT to the US dollar.
Tether plans to allocate approximately $222 million, which represents 15% of its net profit, for this purchase.
The decision to invest in Bitcoin was made considering its strength and potential as an investment, according to Tether's CTO Paolo Ardoino.
The news of Tether's significant Bitcoin purchase to back its USDT has bolstered Bitcoin and contributed to its positive momentum on Thursday.
Politicians in Korea Unite in Support of Crypto Regulations Following a High-Profile Murder Case
According to a Bloomberg report on May 18, a Korean woman was abducted on March 29 and subsequently murdered in a dispute believed to be connected to losses related to cryptocurrencies.
This incident adds to a series of scandals involving digital assets, including the collapse of Do Kwon's Terra Money ecosystem in May of last year.
According to reports, the recent murder case has intensified pressure on the Korean government to promptly pass the country's first independent cryptocurrency law, which could receive parliamentary approval later this month.
The proposed law would introduce stricter regulations regarding reserve funds, account maintenance, and the requirement for digital asset companies to purchase insurance as protection against attacks.
These regulations would apply to digital currencies like Bitcoin, while government-designated securities would continue to be governed by existing capital markets legislation.
The news of this tragic murder case involving digital assets has had a downward impact on Bitcoin prices.
Pakistan's Finance Minister: Cryptocurrency Unlikely to Gain Legitimacy Due to FATF
Pakistan is set to enforce a ban on cryptocurrency services and has no intentions of legalizing cryptocurrency trading, as stated by Aisha Ghaus Pasha, the Minister of State for Finance and Revenue.
This decision comes as a requirement from the Financial Action Task Force (FATF), which had previously placed Pakistan on its "grey list" due to inadequate anti-money laundering and counter-terrorist financing measures.
The prohibition of cryptocurrencies was one of the conditions set by FATF for Pakistan's removal from the list. The State Bank of Pakistan (SBP) and the Ministry of Information and Technology have collaborated in drafting the legislation for this ban.
This stringent stance on cryptocurrency in Pakistan has added pressure to the market and limited gains for major cryptocurrencies.
Bitcoin Price
Bitcoin is trading at $27,290, experiencing a less than 1% increase on Thursday.
BTC is facing challenges in reclaiming its $30,000 level from the previous month and is currently hovering around $27,000.
At the moment, Bitcoin is facing a significant resistance around the $27,500 level, which is acting as a double-top pattern for BTC.
If Bitcoin manages to break above the $27,500 level across multiple timeframes, it has the potential to target the next resistances at $27,700 or $28,000.
Further demand for BTC could even propel it above the $28,000 level, with the next resistance likely to be found around $28,300.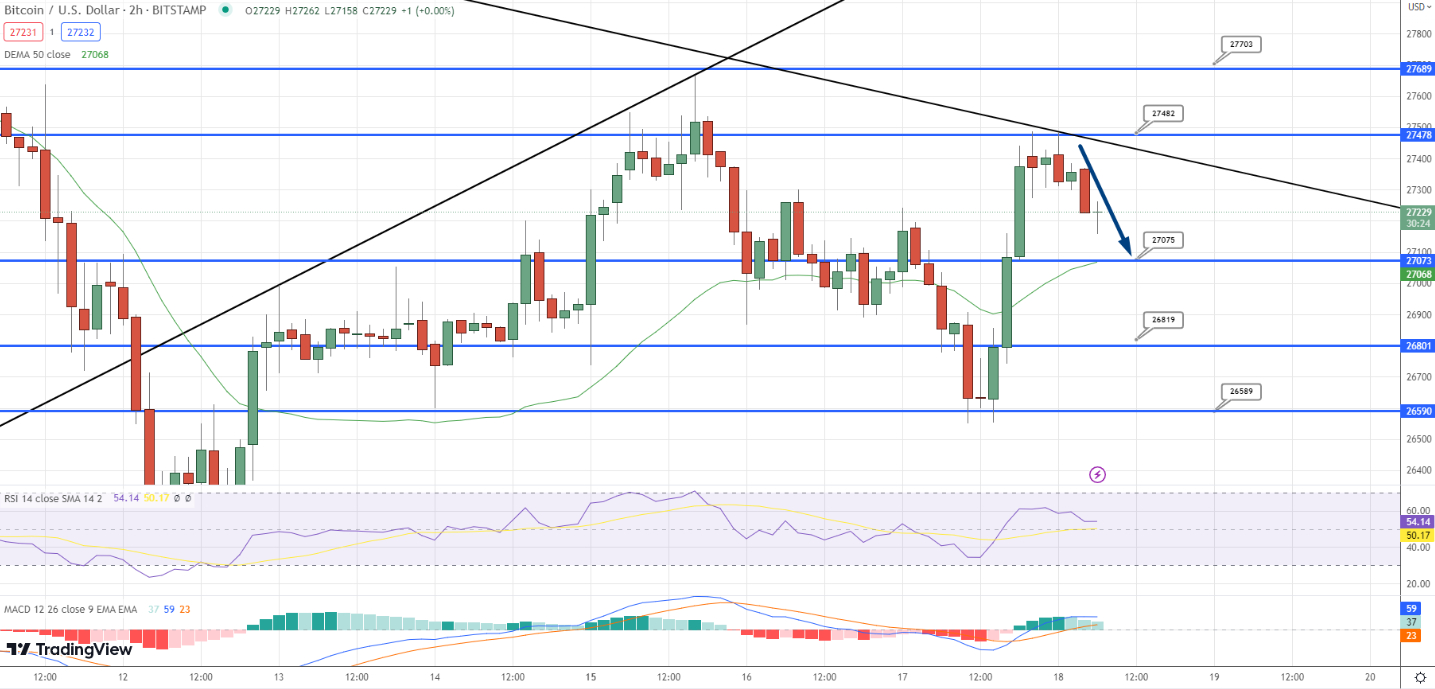 However, Bitcoin is currently struggling to surpass the $27,500 level, which is reinforced by the double top pattern, downtrend line, and the formation of a bearish timer and spinning top candlesticks below this level.
These indicators suggest a possible weakness in the upward trend, with Bitcoin potentially retracing lower towards $27,000 and $26,800.
Therefore, it is important to monitor the $27,500 level as a significant pivot point for Bitcoin's performance today.
Top 15 Cryptocurrencies to Watch in 2023
The Cryptonews Industry Talk team has compiled a selection of promising cryptocurrencies for 2023 that showcase strong potential.
These cryptocurrencies exhibit significant prospects for growth in both the near and distant future.
Disclaimer: The Industry Talk section features insights by crypto industry players and is not a part of the editorial content of Cryptonews.com.
Find The Best Price to Buy/Sell Cryptocurrency

---