Best Crypto to Buy Now 26 June – Aave, Uniswap, ApeCoin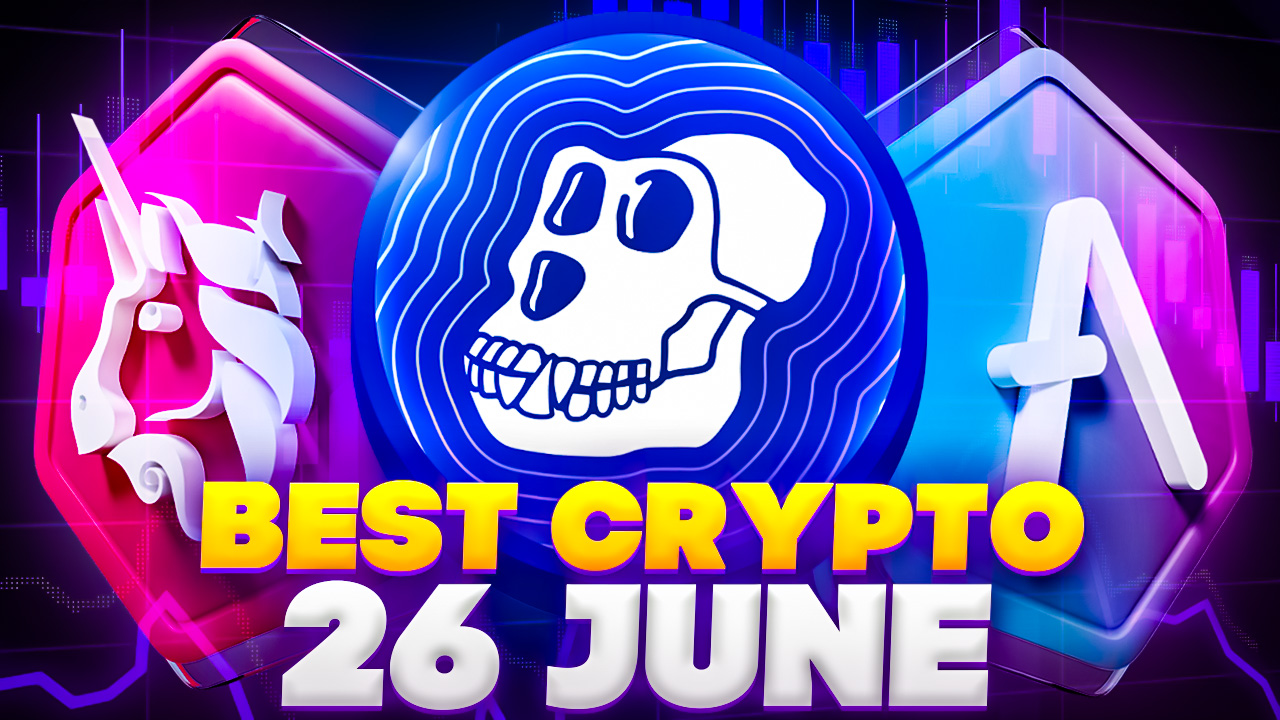 Bitcoin's price remained above $30,000 today, with investors anticipating the potential impact of the upcoming options expiry on the cryptocurrency's value.
Markus Thielen, head of research at Matrixport, notes that BTC has historically experienced gains of at least 20% during July in the past three years.
As the cryptocurrency market gears up for a potential rally in July, what are the best cryptos to buy now?
He predicts that Bitcoin could climb 10-20% within the next 30 days, possibly reaching $33,000 to $36,000 by August.
Thielen highlights a pattern in Bitcoin's performance this year, where it rises by approximately $10,000 and subsequently falls by $5,000, which has been observed after major events.
He believes that the market is moving towards $35,000, driven by the expectations surrounding Bitcoin ETFs approval.
The upcoming expiry of Bitcoin options contracts on Friday could either propel the cryptocurrency's price further or trigger a decline.
In current market conditions, WSM, AAVE, CHMPZ, UNI, YPRED, APE, and ECOTERRA are some of the best cryptos to buy now due to their strong fundamentals and/or positive technicals.
Bull Run or Bear Hug? Wall Street Memes- One of the Best Cryptos to Buy Now?
Wall Street Memes is creating a noteworthy buzz, recently surpassing the $10 million mark in its ongoing presale.
The up-and-coming meme coin, with its roots less than a month deep, has demonstrated phenomenal traction.
An impressive $100K was collected mere minutes into the launch, with over $500K accumulating in the last day alone.
This success can be attributed to its creators, a social media brand that boasts a following exceeding one million.
Originating in 2021, Wall Street Memes takes its cue from the popular Wall Street Bets Reddit movement.
The launch of their meme coin seeks to 'tokenize' this movement, opening doors for everyday investors to capitalize on the meme coin trend.
The brand, known for disseminating stock and crypto-themed memes across various social media platforms, enjoys a wide celebrity following and has even had interactions with the likes of Elon Musk.
The Wall Street Memes brand doesn't confine itself to humor alone. In 2021, the team introduced an NFT collection, Wall St Bulls, earning over $2.5 million within 32 minutes.
To commemorate the presale, a $50K airdrop campaign is underway, where users can secure up to seven entries by performing simple tasks, such as following Wall Street Memes on Twitter and joining its Telegram group.
Additionally, Wall Street Memes merchandise has been released to fortify brand recognition, potentially assisting in the coin's growth.
The brand's whitepaper and roadmap delineate future prospects and achieved milestones, presenting an exciting view of what's to come.
Collaborations with influencers, awareness initiatives, and community creation are among the exciting plans outlined in their roadmap's Phases 2 and 3.
The project has already joined forces with Crypto Jamie, a popular content creator with more than 15K followers across his Twitter and YouTube channels.
The roadmap presents an ambitious market cap goal of $1 billion. Given its total token supply of two billion, this would translate to a token price of $0.50.
As the presale continues, offering the $WSM token at a discounted price of $0.0301, a potential 16X gain might be on the horizon for early investors.
Currently, the presale is in its 18th round of 30, having surpassed $10 million of its $30,577,000 hard cap. As the presale price is set to rise to a final $0.0337, those seeking optimal returns might want to move quickly.
Aave (AAVE): Indicators Suggest Potential Retracement Before Resuming Uptrend
Aave (AAVE) has been experiencing a strong uptrend over the past 9 days.
However, today's trading session has seen a significant retracement, with the price currently at $63.43, down by 7.75% so far today.
Despite this decrease, the technical indicators suggest that traders should remain cautiously optimistic about AAVE's prospects in the immediate future.
The 20-day EMA is currently at $57.71, while the 50-day EMA is at $60.87. Both of these EMAs are below the current price, indicating that the overall trend remains bullish.
However, the 100-day EMA is at $65.26, acting as a resistance level that AAVE will need to surpass to continue its upward trajectory.
The RSI has dropped to 58.80 from yesterday's 70.63, suggesting a potential cooling-off period after the recent strong gains.
This decrease in RSI could be an indication that the current retracement may continue for a short while before the uptrend resumes.
The MACD histogram has increased slightly to 1.81 from yesterday's 1.71, further supporting the possibility of a temporary pullback in AAVE's price.
However, the MACD remaining in positive territory suggests that bullish momentum is still present.
In terms of key price levels, AAVE faces immediate resistance at the 100-day EMA, followed by the Fib 0.5 level at $65.96.
On the other hand, immediate support can be found at the Fib 0.382 level, which is at $61.58.
Traders should brace themselves for a possible short-term retracement before the uptrend of Aave (AAVE) continues, as per its technical indicators.
Chimpzee: Offering a Helping Hand, Earning More than Bananas
The Chimpzee crypto is becoming a symbol of hope, developing a unique methodology that allows individuals to gain passive income while actively participating in charitable acts, specifically focusing on environmental preservation and animal protection.
Their initiative could make it one of the best cryptos to buy now.
With a mission that has attracted over $600,000 in presale investment, Chimpzee is indeed making an impact.
The project already has a philanthropic track record, with a $15,000 donation made and 1,000 trees planted in its initial phase, symbolizing the potential of the project.
The brainchild of Max Chimpzeeski, Chimpzee seeks to change traditional perspectives on charity by creating an ecosystem where passive income is feasible.
Chimpzee's three-pronged approach, the Shop2Earn, Trade2Earn, and Play2Earn pillars, provides a multifaceted approach to income generation while making a positive impact.
The Shop2Earn feature is centered on the Chimpzee Shop, which serves as a marketplace where CHMPZ tokens can be exchanged for unique items.
It offers the chance to buy, sell, and be rewarded, creating an interactive experience for users.
The Trade2Earn aspect revolves around an NFT Marketplace, enabling the purchase and trade of Chimpzee NFTs, such as the Diamond NFT Passport.
The ownership of this passport offers an opportunity to receive higher rewards and more CHMPZ coins, alongside a 20% staking APY.
The marketplace stands out with its plan to share a portion of trading fee profits with its users, prioritizing environmentally-focused NFTs and establishing a new standard in the industry.
Finally, the Play2Earn aspect introduces a gaming element where users can earn CHMPZ tokens by achieving milestones in the Zero Tolerance Chimpzee game.
This feature, combined with the rest of the ecosystem, offers a unique path to passive income while contributing to crucial environmental causes.
Chimpzee's presale is currently in its first phase, with the potential for whitelisting for the Diamond NFT Passport offers. The token is priced at $0.00064, anticipated to rise during the first phase.
This presents a unique opportunity to be part of this growing ecosystem at a potentially lower cost, indicating Chimpzee's potential as one of the best cryptos to buy now.
Uniswap (UNI): Bullish Breakout Retest Offers Potential Buying Opportunity
Uniswap (UNI) witnessed an impressive surge of 14.70% in yesterday's trading session, bouncing back from both the Fib 0.382 level at $4.725 and the 20-day EMA of $4.777.
The cryptocurrency managed to break through significant resistance levels, including the 50-day EMA ($4.925), 100-day EMA ($5.246), Fib 0.5 level ($5.063), and Fib 0.618 level ($5.402) in a single move.
Today's trading session, however, has seen a slight retracement in the price of Uniswap (UNI), which is currently retesting the 100-day EMA as support at $5.246.
Uniswap is currently trading at $5.267, down by 3% so far today. This retracement presents a potential buying opportunity for traders if the support level holds.
The RSI indicator currently stands at 62.88, down from yesterday's 68.42, indicating that the market may be cooling off from the recent upswing.
A healthy RSI level suggests that the market is not overbought, and there might be room for further upside movement.
The MACD histogram is relatively unchanged, registering 0.118 today compared to yesterday's 0.119.
The MACD is a momentum-based indicator, and the current reading suggests that the bullish momentum remains intact despite the slight retracement in price.
The immediate resistance for Uniswap lies at the Fib 0.618 level of $5.402.
If the 100-day EMA support at $5.246 holds, traders could expect the price to retest this resistance level in the coming sessions.
On the flip side, if the support fails to hold, the next level of support can be found at the Fib 0.5 level of $5.063.
Uniswap (UNI) broke through crucial resistance levels, showing a strong bullish trend. The current retracement and 100-day EMA retest offer a potential buying opportunity.
If the support holds, a retest of the $5.402 Fib 0.618 level may be imminent. Traders are advised to remain vigilant of price action and assess their risk tolerance before entering positions.
Crypto Prediction Express: yPredict Sets Its Sight on Becoming One of the Best Cryptos to Buy
Rising in a highly competitive sector, yPredict is working on a platform that will empower traders with data-driven leverage.
With artificial intelligence at its core, the platform is intending to deliver all-encompassing research and comprehensive analysis for its users.
The utility token of yPredict, $YPRED, is already in the spotlight, having raised over $2.5 million, demonstrating the token's potential worth.
This initial success has piqued the interest of more than 20,000 individuals who have joined the platform's waiting list, signaling increasing confidence in the future capabilities of yPredict.
yPredict's approach leverages AI and machine learning to enhance trading decisions.
The team behind the scenes – a blend of AI and ML experts, financial quants, and seasoned traders – is utilizing tools such as natural language processing to gauge token buying sentiment.
Additional capabilities encompass pattern recognition, sentiment analysis, and a wide range of charting patterns.
These advanced tools will offer traders crucial insights and analytics for data-driven decisions in the ever-changing crypto sector.
According to yPredict's whitepaper, the platform's objective is to fill the market gap by providing easy access to data-driven insights and reliable analytical metrics.
As the cornerstone of the yPredict ecosystem, $YPRED tokens are a prerequisite for accessing the suite of yPredict's tools and data insights.
Through a three-tier subscription model, the tokens allow users access to insights on the crypto market, specialized trading tools, and a marketplace for predictive model results.
As the platform evolves, the role of $YPRED as a utility token is anticipated to grow, offering a thrilling future for the startup and its expanding user community.
Beyond its trading platform, yPredict is introducing a novel Learn-2-Earn system that rewards users with $YPRED tokens for continuous learning.
There's also a play-to-earn feature, where successful bets on the future of crypto can earn traders more $YPRED tokens.
Looking ahead, yPredict aims to conclude the remaining token sale rounds and roll out the yPredict Analytics Beta in Q2 2023.
This promising growth trajectory forecasts a multitude of exchange listings, global marketing campaigns, and the launch of the yPredict Repository Beta throughout the second half of the year.
By 2023's close, yPredict aspires to fully release its Analytics, Repository, and Marketplace, thus creating a versatile platform catering to traders of all levels.
ApeCoin (APE) Struggles to Break 20-day EMA
ApeCoin (APE) continues to face resistance at the 20-day EMA of $2.375. Despite attempting a bullish move, the digital asset has been unable to surpass this level in the past two months.
ApeCoin is currently trading at $2.329, registering a modest 1% gain so far today.
ApeCoin has set its sights on mounting the Fib 0.236 level at $2.291, which is a critical level for the cryptocurrency and could potentially provide strong support.
The 50-day EMA and the 100-day EMA are at $2.828 and $3.341, respectively, suggesting a bearish trend in the medium to long term.
However, the RSI shows a slight increase, moving from 41.98 yesterday to 43.06 today. This indicates a potential shift in momentum, although it remains in neutral territory.
The MACD histogram also reveals a small improvement, with the value rising from 0.047 yesterday to 0.056 today.
Traders should keep a close eye on these indicators to assess if the momentum can continue in the coming days.
In terms of key levels, the immediate resistance for ApeCoin lies at the 20-day EMA at $2.375.
If the cryptocurrency manages to break through this level, it will likely encounter further resistance at the Fib 0.382 level of $2.497, which is in confluence with the $2.50 psychological resistance level.
On the downside, immediate support can be found at the Fib 0.236 level of $2.291. Should ApeCoin fail to hold this level, the next area of support lies in the horizontal range between $1.956 and $2.041.
Keeping a close eye on ApeCoin's technical indicators and key levels is advisable for traders in the days ahead.
A decisive break above the 20-day EMA could signal a shift in momentum, while a drop below the Fib 0.236 level may indicate further downside.
EcoTerra - Recycling Profits into Your Pocket
The eco-friendly crypto project, ecoterra, is stirring up interest as its presale reaches new heights.
Closing in on the hefty figure of $5.5 million, this project's presale is certainly creating ripples in the crypto sphere.
With CEO Mihai Ciutureanu and his diligent team rubbing elbows with green tech giants at the Berlin Green Tech Festival, the project's networking endeavors are not going unnoticed.
Following a smooth transition, ecoterra is now taking steps toward introducing the beta version of its long-awaited Recycle-to-Earn (R2E) application.
As the project progresses, users can anticipate its application, available on both desktop and mobile, backed by a vast potential market.
The application plans to make recycling rewarding through a user-friendly, minimalistic interface that enhances user experience.
By the close of the year, the industry will witness the launch of ecoterra's alpha version R2E application, a first of its kind.
The project's whitepaper details the development of an $ECOTERRA-powered web3 ecosystem, encouraging recycling via the R2E system.
This system not only promotes trade in recycled materials but also inspires individuals and businesses to offset their carbon footprint.
Ecoterra is quickly gaining recognition as one of the most dynamic web3 initiatives of the year. Analysts have identified it as one of the best cryptos to buy for this year.
With the demo release of its flagship R2E app slated soon, the presale momentum is likely to surge further. The $ECOTERRA token currently sits at a price of $0.00925.
EcoTerra's all-in-one application seeks to incentivize environmentally friendly actions.
It provides rewards in the form of the platform's native $ECOTERRA crypto token each time a user recycles.
The application also includes a carbon offset marketplace and a recycled materials marketplace, allowing individuals and businesses to offset their carbon footprints and purchase recycled goods, respectively.
The $ECOTERRA token is brimming with utility. Not only does it serve as the primary medium of exchange, but holders of $ECOTERRA can also anticipate VIP access to real-world events, educational programs, and much more.
The token's supply is capped at two billion, with one billion made available to presale investors.
This creates an exciting potential for the token's value to inflate, making $ECOTERRA a promising green investment for the future.
Disclaimer: The Industry Talk section features insights by crypto industry players and is not a part of the editorial content of Cryptonews.com.
---