Best Crypto to Buy Now 16 June – Immutable X, Curve DAO, NEO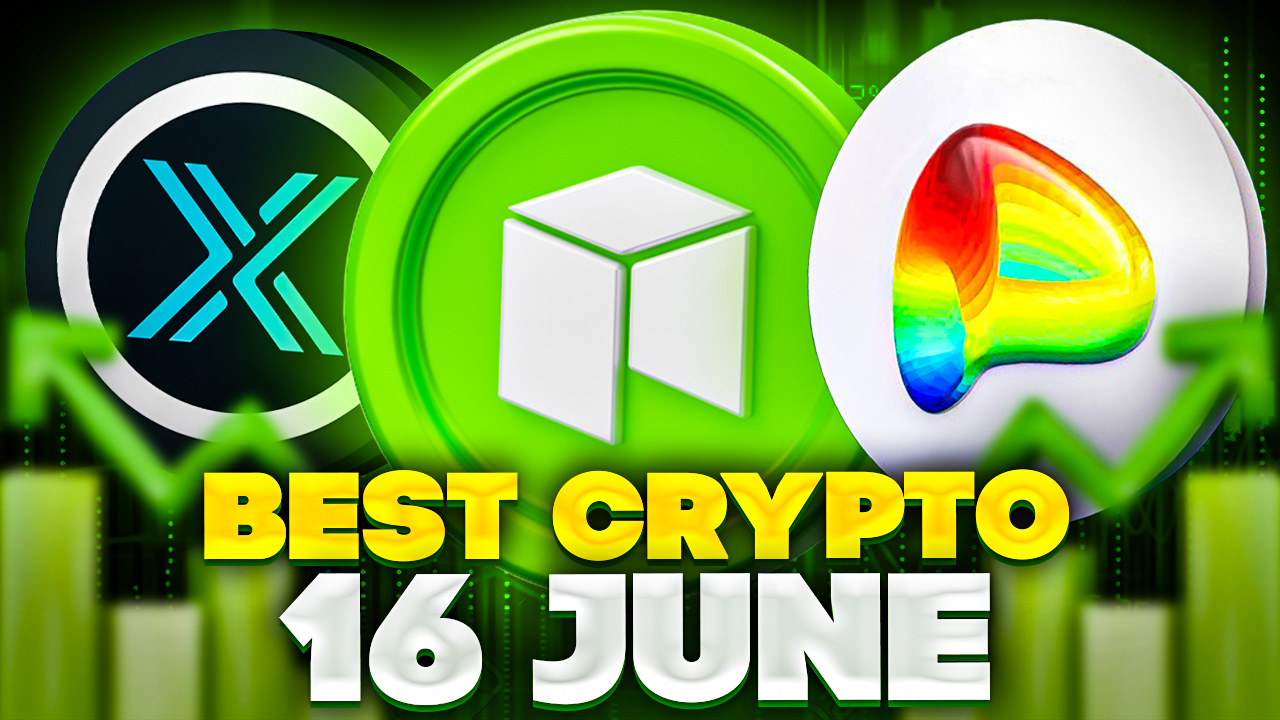 Bitcoin is currently up about 3% in the past 24 hours, thanks in part to investment management corporation BlackRock's commitment to creating a Bitcoin exchange-traded fund (ETF).
This has also led to a price increase in Ether and other leading non-stablecoin cryptocurrencies.
With the cryptocurrency market displaying positive trading activity today, what are the best cryptos to buy now?
Bitcoin is currently experiencing a significant rally, with an increase to $26,331 according to CoinMarketCap data.
The market capitalization of the largest cryptocurrency is has also grown by 3.54% to reach $512 billion as of writing.
BlackRock's announcement on Thursday to launch the first publicly traded Bitcoin exchange-traded fund (ETF) in the U.S. has been a significant driver behind the price increase.
The world's largest asset manager has entrusted Coinbase Custody Trust Co. with the responsibility of safeguarding the cryptocurrency for their proposed ETF. Should the ETF receive the green light, it will find a home on the Nasdaq stock exchange.
The global cryptocurrency market is currently witnessing a 2.47% increase in its capitalization in the past 24 hours as well, which stands at $1.028 trillion--while the total market volume has decreased by 22.27% to $34.2 billion over the same time.
With Bitcoin's value on the rise, it's worth exploring other cryptocurrencies that have strong fundamentals and favorable technical analysis. Some of the best cryptos to buy now include WSM, IMX, ECOTERRA, CRV, YPRED, NEO, and SWDTKN.
Wall Street Memes: One of the Best Cryptos to Buy Now, Following its Pre-Sale Success
Raising over $7.96 million in merely three weeks, the pre-sale for Wall Street Memes is progressing at an impressive rate of about $377,000 per day.
This frenzy has positioned Wall Street Memes as a potential contender for the best crypto to buy, akin to meme coin icons like Dogecoin, Pepe, and Shiba Inu.
With the presale for $WSM is currently in relativey early stages, early investors have the opportunity to make significant gains.
The token's current price in stage 15 is $0.0292, and it is set to increase incrementally to $0.0337 by the end of the presale, which could provide significant returns to those who back it early.
The Wall Street Memes team has a proven track record of quickly selling out digital asset launches, such as the Wall Street Bulls 10,000-piece NFT collection, which raised $2.5 million in just 32 minutes.
Further amplifying Wall Street Memes' appeal is its extensive social community, boasting over a million engaged members.
It has captured the attention of prominent personalities like Elon Musk, resulting in a robust online presence that can significantly influence the $WSM presale.
The $WSM token is reportedly being considered for listing on major cryptocurrency exchanges, as negotiations are said to be taking place between Wall Street Memes and these major exchanges.
Such a listing could provide a significant impetus to $WSM, propelling it towards the team's goal of exceeding a $1 billion market cap. Hence, Wall Street Memes could indeed be heralding a new generation of meme coins.
Immutable X (IMX)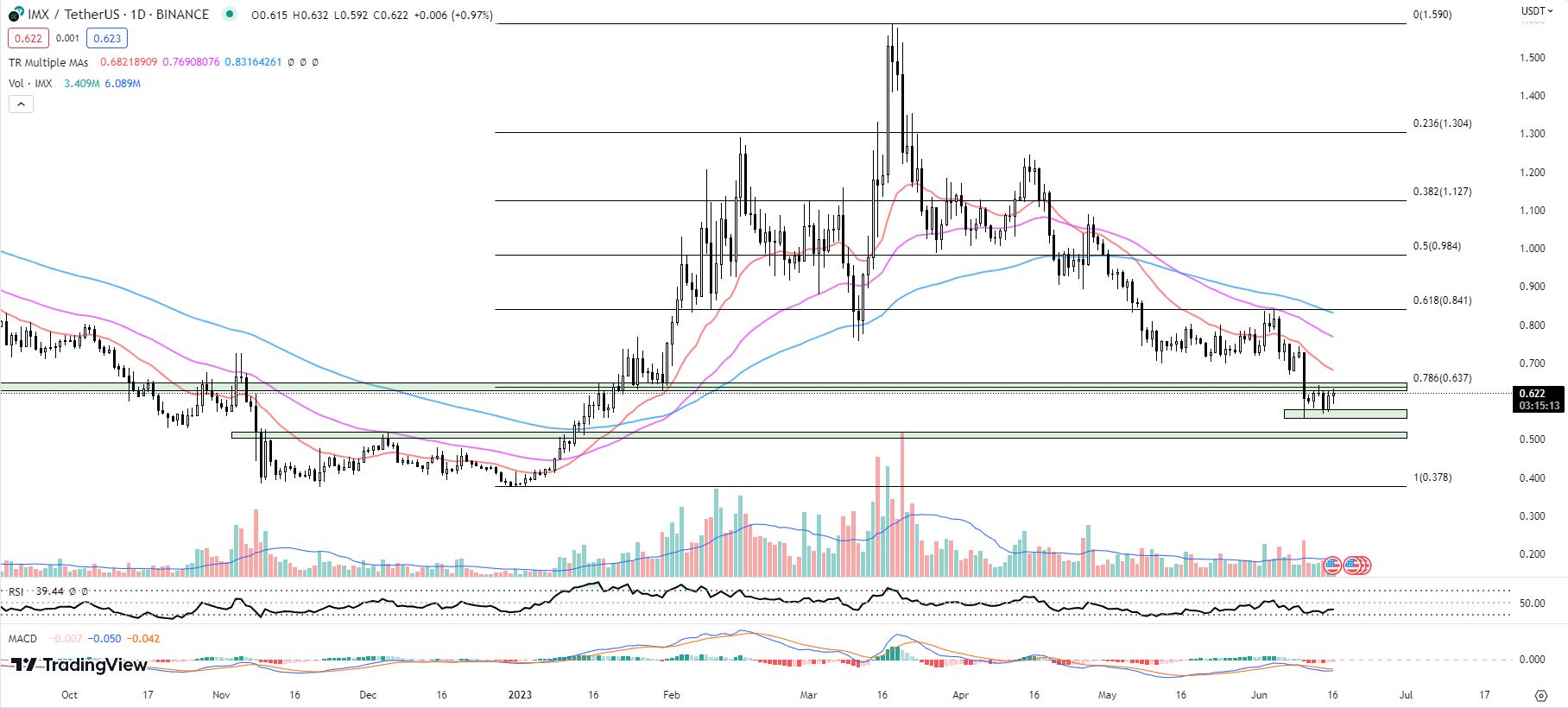 Immutable X (IMX) appears to have found a stable support zone in the $0.557 to $0.579 range.
The cryptocurrency is currently trading within a relatively constrained range between $0.557 to $0.644, with attempts to breach the resistance of $0.786 proving unsuccessful so far.
The 20-day EMA is at $0.682, while the 50-day and 100-day EMAs are at $0.769 and $0.832, respectively.
This suggests a medium-term bearish trend with the price being below all the mentioned EMAs.
That said, the 20-day EMA is closer to the current price, indicating that a bullish reversal could be on the cards, particularly if the price manages to surpass this level.
Further underpinning this possibility is the RSI, which is at 39.44, up slightly from 38.56 yesterday.
Generally, an RSI below 30 indicates oversold conditions, and above 70 indicates overbought conditions.
IMX's RSI is edging closer to the oversold zone, hinting at a potential overselling of the coin, which may prompt a price correction in the near term.
The MACD histogram, a tool used to identify potential buy and sell points, has risen from -0.010 to -0.007, indicating a diminishing bearish momentum.
This change, albeit small, can be seen as a positive sign that the sellers are losing strength, which might provide an opportunity for the buyers to step in.
IMX is currently trading at $0.622, up by 0.97% so far today. Resistance is seen at the Fib 0.7867 level at $0.637, further bolstered by the significant price zone of $0.628 to $0.649.
Breaking above this confluence area would be a bullish signal, indicating the potential for further upside movement.
However, should IMX fail to breach this resistance, it may likely revisit its immediate support area of $0.557 to $0.579.
A significant fall beneath this level could see the coin retreat toward the next support area of $0.504 to $0.521.
Traders are advised to keep a close eye on these technical indicators, as well as broader market trends, and be prepared to adjust their strategies as conditions evolve.
ecoterra: Driving Positive Change and Making Recycling Profitable
ecoterra, a pioneering web3 Recycle-to-Earn (R2E) platform, has raised more than $5.15 million so far in its $ECOTERRA token presale, reflecting the platform's potential to drive positive change and transform the way people approach recycling.
As the crypto community labels it one of the best cryptos to buy in 2023, the green crypto project is gearing up to open user applications for the beta version of its much-anticipated R2E application.
The ecoterra application, compatible with desktop and mobile, will reward users with cryptocurrency for recycling bottles via Reverse Vending Machines (RVMs).
ecoterra has recently added major beverage brands such as Coca-Cola, Carlsberg, and Evian to its database, signaling a significant potential market for the system.
Part of ecoterra's roadmap is an all-inclusive $ECOTERRA-powered web3 ecosystem.
It seeks to promote recycling through its pioneering Recycle-to-Earn (R2E) system, encourage trading in recycled materials, and inspire individuals and businesses to offset their carbon footprint.
ecoterra's presale has been remarkably successful, fueling the development of its green platform.
As the pre-sale amount approaches $5.7 million, the $ECOTERRA price will increase to $0.01, followed by the presale's closure at the $6.7 million mark.
Analysts predict that the token's listing on major crypto exchanges next quarter could result in significant returns, potentially making it an attractive option for those seeking green crypto investments.
Curve DAO (CRV)
The Curve DAO token (CRV) has experienced a 7% surge in trading activity in the last day, driven by a large liquidation of short positions.
Analytics firm Santiment has reported an influx of short positions on cryptocurrency exchange Binance, which is indicated by a significant swing in the "funding rate".
This metric measures the fees being paid by Curve perpetual contract traders to each other and can indicate bullish or bearish sentiment.
Positive values suggest long contract holders are paying a premium to maintain their position, while negative rates signal bearish sentiment as short traders are required to pay fees to long position holders.
A negative turn in Curve's Binance funding rate has coincided with a downtrend in the cryptocurrency's price, reflecting broader market fears such as regulatory challenges faced by Binance and Coinbase, and economic factors like Federal interest rate decisions, as well as uncertainties specific to CRV.
These fears stem from the fact that the Curve Finance founder has a significant loan against a wallet that holds almost 30% of the total circulating supply of the token, raising concerns about the potential for a large position liquidation.
The exchange has experienced a rise in bearish sentiment as these concerns have spread, which is made evident by the notably negative Binance funding rate.
This could trigger a squeeze, where a sudden price swing triggers a cascade of liquidations, potentially leading to a series of liquidations in the market, triggering a 'waterfall' effect.
However, the funding rate has recently shifted from extremely negative to marginally positive, implying that a short squeeze has occurred, resulting in a price bounce for Curve.
Curve DAO Token is currently trading at $0.630, displaying a 3.79% gain so far today.
In its endeavor to ascend higher, the token faces resistance at the 20-day EMA level of $0.721, while the support range is situated between $0.559 to $0.57.
The recent bounce of the RSI from 29.21 to 33.39 signifies that CRV has recovered somewhat from oversold levels, hinting at its potential for further upward movement.
yPredict: Unleashing the Power of AI for Traders and Investors - One of the Best Cryptos to Buy Now
yPredict, a crypto prediction platform renowned for its advanced Artificial Intelligence integration, is set to broaden its offerings beyond trading tools and price forecasting.
The platform has recently launched its Backlink Model, offering a precise link strategy for optimizing webpage rankings.
This addition demonstrates the platform's intention to broaden its services beyond crypto and venture into content development.
As with many AI-empowered systems, yPredict's prowess lies in the details. The platform will utilize predictive models and data insights constructed by leading AI developers and quants.
Traders and investors can leverage this platform to access numerous AI-driven signals, breakouts, pattern recognition, and social/news sentiment features.
The goal is to help users discern patterns and trends that might otherwise go unnoticed.
As yPredict's presale continues to climb and surpass over $2.38 million so far, the platform's native $YPRED crypto token will rise to $0.1 when the presale hits $2.982 million. This outlook bolsters the case for $YPRED as one of the best cryptos to buy now.
Neo (NEO)
The cryptocurrency market's volatility has put NEO in a difficult position. At the time of writing, NEO is trading at $7.88, showing a slight decline of 0.25% so far today.
NEO's trading range has been established, with support levels between $7.34 and $7.49, while facing immediate resistance at the reverse Fib 0.236 level of $7.95.
Despite multiple attempts over the past five days to break through this resistance level, NEO has yet to succeed, highlighting the challenges it faces in the current market conditions.
Looking at the key technical indicators, the EMAs are currently painting a bearish picture. The 20-day EMA stands at $8.785, well above the current price, followed by the 50-day EMA at $9.590 and the 100-day EMA at $9.989.
These values signify that the short and medium-term trend for NEO is downward-facing. Traders are advised to consider these levels as potential resistance in the event of any upside movement.
The RSI is at 36.07, slightly down from yesterday's 36.15. This indicates that NEO is approaching oversold territory, suggesting a potential bounce-back in the price may occur soon.
Nevertheless, investors should remain cautious as the RSI can remain in the oversold area for extended periods during a strong downtrend.
Moving to the MACD histogram, we see a figure of -0.16, up from yesterday's -0.20. Although still negative, the reduced difference between the MACD and its signal line suggests a slowing down of bearish momentum. This could potentially signal an imminent reversal of the trend.
The market capitalization of NEO has slipped by 0.53% to $557 million. Simultaneously, its 24-hour trading volume has seen a significant drop of 46.59% to $27 million, according to CoinMarketCap.
These statistics indicate a potential decrease in trader interest or a broader market retreat, contributing to the cryptocurrency's lackluster performance.
While the technical indicators imply a bearish sentiment for NEO, the retests at the immediate resistance and the RSI approaching oversold territory could potentially signal a bounce-back.
Investors are advised to closely watch the price action at the current support and resistance levels and look for confirmation signals for any potential trend reversal.
However, they should also remain mindful of the broader market conditions and tread carefully amidst this uncertainty.
Highly Anticipated Action RPG Swords of Blood Announces Beta Test Launch
Excitement is building in the gaming community as Swords of Blood, an action RPG, announces the return of its loot box sale with The Founders Box.
This unique offering provides early adopters access to legendary in-game items, free SWDTKN tokens, gems, and more.
The anticipation of the presale, which has already raised over $1.31 million so far, marks it as potentially one of the best cryptos to buy now.
The development team behind Swords of Blood has recently announced that the beta test for the game will be launched in approximately four weeks.
Fans of the highly anticipated game have expressed their excitement on social media platforms.
The game, often touted as the 'Diablo killer', is one of this year's most anticipated crypto games, offering an array of vibrant combat, stunning graphics, and multiple game modes.
The unique low entry barrier makes Swords of Blood accessible to both traditional and crypto gamers.
These loot boxes come in three variations - Basic Epic, Medium Legendary, and Big Legendary Founders Box.
The mechanics behind these boxes are as enticing as the game itself, offering a range of rare items and currencies.
The $SWDTKN token is an essential feature of Swords of Blood, as it enables users to access premium content and participate in tournaments, among other uses.
Swords of Blood intends to increase exposure and attract more token holders by listing its token on multiple cryptocurrency exchanges.
The game's community is betting on SWDTKN's potential to generate returns in the first few weeks after its initial exchange listings.
Disclaimer: Cryptocurrency projects endorsed in this article are not the financial advice of the publishing author or publication - cryptocurrencies are highly volatile investments with considerable risk, always do your own research.
---