ApeCoin is Going to Zero as APE Price Plummets 40% in a Month But Green Crypto ecoterra Just Raised $5.2 Million – What Does it Do?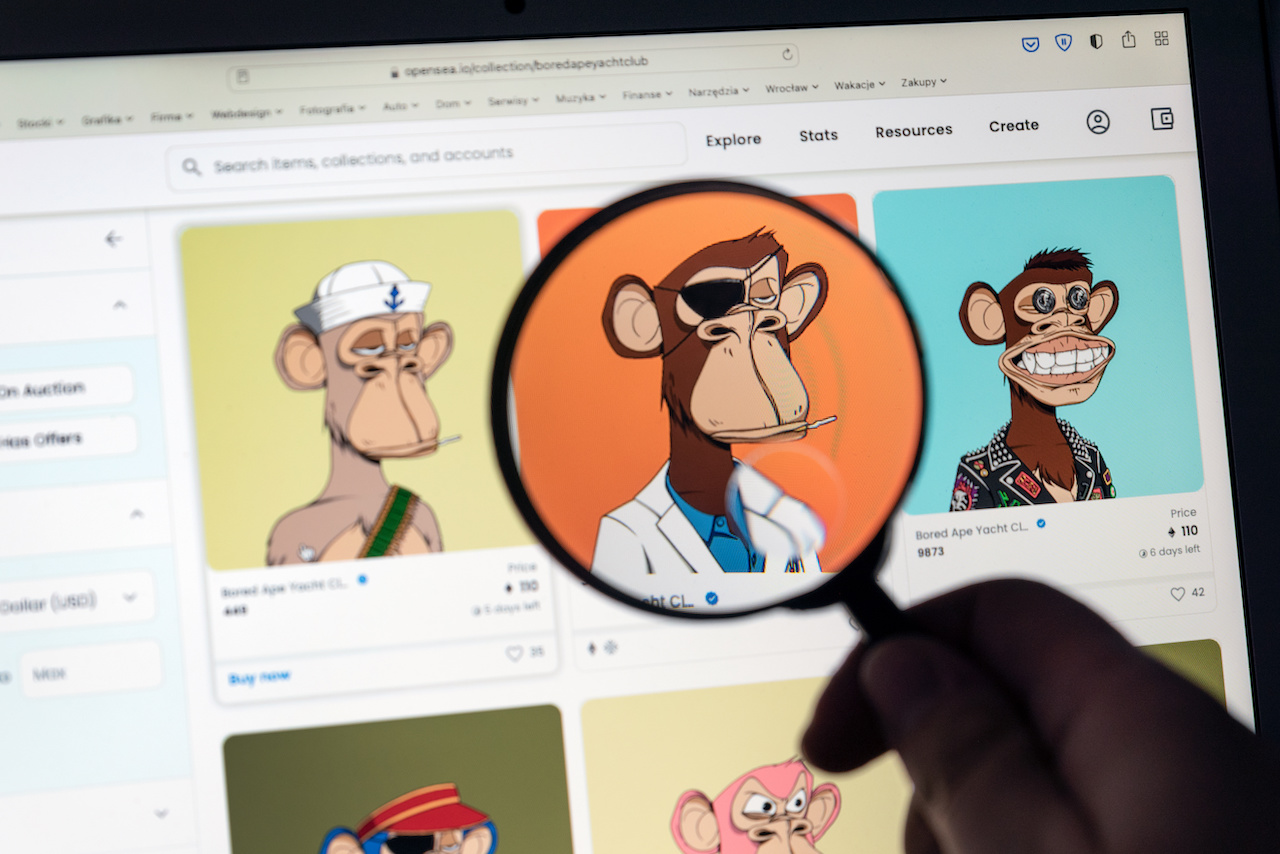 ApeCoin (APE) has been a hot topic of conversation in the cryptocurrency market lately, but not for all the right reasons.
Despite witnessing a notable surge of approximately 70% earlier this year, the cryptocurrency has encountered a sharp decline, leading to a substantial loss of nearly 68% from its peak in the year-to-date performance.
Can ApeCoin make a comeback, or is it on a downward spiral toward zero?
APE Price Momentum Falters: The Story Told by the EMA
The 20-day EMA for APE, a short-term trend indicator, stands at $2.505, above the current trading price, indicating that the bears are still in control.
The same narrative is depicted by the 50-day and 100-day EMAs, positioned at $3.018 and $3.507, respectively, further validating the ongoing bearish trend.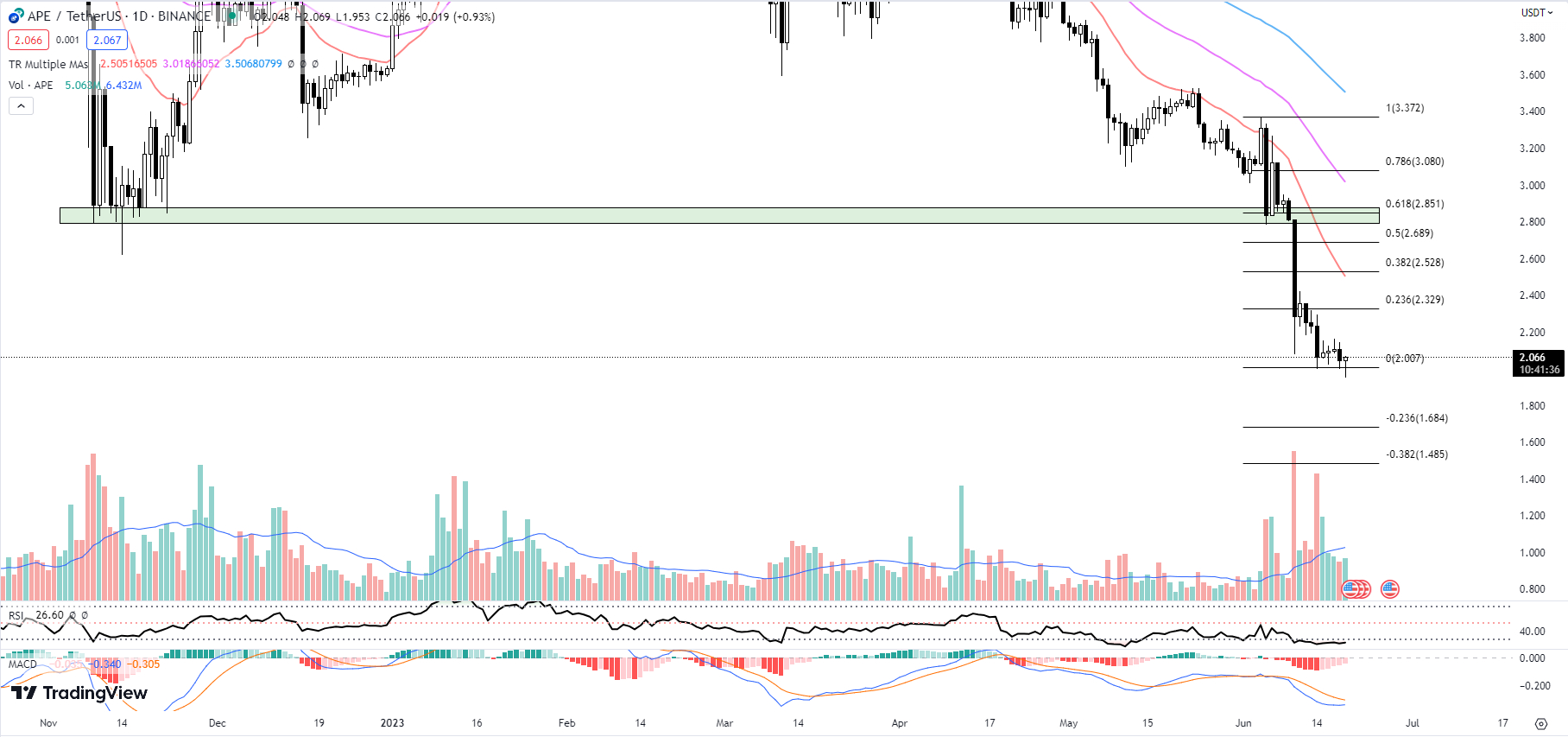 APE Price in Oversold Territory: The RSI Narrative
The Relative Strength Index (RSI) is a vital tool for analyzing an asset's overbought or oversold status.
With an RSI of 26.60, slightly higher than yesterday's 25.56, ApeCoin has been in oversold territory for the past nine days.
While this could signal a potential recovery, the extended bearish sentiment suggests that investors should be careful and not ape into APE.
APE Price Hints at Potential Rebound: A Glimmer of Hope from the MACD Histogram
The MACD histogram, widely used for identifying prospective buy and sell signals, currently stands at -0.035 – a slight improvement from yesterday's -0.047.
This minuscule upward shift could signify a potential bullish crossover, hinting that a trend reversal may be forthcoming.
Surging Volume and Shrinking Market Cap: What Does This Mean for APE Price?
Despite these signals, the volume and market cap trends seem to tell a different tale.
ApeCoin's 24-hour trading volume has seen a significant leap of 61.22% to $75 million, while its market cap has contracted by 3.30% to $761 million.
This suggests that although trading activity is picking up, the overall market valuation seems to be on a downward trajectory – more people are selling than buying.
APE Price Battling Key Levels: An Analysis of Resistance and Support
In terms of price action, ApeCoin finds itself in a tussle to hold support at the key $2 level.
If the current bearish trend persists and the price dips below this point, the subsequent support is located at the extended Fib -0.236 level at $1.684, followed by the Fib -0.382 level at $1.485.
However, should ApeCoin succeed in flipping the bearish trend, it will encounter immediate resistance at the Fib 0.236 level at $2.329.
For now, all eyes are on these critical levels. The technical indicators provide mixed signals, suggesting a potential recovery on the one hand and an ongoing bearish trend on the other.
While ApeCoin's price is currently in a bearish phase, the broader crypto market is seeing green, including ecoterra, a crypto startup that is dedicated to promoting environmental sustainability.
Ecoterra has raised over $5.2 million so far to fund its recycle-to-earn platform that will reward recycling through cryptocurrencies.
Building a Greener Future: The ecoterra R2E Platform
Ecoterra isn't your run-of-the-mill crypto enterprise. It's a unique Recycle-to-Earn (R2E) platform, inching closer to launching the beta version of its eagerly awaited application.
This app will be available to regions worldwide with the infrastructure of Reverse Vending Machines (RVMs) in place. With its cross-platform accessibility, ecoterra is planting seeds in a vast field of potential users.
Revealing its aesthetic charm, the forthcoming application will employ a minimalist design for seamless navigation, ensuring an enriching user experience.
Its anticipated arrival later this year, complete with user profiles and a test-run version, keeps the ecoterra community on their toes.
Nurturing Corporate Alliances: A Toast to Ecological Stewardship
ecoterra is taking significant strides towards integrating major beverage conglomerates into its database of scannable products, such as Coca-Cola, Carlsberg, and Evian.
The soon-to-be-released application will empower users to recycle bottles from these brands, and a host of others, like Dr. Pepper, at RVMs, earning crypto rewards in return.
ecoterra is fueling a $ECOTERRA-powered web3 ecosystem that will prioritize recycling through its pioneering R2E system, streamline trade in recycled materials and advocate for individuals and businesses to offset their carbon footprint.
This project is an example of how crypto's increasing adoption can be leveraged in addressing climate change.
Presale Progress: The Bull Run Continues
ecoterra's ongoing presale, designed to provide funding for the development of its platform, has garnered significant attention and success.
With the imminent release of the flagship R2E application's demo version, the presale process is expected to generate even more enthusiasm.
Individuals interested in acquiring the ERC-20 crypto token $ECOTERRA, which forms the foundation of ecoterra's green web3 ecosystem, can currently purchase it for just $0.00925 per token. However, this opportunity is time-limited.
Once ecoterra's presale reaches the $5.7 million mark, the final phase will commence, driving up the $ECOTERRA price to $0.01.
This presale window will close once the funding goal of $6.7 million is achieved, which is anticipated to happen soon.
$ECOTERRA's upcoming debut on major crypto exchanges in the next quarter is likely to spark speculation about its potential to rise in price.
As more investors become aware of this promising green crypto token, its price is projected to increase.
How to Buy ecoterra Tokens?
Ecoterra tokens can be purchased from the official website during the presale.
Users can connect their wallets—Mobile users can use the Metamask or Trust Wallet App to visit ecoterra's website, click on "connect," select the app, and click "approve."
Desktop users can open Google Chrome, click on "Connect Wallet," and approve using the Metamask extension.
After selecting a payment method (ETH, USDT, or Card) and entering the desired amount, follow the instructions for your chosen method, enter the amount of ETH/USDT, and click "Buy Now" to approve the transaction.
Once the transaction is complete and confirmed, reconnect your wallet and check your current token balance.
When the presale ends, connect your wallet and click the "Claim tokens" button.
As ecoterra continues to carve its path in the green crypto space, observers keep their eyes peeled for the potential ripple effect it could have on the broader cryptocurrency market.
And perhaps, in its strides, a glimmer of hope could be found for struggling cryptocurrencies like ApeCoin.
Disclaimer: The Industry Talk section features insights by crypto industry players and is not a part of the editorial content of Cryptonews.com.
---