Crypto's Best Green Project Ecoterra to End Presale in Under 5 Hours - $6.2M Raised Ahead of $ECOTERRA Launch on Friday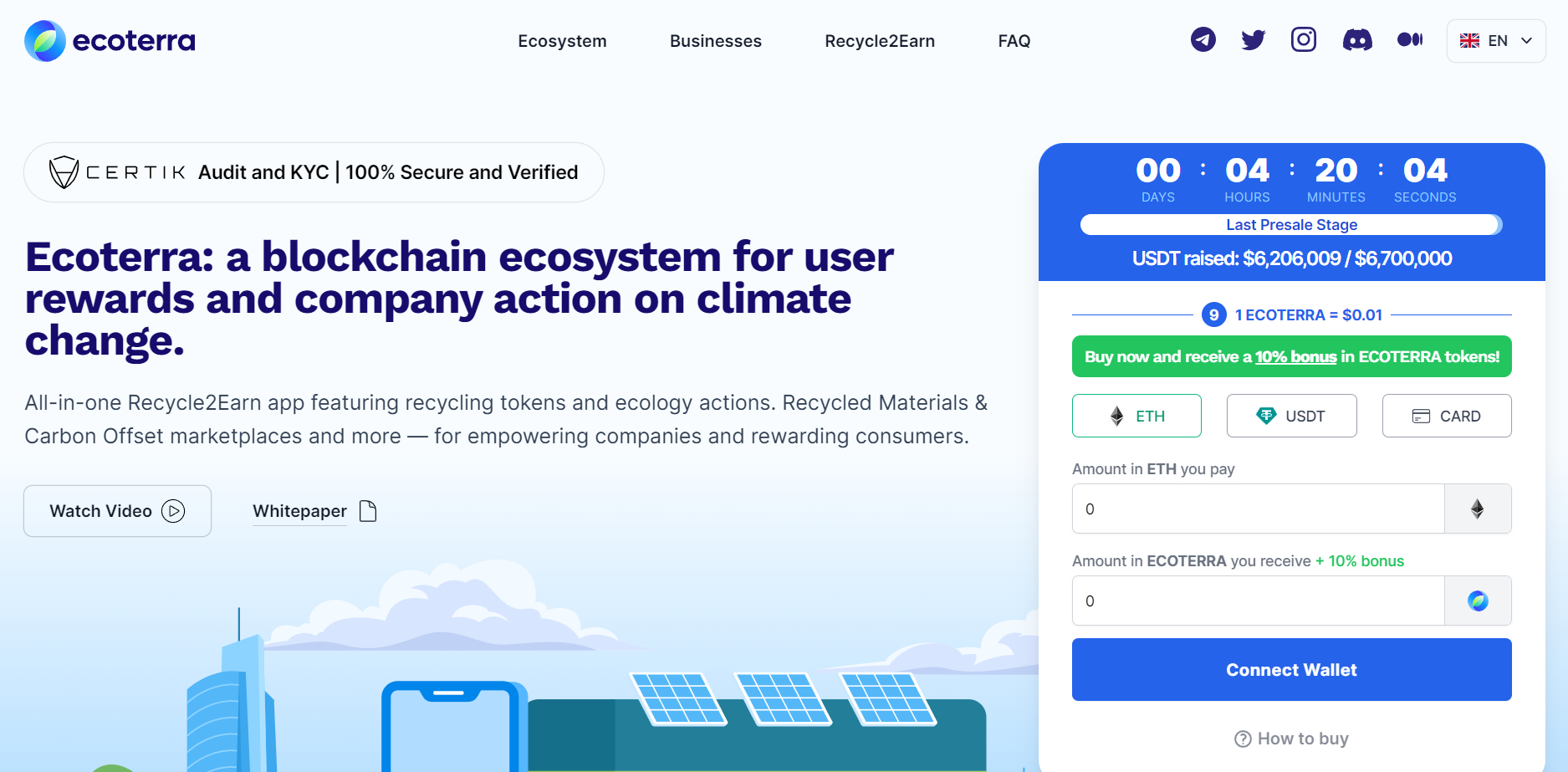 Wednesday, 12th July - It's the last call for crypto investors who want to get involved early in one of web3's most promising green project's ecoterra.
Ecoterra, which is building a revolutionary platform designed to reward and encourage users to adopt environmentally friendly behaviors, has been conducting a highly touted presale of its native $ECOTERRA token in order to fund its early development.
And that presale is set to end in under 5 hours.
Ecoterra's revolutionary crypto ecosystem is set to feature a pioneering Recycle-to-Earn (R2E) platform, which users are already able to sign up for, a carbon offset and recycled materials marketplace and a sustainability education platform.
The project has already won awards for innovation in the green web3 space.
If environmentally conscious crypto investors miss the presale, they will have to wait for $ECOTERRA to list across major centralized and decentralized exchanges to secure their tokens at a potentially elevated price.
At 10:00 UTC on Friday the 14th of July, $ECOTERRA will list on both LBank and BitMart.
After this time, presale investors will be able to claim their pre-purchased $ECOTERRA tokens, which will also become available for trade on Uniswap, the largest decentralized exchange.
Analysts have been tipping $ECOTERRA to post big upside once it lists on exchanges, given the success of the presale which has raised over $6.2 million and the project's strong value proposition.
Can $ECOTERRA 10x?
$ECOTERRA is used to power the ecoterra platform, meaning it is packed with in-built utility.
Beyond just functioning as the platform's main medium of exchange, $ECOTERRA holders will also gain VIP access to real-world events, educational programs and much more.
Meanwhile, ecoterra's development team intends to launch a staking protocol in the future that allows ECOTERRA holders to generate a passive income stream through their token holdings, giving investors further reason to HODL the token.
At the current presale price of $0.01, $ECOTERRA's implied fully diluted market cap is $20 million thanks to the maximum token supply of 2 billion.
Analysts at Cryptonews.com rank ecoterra as one of the best green cryptocurrencies to invest in for the year.
Meanwhile, popular British crypto presale analyst Jacob Crypto Bury thinks that $ECOTERRA has the potential to 10x when it launches across cryptocurrency exchanges later this year.
10x gains would see the cryptocurrency hit a $200 million market cap, but if ecoterra is to become one of web3's top green projects, we could be looking at a multi-billion dollar market cap in the coming years.
Investors should note that if they secure their $ECOTERRA tokens prior to the end of the presale, they will also get a 10% bonus.
That means that the effective price that investors will be paying for their presale $ECOTERRA tokens is actually around $0.0091, rather than $0.01.
$ECOTERRA can be purchased with ETH, USDT and via card.
---