Best Crypto to Buy Now 23 June – Pepe, Bitcoin Cash, Chainlink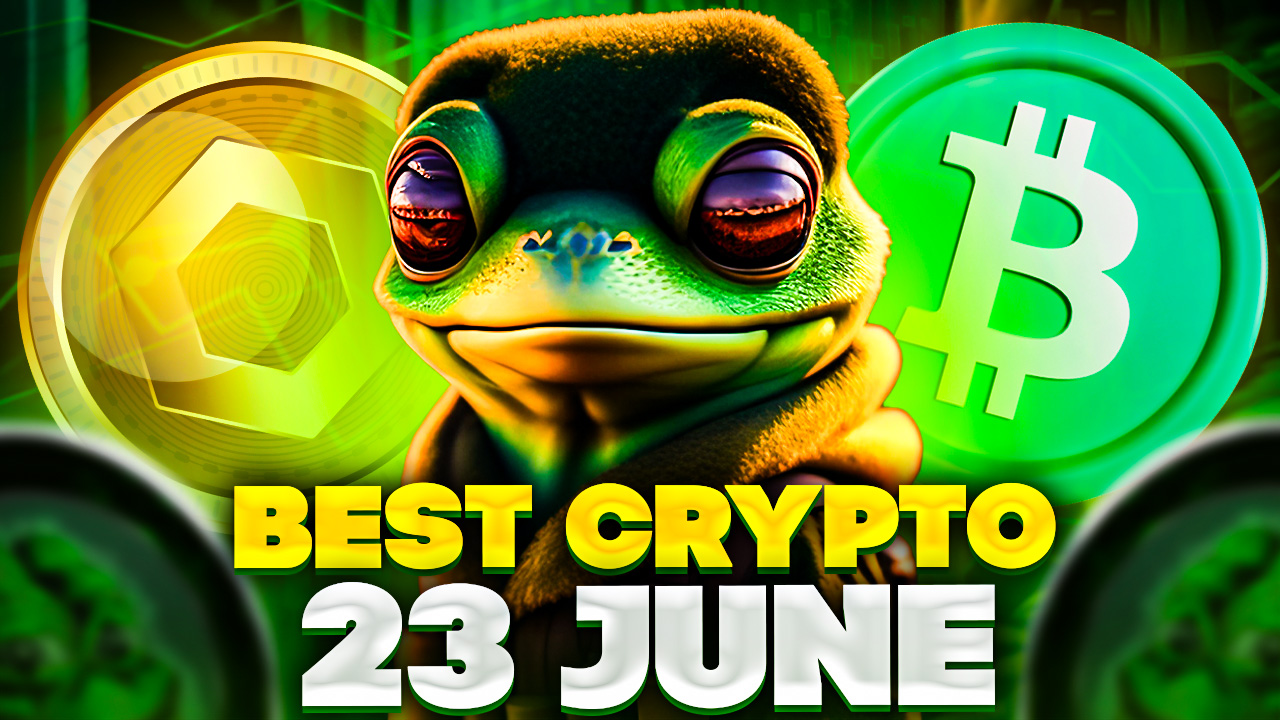 The crypto market, led by Bitcoin, is exhibiting a strengthening positive trend as the current trading session unfolds, propelled by a heightened institutional focus on the sector.
Bitcoin is currently trading at $31,086, representing a 3.97% gain so far today. The leading cryptocurrency has momentarily peaked past $31,400, setting an intraday high of $31,441, a level it hasn't breached since June 7, 2022.
With Bitcoin hitting a new year-to-date high, what are the best cryptos to buy now?
This week, Bitcoin has experienced noticable buying enthusiasm following a spate of developments around institutional engagement in cryptocurrencies.
Several significant activities are taking place in the crypto industry, including the launch of a new exchange for digital assets with the support of Wall Street, and proposals from BlackRock and other companies to create exchange-traded funds focused on these emerging assets.
In related news, the US Securities and Exchange Commission (SEC) has given its stamp of approval to the first leveraged Bitcoin Futures ETF.
Notably, the Volatility Shares' offering will stand as the premier ETF of its kind in the United States and is slated to commence trading operations on Tuesday, as reported by Coindesk.
Institutional engagement in cryptocurrencies has led to growing optimism in the cryptocurrency market.
WSM, PEPE, CHMPZ, BCH, YPRED, LINK, and ECOTERRA are some of the best cryptos to buy now due to their solid fundamentals and/or positive technical analyses.
WSM: The Crypto Project Changing Finance with the Power of Memes
Wall Street Memes has cause for celebration following the successful presale of its $WSM meme coin. In just under a month, the presale has so far raised over $9.8 million in USDT, nearing the $10 million milestone.
The team responsible for Wall Street Memes has a proven track record in launching cryptocurrency assets.
In 2021, they successfully released the Wall Street Bulls NFT collection, which included 10,000 pieces. The entire collection was sold out within 32 minutes, generating $2.5 million in revenue.
This accomplishment fuels investor expectations for the $WSM presale, suggesting it could be an interesting opportunity for those considering the best crypto to buy.
Undeniably, the power of the Wall Street Memes community extends well beyond the average meme coin community.
Boasting a strong social following that exceeds 1 million across various platforms, Wall Street Memes' reach has garnered attention from industry heavyweights.
Notably, billionaire Elon Musk interacted with the community on two separate occasions, underscoring the community's influence and the potential for $WSM's future performance.
While the next steps include listings on decentralized exchanges, sources suggest that the Wall Street Memes team is in conversation with a selection of the top 10 cryptocurrency exchanges, suggesting an optimistic future trajectory for the $WSM token.
PepeCoin (PEPE): A Bullish Breakout Supported by Key Indicators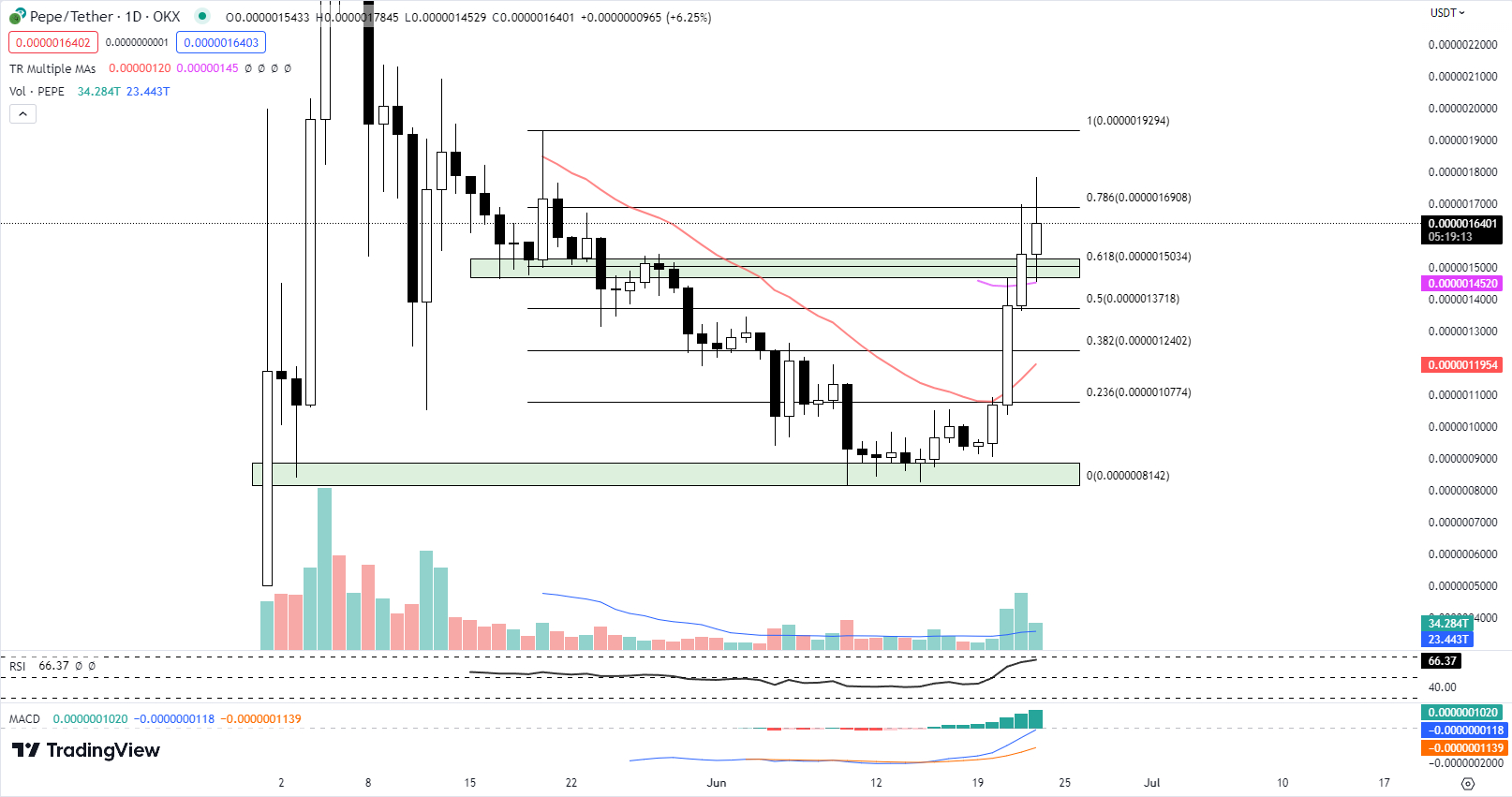 PepeCoin (PEPE) is experiencing a strong bullish momentum this week, having successfully broken out from the 50-day Exponential Moving Average (EMA) yesterday closing yesterday's candle with an increase of 11.81%.
The meme coin has been retested today, and so far, it has successfully bounced back from the 20-day EMA, which aligns with the Fib 0.618 level at $0.0000015034.
At the time of writing, PepeCoin is trading at $0.0000016401, up by 6.25% so far today.
The main technical indicators for PepeCoin are painting a bullish picture. The 20-day EMA stands at $0.0000011954, while the 50-day EMA is at $0.0000014520.
The RSI has increased to 66.37 from yesterday's 64.06, indicating that the bullish momentum is gaining strength.
The MACD histogram shows a value of 0.0000001020, up from yesterday's 0.0000000831, which also suggests that the bullish trend is likely to continue.
The market cap has increased by 3.08% to $644 million, while the trading volume has decreased by 39.64% to $533 million.
This disparity between the two values could signify that caution is advisable.
In terms of price levels, the immediate resistance level for PepeCoin lies at the Fib 0.786 level of $0.0000016908.
On the other hand, the immediate support is found at the Fib 0.618 level of $0.0000015034, which is in confluence with the horizontal support range of $0.0000014682 to $0.0000015284.
Based on the current technical indicators, traders are advised to remain cautiously optimistic as the bullish trend seems to be supported by key technical indicators.
Keeping an eye on the trading volume and market cap is crucial to assess the sustainability of this upward momentum.
As such, it is recommended to practice proper risk management and stay updated on any significant market developments.
Chimpzee: The Climate Crusader in the Crypto Jungle
Chimpzee is a cryptocurrency project that utilizes Web3 technology to support climate change initiatives and offer passive income to its participants.
The presale of the project has started on a promising note, crossing the $620,000 fundraising milestone.
Chimpzee is a perfect illustration of how technology and positive societal impact can intersect.
The organization not only raises public awareness about the effects of climate change and deforestation but also provides financial support to organizations that are working to tackle these global challenges.
Chimpzee's unique ecosystem will comprise three key components: Shop2Earn, Trade2Earn, and Play2Earn, which will be designed to generate passive income for holders while contributing to significant charitable causes.
Shop2Earn will incentivize platform engagement through rewards, while Trade2Earn will promote the purchase and trading of environmentally-focused NFTs.
The final pillar, Play2Earn, will enhance entertainment and engagement via the Zero Tolerance Chimpzee game, allowing users to earn $CHMPZ tokens as they progress through levels.
The common thread binding these components is the focus on philanthropy. A proportion of all profits are funneled towards organizations dedicated to protecting nature and combating environmental challenges.
Chimpzee has already formed partnerships with notable charities such as The Giving Block, One Tree Planted, and the WILD Foundation.
Chimpzee's presale is currently in full swing, offering the $CHMPZ token at an initial price of $0.00064 per token.
The price is set to climb with each passing stage of the presale, thereby increasing the attractiveness of an early investment.
Contributions to the presale have already begun making a tangible difference, with the team planting over 1,000 trees and donating significantly to environmental causes.
With its unique, cause-oriented approach, Chimpzee offers a compelling argument for those in search of the best crypto to buy now.
Bitcoin Cash (BCH): Surging Crypto Set to Test Key Resistance Levels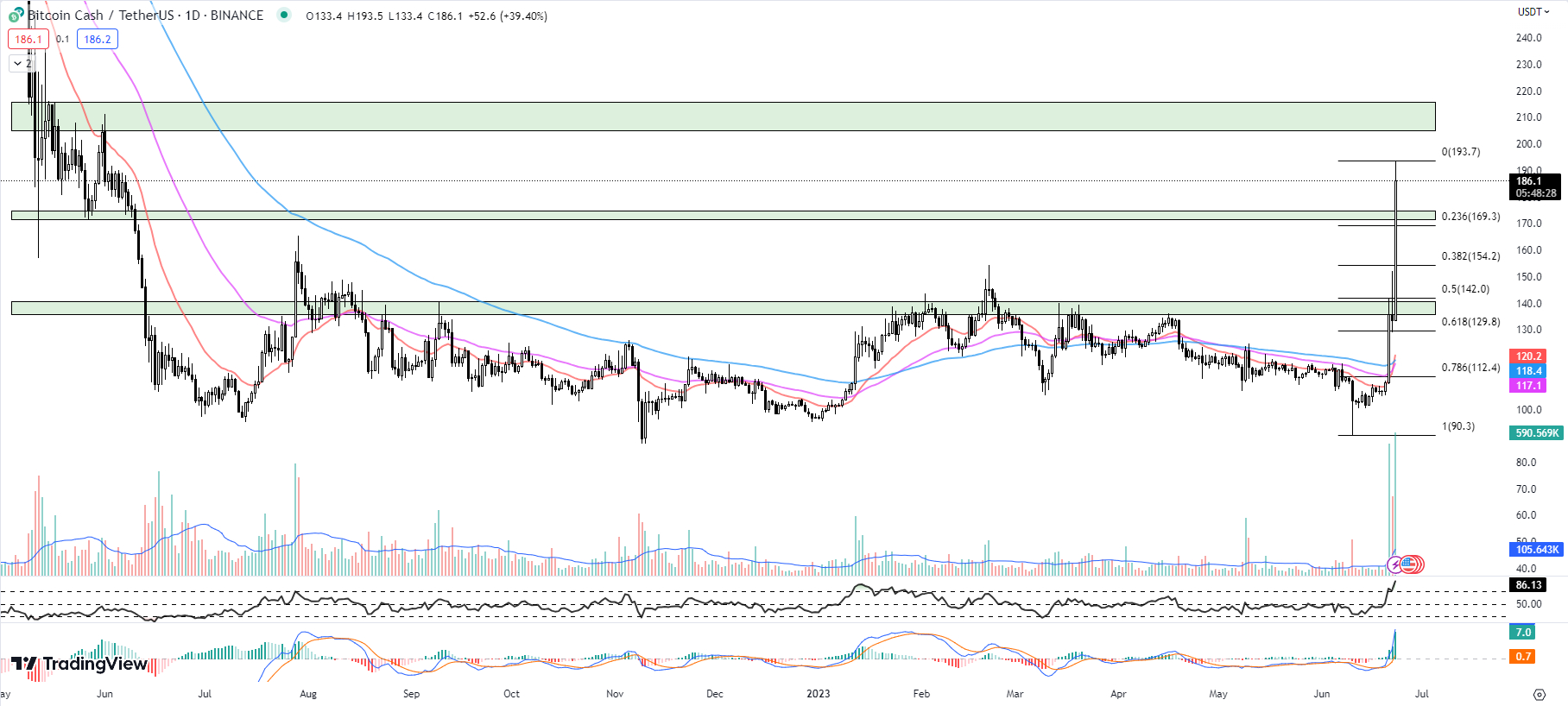 Bitcoin Cash (BCH) is experiencing a remarkable rally this week, surging by nearly 80% and attracting significant attention from the cryptocurrency market.
Bitcoin Cash is currently trading at $186.1, reflecting a 39.40% increase so far today.
The 20-day, 50-day, and 100-day EMAs are $120.2, $117.1, and $118.4, respectively, demonstrating that BCH is trading well above these levels, which is typically a bullish signal.
The RSI is currently at 86.13, up from yesterday's 71.08. This indicates that BCH is in overbought territory, which could imply a potential short-term price correction.
In terms of volume and market capitalization, BCH has seen a significant increase, with a market cap up by 37.84% to $4 billion and 24-hour trading volume up by 107.62% to $869 million.
This suggests that there is strong market interest in the asset, which could help push the price higher.
As for price levels to watch, BCH is approaching a key resistance zone between $205 and $215.8.
On the downside, immediate support is found at the horizontal support level of $171.7 to $174.8, which last acted as support in May 2022.
Below that, the Fib 0.236 level of $169.3 could provide further support.
The technical indicators for Bitcoin Cash (BCH) suggest that the recent rally may continue, but traders should be cautious of the overbought RSI reading.
Predict the Unpredictable: A Sneak Peek into yPredict's AI-backed Crypto Trading Venture
yPredict, an AI-powered market intelligence platform, is stirring up considerable interest with its first AI-driven model.
It's carving out a niche for itself as a formidable contender for the title of best crypto to buy in 2023.
The Backlink Model, designed with precision, claims to eliminate the guesswork associated with backlink strategy, thereby aiding URLs to rank high for desired keywords. It uses over 100 million links to provide reliable predictions.
yPredict is expanding its services beyond crypto analytics and price predictions to offer content solutions, with a particular focus on medium to large content teams. This ambitious step further solidifies yPredict's presence in the digital sphere.
The presale of yPredict's $YPRED cryptocurrency has already generated a substantial investment of $2.5 million, demonstrating the strong interest in the company and its future prospects.
Prospective investors who recognize the potential of yPredict as a leading crypto startup of 2023 may want to act quickly to invest in this opportunity.
yPredict is utilizing AI technology to disrupt the financial market price forecasting industry. The company is developing a cutting-edge crypto research and trading platform to provide traders with an advantage in the volatile market.
The platform will offer a suite of advanced features, such as AI-generated signals, pattern recognition algorithms, and social/news sentiment analysis tools, all tailored to empower traders in the fast-paced and unpredictable market.
The promise to keep their crypto price prediction system free and open to all users sets them apart from competitors and adds a unique selling proposition to their offering.
Chainlink (LINK): Bullish Momentum Faces Crucial Resistance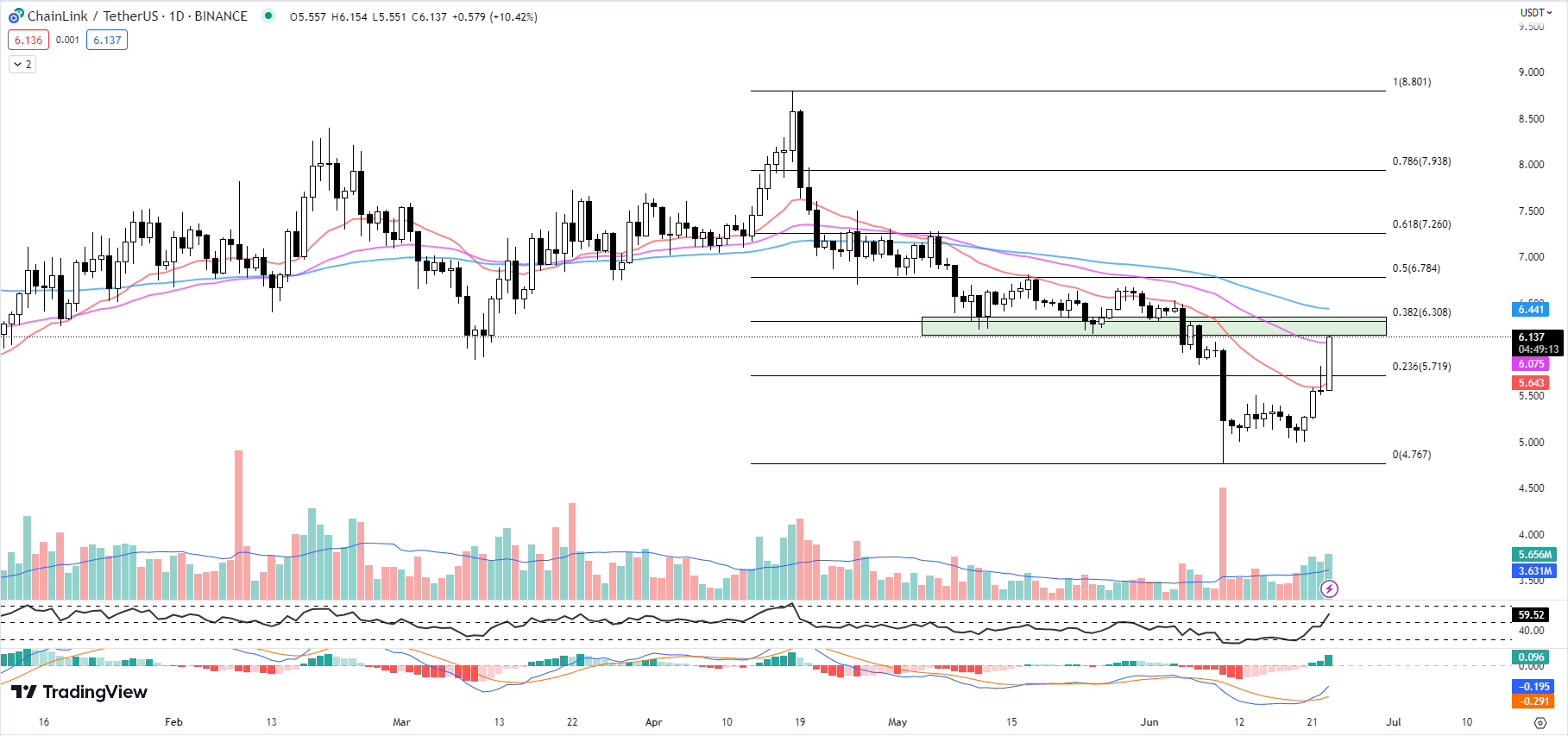 Chainlink (LINK) is experiencing a surge in price, currently trading at $6.137 with a noteworthy increase of 10.42% so far today.
Despite this impressive performance, traders are advised to exercise caution as LINK approaches a critical resistance level.
Analyzing the technical indicators for Chainlink, the 20-day Exponential Moving Average (EMA) stands at $5.643, while the 50-day EMA is at $6.075, and the 100-day EMA is at $6.441.
According to the alignment of these EMAs, it appears that the long-term trend remains bearish.
However, there are indications of a developing bullish sentiment in the short term.
The RSI has risen to 59.52 from yesterday's 44.65, indicating a shift in momentum toward the buying side.
The MACD histogram has also increased to 0.096 from yesterday's 0.044, further confirming the strength of the bullish momentum.
However, traders should be wary of the upcoming resistance levels.
The Fib 0.382 level at $6.308 coincides with a horizontal resistance range of $6.161 to $6.359. This confluence of resistance presents a challenge for LINK's ongoing price rally.
In the event of a bearish reversal, immediate support can be found at the Fib 0.236 level, which aligns with the 20-day EMA.
This support zone could provide a potential entry point for traders looking to capitalize on any short-term pullbacks.
LINK is exhibiting bullish momentum, but traders are advised to be cautious as the asset approaches a significant resistance level.
Ecoterra: The Green Crypto Project That's Making a Difference
Ecoterra's $ECOTERRA presale has been highly successful, drawing significant interest with over $5.35 million already raised for the pioneering green crypto project.
The team has been engaging with influential figures in the green technology domain, including representatives from Tesla and Audi, at the annual Berlin Technology Festival.
Ecoterra's strategic initiative to embrace a Recycle-to-Earn (R2E) system positions it as an exciting entrant in the green crypto space.
Ecoterra's R2E application has generated significant interest among regions that utilize Reverse Vending Machines (RVMs).
The application, which will be accessible on both desktop and mobile devices, will feature a sleek and user-friendly design to provide a seamless user experience.
The alpha version of the R2E application is scheduled to launch by the end of this year, and is eagerly anticipated by those in the industry.
Ecoterra's efforts to leverage web3 technology for environmental benefits have received recognition for creating a unique, comprehensive ecosystem powered by its $ECOTERRA token.
The token will promote recycling, facilitate trade in recycled materials, and motivate individuals and businesses to offset their carbon footprint.
Many investors see ecoterra as one of the most promising green cryptocurrencies to invest in this year.
When the presale hits $5.7 million, the project will move into its final stage and the price of $ECOTERRA will increase to $0.01.
Achieving the $6.7 million milestone will mark the end of the presale and serve as a significant accomplishment for the ambitious green crypto project.
$ECOTERRA is expected to launch across major crypto exchanges in the upcoming quarter, providing a larger investor base with an opportunity to invest in one of the crypto industry's most promising green tokens.
Disclaimer: The Industry Talk section features insights by crypto industry players and is not a part of the editorial content of Cryptonews.com.
---