Another Crypto Crash Doesn't Kill Hope for Long-Term Recovery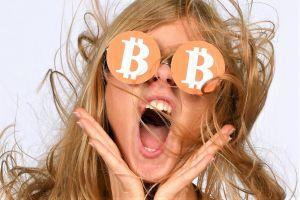 The entire crypto market sold off heavily between Thursday night and Friday morning, sending Bitcoin down more than 10% over the past 24 hours to go below the USD 3,300 mark before recovering slightly. However, it seems that the general sentiment has not changed yet - despite the the market crash could get worse, cryptocurrencies have great potential, still.
Now, even the two "stars" of this week - Waves (-20%) and Factom (-31%) - fell sharply, trimming their weekly gains to 25% and 12% respectively (UTC 06:15 AM).
The sharp losses came after the US Securities and Exchange Commission (SEC) said they would further postpone a decision on whether to approve the much-anticipated bitcoin-backed exchange traded fund (ETF) by financial firm VanEck. The new deadline now is set to February 27, 2019.
Top 10 coins (UTC 06:35 AM)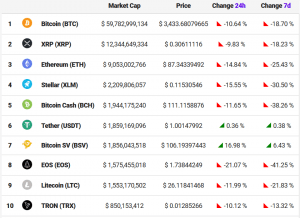 ____
"Anything is possible"
Mati Greenspan, senior market analyst at eToro, a social trading platform, doesn't rule out that bitcoin could be headed straight for USD 1,500, as some analysts predict.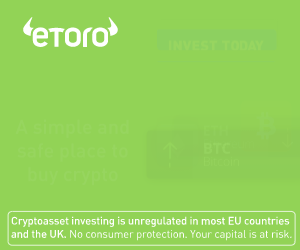 "Anything is possible but I would say that we have a lot of key levels before that will more than likely support the price. As you can see, we're currently testing the light support level at USD 3,500 (blue). If it breaks through to the downside we will likely encounter heavy support at USD 3,000 yellow. The red line is set at USD 1,800. All of these levels have played a significant role during the rise of 2017," the analyst wrote in a daily commentary on Thursday.

According to him, for institutional investors looking to invest in the assets rather than the infrastructure, there really isn't much reason to go in strong at the moment.
"There simply isn't FOMO [fear of missing out]," Greenspan stressed.
"However thinking long term, if we do think that bitcoin will pass through the all-time highs anytime within the next decade, it won't make much sense to wait until it USD 1,500 to start placing orders. Rather, large traders tend to set small orders in order to average out their entries," he added.
Meanwhile, crypto analyst Tone Vays says that at least for now "it's getting worse":
Taking a short break from #LABITCONF2018 to bring you guys a #Bitcoin price update. $BTCUSD charts looked very Bearish at this time yesterday & unfortunately it's getting worse.https://t.co/8jdBqlcV0a

— Tone Vays [@Bitcoin] (@ToneVays) December 6, 2018
___
Ethereum flash-crash
Ethereum, which for a long-time held the position as the second-most valuable cryptocurrency, traded down by over 16% Friday morning, reaching price levels not seen since May 2017. Together with Stellar and EOS, ETH was one of the biggest losers among the top 10 coins over the past 24 hours.
The cryptocurrency also experienced an extremely unusual event overnight when it saw a flash-crash on the Coinbase Pro platform, briefly sending it down to USD 13 before recovering, in what can only be described as a spectacular flash-crash.
Coinbase Pro responded to the incident, simply saying they are "aware of price movement," without admitting any kind of fault:
So market selling through 88% of the orderbook on eth/usdc is working as normal ?

— I am Nomad (@IamNomad) December 6, 2018
It is still unclear exactly what caused the sudden drop in the ETH price, but the extremely quick sell-off and subsequent recovery is likely a sign of trading algorithms creating a snowball effect, for example triggered by a large order or a "fat finger" entering a wrong order.
Bitcoin SV flips BCH
The second major happening overnight was Bitcoin SV, the Bitcoin Cash fork that came into existence on November 15, overtaking the more mainstream Bitcoin ABC (usually referred to simply as Bitcoin Cash) in terms of market capitalization.
Will the real Bitcoin Cash please stand up? pic.twitter.com/3GhFw73ZSb

— Whalepool (@whalepool) December 7, 2018
___
I might actually feel bad for Roger in this scenario. Coin birthed by a total fraud takes the lead. pic.twitter.com/G1hhcA5FsX

— Alan Silbert (@alansilbert) December 7, 2018
___
At the time of writing, the two are still swapping places among the most valuable cryptocurrencies, however, there is no clear winner at the moment.
In the community, many speculate if this is just a short-lived attempt from the Bitcoin SV camp and its main backer Craigh "faketoshi" Wright at pumping up the price of their coin. If that's the case, the pumpers are likely to run out of new capital soon and the rally may be short-lived.
Bitcoin Cash has seen a particularly sharp decline over recent weeks, as the internal divide in the BCH community has hurt both sides badly. As reported, Stellar overtook BCH as the 4th most valuable cryptocurrency by market cap.
____
Crypto community reactions
Looked at the charts and started to understand the game of the bulls.

I see you. It's going to be a big year.

Really looking forward to 2027 🚀

— CRYPTOGRAPHY CO฿AIN (@CryptoCobain) December 6, 2018
_____
I find it very difficult to make the case that there *won't* be rising demand for a supra-sovereign digital asset with absolute scarcity over the next 5-10 yrs.

Even harder to make the case once you layer on the additional capabilities (& demand) unlocked by programmable money

— Spencer Bogart (@CremeDeLaCrypto) December 6, 2018
____
cryptotwitter burying market pic.twitter.com/cpapI2veNa

— ฿ully esq. (@BullyEsq) December 6, 2018
____
Christmas has been fucking cancelled.

Happy holidays.#crypto

— Ryan Selkis (@twobitidiot) December 7, 2018
____
The current VanEck SolidX Bitcoin ETF proposal has been delayed to its final decision deadline of February 27, 2019.https://t.co/faWtPNbgj6

It can no longer get delayed & a final decision must now be made.

Will this BTC ETF proposal get approved or rejected by the SEC?

— Alex Sunnarborg (@alexsunnarborg) December 6, 2018
___
Now it's as important as ever to *move slow*....

My conviction in Bitcoin long term has not changed at all. There will be cycles, booms and busts, as its value has been mostly driven by narrative and potential in the past. pic.twitter.com/GU7kYAwI85

— Luke Martin (@VentureCoinist) December 6, 2018
___
I didn't get a chance to write this blog post, but discussed it subsequently at length on a number of podcasts. The fiat pressure on ICO companies right now is what is putting pressure on the broader market. https://t.co/LoxSnj5vs1

— Vinny Lingham (@VinnyLingham) December 6, 2018
____
This is not Altpocalypse. Not yet. Bitcoin is dumping, & scamcoins are still strongly correlated (w/ higher beta). They're still just (useless) BTC derivatives. Altpocalypse will be that glorious moment in which scamcoins will continue their run towards zero DURING A BTC PUMP!!!

— Giacomo Zucco (@giacomozucco) December 7, 2018
____
I like those odds for 2019. pic.twitter.com/Cw9tUXDGt8

— Ambroid (@anambroid) December 6, 2018
____
Putting together the current snapshot of market price action and fundamental blockchain indicators here's my most feasible scenario for the coming year. Not a map for trading, but should help long term HODLers judge when and at what price levels to enter. pic.twitter.com/Z5bCxaPptw

— Willy Woo (@woonomic) December 2, 2018
____
What they're actually doing is loading up on cheap Bitcoin to approve the ETF in February... obviously 😅 #Narrative

— WhalePanda (@WhalePanda) December 6, 2018