Analysts Predict Crypto Prices Will Be Flat Into 2024 – New Token Presales are the Best Investment – Here's Why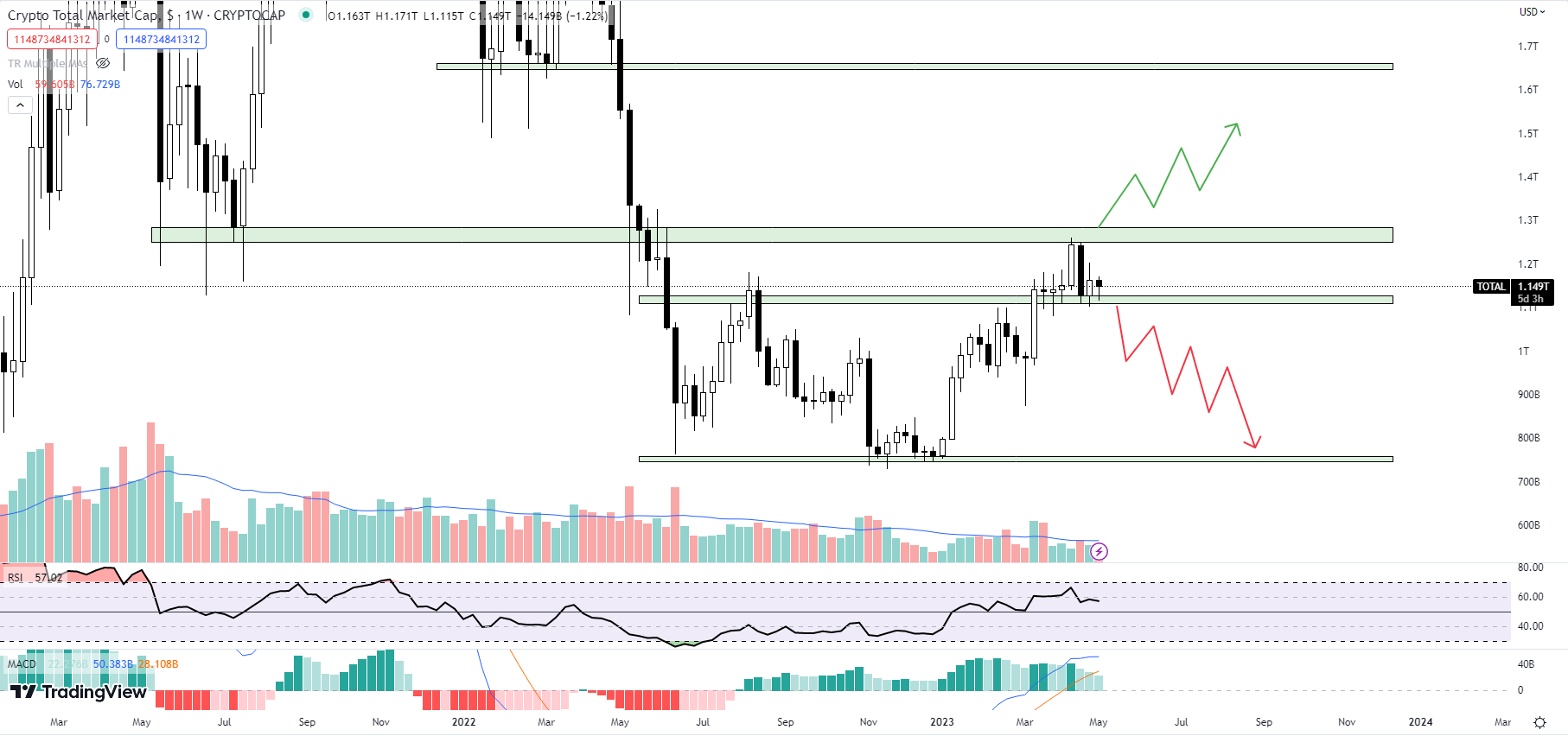 The cryptocurrency market has seen a rise of over 60% this year. However, recent trends suggest a possible leveling off in the coming months.
Analysts are keeping a watchful eye on the crypto market's total capitalization, which has encountered resistance around the $1.2 trillion mark.
This has raised questions about the market's trajectory, with some anticipating a sideways movement within the bounds of $750 billion and $1.2 trillion.
Crypto Total Market Cap Support Levels
Currently, the total market cap is situated just above a critical support zone, ranging from $1.10 trillion to $1.12 trillion.
Should this support falter, the market may experience a downward shift, potentially revisiting the $950 billion support level and possibly even descending to a low of $750 billion.
Based on these observations, the crypto market may experience a period of consolidation extending into 2024.
The Potential for Bullish Momentum
On the other hand, if the market's total capitalization remains above the $1.10 to $1.12 trillion support and successfully surpasses the resistance threshold of $1.248 to $1.283 trillion, the narrative could change.
Such a breakout would challenge the notion of a stagnant market and reignite discussions of a continued bull market.
In this scenario, the market's total capitalization could aim for a retest of the $1.6 trillion level.
New Horizons: Token Presales as a Promising Avenue
As the broader market faces uncertainty, investors are shifting their focus toward new token presales as potential investment opportunities.
Token presales grant early access to cryptocurrency projects before they are publicly traded, providing a distinct opportunity for participants to enter the market ahead of others.
In a highly volatile cryptocurrency market, this exclusive advantage enables participants to remain ahead of the curve and capitalize on opportunities as they emerge.
Amid this ambiguity, new token presales like Ecoterra, yPredict, and DeeLance present promising prospects for forward-thinking cryptocurrency market participants.
Eco-Investing: Discovering Ecoterra's Green Crypto Solution
Ecoterra, an eco-friendly cryptocurrency project, offers a unique solution with the potential to make the circular economy more accessible to the general population. Their Web3 Recycle-2-Earn app, utilizing blockchain technology and a rewards-based approach, could be one of the best crypto to buy for those seeking environmental impact and sustainability.
Ecoterra's Recycle-2-Earn Application incentivizes users to recycle items by rewarding them with $ECOTERRA tokens. By assigning a value to each item based on its ecological impact, users can earn tokens that they can hold, stake, or spend on eco-activities to promote a sustainable lifestyle.
Another key aspect of Ecoterra is the Carbon Offset Marketplace, which allows users and companies to offset their carbon emissions by purchasing carbon credits with $ECOTERRA tokens. As users reach specific milestones in their carbon offset journey, their achievements are converted into NFTs, further encouraging their environmental contributions.
Ecoterra's mission also involves connecting recyclers with companies. Their green crypto initiative enables businesses across various industries to easily locate and source materials to support the circular economy through the Recycled Materials Marketplace. In addition, the Impact Trackable Profile allows companies to showcase their eco-efforts by purchasing impact packages consisting of various materials.
Despite being a newcomer in the industry, Ecoterra has already made significant progress, raising $2.82 million during its presale and featuring a wide product database. Major brands such as Heineken, Vittel, Dr. Pepper, Pepsi, Fanta, Peroni, Evian, and even Nestlé have joined the Ecoterra database.
Ecoterra's mission highlights the need to educate the public on recycling and incentivize individuals to actively participate. Their waste management app aims to engage consumers and create a circular product life cycle by connecting recycling companies with product manufacturers.
With its potential impact on waste management and the circular economy, Ecoterra could be one of the best crypto to buy for eco-conscious investors.
yPredict: Finding the Best Crypto to Buy with AI Expertise
yPredict, an ecosystem created by AI/ML experts, financial quants, and traders, offers products ranging from analytical tools to platforms that deliver actionable market insights and analytics. Utilizing advanced financial prediction models and metrics, yPredict trains on extensive datasets to enhance trading decisions.
The all-in-one AI-powered price prediction system has already raised $481,000 in its presale, with less than $500,000 left before the stage concludes.
Alejandro Lopez-Lira, a finance professor points to the effectiveness of yPredict's approach, demonstrating how machine learning-based large language models (LLMs), such as ChatGPT, can predict stock price movements.
Yet, the yPredict team recognizes that markets have evolved significantly, especially concerning price structure formation. A primary challenge experienced traders face is the obscured market information resulting from automated systems and algorithms, which often operate at lightning-fast speeds.
Considering that approximately 80% of trading volume orders across financial markets are executed by algorithms, traders are increasingly struggling to find a consistent statistical edge amidst overwhelming data noise. The issue is further exacerbated by the reliance on news, social media sentiment, or trading signals from untrustworthy providers.
yPredict addresses these problems by leveraging the power of AI to develop in-house predictive models and marketplaces, creating a new breed of AI-powered trading tools that help eliminate market noise.
Not only does yPredict benefit traders and analysts, but it also offers AI machine-learning developers the opportunity to sell their predictive models on yPredict marketplaces.
A Freelancer's Dream: $DLANCE, the Best Crypto to Buy in the Metaverse
DeeLance, a decentralized platform for freelancers and hiring, aims to promote transparency and reduce costs for both freelancers and clients through the use of its native cryptocurrency, $DLANCE.
During the initial presale, $DLANCE tokens are being offered at $0.029 USDT, with a six-stage price increase plan culminating in a value of $0.048 USDT per token. Upon listing, the $DLANCE token will be worth $0.055 USDT.
DeeLance's platform is built around an NFT marketplace, a metaverse, and a hiring platform. Utilizing smart contracts on a public blockchain, all financial transactions are securely documented.
With more competitive pricing than other major freelance platforms, DeeLance charges a mere 2% fee for clients and a 10% fee for freelancers. Freelancers can anticipate prompt payments due to the integration of escrow payment services, with instant payment through cryptocurrency transactions.
The appeal of DeeLance lies in the platform's ability to create a metaverse where recruiters and freelancers can effortlessly engage with one another. The integrated NFT marketplace allows users to mint their work as NFTs with ease and ensures reliable transfer of work between freelancers and clients.
$DLANCE tokens have a variety of uses within the DeeLance metaverse, including the option to purchase virtual office spaces. As a result, investors are keeping a close eye on $DLANCE, considering it one of the best crypto to buy in this promising venture.
Disclaimer: The Industry Talk section features insights by crypto industry players and is not a part of the editorial content of Cryptonews.com.
---