Shiba Inu Price Prediction as SHIB Overtakes Binance USD in Market Cap - Can SHIB Reach $1?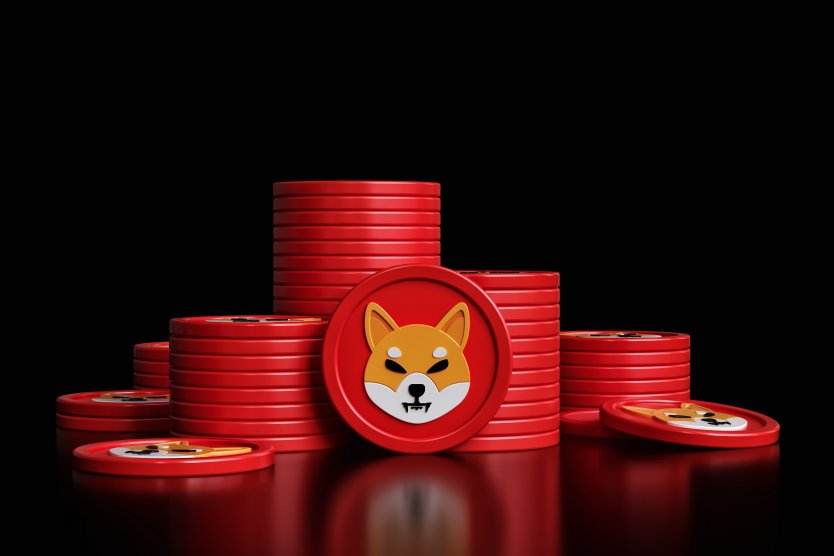 The crypto market is an industry filled with many fast-moving projects. Many blockchain projects see their position on the global ranking.
One such case is popular Dogecoin killer Shiba Inu which has recently overtook Binance-owned stablecoin BUSD.
At press time, the SHIB token is ranked 13th, one place higher than BUSD, with only a million higher in market valuation.
Could this be the long-awaited ascent of SHIB to the $1 price peg? Time would tell.
DOGE Killer Ranked 13th
At press time, the Shiba Inu coin price is trading at $0.00001156, indicating a price surge of about 3% in the last 24 hours.
The uptrend in the meme coin puts 24-hour hour trading volume at over $322 million, signaling a continued price climb.
SHIB's seven-day price performance has seen it rise by 4.93%, while its 30-day monthly growth has just upped a 6.36% increase.
The current CoinMarketCap ranking is #13, pulling ahead of the Binance USD to clinch the position with a CoinMarketCap of $6.7 billion while the Binance closely enters the $6.6 billion.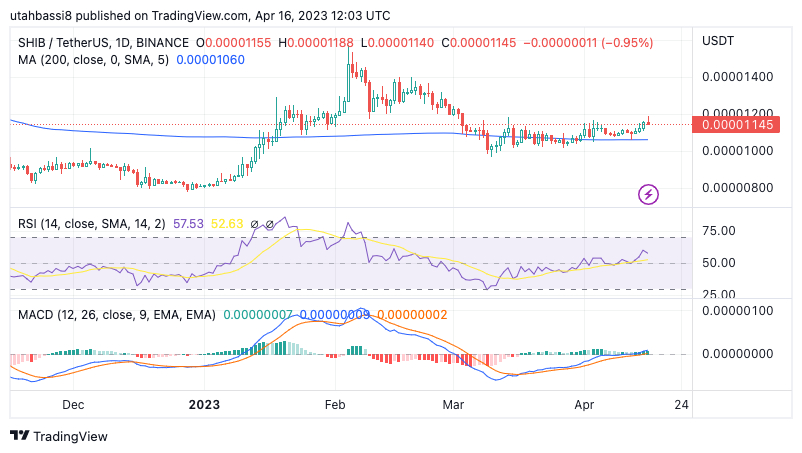 The digital asset's technical indicators continue to show the asset might just be on a promising uptrend rally.
The asset's current price overshadows its 50-day moving average (MA) value of $0.00001102, with its 200-day MA indicator price of $0.00001064 reinforcing this bullish streak.
The coin saw its last heavy dump following the FTX fiasco, which saw a heavy downtrend across all cryptos.
Other technical indicators point to the fact that this might be a great time to jump in on the Shiba Inu ecosystem.
Its relative strength index (RSI) has an indicator figure of 52.61, showing that the Dogecoin killer is currently in the underbought region. Investors can buy SHIB and rise with the market.
Likewise, the moving average convergence divergence (MACD) is seeing the blue trendline making a push upwards after nosediving a few days earlier. However, this could easily change to the sell zone, given that the buy signal is not fully enforced yet.
Several whale activities in the SHIB community have gone on to positively influence their token price following the Shibarium metaverse announcement earlier this week.
Whales Buy Millions Worth Of SHIB Following Shibarium Announcement
A huge crypto investor of the meme-based digital token Shiba Inu ($SHIB) has increased their holdings to almost 5 trillion tokens.
They were able to achieve this by buying an extra 171.68 billion SHIB for about $1.88 million in four separate transactions.
Speculations say this could have easily influenced the coin's market cap increase.
It is noted that the large purchase was a few hours before the announcement of the Shibarium.
This move has caused a stir in the SHIB community and the crypto market in general, suggesting insider knowledge.
Shibarium is a Shiba Inu concept on the metaverse which aims to offer non-fungible tokens (NFTs), gaming, and virtual real estate on the blockchain.
Again popular Shiba Inu community member Ryan Renolds predicts a price surge for $SHIB in the coming days.
Alternative Crypto Asset Investors Are Piling On
The new meme token that has everyone talking is the first-ever vote-to-earn meme coin, Love Hate Inu ($LHINU).
Meme coins are notable for an increased buzz and hype across social media and the internet because of their fun and playful meme-inspired nature, and the Love Hate Inu is not left out but even more so.
The Love Hate Inu is a vote-to-earn meme coin that allows its users to earn tokens and rewards for simply voting on certain issues ranging from public figures, societal issues, and politics in general.
Users have to stake $LHINU coins to be eligible to vote, this particular feature tackles spamming and bots on the proposed voting platform.
The project launched on the Ethereum blockchain and operates on a decentralized structure where users can anonymously air their views on societal issues without sanctions or state influence.
Besides this, users can also participate in sponsored polls in return for NFTs and metaverse assets.
The LHINU token is increasingly gaining popularity and trumping fellow meme coins like DOGE and is even far ahead of the Shiba Inu for its apparent utility in the real world.
The ERC-20 token is currently on presale and has so far garnered over $4.3 million in a short period of time.
Early bird investors can easily buy the meme token for a current valuation of $0.000115 before it spikes up in the next round.
With the age of online community and opinion polls seeing wider adoption by the day, the LHINU token could be the catalyst for the next generation of feedback for the world.
Disclaimer: The Industry Talk section features insights by crypto industry players and is not a part of the editorial content of Cryptonews.com
---