Trump vs. Twitter Fight Reignites Social Media Decentralization Vision
Blockchain has been hailed as the silver bullet for social media, which has long suffered from censorship, data mining, and surveillance capitalism. In the last few years, innovators have created several blockchain-powered social media platforms to combat the challenges found in "traditional" social media. However, none of these "decentralized" social networks has managed to succeed in taking a substantial part of the social media market pie.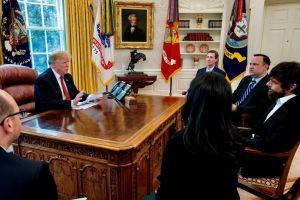 This week, Twitter's decision to fact-check and censor President Donald Trump's tweets has once again prompted discussions about decentralized social networks.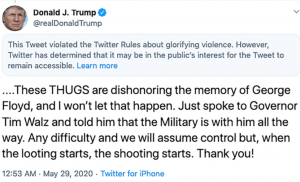 ____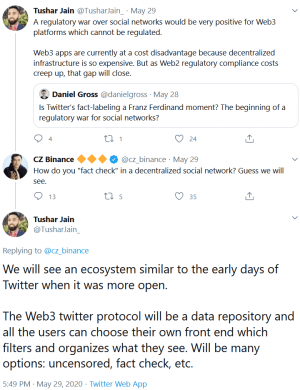 At the same time, Facebook CEO Mark Zuckerberg defended the company's decision to leave the President's posts up on its site. However, when it comes to decentralization, Twitter is a step ahead as last year they launched a new project, bluesky, aimed at developing a "decentralized standard for social media." Back then, Twitter CEO Jack Dorsey stressed that it will take many years to develop a sound, scalable, and usable decentralized standard for social media.
But what's the current status of blockchain-powered social media?
Why blockchain?
Social media has become an important part of our lives. These platforms have become a primary source of news, entertainment and even income for some. While the influence social media platforms exert in people's lives is unquestionable, there are legitimate concerns of equal gravity that plague these platforms.
Social media giants like Facebook, Twitter, and TikTok are free to join. As a result, people flock to these platforms in droves to connect with their loved ones or to establish an online presence for themselves or their business. The problem, which users have now begun to decry, is the business model employed by social media giants to monetize their platforms.
Social media platforms sell their users' data to the highest bidder. In some cases, this results in more targeted ads for small businesses, which is typically considered a harmless outcome. In more harmful instances, this data may fall into the hands of unscrupulous firms who leverage it in ways which threaten democracy. What's more, platforms like Facebook pocket the exorbitant profits while users do not benefit financially.
Additionally, users often complain of censorship on social media platforms. Breastfeeding pictures are flagged for porn on Instagram and prayers are taken down after being reported as hate speech. Some users worry that this sets a dangerous tone and precedent for the freedom of speech.
Given the lack of privacy, top-down leadership model, and inequitable revenue distribution witnessed on social media platforms, it is easy to see why innovators would look to create social media platforms based on blockchain technology. By design, the blockchain addresses these challenges and should theoretically create a more user-friendly experience.
The success (?) stories
The idea is hardly new. Since the early days of Bitcoin (BTC) when users on BitcoinTalk discussed issues pertaining to the world's first cryptocurrency, entrepreneurs have attempted to turn the idea into reality. With the launch of the smart contract platform Ethereum (ETH), traction for the idea grew further.
While there are a number of blockchain-backed social media platforms today, only a few have had a major impact. Steemit, for instance, made quite the wave when it was first launched in 2016. The platform was among the first to attempt to address the fiscal inequalities on mainstream social media platforms.
On Steemit, users earned money, paid out in steem (STEEM) and steem dollars (SBD) to post, comment, and curate. The platform achieved success in the first few weeks after its launch. One user was reportedly able to make over USD 15,000 in just twelve hours.
Unfortunately, the platform's upward trajectory was short-lived. Its creator, Dan Larimer, who's now working with EOS, ended up leaving Steemit's leadership following internal wrangles in 2017 prompting fears and a dive in user numbers. The "crypto winter" further affected the platform's numbers as falling cryptocurrency prices reduced the value of the platform's digital token leading to a mass exodus. The platform is currently embroiled in controversy connected to its sale to Tron (TRX). Steemit currently has over 1.2 million users.
Speaking of EOS, Block.one, the company behind this platform, launched the beta version of their decentralized social media platform, Voice, in February this year.
While Steemit faced its challenges, the platform also spawned a number of somewhat successful social media networks based on its blockchain. A good example is the live streaming platform DLive, which launched early in 2018.
DLive CEO, Charles Wayn, expressed the belief that the platform would revolutionize the streaming ecosystem and empower its users. Wayn stated:
"Today, the industry is dominated by a few massive companies who are incentivized to take money from their creators and push ads into content whenever possible. By decentralizing streaming, we can democratize video content while giving a better experience to viewers and creators."
DLive gained 500,000 active users in the first six months. However, the platform garnered mainstream attention when it entered into a partnership with popular YouTuber PewDiePie. At the time, PewDiePie was sharing content primarily on Youtube where he had the highest number of subscribers.
The announcement that he would be live streaming exclusively on DLive led to an uptick in DLive's users as PewDiePie's fans followed him to the platform. The content creator cited the more attractive revenue split offered by DLive as his motivation.
While DLive ported from Steemit to the Lino blockchain, and PewDiePie recently announced he's leaving DLive and more than 800,000 followers, the platform still boasts 5 million monthly active users and more than 80,000 active broadcasters. While these figures are substantial for a new social media network, the leading streaming service Twitch has over 15 million monthly active users.
Arguably, one of the most successful blockchain-powered social media platform is Minds. Minds.com has been described as "the anti-Facebook that pays you for your time." The platform is free to join, similar to mainstream social media giants. It is based on open-source technology with rewards for interacting and creating content doled out in ERC20 tokens. The tokens users earn can then be used to promote their content through ads, called boosts, on Minds. Moreover, users can use their earned tokens to opt-out of the ads presented on their home screens and support the content other users put out.
Minds has been around since 2015 and started to gain popularity following increasing privacy and censorship concerns related to Facebook. In February this year, Minds' founder and CEO, Bill Ottman, described the ethos of the platform as:
"We're built on a foundation of privacy, transparency, and free expression. As other networks continue to lose the public's faith, Minds has more than doubled since last year, now with 200K+ monthly active users and 1.25M+ registered users."
Now, the platform reportedly claims it has 2.5 registered million users.
The platform's ethos of ideological neutrality has endeared it to groups of people who feel hard done by censorship on mainstream social media.
Its popularity continues to grow as it engages in strategic partnerships. For instance, Ottman was a guest on the popular Joe Rogan Podcast, catalyzing increased interest in Minds.
However, compared to Facebook's 2.5 billion monthly active users, Minds is de facto non-existent in the global social media landscape.
Looking at the user numbers of today's leading blockchain social media networks, it is an unfortunate reality that decentralized social media has not yet been able to compete with legacy social media in any meaningful way.
Of course, it takes time to build a user base. TikTok, for instance, has been around since 2016, but has just recently captured the Zeitgeist and its user numbers exploded. Hence, it stands to reason that with time, decentralized social media platforms can take a meaningful market share away from legacy social media. However, it will likely take a very long time and the competition is fierce and has very deep pockets.
---