Buffett at Justin's: 20 Crypto Jokes
With the acquisition rumors going around comment-less, the cryptoverse reached a wider audience thanks to Justin Sun's lunch with Warren Buffet – a news which inspired a number of memes. Truthfully, there isn't a boring hour in the cryptoverse.
So what happened this cryptoweek? A lot! Many were shook as Bitcoin fell below USD 8,000, LocalBitcoins removed in-person cash trades, KIN crashed following the news of a lawsuit, and Poloniex faced backlash and possible lawsuits. And while China-dominated Bitcoin mining is currently very profitable, analysts advise against buying BTC now. Also, first trustless over-the-counter service for Ethereum hit the market, a brainchild of 14 major financial firms is coming next year, a Japanese cryptocurrency exchange opened a branch in Peru, the launch of McAfee Freedom Coin has been announced, the Marshall Islands moved forward with their national cryptocurrency project, and football champions started accepting crypto as payment. Meanwhile, SIM-swap attacks are on the rise, Facebook Coin might be unveiled in June, Apple and Microsoft made new crypto moves, while the international coalition against tax criminals, J5, is fighting crypto crime.
_____________________
First of all:
__
Like a true cryptoninja.
Get em' pic.twitter.com/aXCOLa9Wmt

— Kenn McAfee (@KennETHbosak) 3 June 2019
__
As is only proper.
Live look at the $KIK founders preparing for their SEC hearing pic.twitter.com/bvnrIBahyi

— ⛏Crypto Christopher Walken⛏ (@cryptochrisw) June 5, 2019
__
In the name of charity, the lunch shall be had!
Right now Warren Buffett is sitting at home reading the news and crypto twitter and thinking to himself,

" I would pay $5m to get out of this lunch"

— Ran NeuNer (@cryptomanran) 4 June 2019
__
Is a trigger warning in order?
How I imagine the conversation between Buffet and Sun pic.twitter.com/I6Q3LmQMSH

— ₿lackbeard (@crypto_blkbeard) 4 June 2019
__
A teeny, tiny electric bill.
When you tell your wife that new rig won't be that noticeable pic.twitter.com/JF1Qs1stY3

— HASHR8 (@h4shr8) 3 June 2019
__
Call a wildlife center!
And we go again!#bitcoin ​#cryptomemes ​#cryptolife ​#cryptocurrencies ​#btc ​#ufc pic.twitter.com/HtJzC2MzP6

— CabaretPerleBlanche (@PerleBlancheMtl) June 4, 2019
__
Bon appétit. What'll be the hardest thing to swallow though?
The 4.5 Million Dollar lunch pic.twitter.com/UjadkLWRax

— ฿oogiecrypto ✪ (@BoogieCrypto) 3 June 2019
__
All aboard! Grab your loved ones and hold on for dear life.
When the trade starts to get crowded but you keep holding on for the ride. pic.twitter.com/E92CAH1wFy

— Ramp Capital ♿️ (@RampCapitalLLC) 2 June 2019
__
Voila!
#Bitcoin #BTC #LightningNetwork #Lightning #LN #LiteGoio #LiteGo #humor #ctyptohumor #memes #cryptomemes pic.twitter.com/DrhVNfjcyV

— Petite$uze (@PetiteSuze) June 5, 2019
__
Very precise and perfectly correct.
June 3, 2019
__
Uuu, that looks cosy.
#TurtleCoin $Trtl #Blockchain #cryptomemes #Cryptocurrency #bitcoin #cryptomonnaie #crypto #Privacy

Sorry access denied 🛑🚦
Intimate area 💗🐢💗 pic.twitter.com/EXjPT4YAIn

— CabaretPerleBlanche (@PerleBlancheMtl) June 2, 2019
__
Time flies!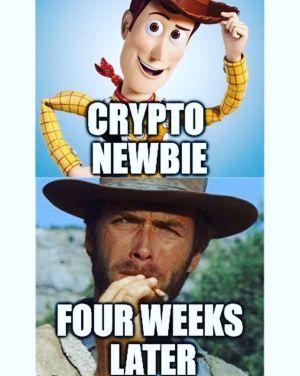 __
Aaand, my head is grey now.
Waiting for crypto prices to get back to peak levels is frustratingly slow pic.twitter.com/0n4HcPIirL

— Ty Roberts (@TyRoberts) 4 June 2019
__
True, true...
3 June 2019
__
The dream.
I'd leave the fiat, spit me out some #Bitcoin and now we're talking! pic.twitter.com/gSDqbli8NG

— Nick Core 🏆 (@Crypto_Core) June 7, 2019
__
Will the real Satoshi Nakamoto please stand up!
June 3, 2019
__
Le'me see where I am. Oh... Ooooh...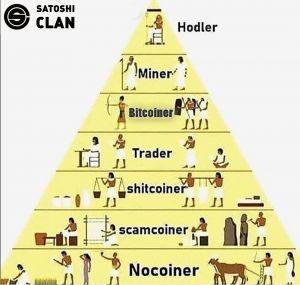 __
One for the weekend.
__
And another one, just to be on the safe side.