An Interview: MyEtherWallet's Split and Future Plans
A new user interface should be ready in about two to three months. The company is also working on a new app that would let use one's phone as a hardware wallet.
Shortly after our interview with Kosala "kvhnuke" Hemachandra, the founder of MyEtherWallet (MEW), the wallet has succumbed to a DNS hijacking attack. It allowed a hacker to redirect users to a malicious version of the website and phish their private keys. Although the problem is not in MEW itself, Kosala incidentally talked to us about their problems with phishing attacks. Now, they managed to get everything back to normal, and have a handy slideshow to click through when you visit their site.
MyEtherWallet allows its clients to interact directly with the blockchain while remaining in full control of one's keys and funds. Following the recent split with co-founder Taylor "tayvano" Monahan, who launched another wallet MyCrypto, Kvhnuke talked to us about the split itself, what's going on right now and what his plans for the future are.
Cryptonews.com: In the light of the recent split, how much does all of this drama overshadow your work?
Kvhnuke: You have to think from the people's perspective. People are curious and that's understandable. MEW is a trusted wallet and now they didn't know what to believe. Unfortunately, neither Taylor or me could give them the full story - we still cannot - so I think that's why it escalated. If people knew the full story, I think the reactions wouldn't be this vocal - there was definitely some level of overreaction.
I have to say, it's all dying down now, both teams are focusing on the future, not the past - the past is already gone. We had to move on, add new features, do a lot of new products, add tools to help the community.
Going through the social networks, people seem to understand you can't say too much, due to a legal settlement going on. For example, can you tell us if the split was personal or business-only?
No, it was nothing personal, and on a professional level, we still talk to each other. For example, she still had access to her personal account on MEW, so I had to talk to her to get that back. We are still friends, this is definitely a professional issue. Going way back to mid-spring 2017, that's when Taylor and I decided that MEW was just the two of us. But towards the end of spring, we realized we had to have more than just two people - we need a team, we have to take it to the next level. We hired a couple of people, we started working on version 2 of MEW, and then all those things happened around the same time. Towards the end of that period is when we had arguments about the future of MEW.
When I started MEW initially, Taylor was my best friend. She's a designer and that's the main reason she joined me - the idea was: "let's make an awesome application, a tool for this amazing community!" It started around the middle of 2015, when Ethereum started. Up until mid-2017, we had the exact same view on what MEW should be, but unfortunately after that we had a couple of conflicting ideas. Because of that for the six months until the end of December, we were trying to do all of this internally, but did not work out the way we wanted.
Afterwards I realized I would have to build a new team, so now we have an office in downtown Los Angeles, and we have 10 people working there, plus 4 people working in different parts of the world.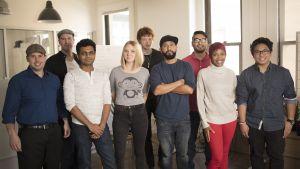 About the team, are there any names in particular that the community could already know?
The team wasn't involved with crypto-related projects. They come from very experienced backgrounds. For example, our chief operating officer Brian comes from a corporate background, so he makes sure we're not crossing boundaries, we're still following all the laws and similar. There are not that many experienced people with blockchain knowledge out there. It was pretty hard when I first started assembling the team, but surprisingly a lot of people knew about crypto. Although they didn't know exactly how it works, all of them were curious - because of that curiosity I was able to train them. I still have classes every Friday to teach them what I know so they can improve themselves.
In a post you published on Medium, you mentioned building some educational tools.
Yes, an educational platform is definitely in the works. There are some sites where you can purchase a membership and gain access to documents and instructional videos, but that's not what we're trying to accomplish here. We're trying to bring a lot of trustworthy names in the blockchain community together and build a platform that'll let people navigate through many topics. It would have something like a curriculum, where you learn about a certain topics and in the end you have an exam, but you can focus on certain topics without having to learn all of them. Think of it as of a platform that's customized for a specific topic. For example, if you want to learn about the concept of yellowpaper, you'll have access to all this highly logical, super complicated information. By the way, I still don't know half of the yellowpaper (laughs).
Did you consider gamifying the entire experience with ETH rewards?
We wouldn't want to give out money because people would be tempted to cheat. But we will definitely be gamifying the platform by giving reputation points. They will serve as proof that you learned the concepts that you claim to know.
Besides education, you also mentioned working on a couple of other features, like a streamlined experience for newcomers, along with new tools for old users.
Yes, what we need to do before going up a level is tackling the existing problems MEW has. Phishing attacks are one of them. Last time I checked, there were more than 6,000 domains registered with a name very similar to MyEtherWallet.com. We have a list of those so users can stay safe.
We are also working on a mobile application which will, in essence, be a hardware wallet. You will use your phone as a hardware wallet, so you can sign everything from your phone and then broadcast it on the network instead of giving your private key to the browser. This is a solution that everyone will be able to use, since not everyone can afford a hardware wallet.
Another issue is the user interface. That's the first thing the community comes up with when we ask them what we should improve. When we first started MEW, most of the user base was made up of technical people who knew how to navigate our site so our initial user interface (UI) was made for technical users and developers. But now most of our users are traders, not developers, so we're working on a new UI that should be ready about two to three months down the line.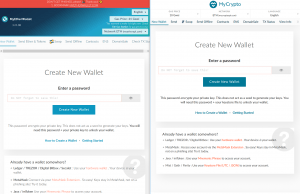 Going back to MyCrypto versus MEW for a second, did your community grow after the split? Did it do you any favors?
I think that in a way, it did, as people started figuring out the whole structure of MEW and that it's not just one person. And for the blockchain community, one biggest advantage is that people started questioning things, like should we still be using MEW? Like that, they should be questioning every website they go to, any initial coin offering they want to invest in. There was a lot of drama and unprofessionalism and nobody should resort to that, because we're all human and we all make mistakes.
So yes and no. Yes, as in people learned more about MEW and its story and the faces behind it, and no because of the way it escalated.
MyCrypto kicked off very fast after splitting up, as if they were prepared for what's going to happen. Was it possible that they knew upfront and were working in parallel?
It's possible, but it's a tricky question. MEW is open source, anyone can take it and update it, for example. There's no way to know.
Thank you for your time!
[Taylor "tayvano" Monahan did not respond to a request for comment for this article].
---