Switchere
Switchere is by far the simplest way to buy bitcoin, litecoin, or ethereum with euros and the United States (U.S) dollars using a credit or debit card. Launched in the fall of 2019, it is an Estonia-based instant exchange service. Despite being a relatively new exchange, the platform already achieves its a crystal clear vision – be a convenient fiat-to-crypto gateway. Frictionless buying experience, certified operations, and outstanding security are just a few perks of choosing Switchere as your go-to place for buying cryptocurrencies.
Key Features
Simple and fast crypto purchases. Switchere was designed to be a simple, fast, and reliable gateway for purchasing cryptocurrencies. As a result, it is not stuffed with confusing features, options, or marketplaces. Quite the contrary – it provides the most frictionless way to buy cryptocurrencies, which is impressive for a fully regulated exchange. Besides, the coins reach your wallet almost immediately once the payment is processed.
Regulated exchange. Switchere takes the legal front seriously and employs international AML/KYC standards, runs a licensed and certified global operation and has acquired Virtual Currency Exchange Provider (no. FVR000779) as well as Virtual Wallet Service Provider (no. FRK000680) licenses.
No hidden fees or charges. The platform does not charge any dedicated fees, and you will always get the amount of crypto you ordered, although it's selling prices tend to have an approx. 10% premium compared with the current market price. 
No KYC for purchases under 100 euros. Despite being fully compliant with the regulations, Switchere allows unregistered cryptocurrency purchases if they do not exceed EUR 100. 
24/7 customer support. Switchere offers seamless customer experience and around the clock assistance via web chat, email, and phone in case you need help or have any questions.
General info
| | |
| --- | --- |
| Web address: | Link |
| Main location: | Tallin, Estonia |
| Daily volume: | 0.0 BTC |
| Mobile app available: | No |
| Is decentralized: | No |
Parent Company:
FITEUM OÜ
Transfer types:
Credit Card, Debit Card,
Supported fiat:
USD, EUR
Supported pairs:
3
Has token:
-
Fees:
High(Compare rates)
Pros & Cons
Extremely easy to use The fastest way to buy Bitcoin, Litecoin, or Ethereum No registration for purchases under EUR 100 Lucrative affiliate program
Only one payment method No cryptocurrency selling option Limited selection of cryptocurrencies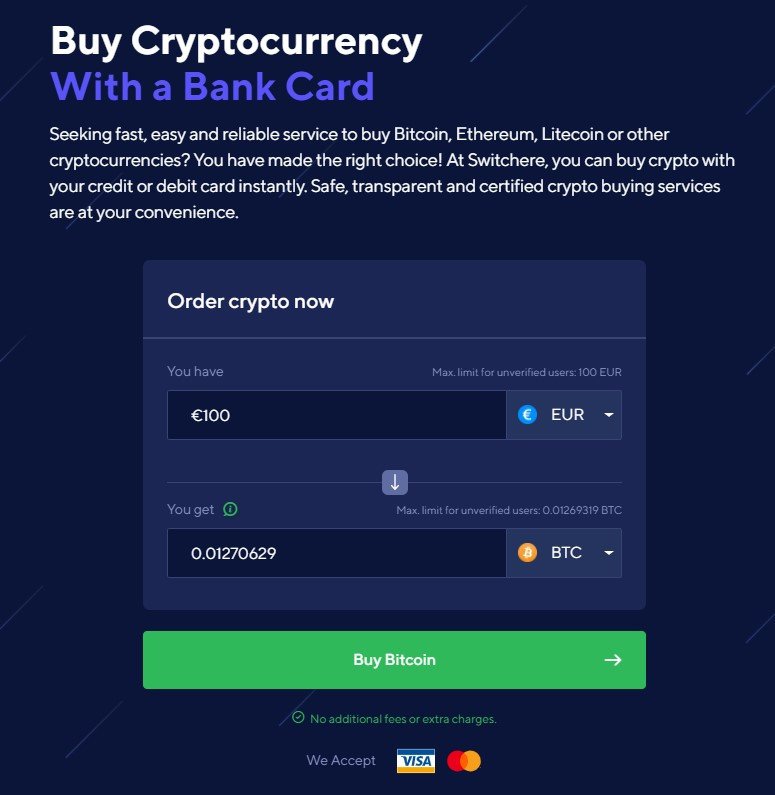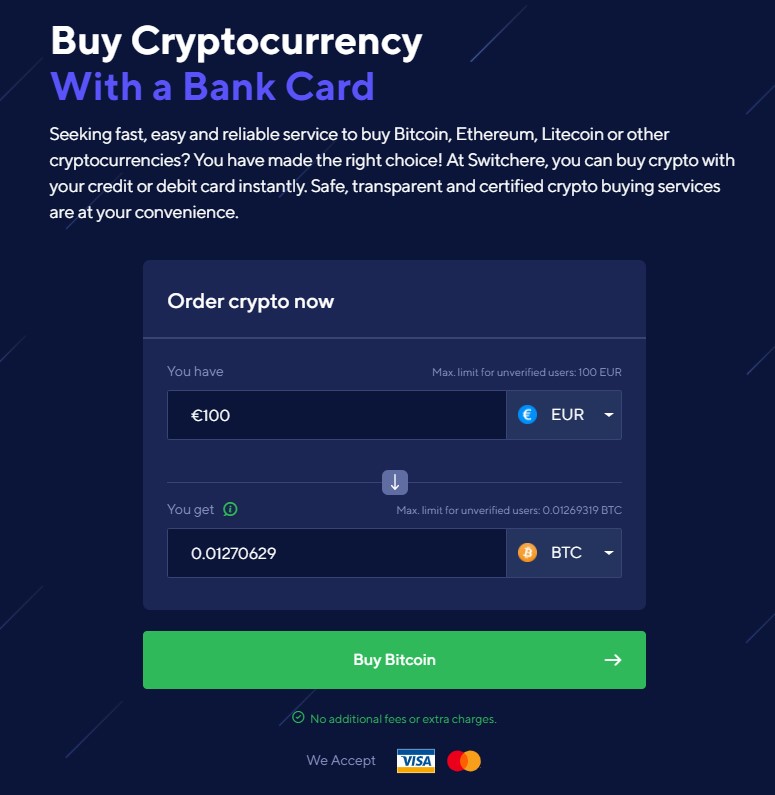 Note that Switchere is a great place to buy three popular cryptocurrencies, but it does not have a marketplace, so you won't be able to sell your cryptocurrencies there. The platform is strictly for buying bitcoin, litecoin, or ethereum, although more cryptocurrencies are likely to be added in the future.
If you want to learn about how to sell bitcoin or other cryptocurrencies, see our dedicated guide here.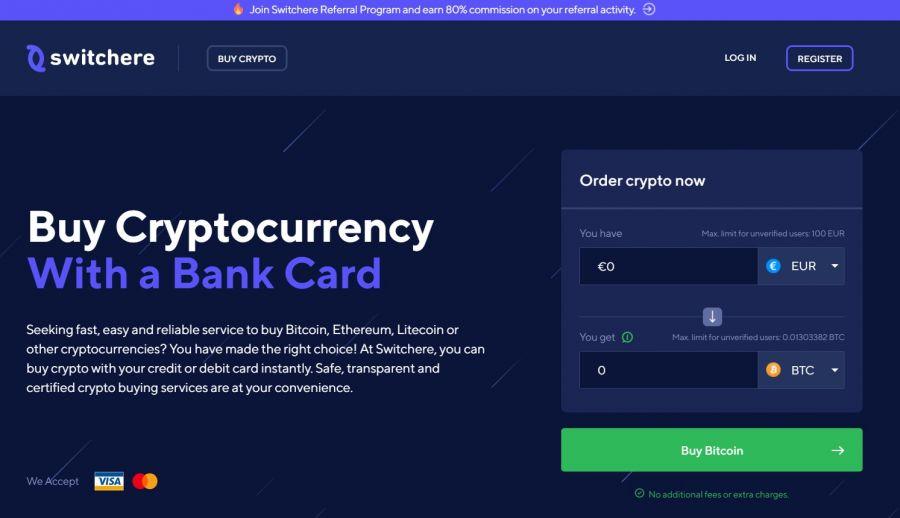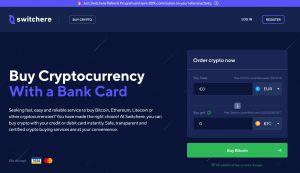 Background Review
Switcher's headquarters are in Tallinn, Estonia, which is known as one of the most innovative countries in Europe and the rest of the world, especially when it comes to digital technologies.
Established in fall 2019, Switchere was started with a simple idea in mind – make a fast and convenient fiat-to-crypto gateway for everyone who wants to buy crypto. As of today, the exchange lets you buy three popular cryptocurrencies – bitcoin, litecoin, and ethereum.
Switchere is regulated in Estonia and European Union and currently employs up to 10 employees. The exchange adheres to the international Know Your Customer (KYC) and Anti-Money Laundering (AML) standards. Besides, it has Virtual Wallet Service Providers and Virtual Currency Exchange Provider licenses.
Nevertheless, you're still able to make purchases without going through registration and identity verification processes if you're buying less than EUR 100 worth of crypto.
More substantial purchases require a higher level of verification. The higher the amount, the more documents you will need to provide.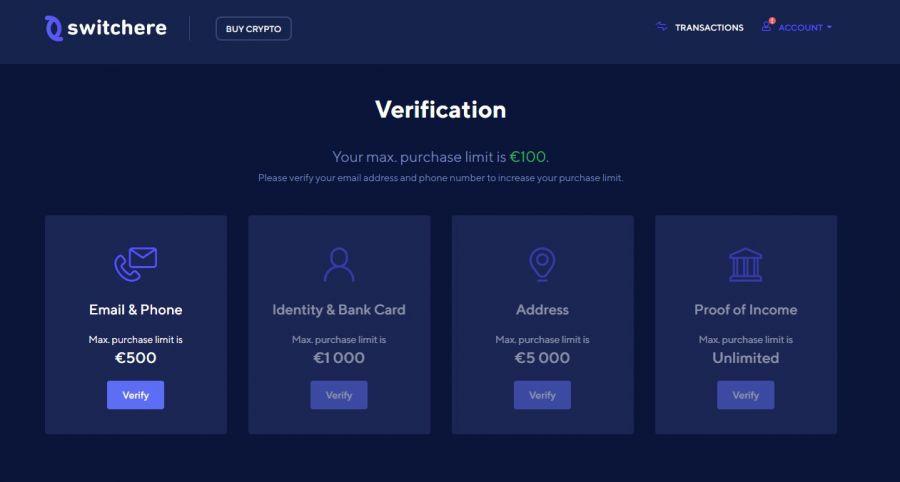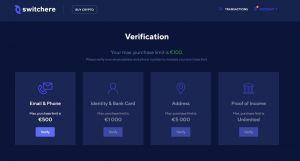 In total, there are five levels of verification at Switchere:
Unregistered – for purchases up to EUR 100.
Email and phone verification – for purchases up to EUR 500.
Identity and bank card – for purchases up to EUR 1000.
Proof of address – for purchases up to EUR 5000.
Proof of income – for UNLIMITED purchases.
Switchere Supported Countries
The company operates globally and accepts all Visa and Mastercard bank cards, except for the ones issued in the following countries: Afghanistan, Algeria, Bahamas, Bahrain, Bangladesh, Belarus, Bolivia, Botswana, Brazil, Cambodia, Canada, Cuba, Ecuador, Egypt, Ethiopia, Ghana, Iceland, Iran, Iraq, Japan, Morocco, Kuwait, Lebanon, Libya, Macedonia, Namibia, Nepal, Nigeria, North Korea, Oman, Pakistan, Palestine, China, Qatar, Saudi Arabia, South Sudan, Sri Lanka, Sudan, Syria, Trinidad and Tobago, Tunisia, Uganda, United Arab Emirates, United States, Vanuatu and Yemen.
Switchere does not accept bank cards from these countries due to regulatory requirements set by its payments service provider.
Switchere Fees
Most cryptocurrency exchanges that specialize in making crypto purchases as simple as possible do come with a specific price premium, and Switchere is no exception.
Essentially, the platform proclaims to be transparent, and it is – Switchere does not charge any hidden fees, and you will always get precisely what you order. However, if you compared your exchange price with an average global market price at one of the coin indexes, you would see that Switchere sells cryptocurrencies with an approx. 10% premium.
Nevertheless, it is a common trade-off for people who seek convenience over excessive features. Simplicity does cost extra, especially when you make a credit or debit card transaction – it typically adds an extra 5-15% to the transaction you're making regardless of the exchange you're using.
Also, Switchere does not have any deposit and withdrawal fees since you don't leave any money in the platform's custody.
Switchere Usability
Switchere's site is exceptionally well designed and easy to use. It makes buying bitcoin, litecoin, or ethereum almost too easy.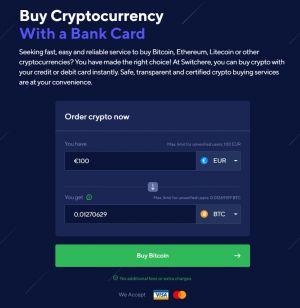 Swithere turns buying cryptocurrency into a simple, three-step process.
1. First, you need to select the currencies you want to trade, type in the amounts, and hit that "Buy" button.
2. Next, you will be asked to enter your crypto wallet address, be it bitcoin, litecoin or ethereum wallet.
If you don't have one yet, there are many ways to get one – you can download a dedicated smartphone app, desktop wallet application, create a web wallet or generate and print a paper one.
Yet, the most universal and secure option would be getting a hardware wallet – they allow you to keep valuable stashes of cryptocurrency offline and in multiple wallets. We recommend using a hardware wallet by Ledger or Trezor. Also, see our reviews of Ledger Nano S and Ledger Nano X devices.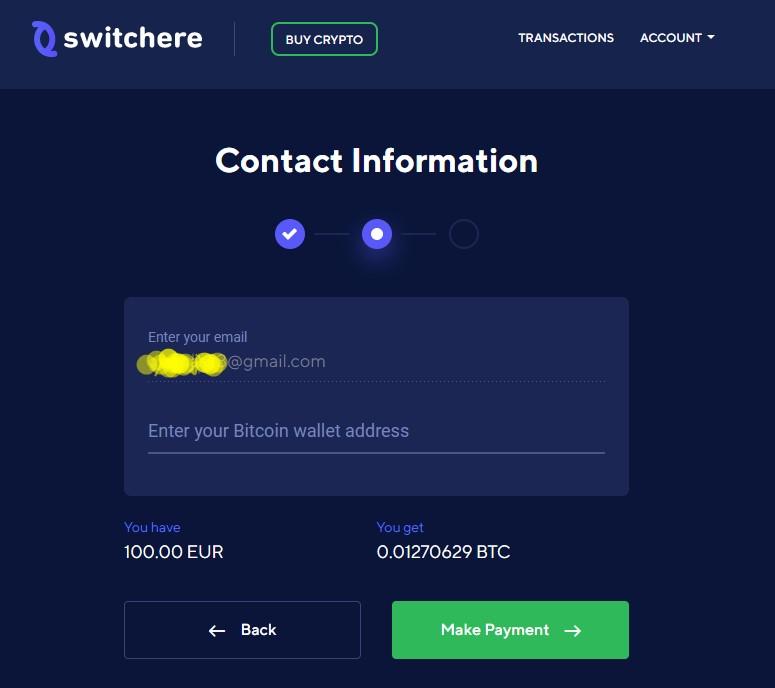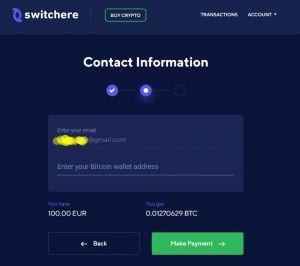 Once you enter your cryptocurrency wallet address, all that is left is to make a payment.
3. Enter your credit card details and complete the purchase.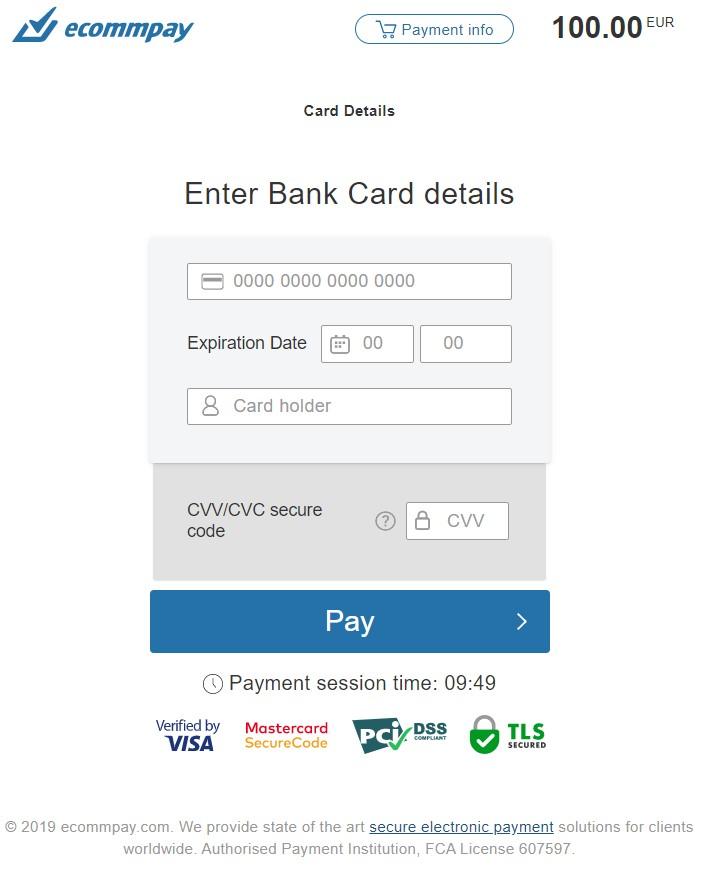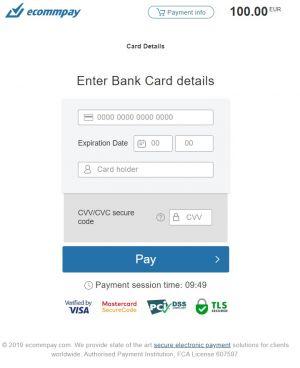 Once the payment is complete, you should receive cryptocurrency in your wallet within minutes. Voila! That's how easy it is to purchase cryptocurrencies with the Switchere platform.
Mind that unverified accounts are limited to smaller than EUR 100 transactions, so if you want to buy more, you will have to register an account and go through more levels of verification.
Apart from that, Switchere also has around the clock customer support chat, email, and phone where you can get assistance or answers to your questions.
Switchere Security Review
Time is the best test of security, and Switchere has had a relatively short operating history, so it is difficult to say how secure it actually is.
However, one thing is sure – the platform was made in a clever way so that it doesn't have to safeguard customer's funds, which automatically limits the level of risk for its users. Most cryptocurrency exchanges ask you to send your funds directly into the exchange's wallets, . Still, Switchere goes in the opposite direction here – it sends funds directly to your wallet, so it is entirely your responsibility to keep them safe.
Even so, you can protect your account with Google-based a two-factor verification (2FA), which ensures that no one can access your account in case someone cracks your password. Also, there is an Automatic Logout feature that does exactly what it says – logs you out of the platform after 10 minutes of inactivity by default. You can change the duration in your account settings, 5 minutes being the shortest period, and 60 minutes being the longest one.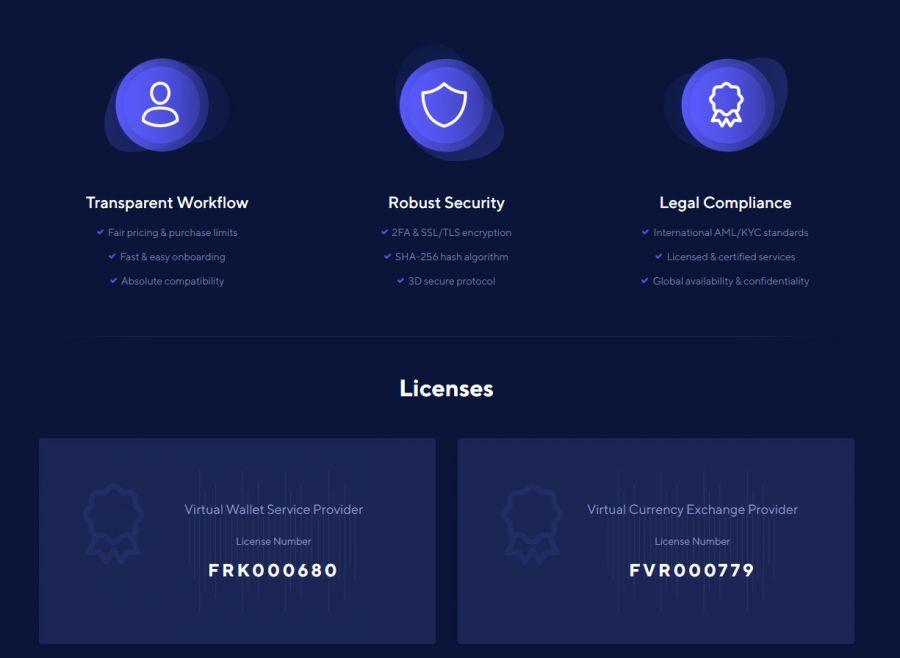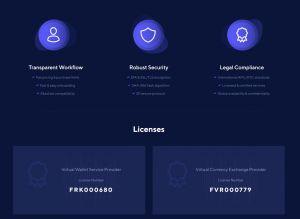 The platform itself uses SLL and TSL encryption, meaning that the communications between you and the exchange are secured with an SHA-256 hash algorithm – the same one which secures bitcoin and litecoin blockchains. Also, Switchere utilizes 3D secure protocol, which is a standard for protecting online card payments.
Last but not least, Switchere is a regulated exchange, meaning that the platform is reliable. Unlike unregulated custodial exchanges, it cannot just disappear with your money or holdings, which makes it a secure and trustworthy crypto gateway.
Deposit and withdrawal methods
There is no way to deposit funds into Switchere platform – you the only viable way to use the platform is through the purchases via your credit or debit bank card, and cryptocurrencies are send directly to your provided crypto wallet address.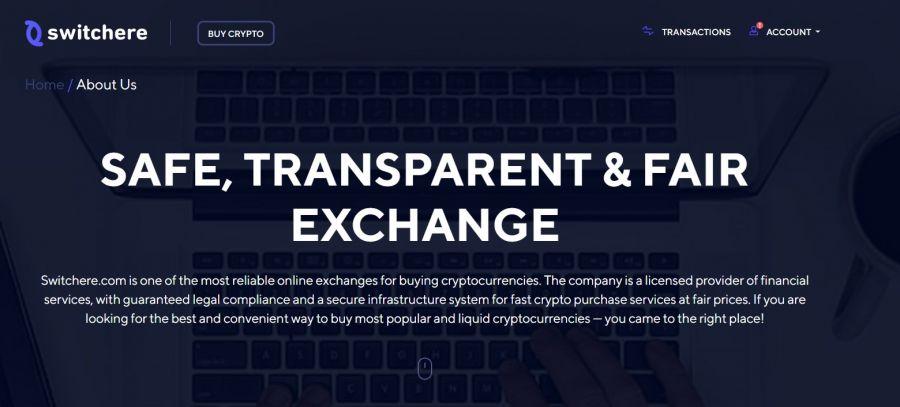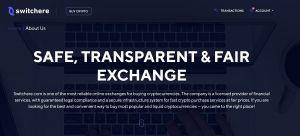 Switchere Affiliate Program
At the moment, Switchere offers one of the most lucrative referral deals out there.
The program consists of two levels, so you get paid not only when you find new customers but also when your customers find more customers of their own. Most importantly, you can get paid even for non-registered users!
You will receive:
Level 1: 80% of the net revenue generated by your referrals.
Level 2: 10% of the net revenue generated by your second-level referrals.
On its website, Switchere states that this is a lifetime deal and you can get your payouts at any time.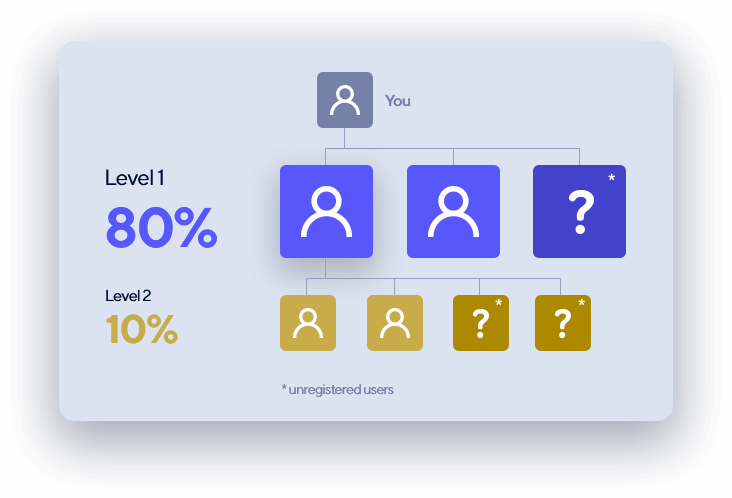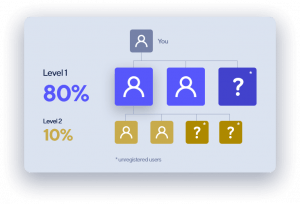 Conclusion
Switchere is an excellent option for everyone who is looking for a quick and reliable way to buy cryptocurrencies such as bitcoin, litecoin, or ethereum. It is an even better option for people who are looking for a way to purchase crypto with small amounts of dollars of euros – no registration needed.
The three-step buying process is straightforward even for beginners, and if you need help, there is a customer support desk that is willing to aid you whenever you need help.
Overall, Switchere exchange is a pleasant experience, so if you're not a tech-savvy user, or only looking for a fast way to buy crypto, Switchere is an excellent gateway for that.