Ledger Nano X Review (2023): Is It Worth It?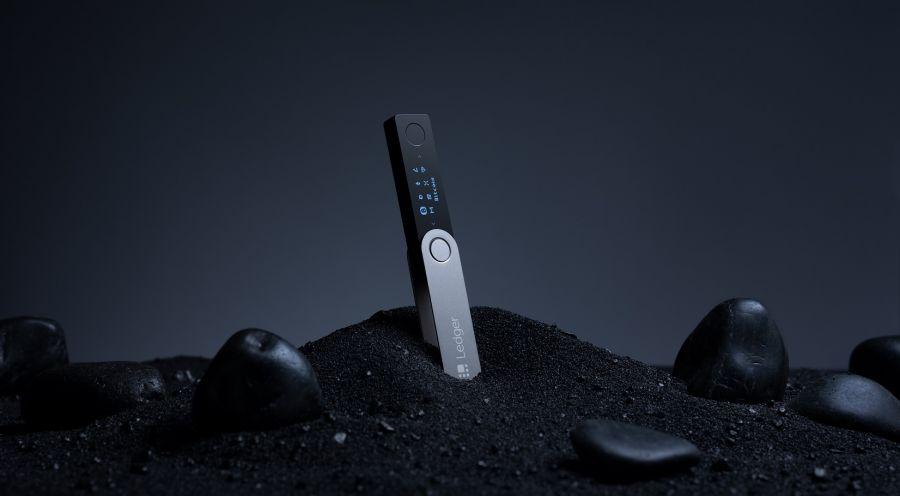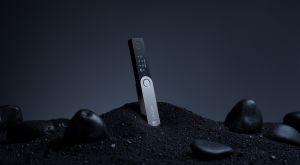 Ledger Nano X is a new type of crypto hardware wallet designed with smartphone users in mind. Unlike its predecessor Ledger Nano S, Ledger Nano X comes with a Bluetooth connection, larger screen, and more internal space which lets you install up to 100 different cryptocurrency wallets. So if you're looking for a crypto wallet that allows you to access your crypto holdings on the go and hold a diverse portfolio in a single place, this Ledger Nano X review will answer most of your itching questions.
In this Ledger Nano X review, we look at Ledger Nano X multi-currency support, design, ease of use, security features, and how to set it up.
Ledger Nano X Review Summary
Ledger Nano X is a brand-new hardware wallet which improves on what can be seen as the drawbacks of the Ledger Nano S. It comes with:
Larger screen
Improved navigation system
Mobile Ledger Live support for Android and iOS
Extra storage space which allows you to install up to 100 different apps for different cryptocurrencies
Rechargeable battery to power the device on the go.
Click here to purchase your own Ledger Nano X!
Ledger Nano X Review: Unboxing
Ledger Nano X ships with several handful items, including:
1 hardware wallet
1 USB cable
1 getting started leaflet
3 recovery sheets
1 keychain strap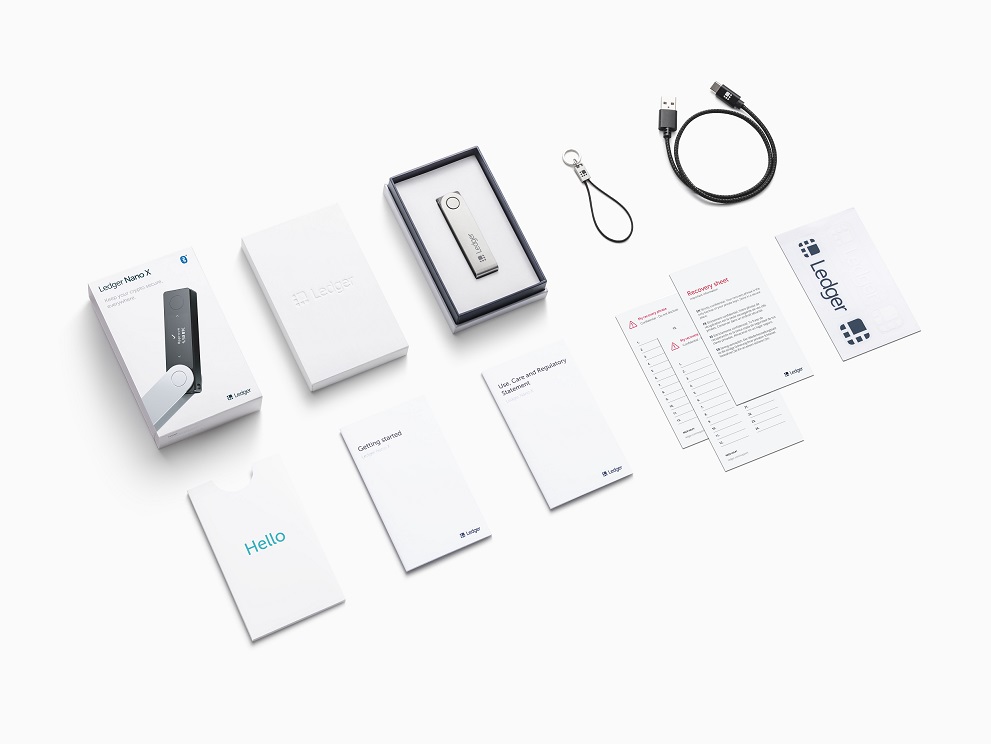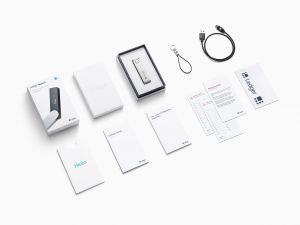 Ledger Nano X Supported Cryptocurrencies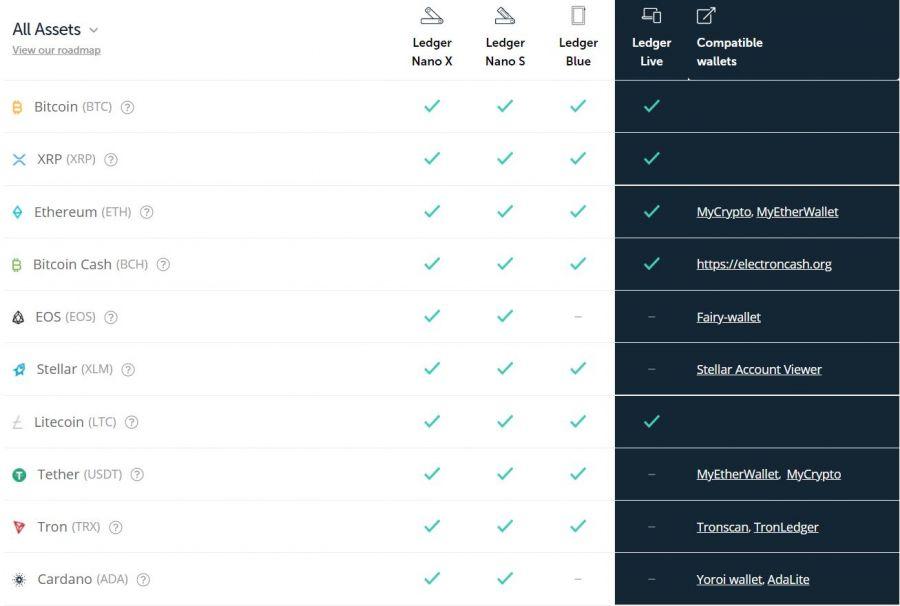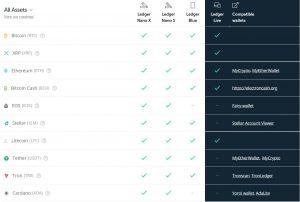 Ledger Nano X supported cryptocurrencies. Click on the image to see the entire list.
Ledger Nano X is an excellent wallet to hold multiple cryptocurrencies. For one, Ledger provides one of the most diverse support for more than 1100 different digital assets. Secondly, Ledger Nano X is designed in a way which lets you install up to 100 different cryptocurrency wallet apps for all the most popular cryptocurrencies, including:
Many of the assets supported by Ledger Nano X are unsupported by competing hardware wallets like KeepKey or Trezor.
Just like its predecessor, Ledger Nano X still allows you to delete the apps with full wallets as you can reinstall them at any given time.
All in all, Ledger Nano X is an excellent hardware wallet designed for storing and managing multiple cryptocurrencies in a single place.
You can check all the coins supported by Ledger here.
Ledger Nano X: Security Features Review
Hardware devices by Ledger have a well-established reputation when it comes to device security. Ledger Nano X is no exception and comes with two built-in chips – one responsible for the device's operating system (STM32WB55) and a separate one for private key encryption and signing of the transactions (ST33J2M0).
Such composition makes Ledger Nano X almost unhackable – the most critical information is displayed on the device's screen. It is protected by the device's BOLOS operating system.
Also, just like with the Ledger Nano S, Ledger Nano X allows you to set up a passphrase to protect you against unauthorized access.
Unlike its predecessor, Ledger Nano X convenience features and extras do introduce additional points of failure. Bluetooth and more internal memory certainly increase the theoretical probability that hackers and advanced malware might exploit it. However, such a scenario is highly is unlikely if you follow the most basic security tips. Encryption is truly the magical backbone of digital security, and even if your Bluetooth connection to the device has been compromised, hackers will be unable to intercept your device nor its encrypted data.
As such, Ledger Nano X is, without a doubt, a trustworthy and credible cold storage solution.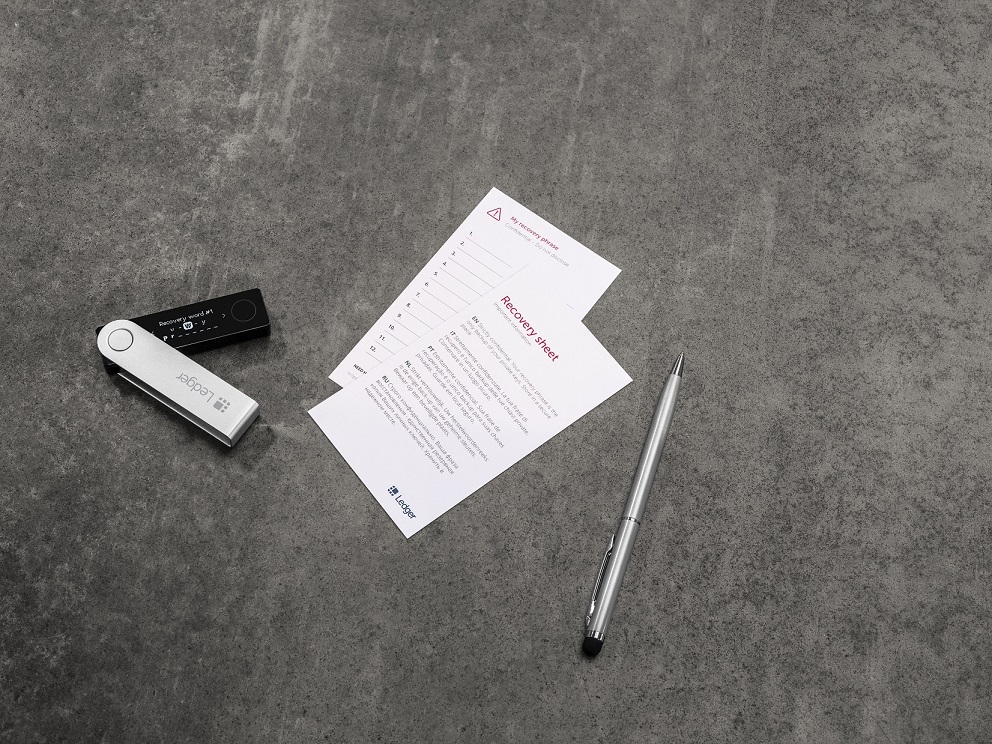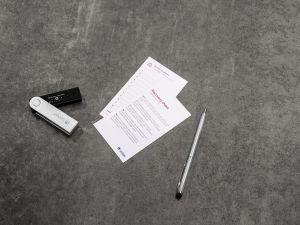 Ledger Nano X: Design and Usability Review
In terms of size and appearance, Ledger Nano X is much like Ledger Nano S. Although a bit heavier and with a wider screen, both devices are relatively small, compact, and easily fit into one's palm. Another noticeable change is the navigation buttons. They are located in the circle next to the screen. Despite the new location, they still work in the same way – you use them to navigate the menu. Pressing both of them at the same time means to confirm or "enter."
Another significant improvement in the design is the actual screen size. To the joy of most crypto fans, it finally displays the entire cryptocurrency wallet addresses, so you don't need to scroll to be able to validate the whole address.
Regarding usability, the most crucial change derives from the Bluetooth connection, which allows you to use the wallet and manage your holdings on the go using your smartphone. While you can still connect it to your computer using the good old USB-C cable, the Ledger Live mobile apps for Android and iOS phones make life much more comfortable – from now on you can quickly move funds from your cold storage without getting to a computer.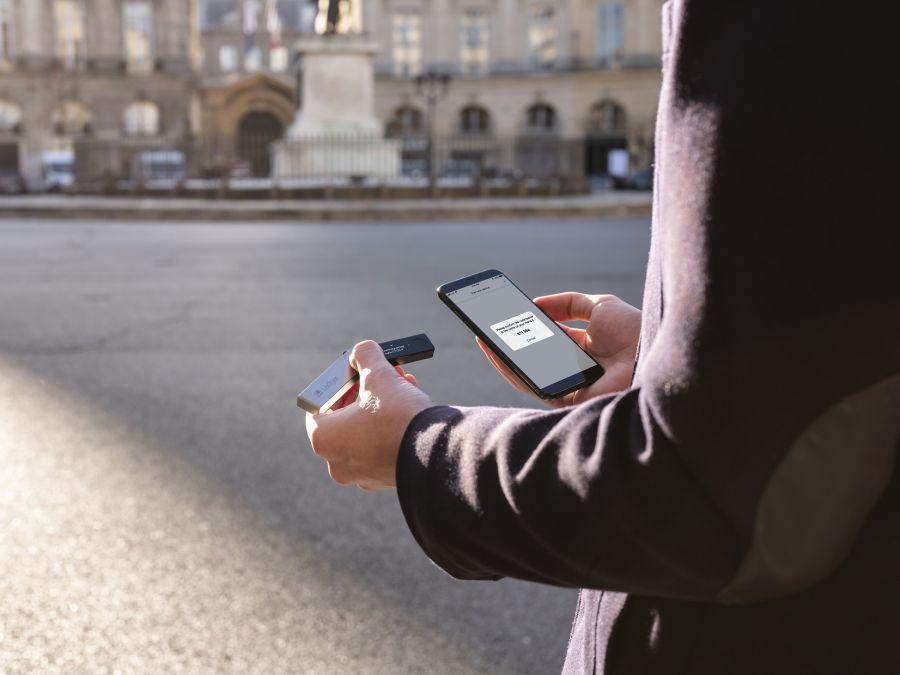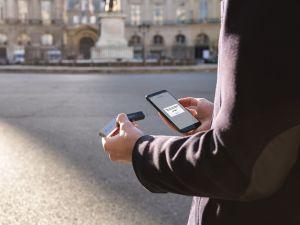 Aside from using Ledger Live on your computer, the USB-C cable still serves the essential function of charging the device. Having a full battery ensures you can use Ledger Nano X on the go whenever you need it.
After reviewing the new Ledger Nano X, it is clear that Ledger listens to its customer's feedback. Ledger Nano X is no exception, which is why it is one of the hottest cryptocurrency cold storage solutions of 2022.
Ledger Nano X Review: Price Comparison
The following table provides a neat summary and review of the most competitive crypto hardware wallets.
| Device | Price | Release Date | Supported Cryptocurrencies |
| --- | --- | --- | --- |
| Ledger Nano S | $59 | 2016 | 1100+ |
| Ledger Nano X | $119 | 2019 | 1100+ |
| Trezor One | $78 | 2014 | 1000+ |
| Trezor Model T | $170 | 2018 | 1000+ |
| KeepKey | $79 | 2015 | 40 |
Judging by the table, it becomes clear that Ledger Nano X is one of the best available solutions for cryptocurrency investors who are looking for a one-stop-shop device that lets them keep a diverse portfolio of cryptocurrencies, transact on the go and industry-grade security. Nevertheless, it comes at a price tag of two Ledger Nano S's, so it really depends on what kind of cold storage you're looking for – Nano Ledger S will still definitely do it for every investor who holds and trades less than 3 different digital assets (or more if most of them are ERC-20 tokens).
Ledger Nano X Review: Is It Worth It?
Reviewing Ledger Nano X is fun, as it is the new generation hardware wallet. It leaves older devices in the dust, but that also reflects in the price tag, so perhaps it is best suited for people who are heavily invested in both Bitcoin and altcoins. The best thing about Ledger Nano X is its usability and convenience improvements, which make it one of the most advanced hardware wallet options in the market.
How To Set Up Your Ledger Nano X Hardware Wallet
Here is a step-by-step guide on how to set up and configure your brand-new Ledger Nano X device.
Plug-in your Ledger Nano X device into the computer and turn it on. Use the provided micro-USB cable that came with it in a box for a secure connection.
Set up a PIN code. The device's screen will light up and will ask you to if you want to configure it as a new device. Use the top buttons to confirm that, and set up a 4-7 digits PIN code. Every time you select a number, confirm it by pressing both buttons at once. Write down or memorize the code, as you will need to enter it every time you'll use the device.
Record your recovery (seed) phrase. Next, Ledger Nano X will show you a series of 24 words. Record them in a secure, offline document. You can use the provided recovery phrase sheets that came with the device in the box. Make sure that every word is recorded correctly. Be careful, because if you lose your recovery seed, there will not be any other way to recover your funds. Use a device like Cryptotag for the most optimal recovery seed
Confirm your seed words. Once you are done writing your seed, the device will ask you to confirm it by asking for two random words from the seed phrase. For instance, it may ask you to confirm the words number 12 and 17 from the sequence. Use the buttons to navigate towards the 12th and 17th words from your recovery phrase and confirm it.
Install Ledger Live App on your computer or smartphone. Ledger Live is a companion app to your hardware wallet. Download it directly from the Ledger's website. If you want, you can install Ledger Live on your phone, too. It will allow you to perform crypto transactions using Ledger Nano X on the go.
Set up Ledger Live and install wallet apps for your coins. Follow the on-screen instructions, set up a strong password, and install the apps for cryptocurrencies you want to hold on your Nano X. Note that the Nano Ledger S has limited space when it comes to these apps, so you will be able to install 3-5 of them until it runs out of internal memory.
Create wallets and send cons. Follow the on-screen instructions to create wallet addresses for your coins and send them there. Here you have it, your own secure cold cryptocurrency wallet!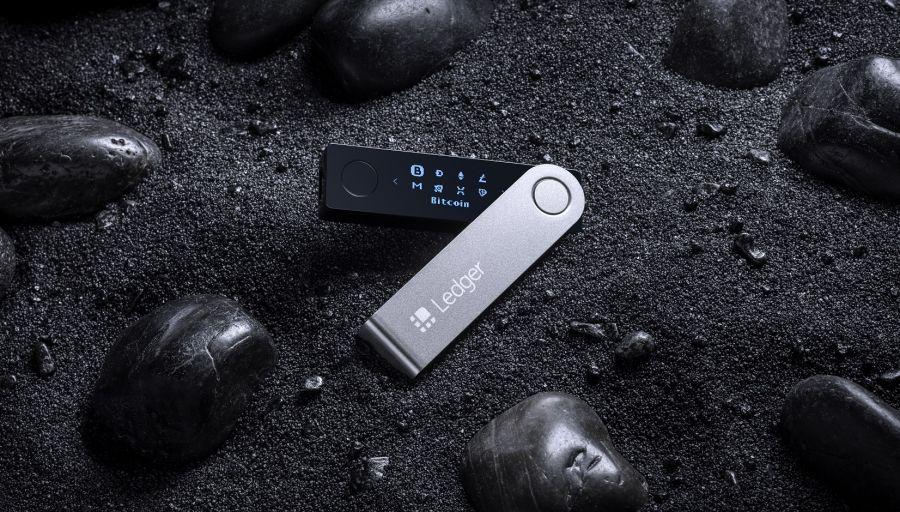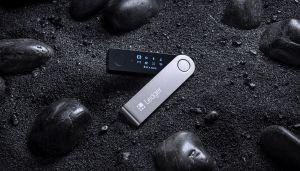 ---
Other Cryptocurrency Guides