XYO Coin Jumped by More Than 120% in a Week. Why?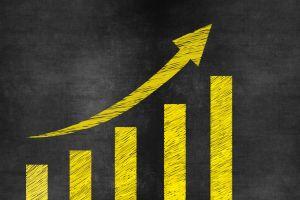 What does it take to rise in spite of a heavy-handed bear market that brings much bigger players down? Listing on an exchange is a good first step, at least by the example of XYO Network (XYO). The coin has jumped by more than 120% in the past week and was up by around 14% on Friday before trimming it's gains to 7% (UTC 10:20 AM).
The coin, with market capitalization of USD 27 million, even broke through the top 100 by market cap for a short while, before settling back down.
XYO price chart: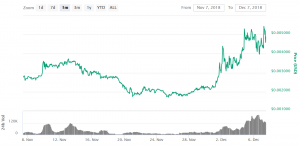 ___
XYO Network, dubbed "the people-powered location network" by its team, is looking to solve the problem of trust in location data sharing by using blockchain technology. The XYO Network aims to make it possible for smart contracts to access the real world by using its ecosystem of devices to determine if an object is at a specific coordinate and deploy specific smart contracts accordingly.
In the past week, XYO Network has completed their gamma stage of the token sale and launched their mainnet, and claim to have received "proposals from 10 leading exchanges thus far." They go on to explain, "By 'leading,' I mean they're in the Top 100 Exchanges according to the exchange market cap listing websites." The first one they accepted and went live on is LATOKEN, an exchange that has around USD 37 million in daily trading volume, trading against Bitcoin, Ethereum and Tether.
The hype surrounding XYO Network started much earlier. In November, the first official full XYO Network transaction went through live on stage when they landed a drone next to their CEO using their own location data technology.
However, more notable than the news they've been announcing is the hype that's been following them. Neither their Telegram channel nor dedicated subreddit have a large following - around 13,000 and 1,400 followers, respectively - but the community is certainly excited about the project. That's the same vibe that their Twitter account and blog posts give: it seems like XYO does not see the bear market that's brought everyone else down, and not a single post reads in a somber tone. All of them are excited, and interactive with their community.