XRP Price Prediction as XRP Rockets Up 69% in 24 Hours Following Positive Lawsuit Conclusion – Can XRP Reach $10 Today?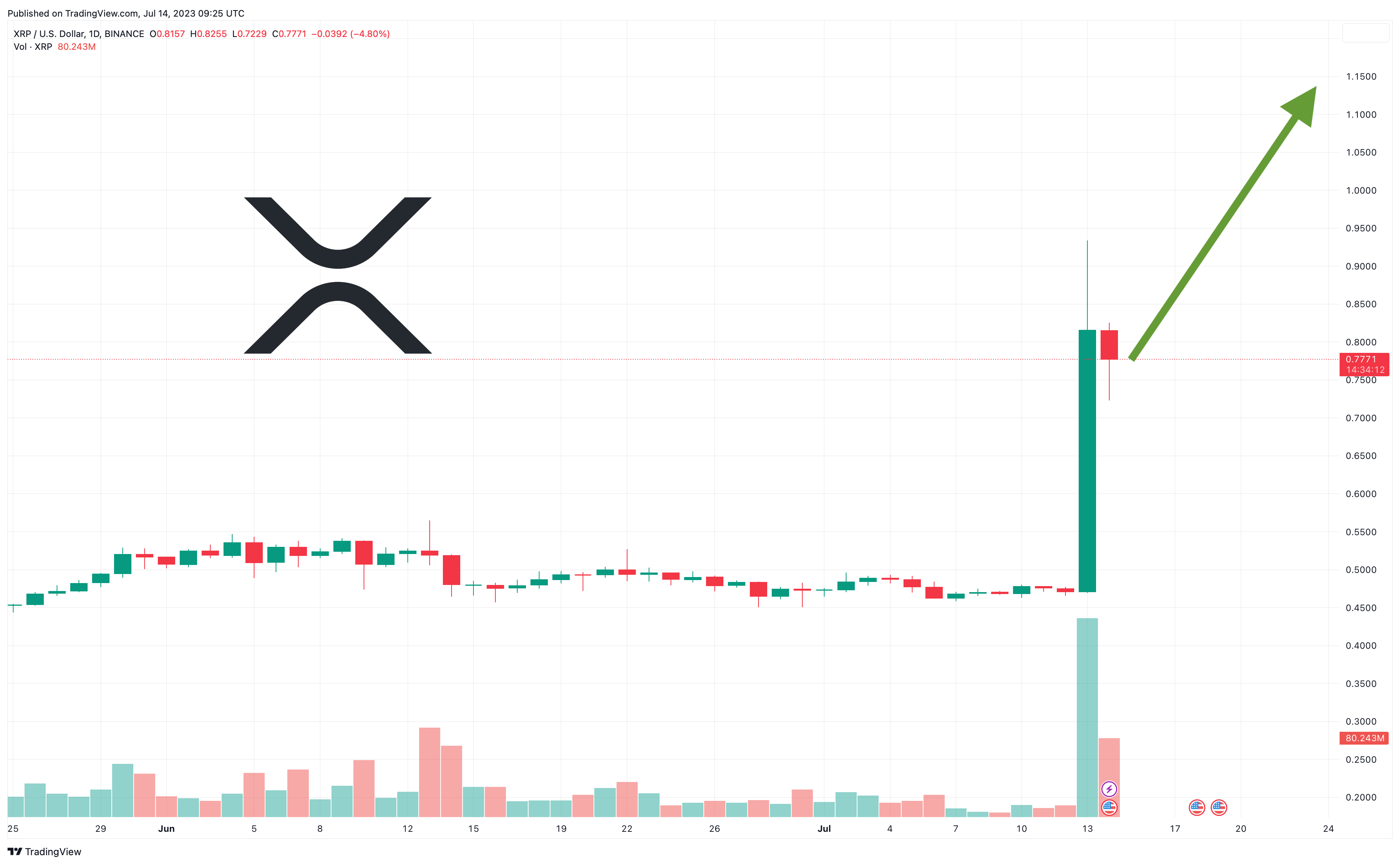 The XRP price has ballooned by 69% in the past 24 hours, after Ripple celebrated the arrival of a largely positive ruling in its long-running legal battle with the SEC.
At $0.785, XRP has now risen by nearly 150% in the last 12 months, following Judge Analisa Torres' ruling that most of Ripple's XRP sales did not count as the offering of unregistered securities.
While Torres has concluded that sales of XRP to institutional investors did violate US securities law, the overall market sentiment is that the ruling is mostly favorable to Ripple, enabling it to continue its business as normal.
And with exchanges already relisting XRP for its customers in the US, it would seem that the altcoin is still likely to make further gains in the short-term, as well as longer term.
XRP Price Prediction as XRP Rockets Up 69% in 24 Hours Following Positive Lawsuit Conclusion – Can XRP Reach $10 Today?
XRP's chart and indicators make it abundantly clear that the altcoin is being pushed by a sudden surge in buying momentum.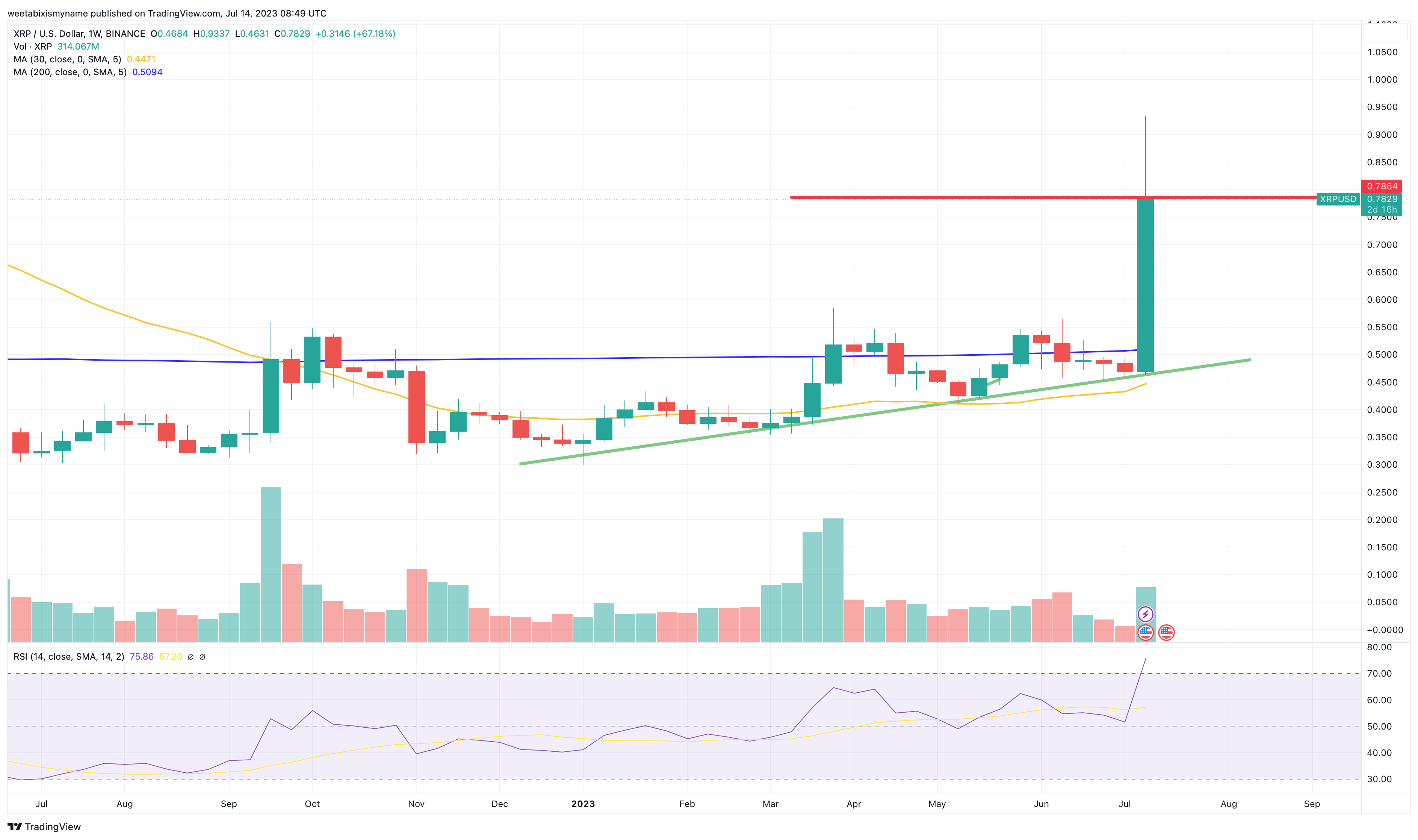 XRP's relative strength index (purple) has shot above 70 in the past day, with its 30-day moving average (yellow) also moving up towards its 200-day average (blue).
Both of these changes signal very strong buying pressure, while it's also safe to say that XRP's support level (green) is likely to stay comfortably above $0.50 for the foreseeable future.
Indeed, based on its sheer momentum at the moment, XRP could easily rally to $1 by the close of the weekend, as the market fully digests yesterday's momentous ruling.
As noted above, Judge Torres' ruling sided with Ripple's arguments on numerous counts, with the judge also making it clear that XRP in itself is not a security.
And while Torres didn't specifically pass judgment on secondary sales of XRP (i.e. between traders on exchanges), her rulings on Ripple's programmatic sales and other distributions of XRP would indicate that most courts in the land would deem such sales to not be investment contracts/securities.
As such, the ruling can be construed as a 'win' for Ripple, even if there will now be a trial on the issue of whether executives Chris Larsen and Brad Garlinghouse knowingly aided and abetted Ripple's violation of securities law (with regards to the sale of XRP to institutional investors).
Because of the ruling's overall positivity, there's now an expectation that XRP and Ripple will only go from strength to strength, with a number of exchanges – including Coinbase – now relisting the altcoin for its US-based customers.
This should result in XRP rising steadily over the coming months, helped in part by Ripple being able to expand its business more aggressively.
From its current price of $0.78, it could reach $1 in the next week or so, before potentially seeing out 2023 at around $2 or $3.
XRP Isn't the Only High-Potential Altcoin
XRP is probably the most promising major cryptocurrency in the market at the moment, yet it's not the only altcoin with the potential to rise substantially in the near and more distant future.
There are also a number of promising presale tokens doing the rounds at the moment, with one of the most interesting being Thug Life Token (THUG), an ERC-20 meme coin that has already raised close to $1.5 million in its presale.
THUG has taken its particular memes and stylings from the gangsta rap and hip-hop communities, an area that seems ripe for crypto.
What's promising about THUG is that, in contrast to many new meme tokens that have launched recently, it already seems to have cultivated quite a significant following and community.
This is evident in its successful raise, which has been open for only a couple of weeks, but it's also evident in its Twitter follower count.
Because it has a following, it's better placed than many other new meme coins to have a sustainable and long-lasting lifespan.
And with 70% of its 4.20 billion supply being allocated to the presale, it's clear that THUG's community will have more of a stake in the token than could be had with many other alts.
People can join the THUG presale by heading over to the official Thug Life Token website and connecting their crypto wallets.
1 THUG costs $0.0007, with the sale to end in only three days.
This means investors have very little time in which they can buy THUG at a discount, because once it lists, it could rally considerably.
Disclaimer: Crypto is a high-risk asset class. This article is provided for informational purposes and does not constitute investment advice. You could lose all of your capital.
---