XRP Price Prediction as Hinman Documents Go Public – Can XRP Reach $10 in 2023?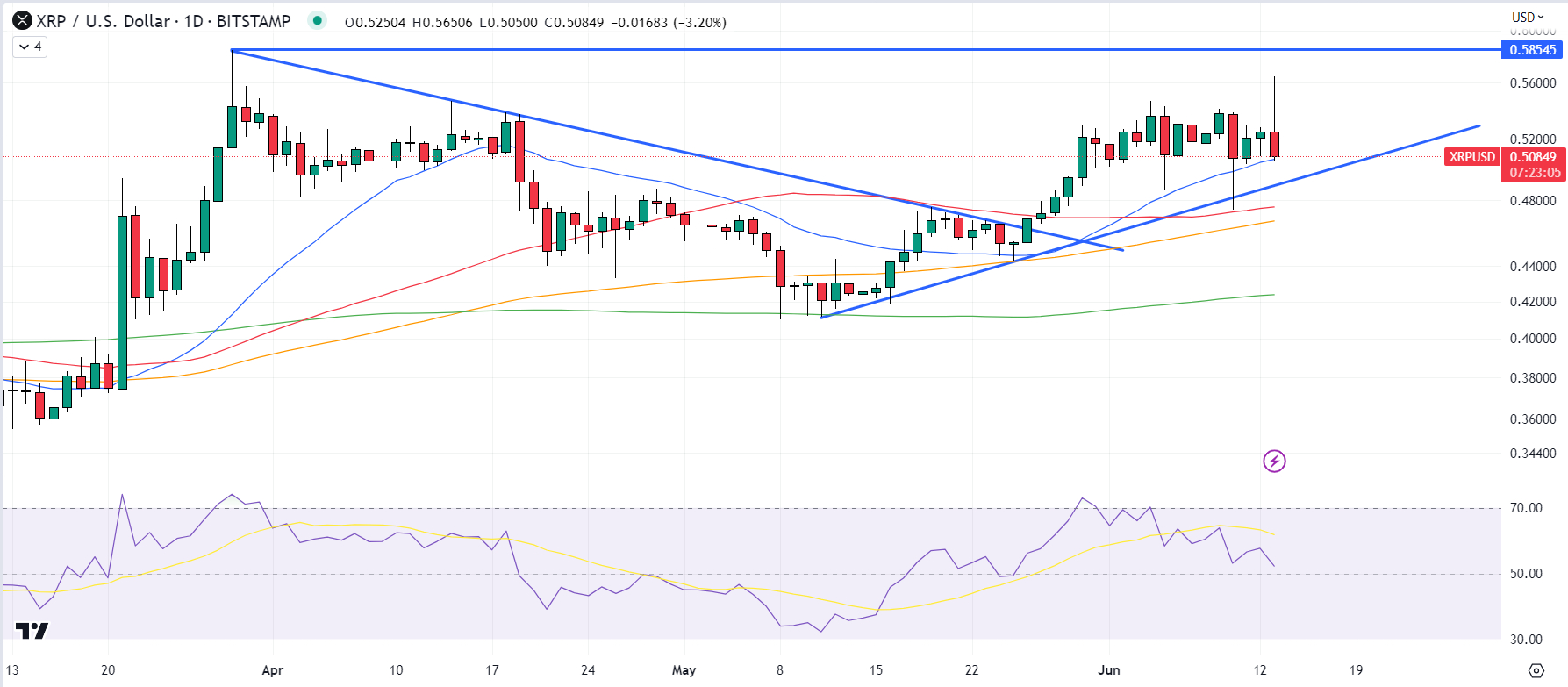 XRP, the cryptocurrency that powers the XRP Ledger, a layer-1 blockchain protocol, has reversed lower following an earlier pump to fresh multi-month highs in the $0.565 area.
The cryptocurrency, which ranks as the world's sixth largest with a market capitalization of around $26.5 billion, was last changing hands just under $0.51.

XRP is now down more than 3%, having previously traded as much as 7.5% up on the day.
The catalyst for XRP's spike earlier in the day was the release of SEC documents relating to an infamous speech made by William Hinman – the agency's former director of the Division of Corporation Finance.
In that speech, Hinman said that, in his view, he did not see a need to regulate Ether as a security.
The documents, which show how officials at the SEC deliberated over what to say in the speech ahead of its delivery, have been touted as boosting Ripple's case in its lawsuit with the SEC.
The SEC accused Ripple back in December 2020 of issuing XRP as an unregistered security and the two have been engaged in a fierce legal battle ever since.
According to Ripple's Chief Legal Officer Stuart Alderoty, the documents show that "Hinman ignored multiple warnings that his speech contained made-up analysis with no basis in law" and was divorced from the "Howey factors".
"Hinman's speech should never again be invoked in any serious discussion about whether a token is or is not a security," Alderoty added.
"Unelected bureaucrats must faithfully apply the law within the constraints of their jurisdiction... They can't - as Hinman tried - create new law".
Price Prediction – Where Next for XRP?
XRP's latest pullback means it is now retesting its 21DMA, which could offer some short-term support.
Failing that, the uptrend from the mid-May lows could support the price action in the $0.48 area.
Either way, it seems likely that as Ripple's momentum in the lawsuit versus the SEC builds, XRP dips will continue being bought.
A retest of yearly highs in the $0.5850 area in the next few days/weeks seems highly likely, so long as sentiment in the broader crypto market holds up.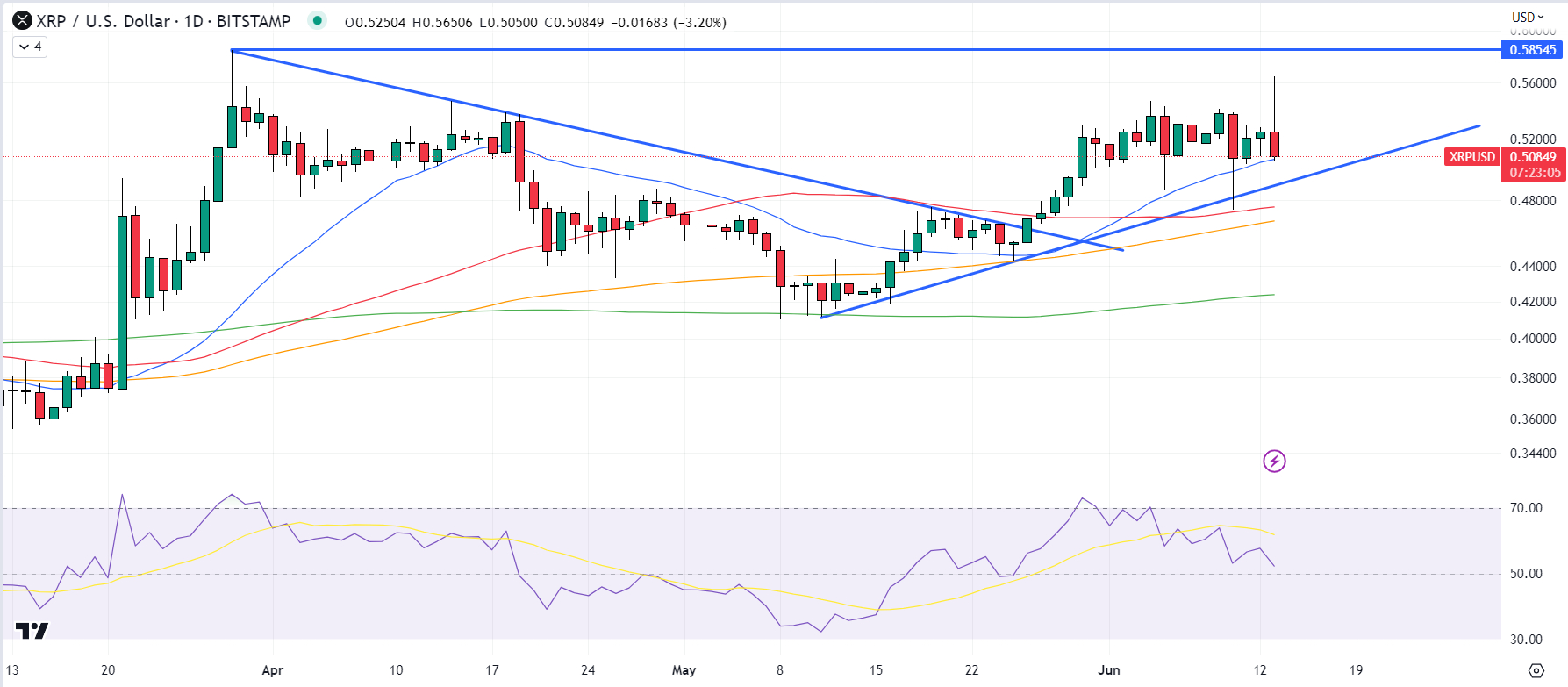 That's no guarantee, with bitcoin still teetering just under the $26,000 level and threatening a retest of its 200DMA under $24,000, still weighed by its medium-term downtrend.
But with the Fed likely to hold interest rates steady at its meeting tomorrow in wake of Tuesday's softer-than-expected inflation data release, macro tailwinds could keep prices underpinned for now.
Can XRP Reach $10 in 2023?
A rally to $10 from current levels this year would mean 20x gains for XRP, and the token hitting a market cap of around $530 billion.
While it's probably overly optimistic to think this price level can be reached this year, even if the US courts side with Ripple over the SEC, a $530 billion market cap for XRP is certainly a reasonable long-term target.
As broader crypto adoption rises, many have predicted Bitcoin could eventually match gold's market cap of over $11 trillion.
If bitcoin can make it this far, which many think is a good possibility, then there is no reason why XRP can make it to half a trillion, especially as Ripple continues to expand its rapidly growing liquidity and payments business, which directly bolsters the demand for XRP.
XRP Alternatives to Consider
Investors should always be on the lookout to diversify their crypto holdings.
One high-risk-high-reward investment strategy that some investors might want to consider is getting involved in crypto presales.
This is where investors buy the tokens of up-start crypto projects to help fund their development.
These tokens are nearly always sold very cheap and there is a long history of presales delivering huge exponential gains to early investors.
Many of these projects have fantastic teams behind them and a great vision to deliver a revolutionary crypto application/platform.
The team at Cryptonews spends a lot of time combing through presale projects to find the best projects.
As such, here's a list of the top 15 crypto presales in the market today.
Disclaimer: The Industry Talk section features insights by crypto industry players and is not a part of the editorial content of Cryptonews.com
---