XRP Price Prediction as Half a Billion Dollars Trading Volume Floods In – Is XRP About to Shoot Up?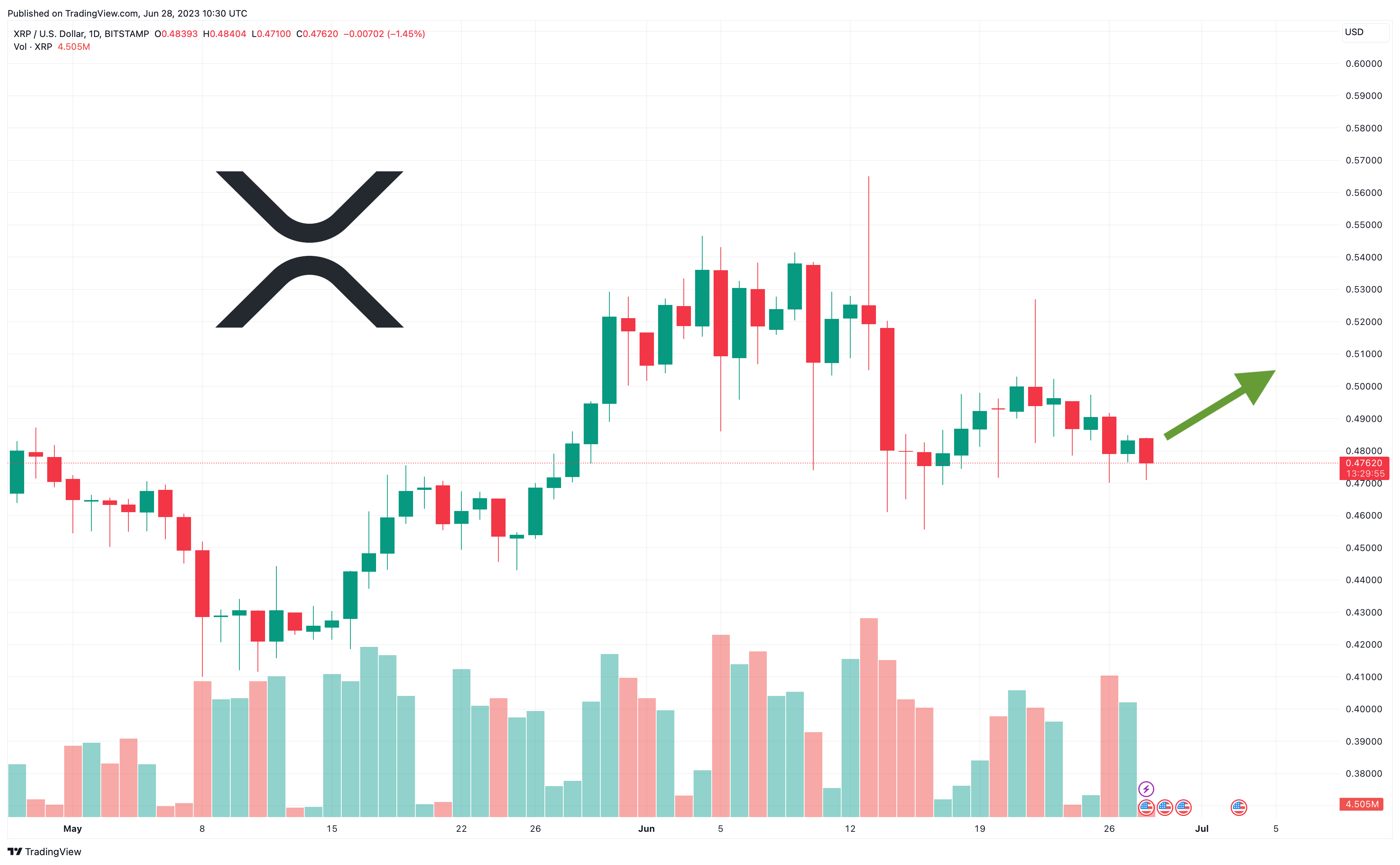 The XRP price has dipped by 0.5% in the past 24 hours, falling to $0.475928 as the cryptocurrency market as a whole suffers a similar fall in the same timeframe.
XRP is now down by 4% in a week and by 6% in the past fortnight, with its 24-hour trading volume rising above $600 million today, up from $500 million a couple of days ago.
This slight increase suggests that the market may be preparing to push XRP up to higher prices, with expectations remaining high in relation to Ripple's case with the SEC.
And even if XRP has dipped a little in the past couple of weeks, a positive decision in this case could really send it surging.
XRP Price Prediction as Half a Billion Dollars Trading Volume Floods In – Is XRP About to Shoot Up?
While XRP has had a bad couple of weeks, its indicators suggest that it's now in a position to rise back up again in the near future.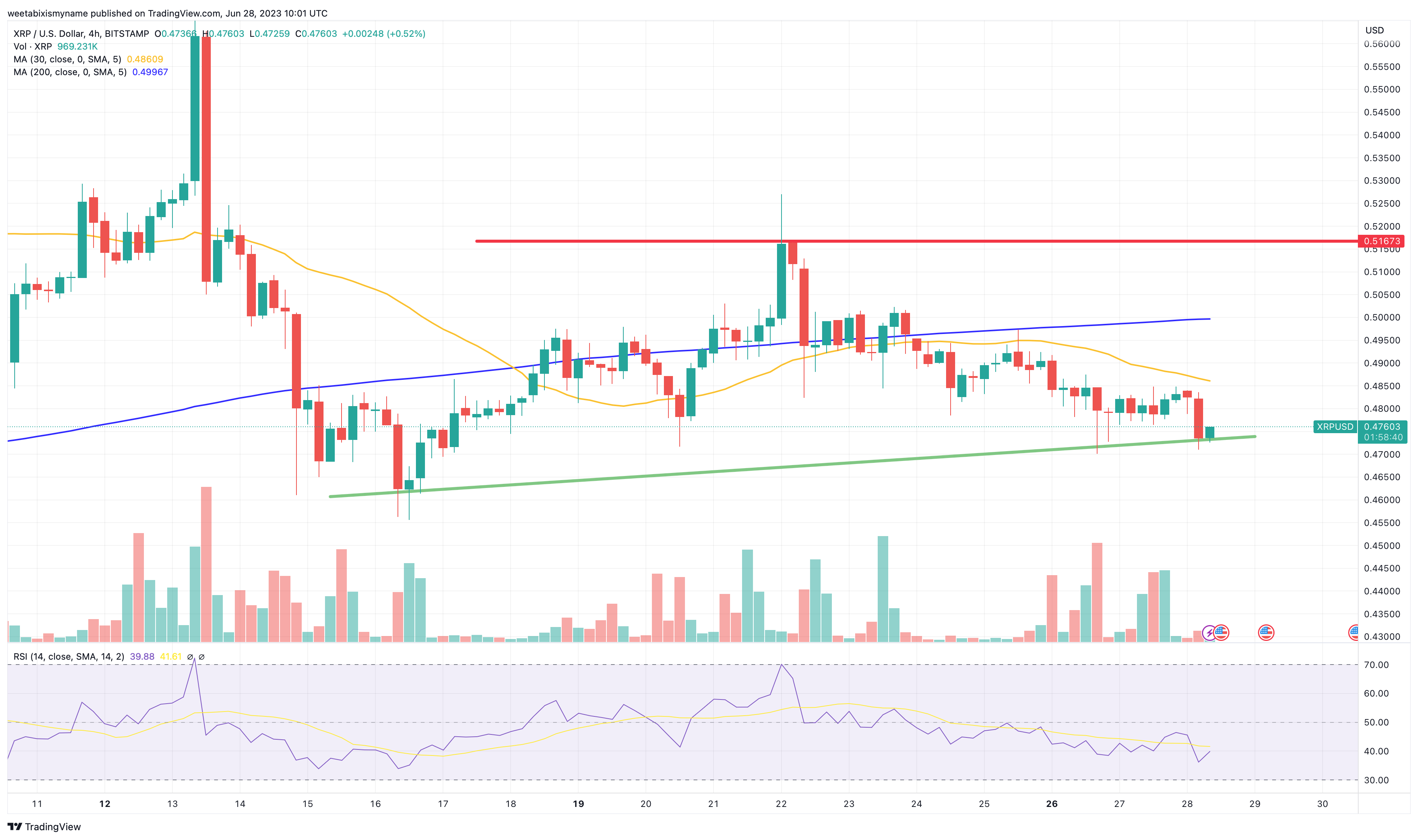 Its relative strength index (purple) has begun rising again after nearly dropping to 30, indicating a modest increase in momentum.
At the same time, its 30-day moving average (yellow) has fallen so far below its 200-day average (blue) that it would seem as though its price will have to rise again sooner or later.
What's encouraging to note is that XRP's support level (green) has actually risen a little over the past couple of weeks, meaning that it's unlikely the altcoin will fall much further below its current level before mounting a recovery.
As such, we should expect XRP to push up from its current price in the next few days or weeks, potentially moving back toward $0.50.
While there hasn't been any indication of big XRP purchases by whales in the past day or so, it's instructive to note an apparent pause in the transfers to exchanges that was seen at the end of last week.
In other words, the lack of movements to exchanges suggests that XRP has finished falling and should be ready for gains soon enough.
And in the medium and longer term, Ripple's case with the SEC should help the altcoin rise substantially.
As we've noted before, recent developments have suggested that Ripple has a good chance of securing a positive judgment or settlement in its case, with the Hinman emails showing that even the SEC was confused as to which cryptocurrencies were and were not securities.
What the emails do is support one of Ripple's main defenses, which is that it didn't receive fair notice of a likely legal action, given that the SEC itself wasn't sure how exactly to classify cryptocurrencies.
And if it does lead to a Ripple victory, XRP will likely jump from its current price and reach $1 within a few weeks of the case's conclusion.
From there, a new bull market in 2024 could see it move back up to $2 or even $3, especially if Ripple's business continues to post positive growth.
New Altcoin with High-Potential
Because XRP may have to wait several more months for the Ripple case to end, traders may be inclined to look toward other, newer altcoins for above-average gains in the shorter term.
One of the best areas for securing such gains are presales, given that presale tokens can witness massive rallies when they first list on exchanges.
Of course, such coins also need decent fundamentals and a promising platform to achieve such a feat, and one of the best presale tokens in this regard is Chimpzee, an Ethereum-based platform that rewards its users for taking actions that support the environment and endangered animals.
Chimpzee kicked off the presale for its native CHIMPZ token several weeks ago, and has already raised in excess of $600,000.
Due for launch around the end of the year, Chimpzee's platform will offer shop-to-earn and trade-to-earn elements, both of which will reward users for contributing towards conservationist projects.
Chimpzee's shop-to-earn feature will reward users with CHIMPZ for every purchase they make, with a percentage of each purchase being directed towards environment-focused organizations and charities.
This means that Chimpzee's users will be making a positive impact on the world whenever they use its platform, and in this respect, it's exciting to note that Chimpzee has already signed partnerships with a number of projects and organizations.
This includes campaigns to plant trees and also to protect elephants in Mali, with more partnerships likely to be signed in the coming weeks.
It's this kind of positive action that has helped Chimpzee to stand out in a market usually defined by self-interested behavior, and it's also what will give it real value as a platform, once the presale has finished.
Investors can participate in the sale by heading to Chimpzee's official website and connecting their crypto wallets, with CHIMPZ, purchasable using USDT, ETH or fiat currency.
1 CHIMPZ token currently costs $0.00067, with this price due to rise to $0.00070 in just over a week.
CHIMPZ will list with a price of $0.00185, meaning that anyone who buys it now will be looking at a 176% gain before the token even lists on exchanges.
Disclaimer: The Industry Talk section features insights by crypto industry players and is not a part of the editorial content of Cryptonews.com.
---