XRP Price Prediction as Bulls Defend $0.51 Level – Time to Buy the Dip?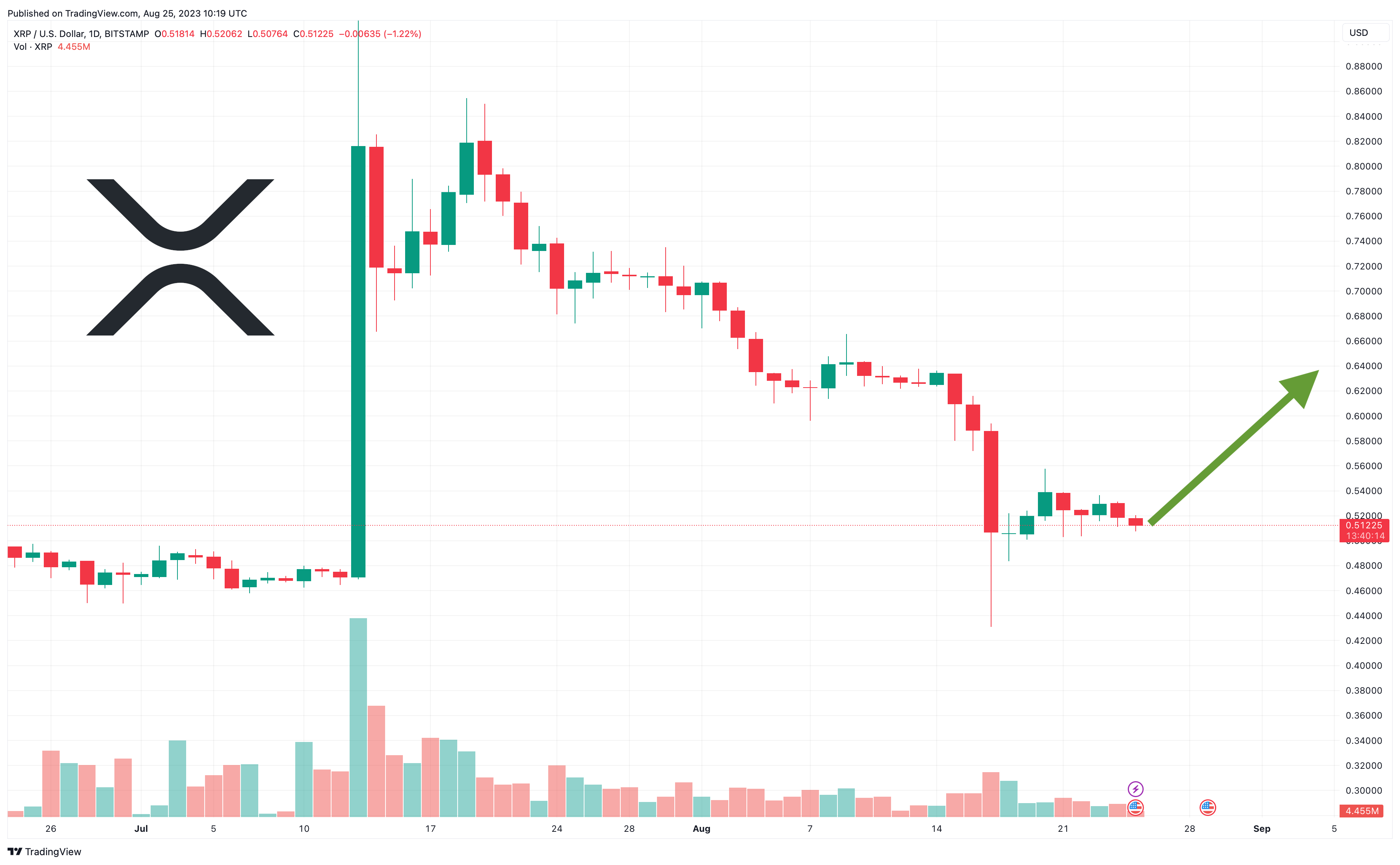 The XRP price has declined by nearly 3% in the past 24 hours, with its drop to $0.510528 also marking 27% decline in the last 30 days.
XRP's losses have come amid a difficult time for the cryptocurrency market, which has declined by 11% in the past month, following negativity caused by macroeconomic fears and concerns over recent Bitcoin ETF applications.
However, XRP remains up by 50% since the beginning of the year as a result of Ripple's partial win in its case with the SEC, while the fact that the coin has defended its $0.51 support level implies that it may have bottomed.
As such, XRP can be expected to recover a little very soon, with its long-term picture remaining very positive.
XRP Price Prediction as Bulls Defend $0.51 Level – Time to Buy the Dip?
XRP is very close to bottoming out, although it's possible that it may need a little time before it can begin recovering in a sustained way.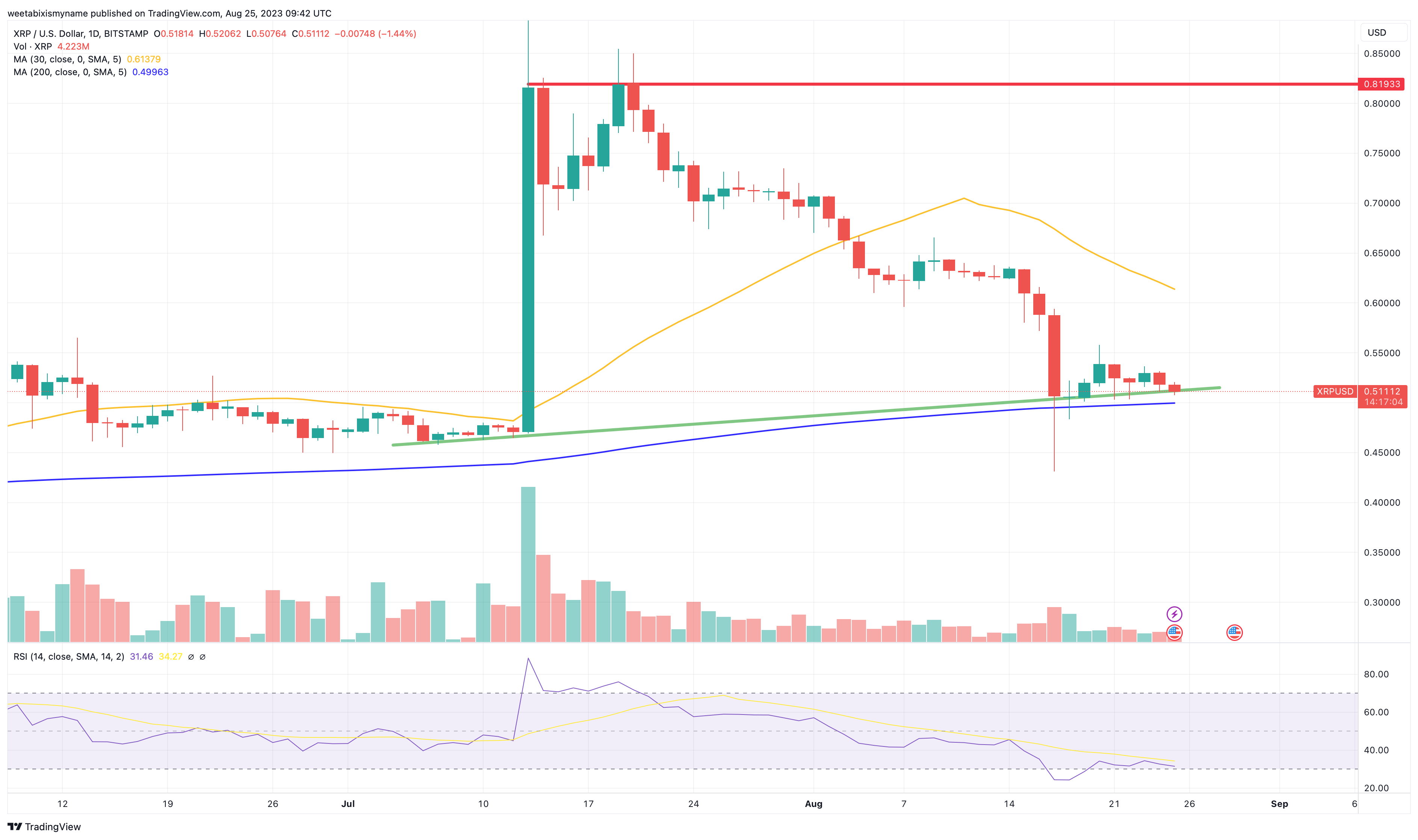 On the one hand, its relative strength index (purple) remains at around 30, signalling that the altcoin is oversold and in need of correction upwards.
On the other hand, its 30-day moving average (yellow) has yet to fall decisively below its 200-day average (blue), a move which tends to confirm that an asset has truly hit the bottom of a downturn.
Having said that, the fact that XRP's support level (green) has stuck firmly to $0.51 would suggest that the coin is unlikely to fall much further before its fortunes change for the better.
In terms of why XRP has fallen more than certain other cryptocurrencies in the past few weeks, this is largely because it had risen much more than most other coins, with buyers who jumped on the token following Ripple's partial victory in July also selling quickly in order to cut their losses.
However, XRP's fundamental position remains as positive as it was in mid-July, with the SEC's recent attempt to file an interlocutory hardly guaranteed to be accepted and/or succeed.
It's worth pointing out that, even with the SEC's attempts to lodge an interlocutory appeal and even with the fact that the case is going to trial on one issue (whether Ripple execs were responsible for knowingly selling securities), US-based exchanges continue to list XRP.
Likewise, Ripple continues to expand its business more confidently now than it did prior to the ruling, with the company signing partnerships with the Republic of Palau in recent weeks and with Mastercard as part of the latter's CBDC Partner Program.
In view of all this, XRP can only return to growth in the next few weeks and months, with the coin likely to reach $0.60 again soon enough.
How to Diversify With Presale Tokens
Because the wider cryptocurrency market remains in a state of uncertainty, it may still take some time before XRP can really recover, with the coin potentially waiting for overall sentiment to become more bullish before things change.
In response to this, most traders may be recommended to diversify into newer tokens in the meantime, given that new tokens – especially those yet to list on exchanges – can often surge rapidly.
While there's no shortage of new tokens being launched every day, one of the most promising in the market right now is Launchpad.xyz (LPX), a comprehensive Web3 trading platform that has raised in excess of $1.4 million since opening its presale at the start of the month.
Conceived as a one-stop-shop for traders and investors, Launchpad.xyz will provide a whole ecosystem of features and tools when it launches towards the end of the year.
Aside from its own DEX and NFT marketplace, such features will include Web3 wallet addresses, a play-to-earn gaming hub, a launchpad for Web3 presales, trading signals, automated trading bots, and also collaborative trading rooms.
There will also be the ability to create and trade fractionalized assets, something which will make the assets they're based on more accessible to ordinary traders.
These features alone already make LPX highly attractive as an investment, yet bullishness for the coin is also enhanced by the fact that it will be used to pay Launchpad's fees and subscriptions.
This gives it real utility, which will be heightened further by the ability to use the coin for staking, which will enable holders to earn a passive income.
This helps to explain why the Launchpad.xyz presale has already done so well, with new investors able to participate by visiting the official Launchpad.xyz website and connecting their software wallets.
1 LPX costs $0.0445, and while nothing is ever guaranteed in crypto, Launchpad's fundamentals and growth could result in this price surging rapdily once the new token is listed on exchanges.
Disclaimer: Crypto is a high-risk asset class. This article is provided for informational purposes and does not constitute investment advice. You could lose all of your capital.
---