XRP Price Prediction as $0.51 Level Consolidation Continues – When is the Next Move Up?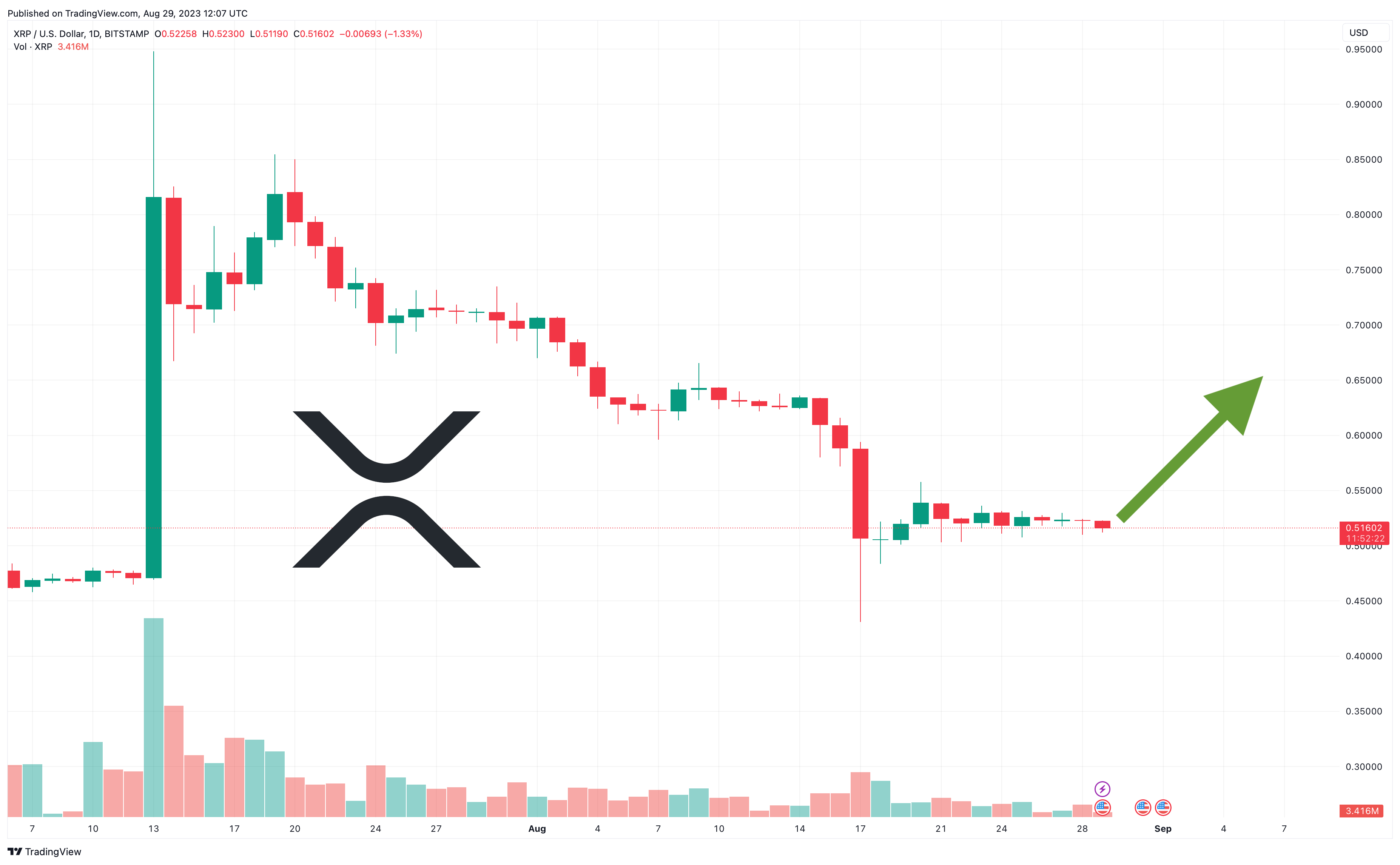 The XRP price has failed to move in the past 24 hours, with this level also representing a 0% change in a week as the altcoin consolidates at $0.515658 today.
XRP is also down by 28% in the last 30 days, following a difficult few weeks for the altcoin and the wider market, which has been negatively affected by macroeconomic hangups and regulatory concerns.
But with XRP remaining in a strongly oversold position and with its volatility declining, a positive move upwards is becoming increasingly likely in the near future.
XRP Price Prediction as $0.51 Level Consolidation Continues – When is the Next Move Up?
Based on an observation of its technical indicators, XRP is drawing close to the point at which it will have to rebound up.
The coin's relative strength index (purple) continues to flatline at around 30, meaning that it continues to be oversold and undervalued, and that now is a good time to buy it at a discount.
This low level comes as XRP's 30-day moving average (yellow) is plunging towards its 200-day average (blue), with a 'death cross' (when it does happen) likely to signal an incoming recovery.
It's likely that XRP won't fall much further after recent declines, not just because it has become exceedingly oversold, but also because its support level (green) has been holding up well in the past week or so.
Of course, previous declines since the middle of July were also preceded by minor and short-lived bounces, so it could be the case that XRP actually falls below $0.50 despite its apparent consolidation.
However, its RSI and averages strongly argue against further significant declines, implying that XRP should potentially rebound to $0.52 or a little higher in the next one or two weeks.
This optimism is supported by data which has shown that around 1 billion XRP has been taken off Bitavo in the past couple of days, although other data also shows some transfers to exchanges as well, so the picture remains mixed.
Regardless, XRP's fundamental position remains as strong as it was back in July, when Ripple secured a positive ruling in its long-running case with the SEC.
Exchanges relisted XRP immediately after this ruling, and while the SEC is currently seeking an interlocutory appeal against certain decisions with the judgment, it's certainly not guaranteed it will even be granted the right to appeal.
As such, Ripple remains as free as ever to continue expanding its business, while exchanges remain free to continue facilitating trades in XRP.
Indeed, recent weeks have seen Ripple sign partnerships with the Republic of Palau and with the Rocky Mountain Institute, both of which underline the potential utility of XRP's ledger.
It's therefore likely that XRP will return to $0.60 in the next few weeks, with the coin potentially looking at a recovery towards $0.80 in the final couple of months of the year.
Big Presales Can Translate to Big Gains
Given that the overall market remains in a state of uncertainty, it may still be some time before XRP records some truly significant gains.
For this reason, many traders may also consider diversifying into newer altcoins that have bigger potential upside in the shorter term, with presale tokens figuring prominently among the most promising assets right now.
The biggest sale happening right now belongs to Wall Street Memes (WSM), a new ERC-20 cryptocurrency that has raised more than $26 million since kicking off its sale in June.
Associated with the meme stocks movement that sparked the 2021 GameStop and AMC rallies, Wall Street Memes and its presale have benefitted from already having a big online community around it.
Indeed, its Twitter account now counts more than 265,000 followers, a sign of just how strong WSM is likely to be as a meme token, particularly when so many other newer meme coins have much smaller online presences by comparison.
WSM will also be a considerably decentralized meme token, with 50% of its max supply (two billion WSM) being reserved for the presale and 30% for community rewards.
It's clear that this distribution has helped grow WSM's community quickly, with investors reassured that big selloffs or dumps from larger investors are less likely with it than with other coins.
But with only 28 days left to run, new investors have only a limited window of opportunity in which to secure their own WSM holdings.
They can do so by heading over to the official Wall Street Memes website and connecting their software wallets, with 1 WSM selling at $0.0337.
This price is likely to rise much higher once the sale ends and WSM lists on exchanges, where it could earn early investors a considerable profit.
Disclaimer: Crypto is a high-risk asset class. This article is provided for informational purposes and does not constitute investment advice. You could lose all of your capital.
---