XRP Army Marches on IMF While Its Chief Discusses Future of Money
Every cryptocurrency project has its fans out there, ready to fight for their beloved token until the bitter end. Fans of Ripple's XRP token thus found themselves in a similar predicament: when the International Monetary Fund (IMF) started a poll on Twitter, asking followers, "How do you think you will be paying for lunch in 5 years?" they were quickly overrun by people replying that they will be paying with XRP.
Out of the four options - cash, cryptocurrency, mobile phone, and bank card - cryptocurrency is the most popular one with 57% of the votes, while mobile phones take up 28%. The rest is divided among the remaining two - only single-digit percentages.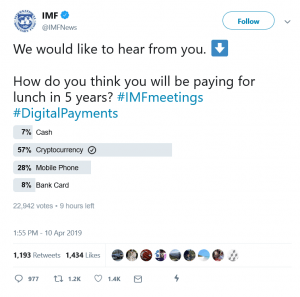 It seems that the infamous XRP army, while setting out to tout their coveted token, did not agree what they would vote on beforehand, since some voted on cryptocurrencies, while others replied, "With [XRP] on my mobile phone."
We did not want to be lazy, so we counted for you: the first 85 direct replies to the poll are about XRP, either just mentioning it or proclaiming it the "only real standard." The 86th wrote Bitcoin - and the rest goes back to XRP. "Has anyone already said XRP?" asks user @NazarioParisi, and gets the reply, "Not yet I think," from user @_lonedd. Not everyone is amused, however. Twitter user @pierre_crypt0 is especially disgruntled: "The comments are catastrophic and it makes me wanna see the market keep getting destroyed for another year hopping for this type of people to leave the market."
Ripple's army may well number fewer human beings than expected. Independent researcher Geoff Golberg recently discovered that there is a large number of fake accounts and bots tied to popular accounts like "Giantgox" and "Xrptrump," both huge Ripple shills. However, he, too, claims to have been harassed by the XRP army after sharing his results, going as far as to receive death threats. His response to the harassment was simple: "I eat XRP Army shills for breakfast," he tweeted.
Meanwhile, the IMF and its director, Christine Lagarde, are again the talk of the crypto community. On Wednesday, a panel, titled Money and Payments in the Digital Age, pitted two regulators and banking giant JPMorgan against crypto company Circle. However, at the very beginning, she asked participants to agree that they "weren't there to discuss Bitcoin."
Jeremy Allaire, CEO of Circle, argued that putting a sovereign currency on the blockchain, skipping the need for third parties to hold people's assets, would go a long way towards improving transparency and security. However, Sarah Youngwood from JPMorgan's consumer and community banking division disagreed, saying, "There has been more fraud in bitcoins than virtually any other form of payment that has existed." However, numbers are showing a different story. At least in Japan.
As previously reported by Cryptonews.com, Japan did in fact witness a tenfold increase in crypto-related money laundering in 2018, with suspected cases rising from 669 to 7,096. Still, there were 417,465 reported cases of money laundering in total in the country in 2018, representing an increase of 17,422.
"I think the role of the disruptors and anything that is using distributed ledger technology, whether you call it crypto, assets, currencies, or whatever ... that is clearly shaking the system," Lagarde told CNBC on Wednesday.
Watch the whole discussion below:
---