Worldcoin Price Prediction as WLD Reaches $20 Billion Market Cap Straight After Launch – Can Worldcoin Overtake Bitcoin?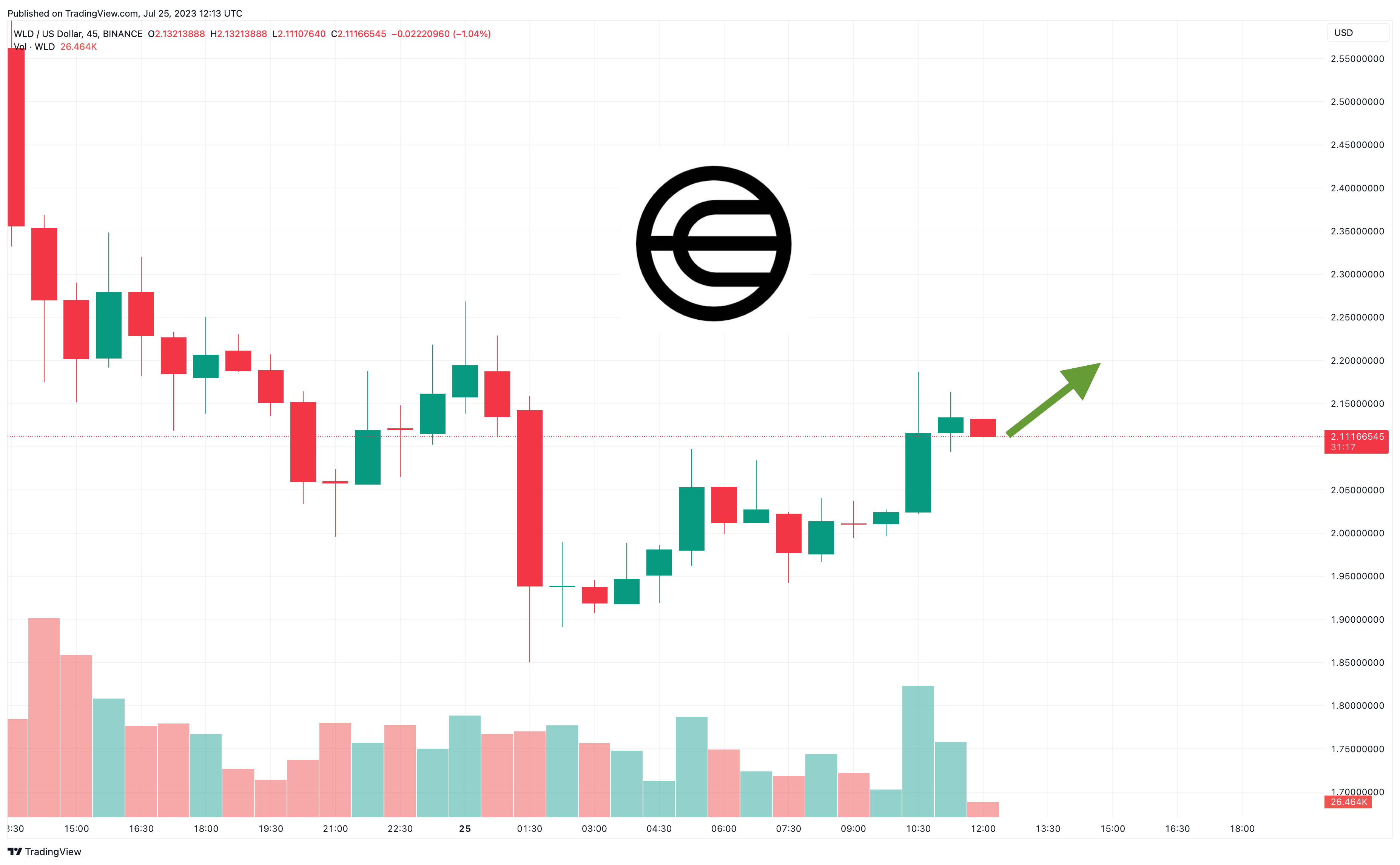 The price of Worldcoin (WLD) has hit a $20 billion market valuation barely 24 hours after launch, with the Sam Altman-founded coin hitting an all-time high of $3.30 soon after its listing on exchanges.
However, WLD is now down by 35% since hitting yesterday's peak, with the altcoin also down by 20% in the last 24 hours, as the hype surrounding its launch settles down and early buyers take their profits.
And while Worldcoin's aim to provide a universal digital identity is certainly ambitious, its use of biometrics (e.g. iris-scanning) has left some commentators disturbed by its potential threat to privacy.
Worldcoin Price Prediction as WLD Reaches $20 Billion Market Cap Straight After Launch – Can Worldcoin Overtake Bitcoin?
Worldcoin's relative strength index (purple) is currently rising again, nearing 70 after spending last night dropping right down to 30 (or below).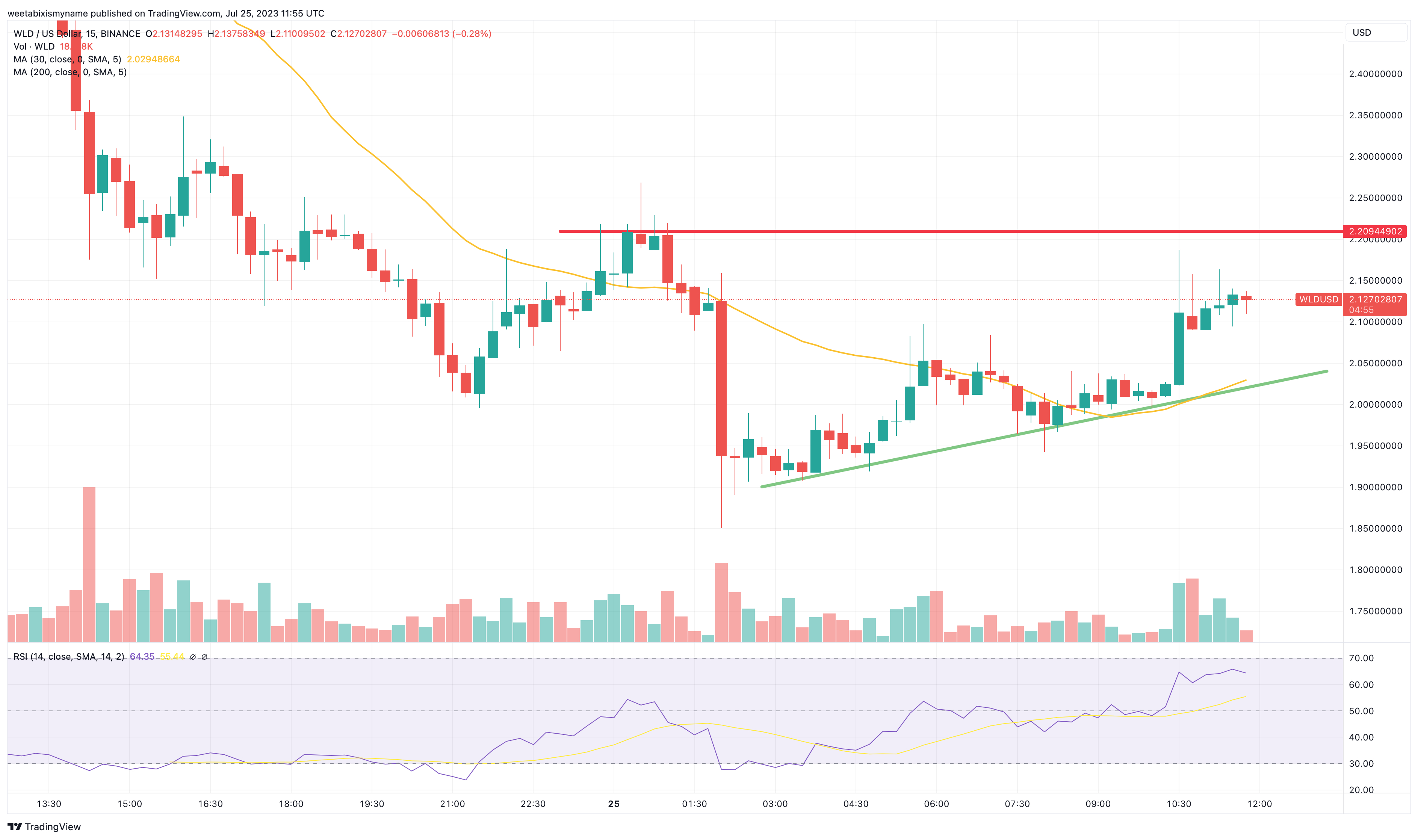 Its perhaps not surprising that a freshly listed coin has exhibited such volatility, with the coin's price rising again since suffering a sharp drop in the earliest hours of the morning.
It will therefore be interesting to see whether WLD can break through its current resistance level (red) of around $2.20.
If it can, we could expect to see the new altcoin return to higher levels, something which could be a possibility given that its big dip last night has provided a real opening for new buyers to push up its price.
As noted above, Worldcoin was co-founded by Sam Altman, who also happens to be the founder of OpenAI, the company responsible for generative-AI sensation ChatGPT.
This kind of pedigree has unsurprisingly caused investors to sit up and take notice of Worldcoin, especially when the latter plans to provide everyone in the world with a digital ID.
However, to provide such an ID, Worldcoin is planning to scan the irises of everyone on the planet, or at least everyone who agrees to volunteer their eyeballs.
This has raised numerous privacy concerns, with some commentators speculating that Worldcoin's underlying technology could be a spinoff from a firm owned by Ant Financial, which has been under pressure from the Chinese government in recent months.
As such, the cryptocurrency community's wariness surrounding Worldcoin could prevent it from enjoying sustained growth, even if the potential for profit may cause more than a few investors/traders to abandon their moral scruples.
Assuming that Worldcoin proves a hit with the general public, it could easily rise higher, with WLD potentially returning to $3.30 in the next few weeks or months.
Other New Altcoins With Strong Potential
If certain traders are spooked by Worldcoin's potential threat to privacy, they may feel more comfortable investing in other new altcoins with strong potential for growth.
And while the market has been up and down in recent weeks, one area that has been lucrative this year has been presales, with the best presale coins tending to rally big once they list on exchanges.
One coin likely to fit this mold is BTC20, a new ERC-20 token that will provide an Ethereum-based version of Bitcoin that can be staked to earn passive income.
Its presale kicked off last week and has already raised in excess of $1.8 million, a figure which testifies to how much the coin has impressed the market.
In a homage to the price BTC reached in 2011, the presale will make BTC20 available at the fixed price of $1, with 6.05 million BTC20 available in total.
BTC20 will also have a hard-capped maximum supply of 21 million, with the coin's staking mechanism coded so that the remainder will be issued over the course of the next 120 years.
This steady release of a limited supply of tokens means that BTC20 will be a deflationary cryptocurrency much like Bitcoin itself, something which can help boost its price over time.
Buyers can participate in the sale by going to the official BTC20 website and connecting their cryptocurrency wallets, with the coin purchasable using either USDT, ETH or fiat currency.
As noted above, 1 BTC20 costs $1, yet the coin's price could easily rise much higher when it lists on exchanges.
Disclaimer: Crypto is a high-risk asset class. This article is provided for informational purposes and does not constitute investment advice. You could lose all of your capital.
---