While Aptos Price Explodes, These 3 Coins Might 10x
Disclosure: Crypto is a high-risk asset class. This article is provided for informational purposes and does not constitute investment advice. By using this website, you agree to our terms and conditions. We may utilise affiliate links within our content, and receive commission.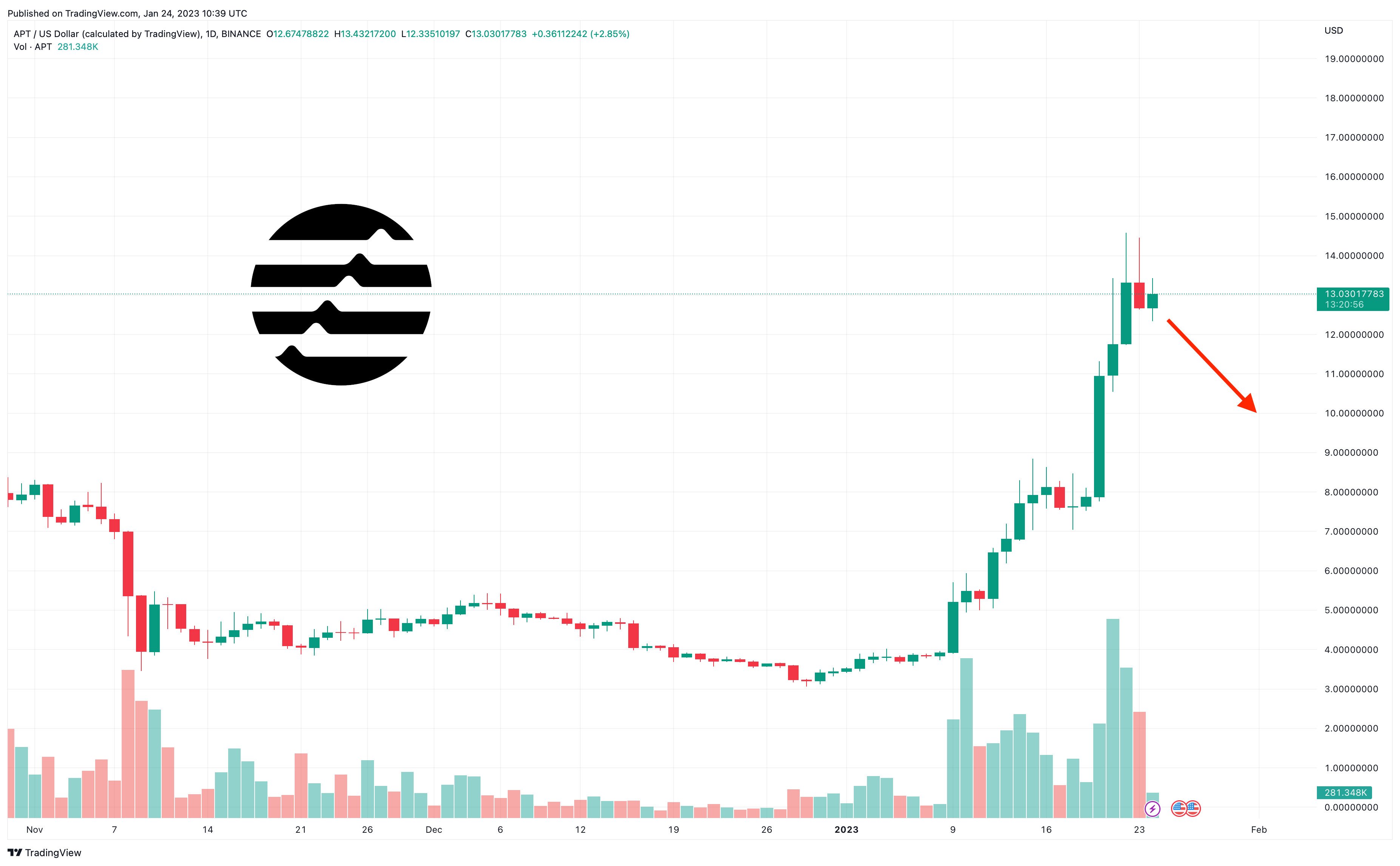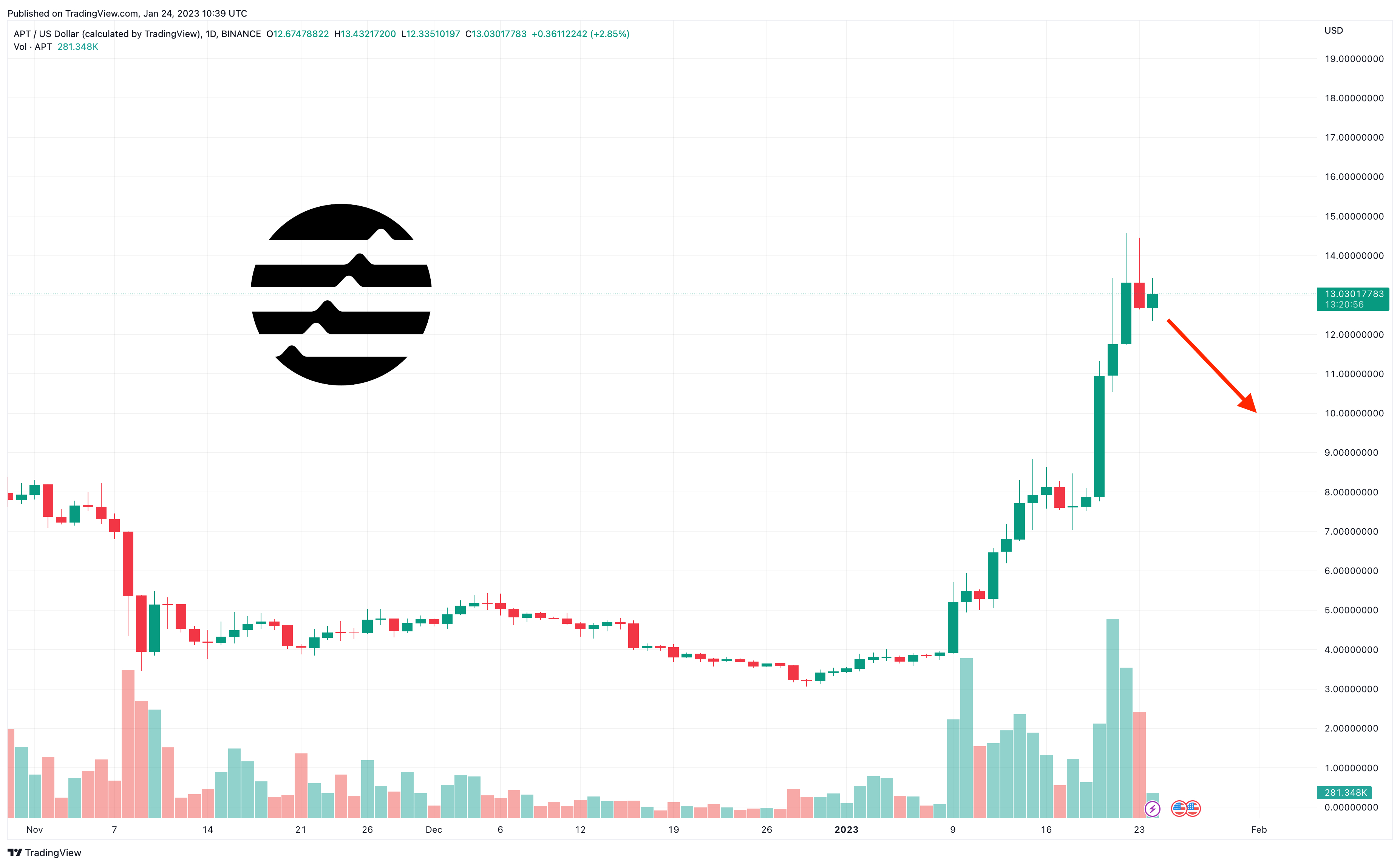 The Aptos price has dropped by 2% in the past 24 hours, falling to $13.12 today after a very strong weekend for the layer-one token. Its current price represents a healthy 61% gain in a week and an astonishing 250% jump in the last 30 days, making APT the best-performing top-100 coin over these periods.
However, as strong as APT's performance has been over the previous few weeks, it may not necessarily end up becoming one of the best-performing tokens of the year. This accolade could go to a variety of new altcoins, which are currently holding their respective presales and which could post very big gains once they list, given their promising fundamentals.
Aptos Price Explodes
APT's chart illustrates the extent to which the new altcoin has really taken off in the past few weeks. Most notably, its 30-day moving average (red) has absolutely eclipsed its 200-day (blue), providing another depiction of the now-obvious fact that APT has enjoyed a big breakout rally.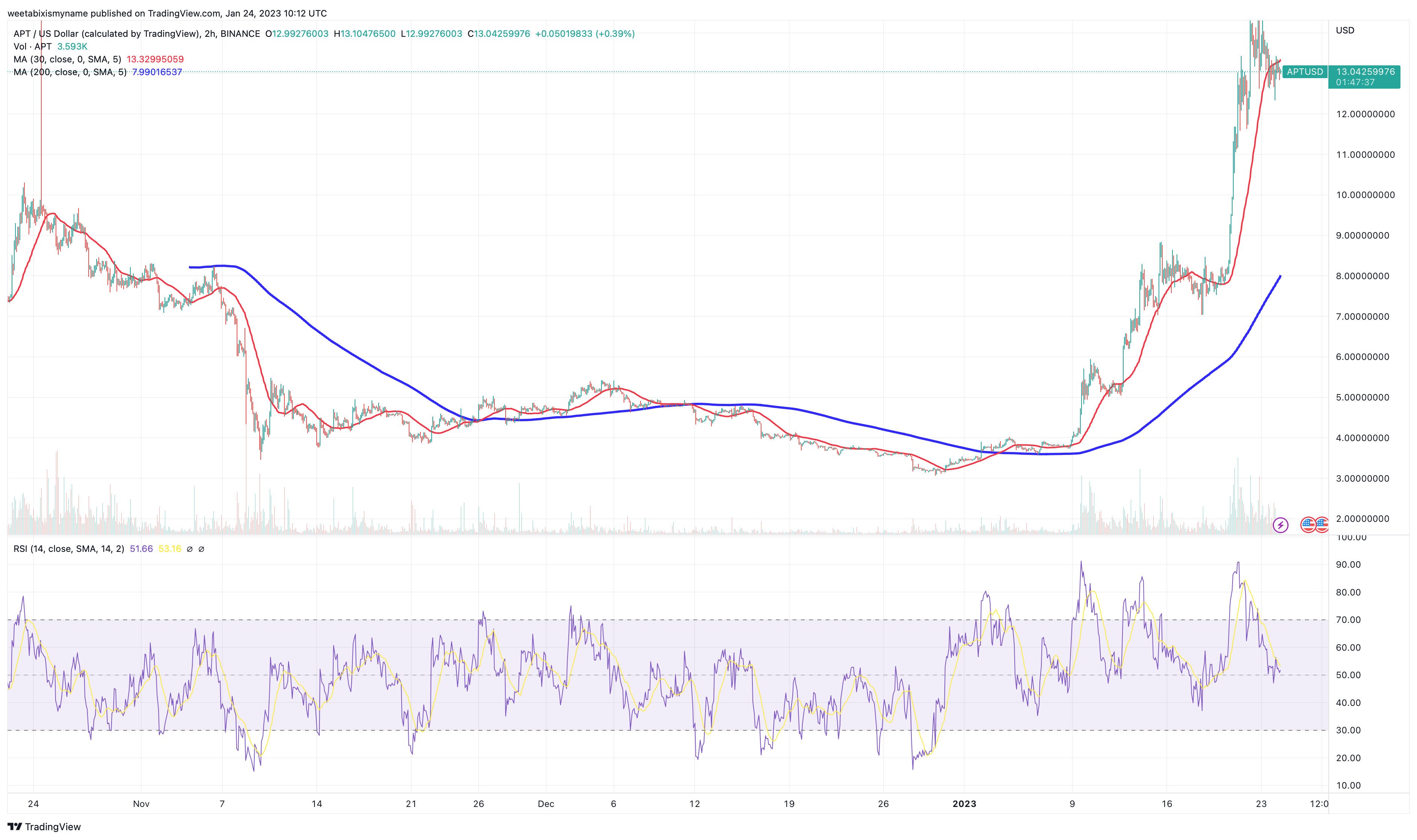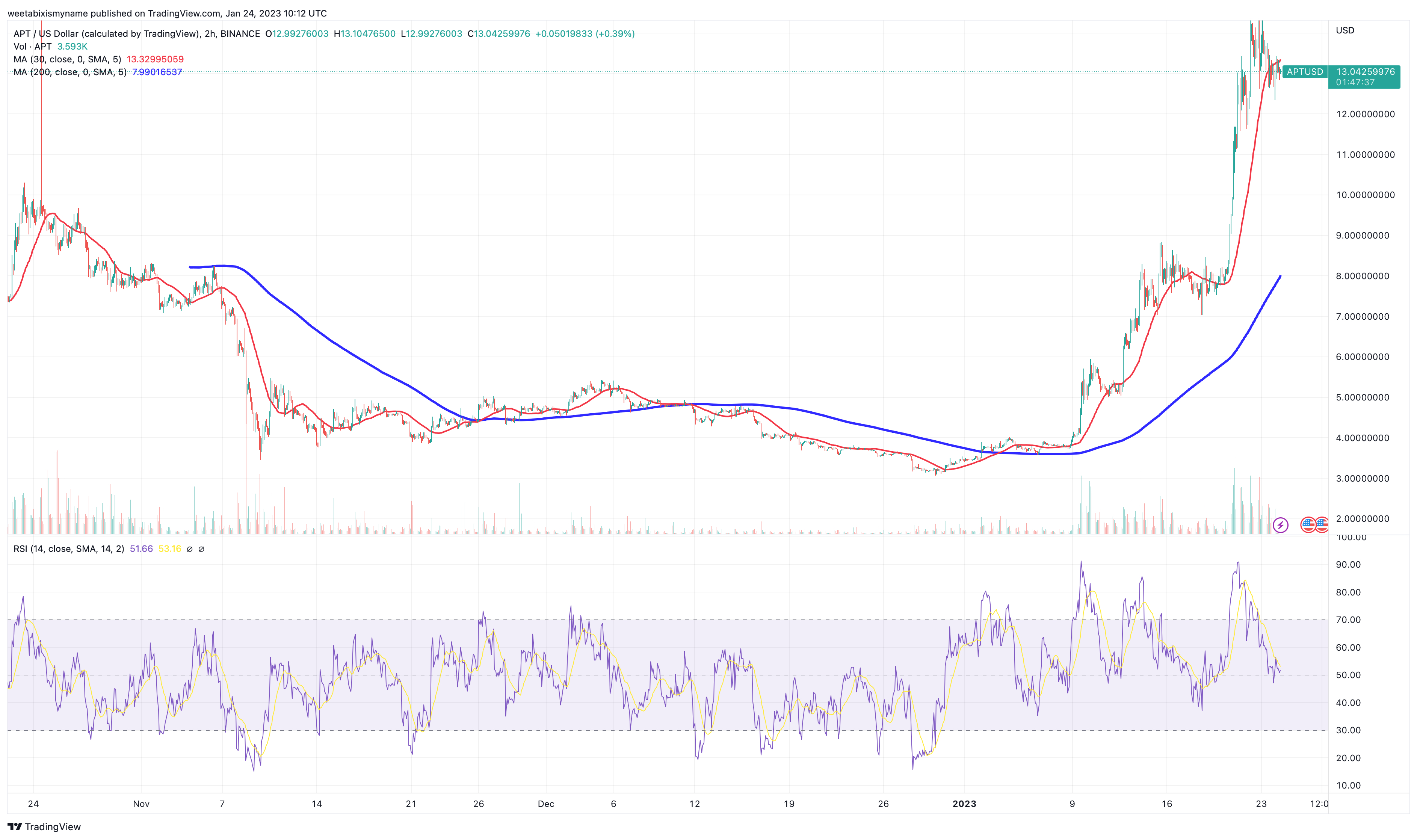 The thing is, with its 30-day average now so high, it's possible that it may be about to experience a much-needed correction. This suspicion is reinforced by its relative strength index (purple), which aftering touching 90 has steadily fallen towards 50, and may drop further.
Regardless of the timing of APT's inevitable comedown, it arguably remains a strong altcoin in terms of its fundamentals. Born out of Meta's doomed digital currency project (it uses the same Move programming language), it was launched in October 2022, when it reached an all-time high of $13.73.
Mainnet has arrived.https://t.co/wZajVZMa5Q

— Aptos (@Aptos_Network) October 17, 2022
Given the pedigree behind the project, and given that Aptos has raised hundreds of millions of dollars in venture capital, many investors are banking on its long-term success. In theory, the Move language makes Aptos highly scalable, although it has yet to really attain a significant rate of adoption or usage.
In fact, some observers have disputed whether it's really all that it claims it is. For instance, its developers have said it can attain 100,000 transactions per second, yet its launch witnessed around four tps, with this figure rising to 27 tps in the following days, far short of its theoretical ceiling.
CONT//

• Aptos, on the other hand, has a current TPS of 8 and a MC of $2 Billion. Not particularly a competitor yet

• Both blockchains will coexist, but Aptos may offer something better in the future

🎯 Solana TRUMPS Aptos in terms of TPS and MC

— Erik 🏛️ (@ErikOnChain) January 23, 2023
Perhaps more damagingly, APT has received criticism for having a highly centralized token distribution. 80% of its total supply of one billion tokens is currently staked, something which indicates that the bulk of its supply is going to insiders, rather than the market or wider community of users.
The total supply of Aptos is 1,000,739,234.25, however, 821,111,362.91 is currently staked. This means that a bit over 80% of the token supply is controlled by the team and investors, as there was no airdrop nor other method as to earn mainnet Aptos tokens.

— Paradigm Engineer #420 (@ParadigmEng420) October 17, 2022
In response to such criticisms, Aptos released a breakdown of the actual distribution, with 49% going to its core contributors, the Aptos Foundation, and private investors. The remaining 51% has been earmarked for its 'community,' but even here, this likely means developers.
As such, Aptos looks like a fairly centralized cryptocurrency, and it may struggle to earn the full trust of the wider cryptocurrency community. Still, it has had a very good few weeks, potentially indicating that the market is warming to it.
Should You Invest in Aptos Now?
Given that APT appears to be at the peak of its recent rally, it may very well be on the brink of a downturn. As such, investors may prefer to hold off on buying the altcoin until it corrects and reaches a bottom, looking to alternatives in the meantime.
In particular, presale tokens offers some of strongest opportunities to make a big profit, even during a bear market. This was highlighted by Tamadoge (TAMA), for instance, which rose by as much as 1,800% relative to its presale price last year, when it was listed by OKX in October.
With this in mind, we've picked three of the most promising token sales happening right now. Each of these involves coins with strong fundamentals, talented teams and clear roadmaps, giving each a strong chance of success.
Meta Masters Guild (MEMAG)
Having raised over $1.2 million in its presale, Meta Masters Guild is a play-to-earn gaming platform that's quickly becoming popular with investors. Indeed, the second stage of its sale has just sold out, raising the sale price for its MEMAG token from $0.01 to $0.016.
🚨 IMPORTANT ANNOUNCEMENT #MEMAGFAM 🚨

💪 Stage 2 of the $MEMAG presale is officially SOLD OUT! 💰

🙌 Thank you to our amazing community for your support! 🛡️

😉 Not to worry, there's still time to buy $MEMAG during stage 3 and secure your tokens! 💰

➡️ https://t.co/SBqVjX5mWn pic.twitter.com/r6ULtlUplo

— Meta Masters Guild (@MEMAGgames) January 23, 2023
Due to launch its first game – Meta Kart Racers – in Q3 2023, Meta Masters Guild is a mobile-focused gaming guild that will develop a range of Web3 and play-to-earn games. Its native token, MEMAG, will be used for governance purposes, as well as for staking and for purchasing items and NFTs.
Fight Out (FGHT)
Fight Out (FGHT) is a move-to-earn platform that will mix real-life workouts with Web3 when it launches in the second quarter of the year. Aiming to take the move-to-earn sector forwards, it will track a wide range of workouts and activities, including boxing, weightlifting and yoga, while also offering a range of in-app and IRL courses at various gyms around the world.
Another HUGE milestone #FightOutCrew! 👊

We have raised over $3.2M in our presale! 🔥

⏰ Less than 24 hours left until stage 1 ends! ⏰

Don't miss out – Get up to a 50% bonus with $FGHT!https://t.co/lUkDR1Moy7 pic.twitter.com/q49hl100FO

— Fight Out (@FightOut_) January 22, 2023
Its token sale opened in December and has already raised over $3.2 million, with 1 FGHT currently selling at $0.0166. The sale is due to end on March 31, with exchange listings due from April 5, when the coin will potentially make some market-beating returns for early investors.

Visit Fight Out Now
C+Charge (CCHG)
Running on BNB Chain, C+Charge (CCHG) is a peer-to-peer payment network for electric vehicle (EV) charging stations. Having raised just over $370,000 in its presale, it aims to use blockchain and crypto to democratize access to carbon credits, with its native CCHG set to be used within its network by EV owners to pay to charge their vehicles.
📢 ATTENTION C+CHARGE CREW 🥳

🚀 $370,000 RAISED 🚀

A BIG THANK YOU TO ALL OUR SUPPORTERS ❕

1 $CCHG = $0.01300 USDT

GRAB YOUR $CCHG TODAY ⬇️https://t.co/ixe18bPqzI pic.twitter.com/3CmYySAAl9

— C+Charge (@C_Charge_Token) January 23, 2023
C+Charge will reward users with NFT-based carbon credits for charging their EVs at its stations, giving people an incentive to go green. It has also already signed partnershps with Flowcarbon and with Perfect Solutions Turkey, adding 20% of the EV chargers in Turkey to its network.
---