This New Memecoin is Up 18% Today Beating Dogecoin and Shiba Inu – Time to Buy?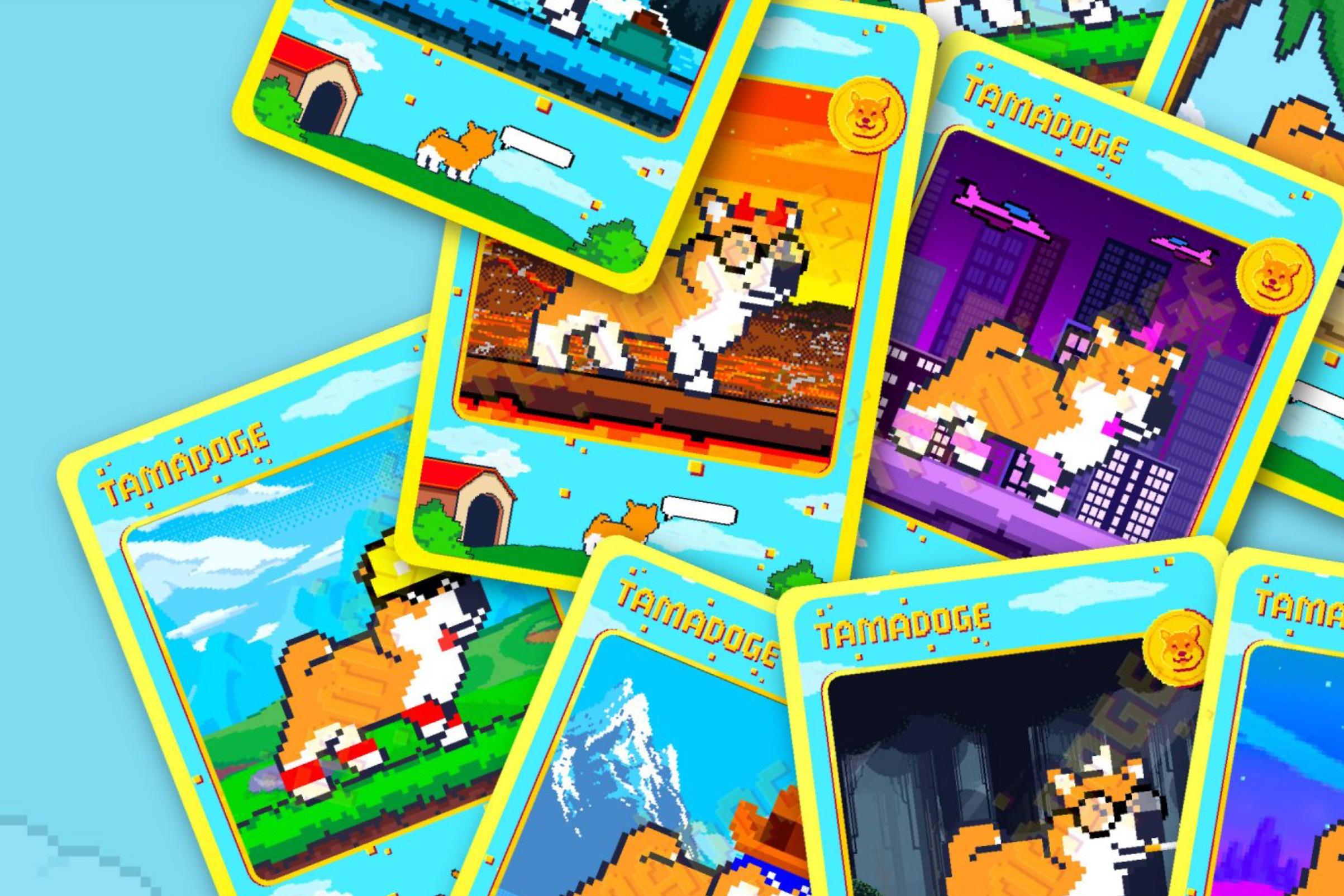 Disclaimer: The Industry Talk section features insights from crypto industry players and is not a part of the editorial content of Cryptonews.com.
Tamadoge (TAMA) has risen by 19% in the past 24 hours, reaching a price of $0.02779170. This also represents an 18.6% increase in the past week as TAMA regains steadily from a correction after its post-listing surge.
Following its listing on OKX and other major exchanges, the price of TAMA rose to an all-time high of $0.194446 on October 4, equalling a rise of just over 700% in a week, as well as a rise of more than 1,800% compared to its presale price. Since then, negativity in the wider market dragged its price down, yet it has begun re-posting above-average gains since the weekend.
And with plenty to look forward to on Tamadoge's roadmap, it's only likely that TAMA will continue witnessing strong gains in the future.
This New Memecoin is Up 18% Today, Beating Dogecoin and Shiba Inu – Time to Buy?
Running on Ethereum, Tamadoge is a meme token crossed with a play-to-earn metaverse-based game. It provides players with the chance to collect, breed, battle, and trade NFT-based Tamadoge pets, something which potentially will provide them with a profit on top of entertainment.
As the chart below illustrates, TAMA is currently riding a wave of upwards momentum. Its relative strength index (purple) has jumped from 30 in the past few days to over 70 in the past few hours, indicating strong buying pressure.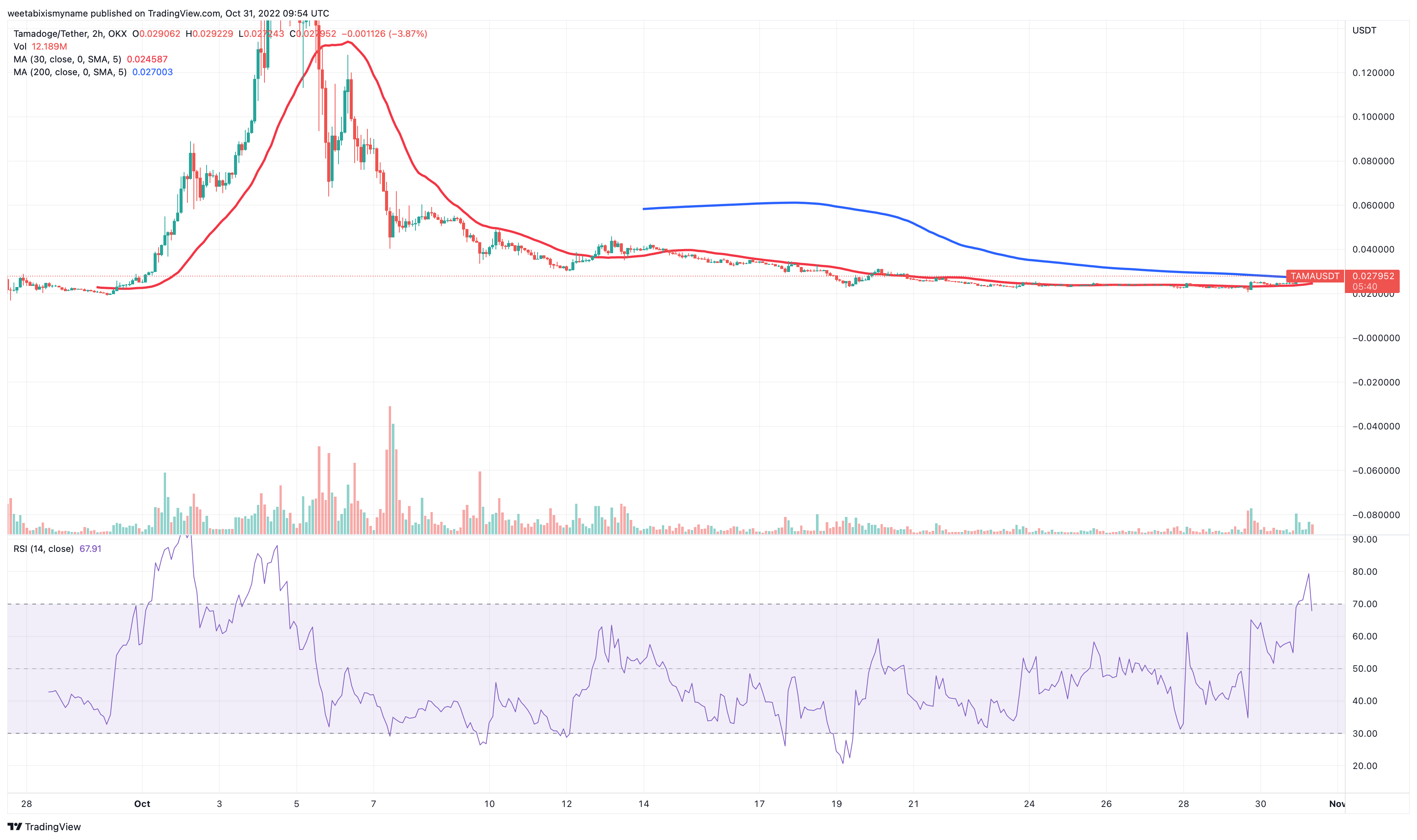 At the same time, its 30-day moving average (red) is rising up towards its 200-day average (blue). A crossover (a 'golden cross') would signal a potential breakout, meaning that TAMA could rise to new longer term levels.
Of course, during turbulent market periods, technical indicators can't always be trusted. Nonetheless, Tamadoge's fundamentals suggest that it has plenty of gains ahead.
First of all, it's worth pointing out just how quickly Tamadoge raised $19 million during its presale and also accumulated just shy of 80,000 followers on Twitter. Such achievements indicate a strong investor appetite for the project while also underlining how it has already created a sizeable community for itself, something which is essential for a memecoin.
And aside from securing a number of significant exchange listings (and potentially a listing on Binance), Tamadoge is also enjoying steady development as it moves toward the full launch of its metaverse. Most notably, it has launched a range of its non-fungible tokens, beginning with 1,000 rare NFTs earlier in October and then 20,000 common NFTs a few days ago.
These NFTs are what players will need to own in order to play Tamadoge's metaverse, which is currently under development, with the project's team also agreeing to partnerships as part of the development process. On top of this, the metaverse will comprise a range of arcade games in addition to the core Tamagotchi/Pokémon-style experience.
While no specific launch date has been provided for either the metaverse or the arcade games, they're expected to arrive early next year at some point. It's from here that the market could really see TAMA take off, with the token being used to purchase in-game items being subject to a 5% burn on each transaction (on top of a maximum supply of two billion TAMA).
Even now, TAMA is outperforming pre-established meme tokens such as DOGE and SHIB, which are only 4% and 2% up today (respectively). This highlights the potential it has, given that it isn't even fully launched yet.
NFT Renaissance
TAMA's launch also comes at a time when, following a year-long slump, the wider NFT market has begun showing signs of rejuvenation. For example, the trading volume of Reddit NFTs surpassed $2.5 million in 24 hours last week, having launched back in July.
Such signs of recovery also come as the cryptocurrency market and global stock markets begin to look a little healthier, with the Dow Jones having risen for four consecutive weeks. While the global economy does remain in a precarious condition, such rebounds could indicate the beginning of the end for the general slump we've seen this year.
If so, TAMA is better placed than most coins to post substantial gains. Not only does it have a strong and growing community of supporters, but its fundamentals mean that it's set to continue growing well into the future.
Buy TAMA on CEX
Buy TAMA on DEX
---