What USD 10,000? Bitcoin Plays With USD 11,000, Ether Above USD 300
As it was estimated by many analysts recently, bitcoin price jumped above the psychologically important level of USD 10,000 and even surpassed USD 11,000 for a couple of hours before crashing back into the USD 10,000 zone. Majority of altcoins are also in green today. (Updated on 15:03 UTC: the latest market data have been added.)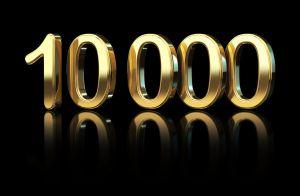 After dropping by more than 3% in the past hour (14:58 UTC), bitcoin trades at around USD 10,745 and is still up by more than 9% in the past 24 hours. It's also up by 23% in the past week and by 40% in the past month. Also, compared to June 22 of 2018, bitcoin is now up by 73%.
Last time bitcoin was above the USD 10,000 level is March 2018.
Bitcoin price today: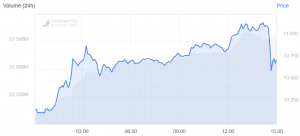 ___________________________
___________________________
Bitcoin price chart (June 2018 - June 2019) :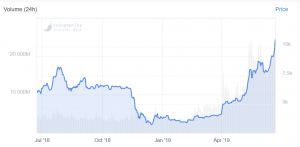 Also, bitcoin dominance, or the percentage of the total market capitalization, increased by almost 1 percentage point, to almost 59%. The total market capitalization is up by more than 7%, to USD 324 billion.
"The bounce back of bitcoin has been fairly extraordinary," said George McDonaugh, chief executive and co-founder of London-based blockchain and cryptocurrency investment firm KR1 Plc.. According to him, "money didn't leave the asset behind, it just sat on the sidelines waiting to get back in."
"<...>I expect prices to surge after this mental marker is reached. Bitcoin is a powerful beast, it forces you to question money, politics, value and profit. Many will decide, as thousands to everyday, to buy some and see what happens," he said, stressing that "caution is however strongly advised" as "we will see huge corrections again."
Also, as reported, Tyler Winklevoss, CEO of exchange Gemini, said this week that if Bitcoin breaks USD 10,000, it's going to break USD 15,000, as "he 2nd time breaking 10k will make it feel more "real" to many people." Others are also waiting for the FOMO (fear of missing out) buying to kick in, while scammers are getting ready, also.
Meanwhile, among the top ten coins by market capitalization, XRP is the second best performer after bitcoin (+10%). Ether advanced by almost 8% and surpassed the USD 300 level, where it was in August 2018. Ether is also up by 16% in the past week, 27% in the past month, but is down by 35% in the past 12 months. Other top coins are registering 3%-7% gains today.
____________
Reactions
__
__
__
__
---