Venezuela Crisis is a Great Chance for Crypto Adoption
After Turkey, Venezuela has become another example how in times of financial crisis people turn to cryptocurrencies. As inflation runs rampant in the country, people are turning to cryptocurrencies in droves - peer-to-peer (P2P) trading volumes on bitcoin are near their all-time highs, while demand for the Dash cryptocurrency has skyrocketed, too.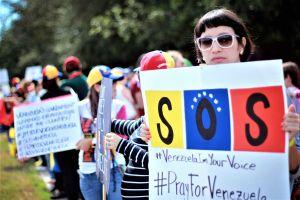 Weekly LocalBitcoins, a peer-to-peer bitcoin marketplace, volume (in bitcoin):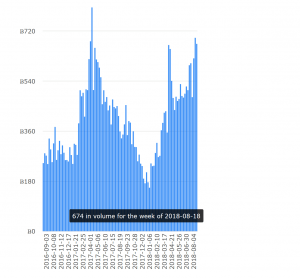 _____
Top 10 countries by Dash merchants: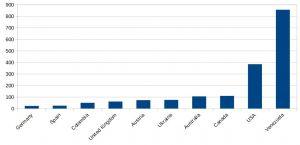 "We've seen 94 new Venezuelan merchants added to DiscoverDash.com since last week, which is about double the normal rate of about 50 merchants per week [over] the last couple of months," Ryan Taylor, the CEO of the Dash Core Group, told Business Insider, adding that "we are seeing tens of thousands of wallet downloads from the country each month."
According to Taylor, it took them a long time to get the first 50, first 100 retailers in Venezuela, but at the beginning of July the number was around 400, and now it's 800. However, it's not only the crisis that helps cryptocurrency adoption in Venezuela, Dash is also running its marketing campaign in the country (see a documentary, made by the Dash community below).
Meanwhile, commenting on the happenings in Venezuela, Mati Greenspan, an analyst at eToro, a social trading platform, said "I feel like I could probably write a book about everything that's happening in Venezuela at the moment."
"Things are extremely hectic there and the latest economic reforms seem to have caused a lot of uncertainty among residents. While it's fascinating that Nicolas Maduro is trying his best to stabilize the economy using a cryptocurrency, it seems that the President will have stiff competition from other more established cryptos," the analyst added.
Also, he noted that P2P volumes on Bitcoin are near their all-time highs in the crisis-stricken country: "Venezuelans managed to avoid the FOMO [fear of missing out] hype of November/December and participated mainly at the lows before and since."
Talking about Dash, he said: "But still, with all this positive news of adoption... the very best part is actually the chart. We can see that Dash is actually trading at less than one-tenth of what it was worth at its all-time high."
Dash price chart: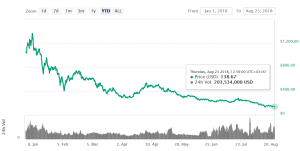 The Dash Core Group, which is tasked with running the network and looking after new funds generated by Dash's underlying code. The Core Group can also 'finance projects on the ground'. And that seems to be making all the difference, not just in Venezuela, but in other places, too.
Coindesk recently reported on a young payment start-up called Kuvacash, that's using Dash as the backbone of its business. The Core Group responded by helping fund the project. They're also helping by giving feedback on infrastructure development.
Zimbabwe has been faced with hyperinflation cycles most of the last decade, which forced the people to import USD. Kuvacash, with its license to import the American fiat, hopes to allow Zimbabweans to pay for things like public transport with their smartphones which, even though it doesn't sound so, is a pretty big deal.
Meanwhile, the inflation in Venezuela is expected to hit 1,000,000% this year, which basically means you'd need to bring a suitcase full of cash just to buy basic food supplies.
---