Turkish Lira Freefall Shows the Power of Bitcoin
With the Turkish lira extending its decline on Monday after falling more than 20% against the US dollar last week, more and more Turkish citizens are reportedly looking to bitcoin as a way to protect themselves against the falling currency.
The most recent declines for the Turkish lira came as a result of a trade dispute with US President Donald Trump, who on Friday announced via Twitter that he had "authorized a doubling of tariffs on steel and aluminum with respect to Turkey."
As the two governments battle it out over sanctions and trade tariffs, ordinary citizens, however, are forced to look for ways to preserve whatever money they may have saved up.
A Reddit user, supposedly from Turkey wrote that awareness about bitcoin is now spreading quickly in Turkey, and that online discussion forums that used to deal with dollar exchange rates are now increasingly used to spread bitcoin charts and investment ideas. However, the same user added that Turkish people still need to get more educated on the issue, and suggested that social media campaigns aimed at increasing knowledge about bitcoin in the country could be very effective.
Volume surges on Turkish exchanges
According to data from Coinmarketcap.com, Turkish bitcoin exchange BTCTurk has seen an increase in trading volume of 110% over the past seven days, while local competitor Paribu is up by roughly 125% over the same time period.
Peer-to-peer trading data also shows increased interest in bitcoin: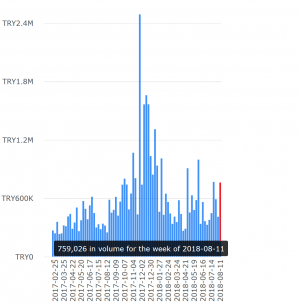 Measured in Turkish Lira, bitcoin has gained roughly 65% since it bottomed in late June, with the sharpest increases seen over the past few days, according to price data from Bitfinex. And with the lira continuing to spiral downwards, the trend of more Turkish currency being converted into bitcoin is likely to continue.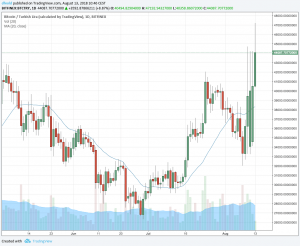 Meanwhile, the South African rand touched a two-year low amidst widespread worries in the market that the situation in Turkey could spill over to other emerging market currencies.
The South African rand has long been under heavy pressure, and various media outlets have for months reported that the uncertain situation in the country has benefitted bitcoin, despite the government's skepticism.
Back in Turkey, President Recep Tayyip Erdogan over the weekend optimistically asked citizens of his country to convert US dollars and gold into Turkish lira as soon as possible to help the deteriorating situation for the country's currency.
"Change the euros, the dollars and the gold that you are keeping beneath your pillows into lira at our banks. This is a domestic and national struggle," Erdogan said, while referring to the US tariffs as an "economic war."
However, other than telling citizens that the US have "their dollars" and we have "our god," Erdogan offered little assurance to people who are wondering why they should choose to hold a currency that has depreciated by roughly 45% against the US dollar since the start of the year.
Luckily for many people in Turkey, Turkish banks still accept dealings with bitcoin exchanges, meaning cryptocurrency can be bought for local currency on online exchanges. This differs from the situation in Iran, China, and other countries where cryptocurrency trading can happen through peer-to-peer marketplaces such as Localbitcoins.com due to government restrictions.
As reported by Cryptonews.com, while cryptocurrencies may look like a refuge for people in struggling economies, there's still no concrete evidence of just how safe they'll be over the long term.
---