Terra's Do Kwon Floats Ideas to Save UST as LUNA's Collapse Continues
Disclosure: Crypto is a high-risk asset class. This article is provided for informational purposes and does not constitute investment advice. By using this website, you agree to our terms and conditions. We may utilise affiliate links within our content, and receive commission.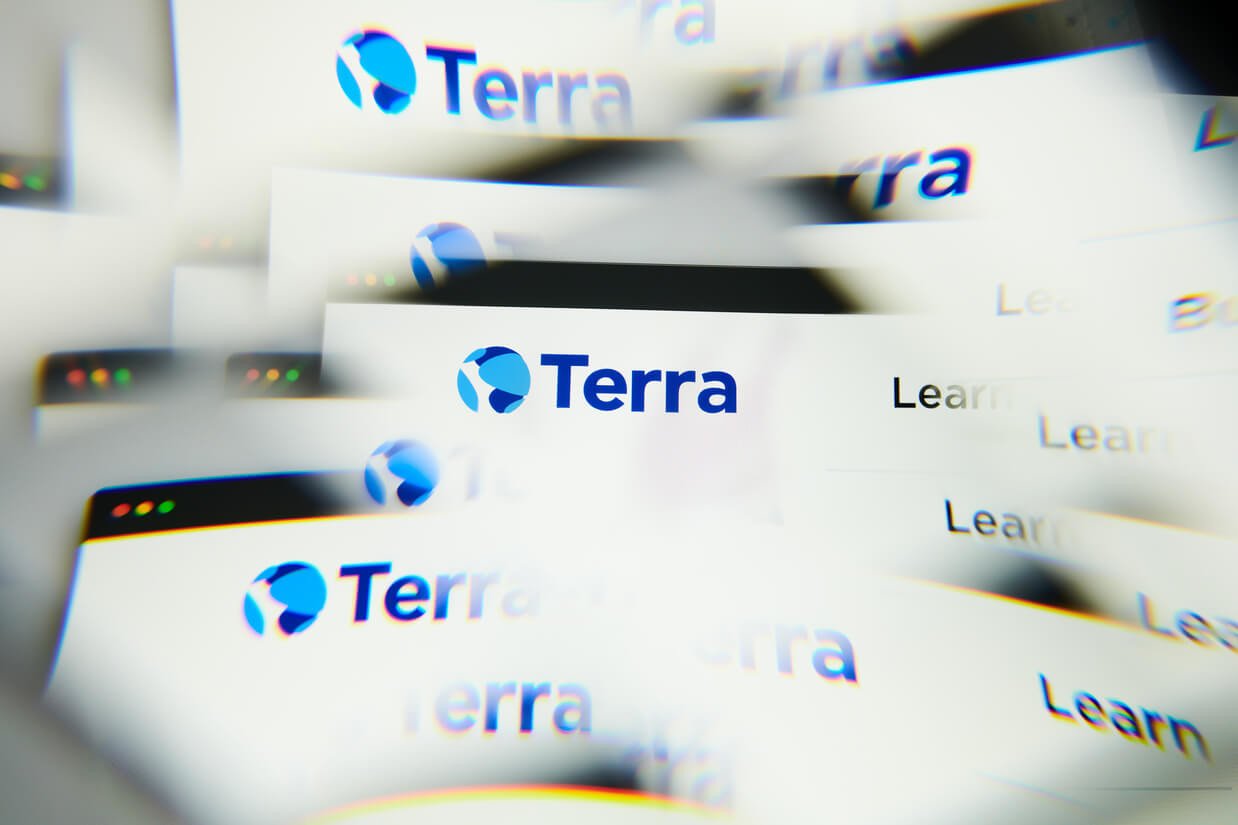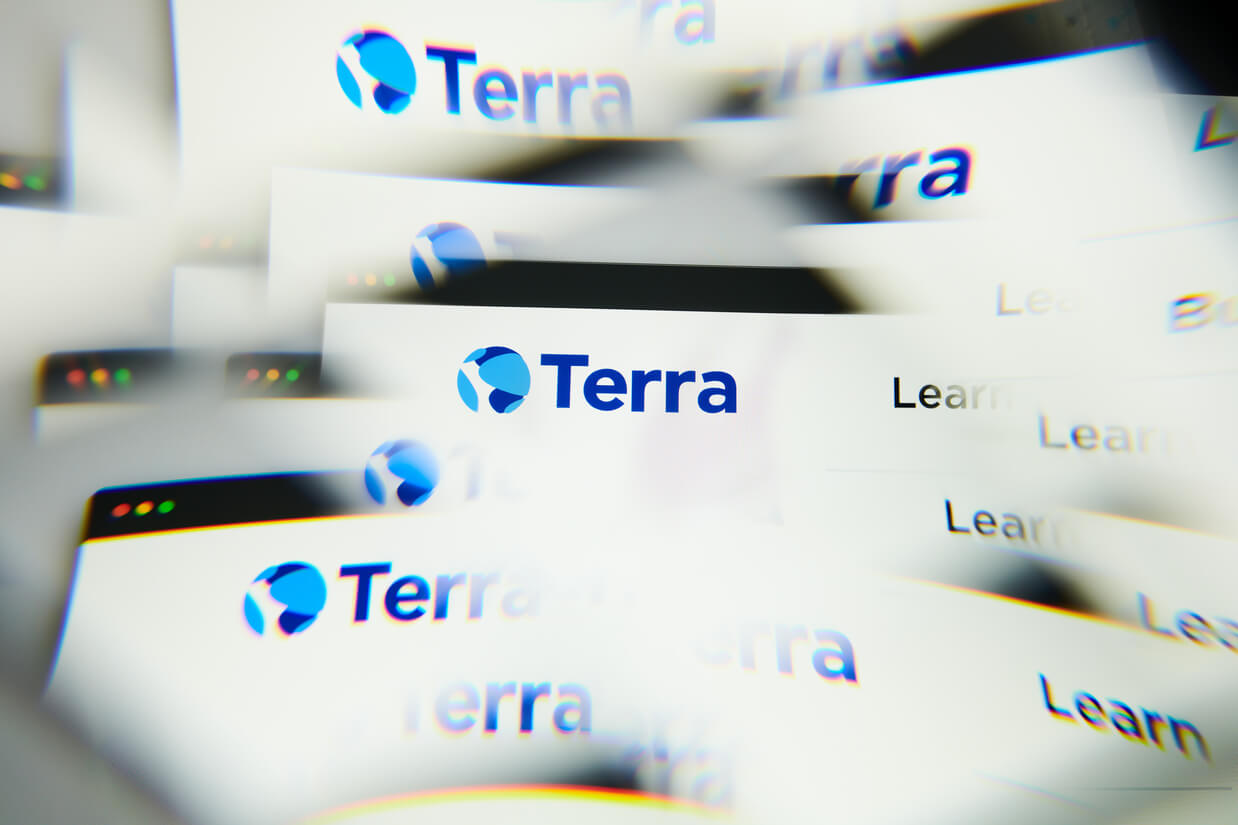 Terra (LUNA) founder Do Kwon on Wednesday finally took to Twitter again, floating ideas for how the algorithmic stablecoin terraUSD (UST) can be saved after losing its US dollar peg on Monday. (Updated at 10:51 UTC: updates throughout the entire text.)
"Before anything else, the only path forward will be to absorb the stablecoin supply that wants to exit before UST can start to repeg. There is no way around it," Do Kwon wrote, suggesting adopting a community proposal that would increase minting capacity in an effort to "absorb the UST more quickly."
"With the current on-chain spread, peg pressure, and UST burn rate, the supply overhang of UST (i.e., bad debt) should continue to decrease until parity is reached and spreads begin healing," the Terra founder added.
The collapse in the UST price today comes after the coin trimmed some losses yesterday, as more capital was deployed to defend its USD 1 peg. However, the recovery did not last long, with UST again falling hard in the market by Wednesday morning UTC time.
As of 10:45 UTC, the price of UST has collapsed to USD 0.49, hitting as low as USD 0.23 earlier in the morning UTC time.
UST past 7 days: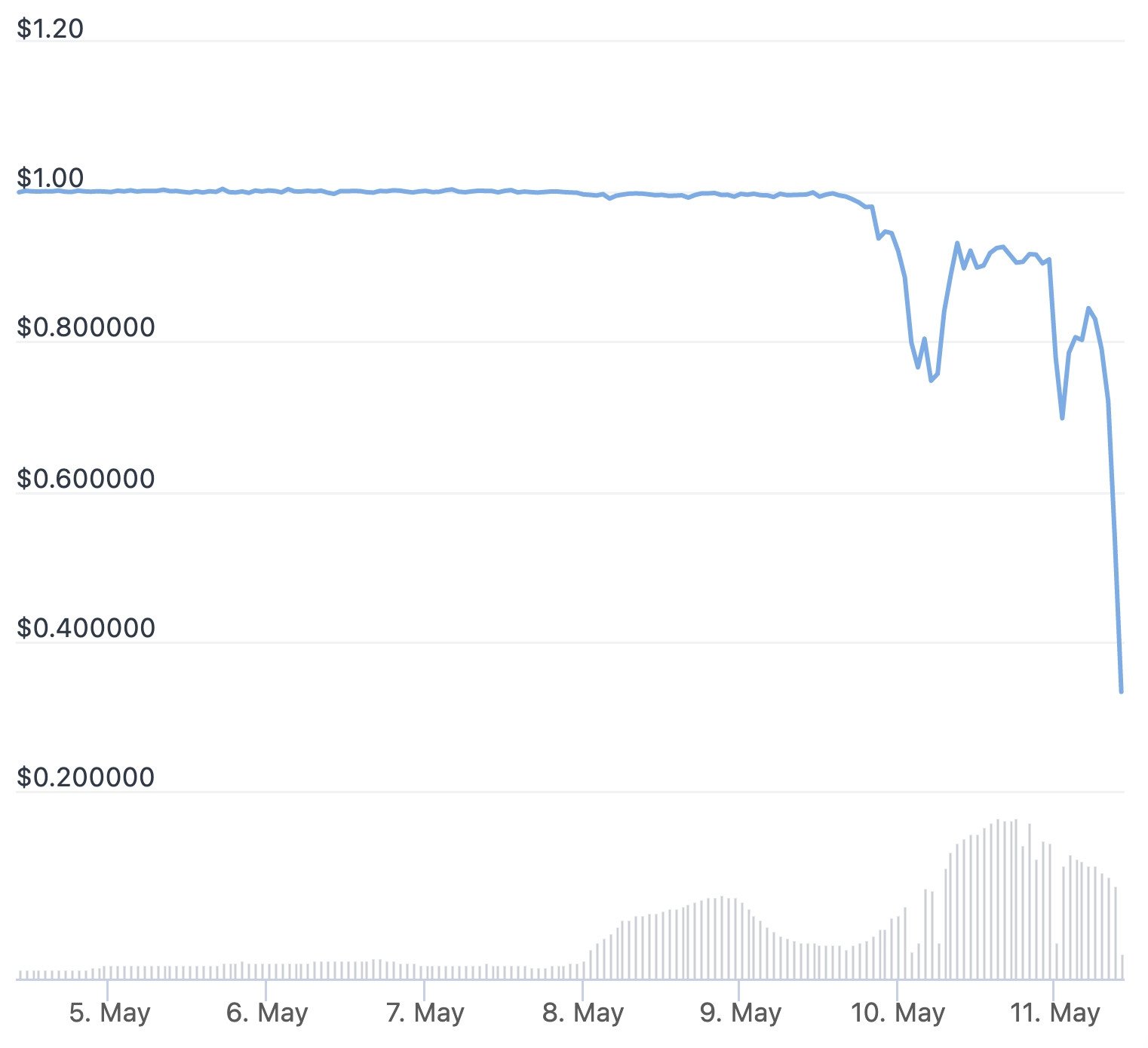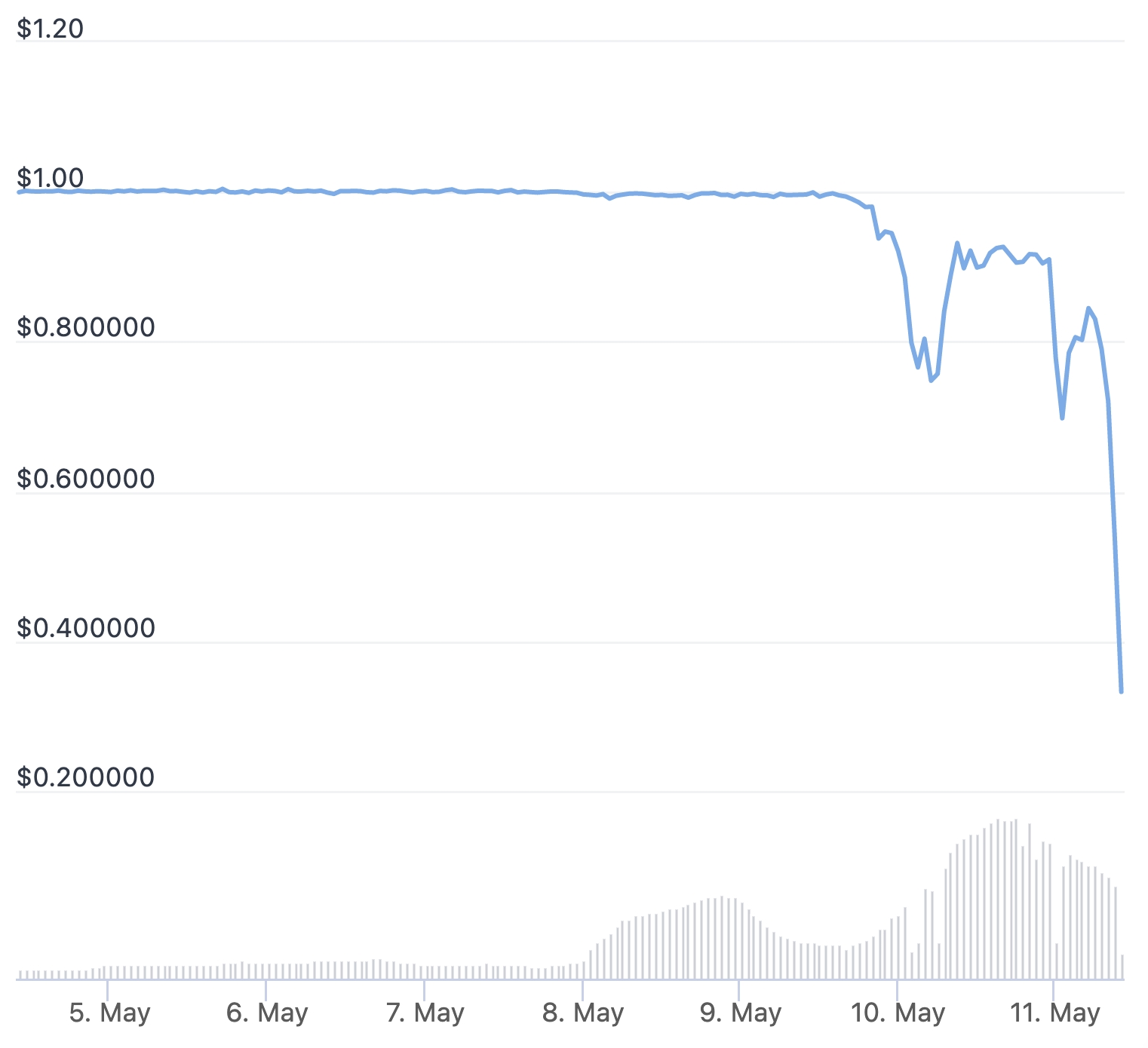 Meanwhile, the price of Terra's native token LUNA, which together with bitcoin (BTC) backs the stablecoin, has fallen by a massive 90% over the past 24 hours to USD 3.04.
LUNA past 7 days: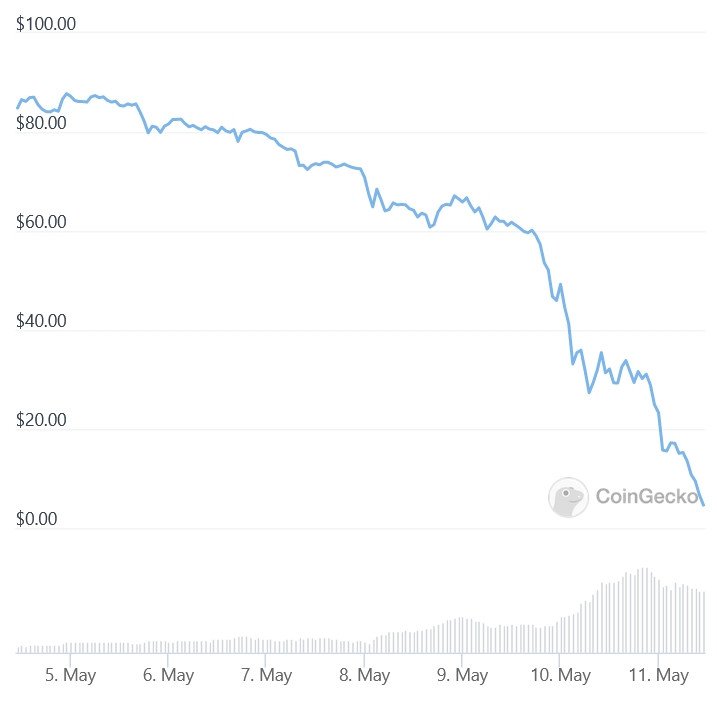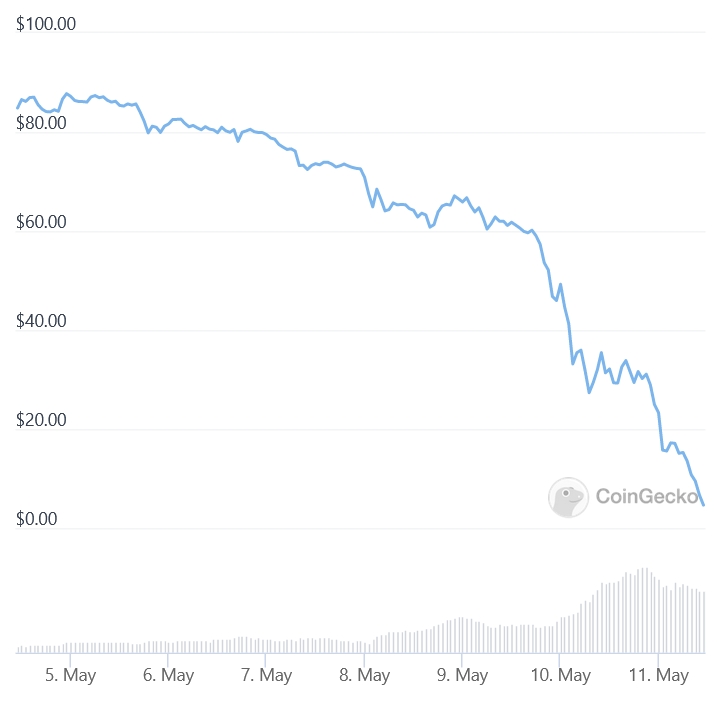 Luna Foundation Guard (LFG), the non-profit organization dedicated to maintaining the stability of the UST peg, has already sent its entire holding of BTC to a trading firm tasked with selling BTC to defend the peg. As recently as last week, the LFG held BTC 80,394 in its reserves, Arcane Research wrote in a report.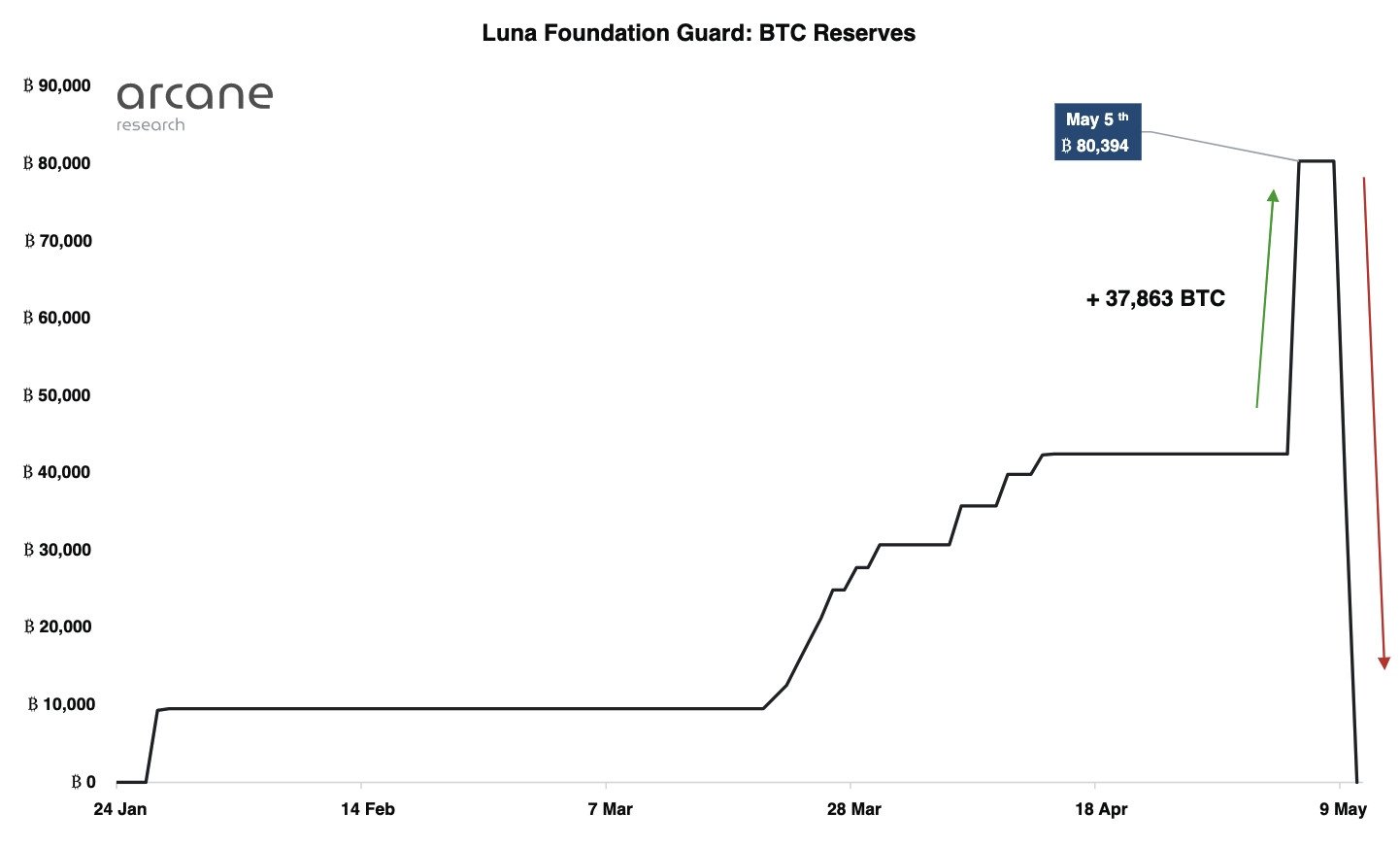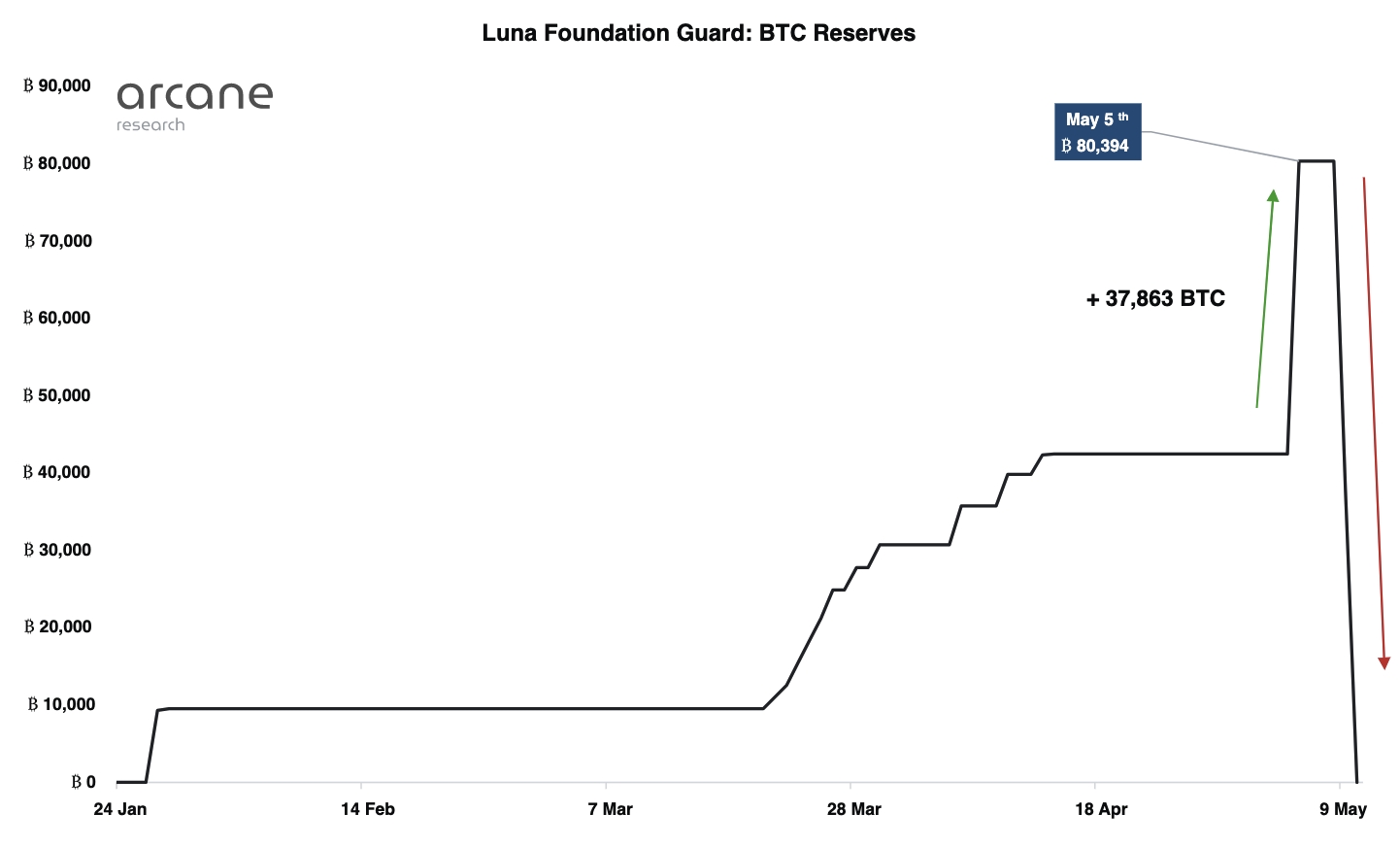 The crash today also follows reports from yesterday that LFG is seeking more than USD 1bn to shore up the UST stablecoin.
Citing unnamed sources, The Block reported yesterday that LFG is looking to secure fresh capital from some of the crypto industry's largest investment firms and market makers. The deal would reportedly allow investors to purchase LUNA tokens at a 50% discount, subject to a two-year vesting schedule.
Meanwhile, the drama surrounding the stablecoin has also reached the highest levels of policymakers in Washington DC, with Treasury Secretary Janet Yellen saying the de-pegging shows the urgency to have a regulatory framework on stablecoins.
"I think [the de-pegging] simply illustrates that this is a rapidly growing product and that there are risks to financial stability and we need a framework that's appropriate," Yellen was quoted by Bloomberg as saying in a testimony on Tuesday.
"Without a doubt, UST losing its peg will be seen as one of the defining moments of the current crypto market cycle […] The de-pegging will likely result in a substantial regulatory risk – if not for the whole crypto space, then certainly for the stablecoins market," Anto Paroian, CEO of crypto hedge fund ARK36, said in an emailed commentary.
He further pointed to calls for stablecoin regulation, warning that if stablecoin issuers get regulated as strictly as banks, it could "suffocate one of the most innovative, thriving, and important sectors of the crypto market."
'Crucial point of weakness' exposed
Attempting to summarize the events that led up to the de-pegging this week, cryptoasset manager Grayscale wrote in an article that the drama started when users started withdrawing UST from the Anchor Protocol (ANC) on May 7.
The exodus from Anchor resulted in the protocol's total value locked (TVL) decreasing from USD 18bn to USD 6bn in just three days, the firm said, noting that approximately 70% of the entire UST supply was locked in Anchor.
Anchor Protocol has been used as a key incentive mechanism for users to hold UST with its high yields of 20%.
Anchor Protocol TVL: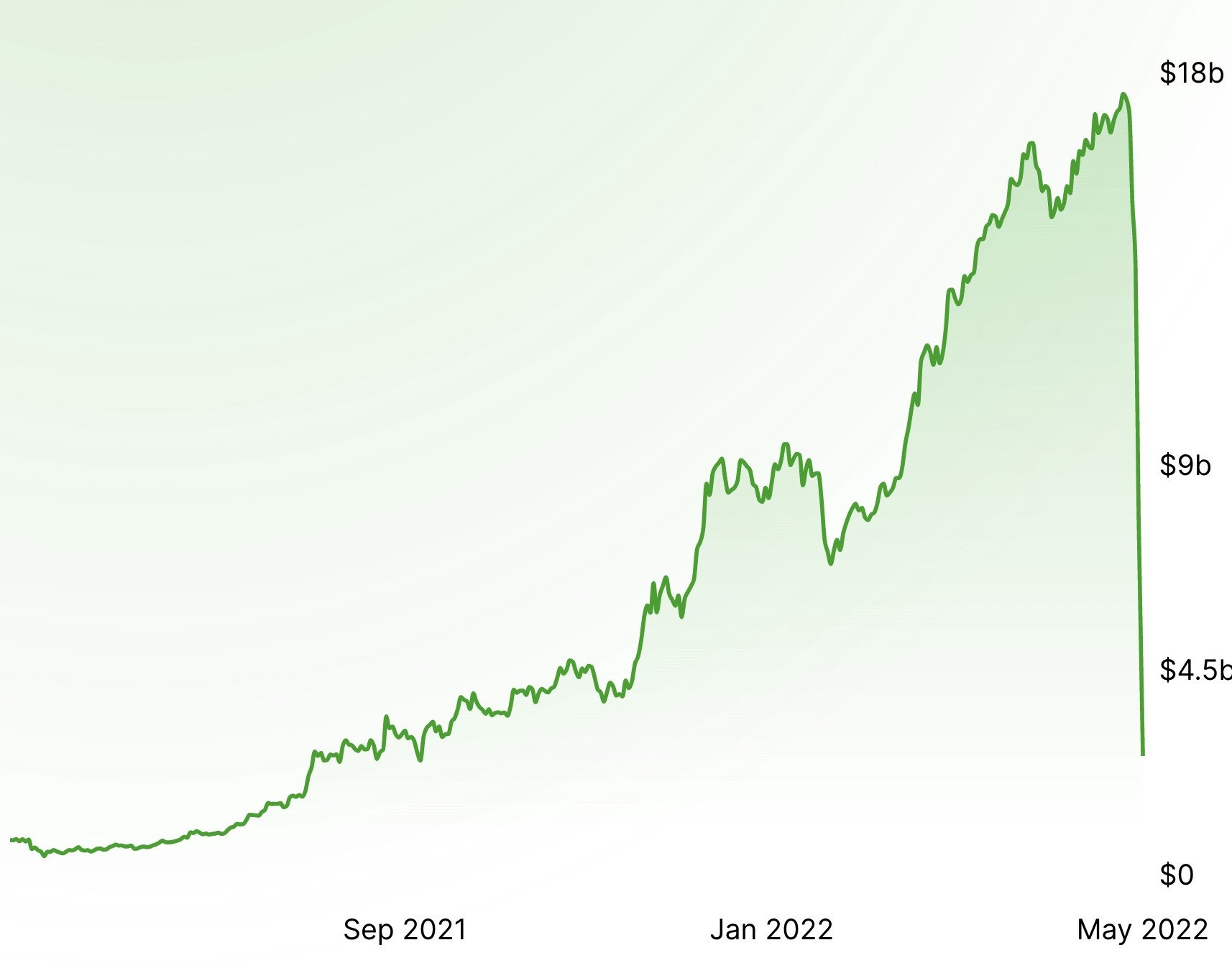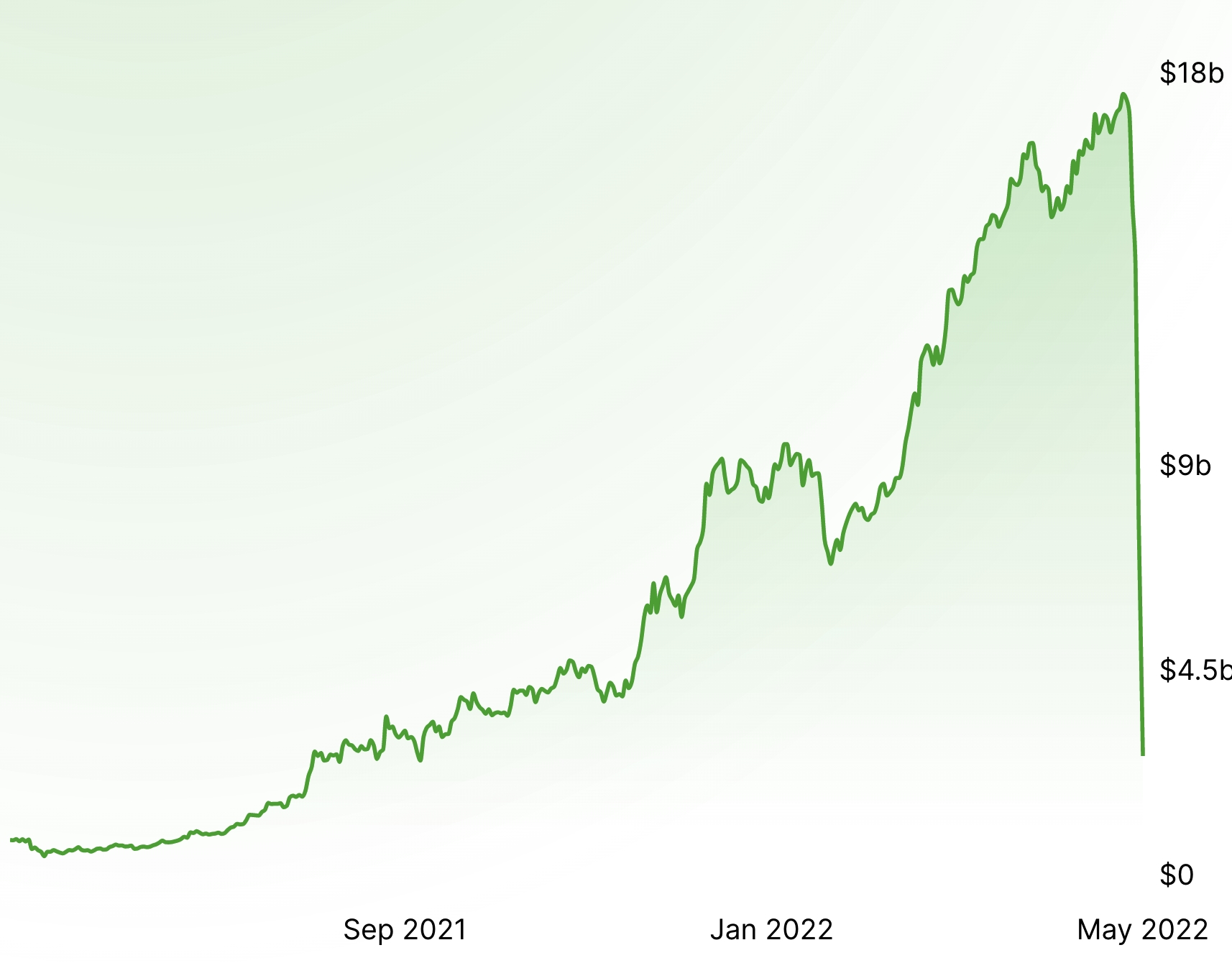 Grayscale added that attempts to restore the peg by selling BTC and ETH exposed a "crucial point of weakness" in how under-collateralized stablecoins work.
"If the price of the collateral backing the stablecoin supply suddenly tanks, the peg becomes increasingly harder to defend as you're forced to sell declining assets," the article said.
Meanwhile, the Anchor Protocol community is now discussing a proposal to decrease minimum interest rates to 3.5%, and maximum deposit rates to 5.5%, with a targeted interest rate of 4%.
"This should temporarily stop the Anchor reserve from depleting such that TFL will not have to deploy additional UST, which should contribute to stopping the depeg death spiral. Again, as this change is fairly aggressive, those parameters should also be rolled back when deemed necessary," they added.
'The biggest losers' – retail
Commenting on the de-pegging, Kyle Samani, CEO of crypto hedge fund Multicoin Capital, told Bloomberg that the situation is evidence of "a crisis of confidence," adding that it is not certain that UST will survive.
"The biggest losers from all of this will be retail [investors] that didn't understand the risks they were taking," he said.
Meanwhile, other observers said the Terra network's native LUNA token is now much more vulnerable to an attack than it was just days ago.
LUNA's economic security budget was 4 times higher just 2 days ago. I'd argue it's more than 4 time easier to attack today, and well within means of a well-resourced actor to force a liveness failure. Given high volatility and bridged across multiple zones of security (L1s)…

— polynya (@apolynya) May 11, 2022
Others also pointed to high risks surrounding the LUNA token at the moment, saying it "will go to zero by design" if the UST peg breaks.
LUNA will go to zero "unless parity and trust are restored," wrote the popular crypto trader and economist Alex Krüger. He added that the only to regain the necessary trust would be "a significant cash infusion and changes in the protocol."
'A multi-level economic hitman attack'
Several other members of the crypto community also took to Twitter over the past day to discuss the drama, with some suggesting that the de-pegging is the result of a coordinated effort by "big money" to turn a profit.
Also why I think that when $LUNA inevitably mean reverts, it'll be nasty.

Nothing about this drop feels organic but being conned doesn't make it "evil".

You create a multi-billion dollar asset. People find an exploit to make money from it at your expense.

Market efficiency imo https://t.co/RqWziSj672

— Loma (@LomahCrypto) May 11, 2022
Similarly, the Terra community's own Terra Bites podcast tweeted that they find it "more and more convincing that this is a multi-level economic hitman attack."
Also hinting that there are external forces coordinating the collapse of UST, Ryan Selkis, founder of crypto researcher Messari, said that so-called algorithmic stablecoins are "risky by definition."
"Perfect storm to put LUNA in this position, and I don't think it happens without the precise timing of the 'attack' around the 4pool migration," Selkis said, adding that "it certainly looks like a kill shot (or a maim shot) by a savvy giant bear."
4pool is a Curve (CRV)-based yield farm composed of the two algorithmic stablecoins UST and FRAX. While UST has collapsed in price, FRAX has so far managed to maintain its peg.
_____

Learn more:
– Conspiracy Theories Abound as Terra Tries to Save UST
– Luna Foundation Loans Out BTC to Defend Bitcoin Peg, Faces Community Backlash

– Terra's USD 10B Bitcoin Bet May be Both a Curse and a Blessing
– USDT vs. USDC vs. UST: How Do They Compare?
___
(Updated at 11:16 UTC with a proposal by the Anchor Protocol community.)
---