USD 10,000 per Bitcoin in 2019 and Other Predictions by Arthur Hayes
Arthur Hayes, co-founder and CEO of popular cryptocurrency trading platform BitMEX, has recently predicted that Bitcoin will more than double and reach USD 10,000 per coin this year. This is far from the first prediction he has made: from reminding people during the bull market in December 2017 that Bitcoin is still extremely volatile, over calling a USD 50,000 forecast in case of a positive regulatory ETF during 2018, to calling a bottom at USD 2,000.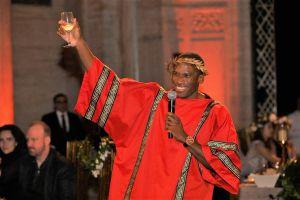 Now, his latest prediction is again bullish.
"Green shoots will begin to appear in early Q4. Free money and collective amnesia are powerful drugs. Also after two years of wage cucking, punters should have a few sheckles [sic] to rub together," said the CEO in a newsletter last Friday, adding, "The 2019 chop will be intense, but the markets will claw back to USD 10,000. That is a very significant psychological barrier. It's a nice round sexy number."
According to Hayes, USD 20,000 is the ultimate recovery.
"However, it took 11 months from USD 1,000 to USD 10,000, but less than one month from USD 10,000 to USD 20,000 back to USD 10,000. Melissa Lee [a reporter and news anchor for CNBC] peep this. USD 10,000 is my number, and I'm stickin' to it," he said.
Following the prediction by Hayes, a Twitter poll showed that 59% of around 1,000 respondents see Bitcoin reaching USD 10,000 by the end of the year.
Meanwhile, back when the cryptoverse was booming and Bitcoin was reaching its heights in December 2017, Hayes warned in an interview with Forbes: "People have been lulled into complacency with a market that keeps going up every day. They don't understand that this is an extremely volatile asset. It's not constrained by national borders and there are people out to do whatever they can to make money, including nefarious things against exchanges."
Sure enough, the price dropped in the coming days and never recovered to those heights again.
His next famous prediction came in June 2018 in an interview with news outlet CNBC, when he said that a positive regulatory response to Bitcoin could send it soaring to USD 50,000 by the end of that year. Unfortunately, the positive response did not happen, and so neither did his prediction come to pass.
However, his idea of a bottom looks more accurate: "I think that something that goes up to USD 20,000 in one year can have a correction down to USD 6,000 and will definitely find a bottom at about USD 3,000 and USD 5,000 range." When it was obvious that there was no time for a regulatory response to send Bitcoin up before the end of 2018, Hayes suggested that Bitcoin could bottom out at USD 2,000 before reversing course back in November 2018.
___
BTC price chart: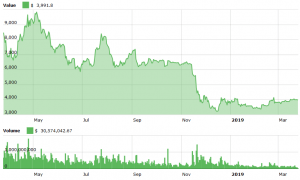 ---