Top Wall Street Analyst Changes Stance on Crypto, Warns Visa & Co.
After stressing that Bitcoin is "trying to solve a problem that does not exist" a year ago, Lisa Ellis, a top Wall Street analyst focused on the payments industry, now says that cryptocurrencies "are potentially disruptive to private payment systems."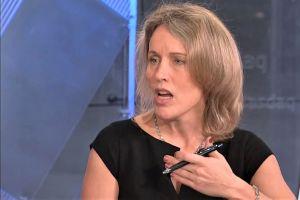 In a note to clients, Ellis, who is a partner at MoffettNathanson, a sell-side research boutique, wrote that the existential threat of cryptocurrency as a globally accepted, unbranded payment system that upends incumbents like Visa, Mastercard, and PayPal is worth watching but is unlikely to occur soon, Bloomberg reported. The threat should not be ignored, as progress is steadily being made to address shortcomings and compelling use cases emerge, it added.
While Ellis also sees another risk of ceding the cross-border person-to-person and business-to-business payments markets to players such as Ripple and Veem, a global payments platform, she noted that cryptocurrencies and blockchain could open up new revenue streams for the incumbents, such as combining the networks' authentication abilities with blockchain technology for tracking.
Meanwhile, last January, in an interview with CNBC, Ellis said that Bitcoin is trying to solve a problem that does not exist.
"The consumer payment system actually works pretty well today and is remarkably efficient. <...> The trust embeded in the existing payment systems would be very difficult to replicate elsewhere for sure," she said back then.
In a more recent interview, last July, she admitted that "Bitcoin is the only disruptive risk in the sense that it is bringing whole new type of payments system that is unbranded, public and decentralized."
Last October, CEO of Visa, Al Kelly, said that he "certainly" does not view cryptocurrencies as a threat to his business right now, but added that "if we have to go there, we'll go there."
Meanwhile, last July, MasterCard was reportedly working on a solution to speed up crypto transactions to make them more feasible for merchants to accept from consumers.
When it comes to PayPal, their CFO John Rainey told CNBC in May 2018 that they don't see much interest in cryptocurrencies due to volatility threatening the viability of their merchants' businesses. However, he did not rule out that the payment giant will support crypto in the future.
As reported by Cryptonews.com last December, Bitcoin was being used in commerce at a relatively steady rate last year.
However, the recent note by Ellis is not the only sign of the changing attitude towards crypto. Earlier in February, Cambridge Associates, a major consultant for pensions and endowments, said that institutional investors should look more into cryptocurrencies. According to a research note, the consultant thinks that, "Though these investments entail a high degree of risk, some may very well upend the digital world."
---