Theta Price Oscillates Ahead of Mainnet Launch
The price of Theta, native coin of the eponymous blockchain-based video platform, has spent the past 24 hours oscillating and shows no signs of stopping ahead of the project's mainnet launch on March 15th, as well as a token swap from ERC20 tokens to their own blockchain at approximately UTC 7 PM on March 12th.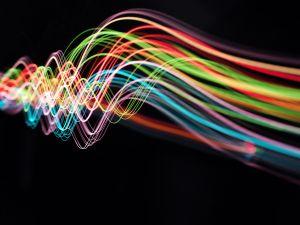 Theta price chart: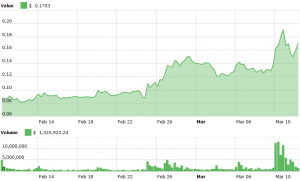 Theta is a decentralized, blockchain-based video streaming platform, built with the goal of creating and monetizing a bandwidth sharing model. Its token is 37th in terms of market capitalization (USD 160 million), according to coinmarketcap.com.
According to the project, by allowing others to use your bandwidth, you are giving people better streaming quality and a better streaming experience than they may have had otherwise. With the mainnet launch, Theta will be progressing from the testing phase into the full decentralized streaming network (DSN) marketplace where it can build upon their e-sports gaming coverage to expand into other content and data delivery areas.
This e-sports gaming coverage is already in place on one of the leading virtual reality (VR) live streaming companies SLIVER.tv, of which Theta is a subsidiary. The Theta project has entered into several strategic business partnerships, including the agreement with another streaming platform Twitch which allows the viewers to earn Theta by sharing their bandwidth. Another important partner of the project is the SamsungVR platform, which is looking to further the technical development of the Theta network.
The token swap will require Theta token holders to keep their ERC20 tokens in either the official wallet or on a supporting exchange.
"For every ERC20 Theta Token you hold at the time of the snapshot, you will receive 1:1 native Theta Tokens on the new blockchain. In addition, you'll receive Theta Fuel, the operational or 'gas' token of the Theta blockchain — 5 Theta Fuel for every Theta Token you hold," the team further explained in a blog post. The tokens will be given to users at the time of the mainnet launch.
The mainnet launch is the project's biggest task in Q1 of 2019, but they are also planning other things for this year.
In the second quarter of the year, the team intends to launch developer tools for Theta mainnet integration, while Q3 will see smart contract support as well as support for video on demand (VoD) in Theta Mesh Streaming Network. By the end of 2019, the team wants to expand Theta content delivery beyond video to support all forms of data (e.g. file updates, game patches, video ads, audio/music, etc).
---