Terra Luna Price is Going to Zero as Global Investors Abandon the Coin for This New AI Crypto Project – How Does it Work?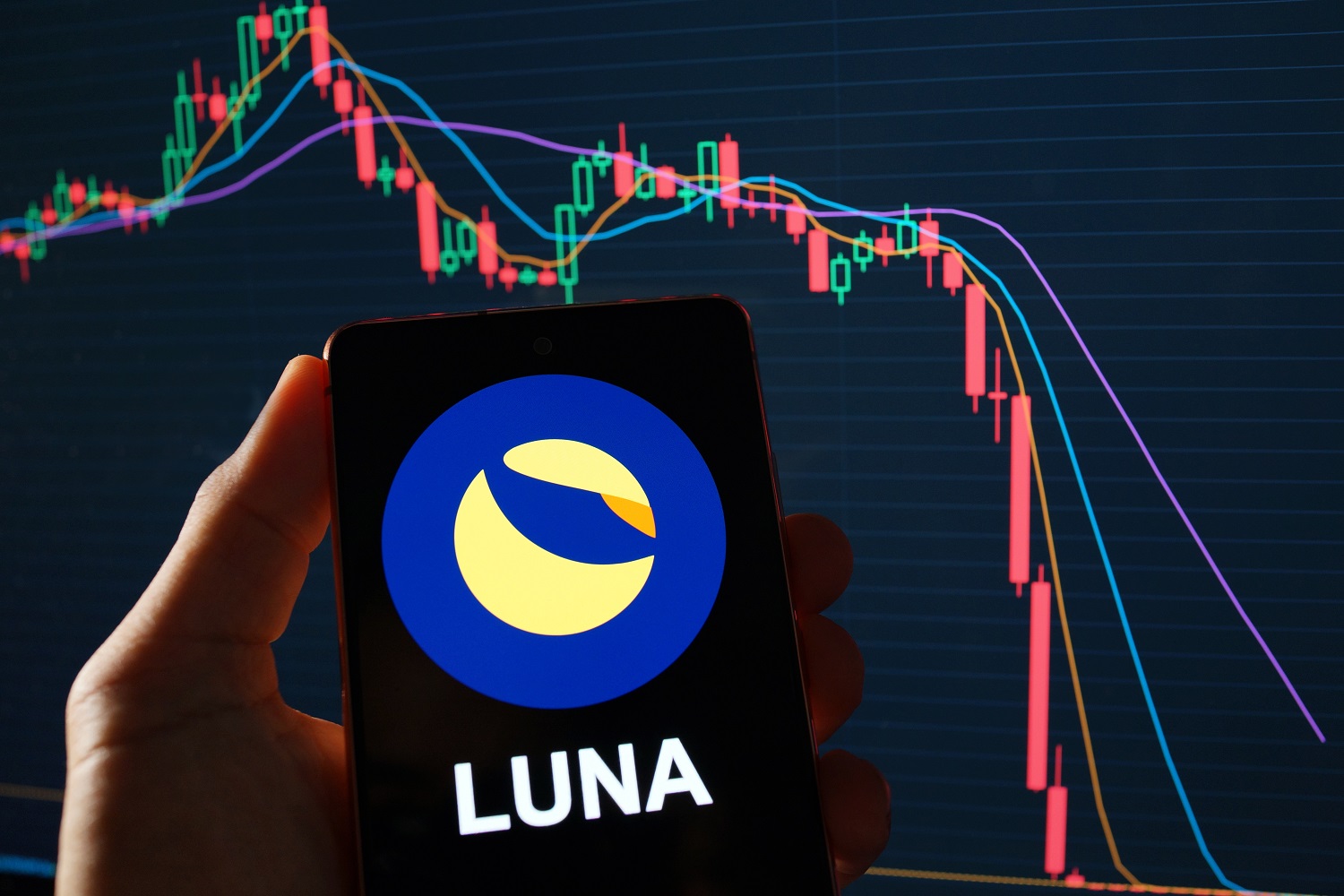 Despite positive developments in the broader crypto market, Terra Luna has been unable to halt its continuous decline, as technical indicators suggest a bleak outlook for the cryptocurrency's future.

The once respected crypto is currently trading at $0.0000916 with a 1.43% decline over the past 24 hours, and indicators suggest the near future may not be great for the LUNC price either.
Technical Indicators Signal Trouble for Luna Price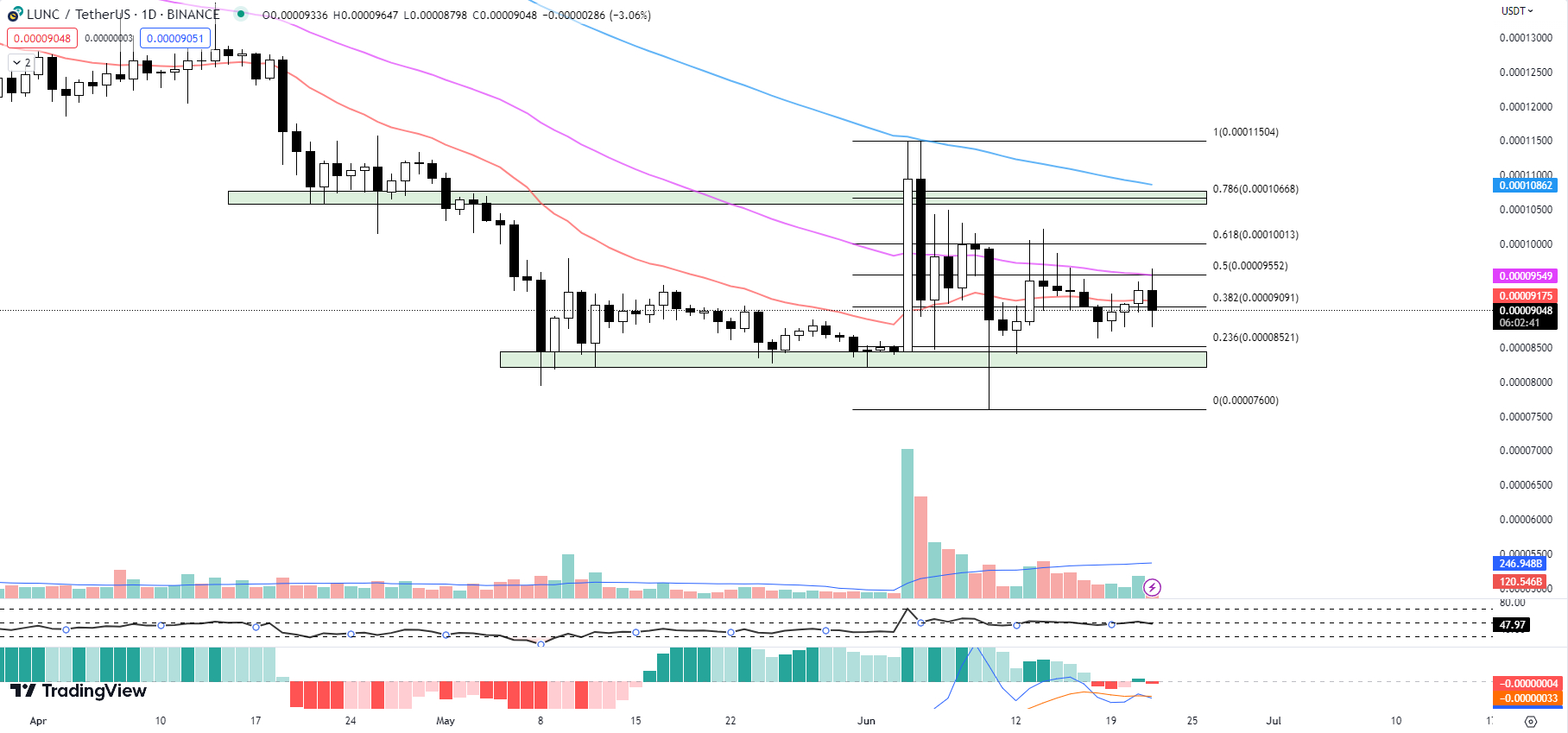 With Terra Luna's price currently below its 20-day Exponential Moving Average (EMA) of $0.00009175, it is likely that selling pressure will continue in the immediate future.
Similarly, the 50-day EMA is at $0.00009549, and the 100-day EMA is at $0.00010862, both well above the current Luna Price, showing a strong bearish trend.
The RSI has dropped to 47.97 from yesterday's 51.44, suggesting that the selling pressure is increasing and the Luna Price could continue to decline.
The MACD histogram has also turned negative at -0.00000004 from yesterday's 0.00000004, further indicating that the bearish momentum is building up.
Volume and Market Cap Point to Increased Selling Pressure
According to CoinMarketCap, the market cap of Terra Luna has decreased by 3.69% to $527 million, while the 24-hour trading volume has increased by 8.24% to $64 million.
This increase in trading volume, coupled with the decrease in market cap, indicates that there is heightened selling pressure on the Luna Price, which could further bring down the price of the cryptocurrency.
The immediate resistance for the Luna Price is the reverse Fib 0.5 level at $0.00009552, which is in confluence with the 50-day EMA at $0.00009549.
This resistance has already been tested earlier today, with the price reaching an intraday high of $0.00009647, but the bears have since taken control, pushing the Luna Price back down to its current level.
The immediate support for the Luna Price is the reverse Fib 0.382 level at $0.00009091. If the price closes below this level, it will then act as immediate resistance, making it even more challenging for the bulls to regain control.
The technical indicators for Terra Luna are painting a grim picture of Terra Luna's immediate future.
Without a significant reversal in market sentiment, Terra Luna may continue on its downward trajectory toward zero, as strong selling pressure and bearish momentum persist.
Despite the uncertain future of Terra Luna, the cryptocurrency market still has potential for growth. One example is yPredict, an AI-powered crypto market intelligence platform that has been making headlines with its recent announcements.
With its product line extending beyond crypto analytics and price predictions, the company is generating significant interest.
yPredict Brings the Power of AI to Crypto, SEO, and Content Creation
yPredict recently launched its first AI-powered model, the yPredict Backlink Model, which is available for free for a limited time.
According to the project's website, this model is trained on over 100 million links and predicts the exact backlink profile a URL needs to rank for a specific keyword.
With this tool, users can develop precise backlink strategies to improve their search engine rankings.
In addition to its backlink estimator tool, yPredict is also working on a content solution for medium to large content teams.
This expansion demonstrates the company's commitment to harnessing the power of AI and web3 technology in various industries.
As artificial intelligence continues to disrupt various industries, its potential for predicting financial market prices is becoming increasingly evident.
Research has shown that large language models (LLMs) based on machine learning, such as ChatGPT, can effectively identify trends in vast amounts of price data.
Interested users can already join the waitlist for yPredict's beta platform, and the company has further plans to make its crypto price prediction system free and accessible to all.
$YPRED: yPredict's Bet in the AI Utility Coin Market
$YPRED, the cryptocurrency token issued by yPredict, is rapidly gaining popularity as a competitive AI utility coin in the market.
$YPRED is built on the Polygon blockchain and will offer users low gas fees and fast transactions.
This makes it an excellent economic foundation for yPredict's AI-powered crypto trading platform.
To access premium features on the platform, users are required to pay a subscription fee denominated in $YPRED.
Ten percent of these fees will be distributed to existing $YPRED token holders, incentivizing long-term holding and reducing sell pressure.
$YPRED holders can also stake their tokens in pools to benefit from monthly rewards. This additional feature will offer an additional incentive for users to hold onto their tokens while enjoying the benefits of the platform.
With a fair tokenomics structure and a strong focus on AI-driven solutions, yPredict's $YPRED token and its expanding platform offerings are capturing the attention of investors as they look for new opportunities in the dynamic cryptocurrency market.
Disclaimer: The Industry Talk section features insights by crypto industry players and is not a part of the editorial content of Cryptonews.com.
---