Terra Luna Classic Price Prediction as LUNC Pumps 13% in 24 Hours – $1 Soon?
Disclosure: Crypto is a high-risk asset class. This article is provided for informational purposes and does not constitute investment advice. By using this website, you agree to our terms and conditions. We may utilise affiliate links within our content, and receive commission.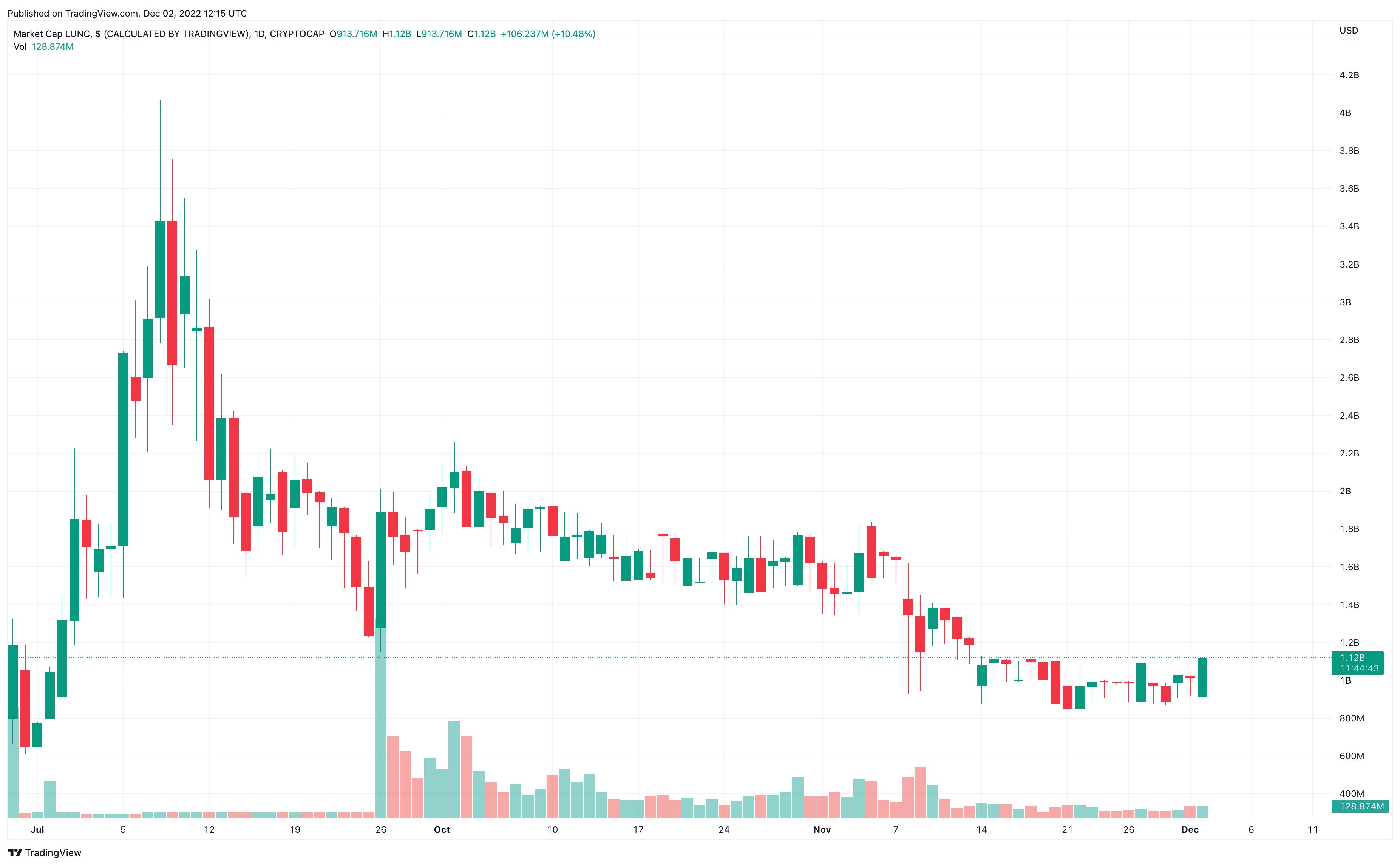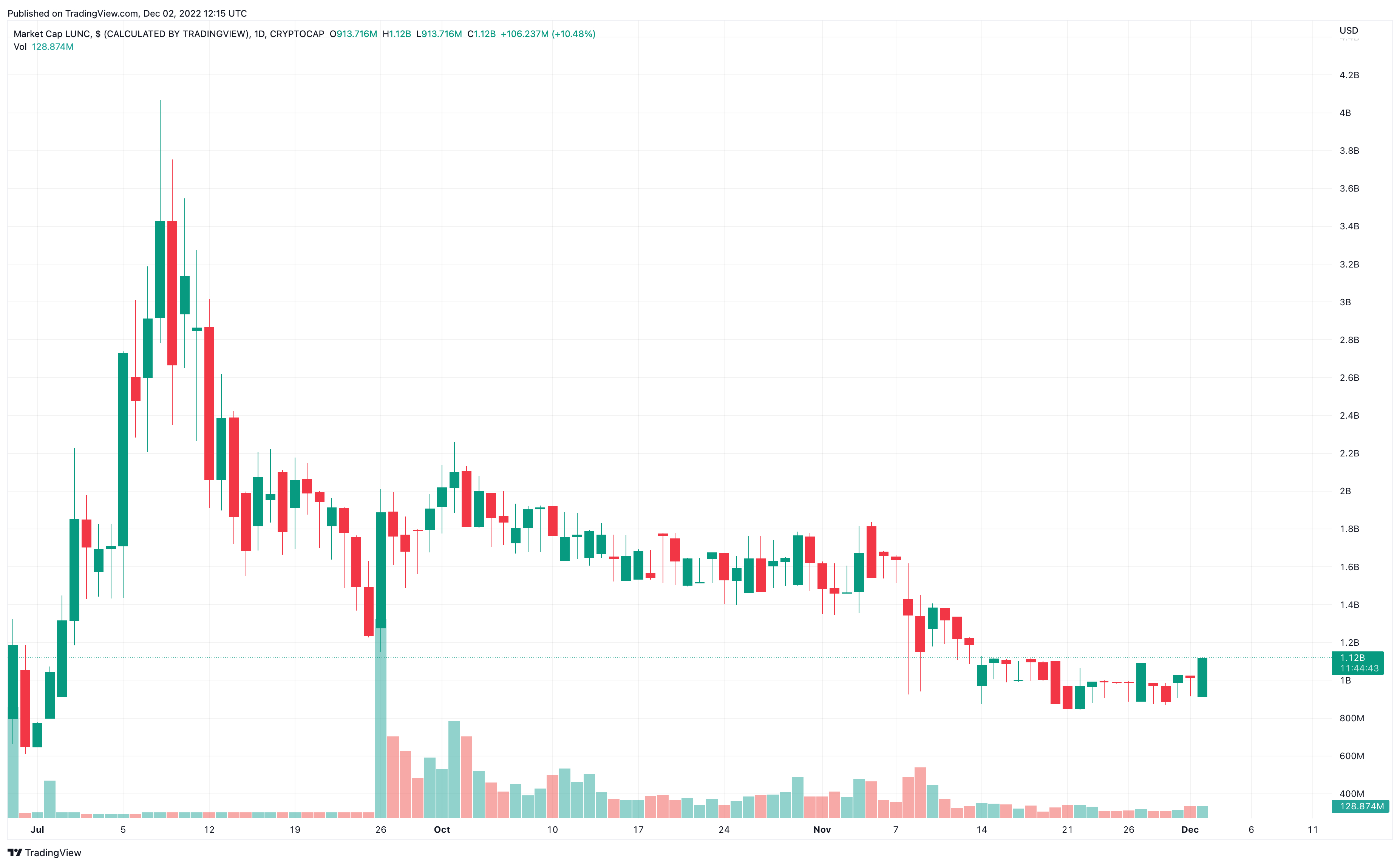 The Terra Luna Classic price has risen by 13% in the past 24 hours, reaching $0.00018137 following news of the latest Binance LUNC burn. Its current level marks a 12% rise in the past week, while the coin is down by 17% in the last 30 days, amid community wrangling over how best to support its future growth.
The past couple of days have witnessed the emergence of a new proposal to increase the share of LUNC burns going to a community pool for developers. While the idea behind this is to bootstrap development and attract greater adoption, certain Terra Luna Classic validators and community members have come out against it, making it uncertain as to whether it will be accepted.
Terra Luna Classic Price Prediction as LUNC Pumps 13% in 24 Hours – $1 Soon?
LUNC has gained momentum in the past few hours, with its relative strength index (purple) rising as high as 80, before sinking below 70 and then creeping up again.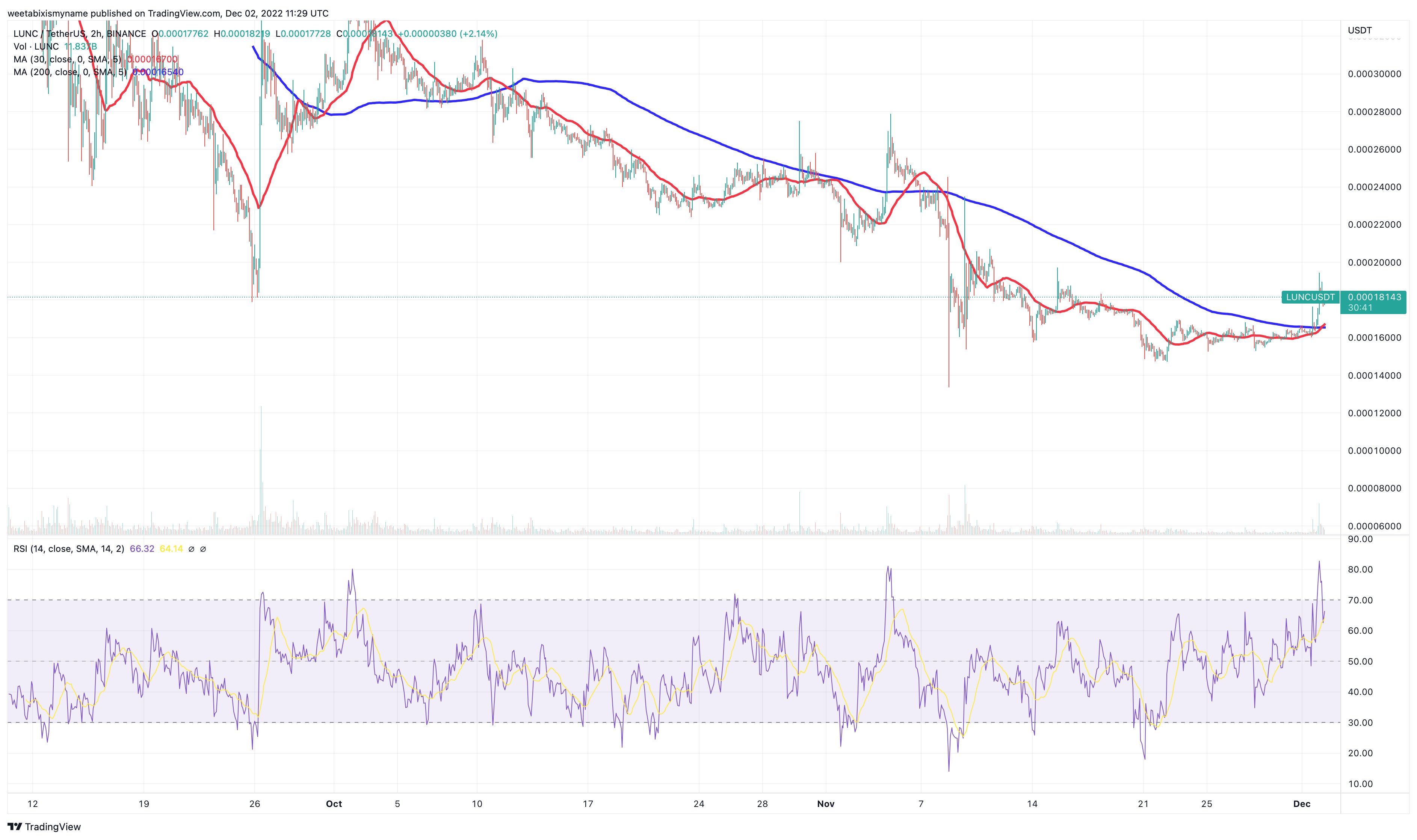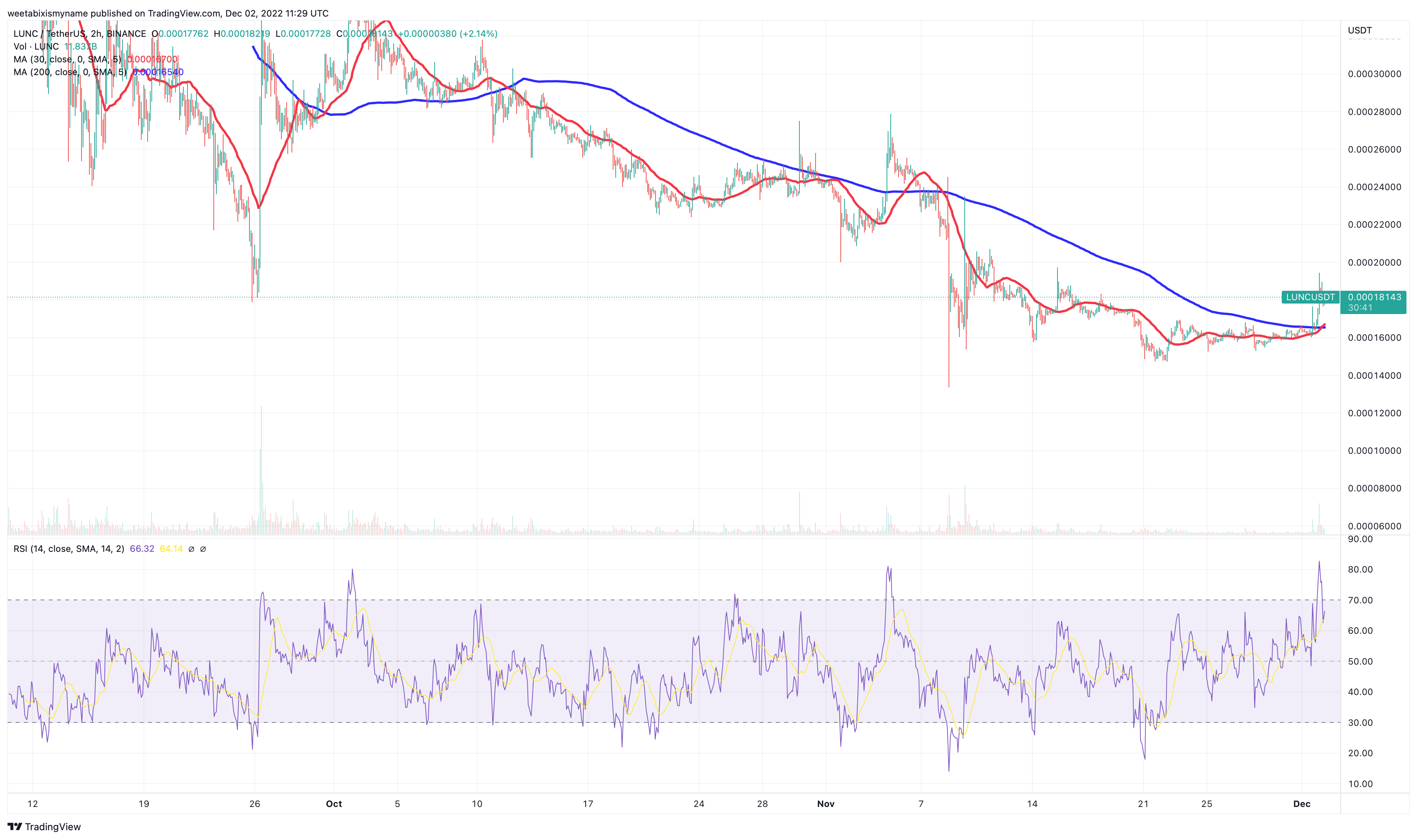 Perhaps more promisingly, LUNC's 30-day moving average (red) has crossed over its 200-day (blue), forming a so-called golden cross. This may indicate a breakout rally of sorts, something which LUNC has been waiting for since early (and mid-) November.
The main reason for today's rally is that Binance revealed the results of its latest LUNC burn, with the exchange taking close to 6.4 billion LUNC out of circulation in the past month. That it has done this has provided LUNC holders and investors with a dose of optimism, with the altcoin rising by as much as 19% today in response to the news.
So the @binance burn for #LUNC came in slightly below what we expected. Still $1m burnt is nothing to be sniffed at

Thank you @cz_binance for continuing to support $LUNC pic.twitter.com/gpsvmuX0ex

— 2bit Crypto 📌 (@2bitcrypto_YT) December 1, 2022
To date, Binance has burned 13.7 billion LUNC, while the overall burn count for LUNC (including its on-chain burn tax) now stands at 35.3 billion.
Nonetheless, the total LUNC in circulation remains as high as 6.87 trillion, with the amount burned so far representing only 0.5% of the larger number. As such, the Terra Luna Classic has recently been cotemplating strategies for speeding up the burning process, with a new proposal emerging on Wednesday that would see 50% of all tax burn proceeds go to a community development pool.
Explaining #LUNC Proposal 10983:
Increasing Burned Funds From 10% to 50% Remint

We all want to burn the supply on LUNC. I don't believe there are any LUNC holders who would disagree.

🧵 pic.twitter.com/M9pbikTnfA

— David Goebelt – LUNC Supporter (@davidagoebelt) December 1, 2022
As explained in a Twitter thread by Terra Luna Classic validator David Goebelt, the rationale behind this move is to spur greater development on the platform's network. As Goebelt explains, ongoing burns haven't done much to significantly reduce the LUNC supply (and correspondingly increase its price), so the idea is to increase development in order to get more apps/platforms building on the network.
In theory, this would increase traffic on the Terra Classic network, which would accelerate burns, since more people would be processing more traffic. However, as with an earlier proposal regarding a 'merge' with Terra 2.0, the community is very much divided on the latest idea.
If #PROP10983 pass , I don't think we will ever see #LUNC at $0.01 to $1 . Hey , #LUNCcommunity , since when we don't care about #LUNC burn ? Let's vote against this guys . Don't let them direct #LUNC to the wrong direction pic.twitter.com/8oCtSqSZGB

— Watcher.Guru (Parody) (@WatcherGuru_P) December 1, 2022
It's therefore uncertain as to whether this proposal, as with the recent 'merge' idea, will be accepted. Regardless, what the conflict over these proposals reveal is that the Terra Luna Classic community is very much divided on the best way to take the network forward and actually increase its value and the value of its native token, LUNC.
In other words, it's not a given that LUNC will ever return to $1, a level that currently requires a percentage increase of over 600,000%. Such a jump would necessitate a big change in how the network currently operates and burns tokens, and at the moment, it's not clear if the community can agree on the shape such a change should take.
Still, LUNC's rise today shows that, even if it may not reach $1 in the foreseeable future, it has plenty of potential rises ahead of it. Assuming further burns from Binance (and maybe other exchanges), a positive scenario for the end of 2022 and early 2023 could be a price of around $0.0003, representing a 65% increase from its current level.
Newer Altcoins
Given the uncertainty surrounding LUNC's long-term prospects, traders and investors may wish to consider other altcoins that aren't wracked by community division on where to take them next.
In particular, presale coins have had a very good 2022, even with the ongoing bear market. To take a few examples, Tamadoge (TAMA) rose by as much as 1,800% after listing for the first time in October, while Lucky Block (LBLOCK) and Battle Infinity (IBAT) witnessed increases as high as 6,000% and 3000% compared to their initial presale prices of $0.00015.
Posting such gains regards impeccable timing on the part of early investors, yet they underline the potential offered by presale tokens. As such, here are three of the most promising token sales currently happening right now.
Dash 2 Trade (D2T)
Running on the Ethereum blockchain, Dash 2 Trade is a trading intelligence platform that offers investors real-time analytics and social trading data, helping them make more informed trading decisions. It will go live in early 2023, with its D2T token being used to pay for the monthly subscription fees to its platform (there are two subscription tiers).
Dash 2 Trade's presale has already raised more than $7.5 million and is due to enter its fourth and final stage once it reaches $8,757,000. It has also announced listings on BitMart and LBANK Exchange for early next year, giving early investors a good opportunity to make some decent returns.
RobotEra (TARO)
Also using Ethereum to host its token, RobotEra (TARO) is a Sandbox-style Metaverse that will enable gamers to play as robots and participate in the creation of its virtual world. This includes NFT-based land, buildings, and other in-game items, with the game also planning to let players link up with other metaverses and create an interoperable multi-verse.
1 TARO is currently selling for 0.020 USDT (it can be bought using either USDT or ETH), although this price will rise to $0.025 in the second stage of its presale.

Visit RobotEra Now
IMPT (IMPT)
Another Ethereum-based platform, IMPT is a carbon-credit marketplace that will reward consumers for shopping with eco-friendly merchants. These rewards will arrive in the form of its IMPT token, which can be used to buy NFT-based carbon offsets that can be traded or retired.
Since opening its sale in October, IMPT has raised more than $13.4 million, with 1 IMPT currently being sold at a price of $0.023.

Visit IMPT Now
---