Terra Luna Classic Price Prediction as LUNC Falls Below $500 Million Market Cap – Is It All Over?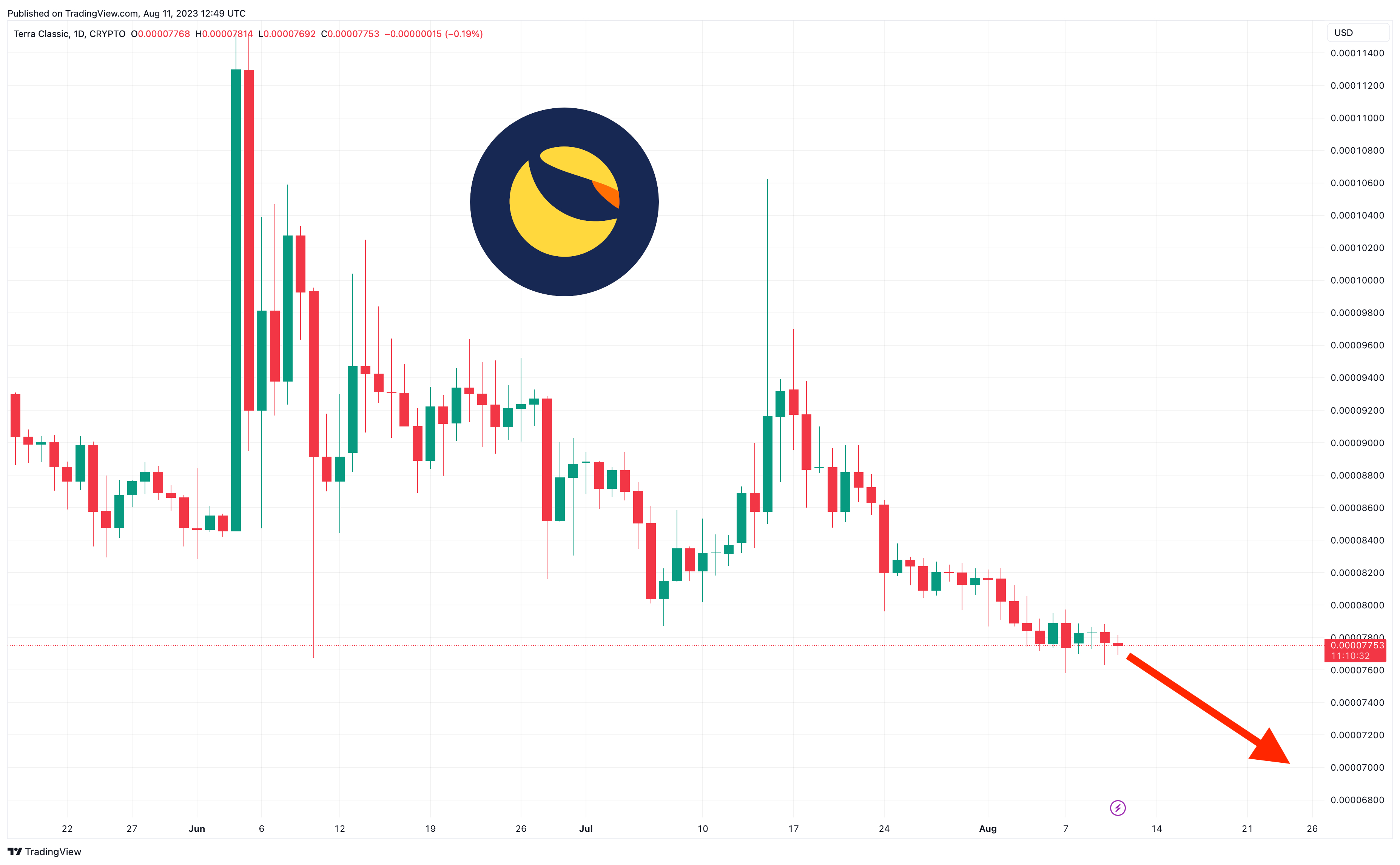 The price of Terra Luna Classic (LUNC) remains unchanged in the past 24 hours after witnessing a dip and a rebound this morning, with the altcoin now down by 1% in the past week and by 7% in the past month.
These movements mean that LUNC's market cap has dropped below $500 million and now stands at around $450 million, a clear sign of the consistent losses the altcoin has suffered this year.
In fact, LUNC remains down by 46% since the beginning of January, with the coin unable to recover in the face of continued disunity in the Terra Luna Classic community, which is currently unable to rally around a single course of action for restoring the altcoin and its ecosystem.
Terra Luna Classic Price Prediction as LUNC Falls Below $500 Million Market Cap – Is It All Over?
LUNC's chart doesn't really offer much in the way of hope at the moment, with the coin's relative strength index (purple) struggling to move beyond the 50 level, where it has languised for the past couple of weeks.
It's basically the same with LUNC's 30-day moving average (yellow), which has fallen some way below its 200-day average (blue), providing a signal that the coin still lacks momentum and buying pressure.
Perhaps even more discouragingly, LUNC's support level (green) has been falling steadily for the best of a month, and in fact for most of the year.
This is bad news, since it suggests the coin and its holders can't resist further drops to new lows, and that there's nothing really holding the coin up.
As we've written numerous times in recent weeks, LUNC's problems are fundamental, in that the coin can't and won't do anything positive without the Terra Luna Classic community coalescing around a clear plan of action for its development and that of its ecosystem.
Indeed, it seems that every week brings a new governance proposal that, while it sounds promising enough on the face of it, results in intractable disagreement between different LUNC validators and community members.
It seems unlikely that this situation is going to change anytime soon, with LUNC community members seemingly coming from different directions and having different aims and interests to support.
And if this situation doesn't change sooner or later, then the wider cryptocurrency market is only likely to become more frustrated with LUNC, sending the altcoin even lower.
From its current level at around $0.0000770, it could easily drop to $0.000070 and then $0.000060 in the next few weeks or months.
More Promising Altcoins
In the face of continued disappointment from LUNC, many traders may be better off considering newer altcoins that still have their initial periods of growth to look forward to.
This means presale tokens, with some new coins raising millions of dollars this year before going on to list successfully on exchanges and trading platforms.
One presale coin that has a very strong chance of doing well is Wall Street Memes (WSM), a new ERC-20 token that has raised over $23 million since launching its sale in June.
The reason why Wall Street Memes has outstripped most other presale this year is that it has basically come equipped with a ready-made community of holders and supporters.
That's because it has emerged out of meme stocks movement that was responsible for the 2021 GameStop rally, with its Twitter account now having 259,000 followers.
This is the kind of figure that most new tokens can only dream of, and it's likely to help WSM rally significantly once it gets added to trading platforms in the next few weeks.
In terms of its tokenomics, WSM will have a max supply of two billion, with 50% of this going to the sale and another 30% being reserved for community rewards.
This makes WSM highly decentralized, particular for a meme token, and it should provide its community with a great stake and role in its development, encouraging further investment from regular investors.
And new buyers can join its growing ranks of investors by going to the official Wall Street Memes website and connecting their crypto wallets, with 1 WSM currently priced at $0.0331.
This price will end up at $0.0337 by the time the sale enters its final stage, yet exchange listings are likely to push it up even higher soon enough.
Disclaimer: Crypto is a high-risk asset class. This article is provided for informational purposes and does not constitute investment advice. You could lose all of your capital.
---