Surveys: Most of El Salvador Public Is Opposed to Bitcoin Adoption Law
Two new surveys have found that the overwhelming majority of Salvadorians are opposed to the bitcoin (BTC) adoption law, which is due to promulgate on September 7 after it was published in the Official Gazette earlier this week.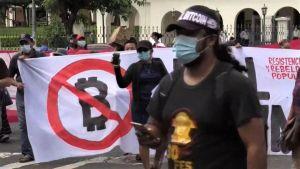 The Salvadorian media, which is generally opposed in equal measure to both the bitcoin law, which will make BTC legal tender, and to the government of its architect, President Nayib Bukele, has reported with great gusto on the Central American University (UCA) survey of 1,281 people aged 18 and above.
El Diario de Hoy's ElSalvador.com website dedicated not one but two separate articles to the matter.
La Prensa Gráfica, meanwhile, carried out its own survey of 1,506 citizens via its LPG Data unit.
Both surveys yielded similar results: The UCA poll found 68% either disagreeing or strongly disagreeing with the adoption of bitcoin as a legal tender, with over 32% of respondents welcoming the law. The La Prensa Gráfica study found almost 66% opposed, almost 23% in favor – with the remainder unsure or unwilling to comment.
However, those in favor of adoption stated variously as their reasons in the LPG Data study:
Bitcoin will benefit the country's economy,
Bitcoin will be useful for making transactions,
Bitcoin will help in sending remittances
Bitcoin is innovative
When asked if they would personally like to receive BTC as a form of payment, 21% said yes, and 72% responded in the negative, with the remainder refraining from comment.
La Prensa Gráfica noted that the people "least willing to accept and receive bitcoin" were "women, older people, and people of lower socioeconomic status." It pointed out that "83%" of lower-income individuals "say they will not accept payments" in BTC.
The UCA survey, meanwhile, found that some nine out of 10 respondents had no clear understanding of bitcoin, with seven out of 10 agreeing that the National Assembly should repeal the BTC law.
These sentiments were shared by the Central American Institute for Fiscal Studies (ICEFI), whose Salvadorian head stated that parliament should make a u-turn before it was too late. The institute, also per La Prensa Gráfica, called the law "hurried, hasty and [implemented] without due technical discussion."
The UCA Dean, Andreu Oliva, stated at a press conference that the people had made a "broad rejection of the implementation of bitcoin as legal tender," and spoke of a "significant disagreement between the public and [...] the National Assembly and the President."
He added:
"There is a lot of concern about the possible negative effects of using bitcoin."
On social media, international reaction was mixed. Bitcoiner Alex Berge noted that "80% of people who don't know anything about bitcoin can't see how it would improve the economy."
On Reddit, one poster wrote that many people "are just reluctant to learn [about BTC], and the FUD spread by the opposition is disgustingly shameless."
Elsewhere on the same social media platform, a Redditor commented:
"I don't blame [those opposed to adoption] when it is a pretty esoteric subject even in the fully developed world. If they manage to adapt to it I'd be delighted because then many countries may follow suit."
____
Learn more:
- Lack Of Knowledge Is More Important Than Volatility For Crypto Newcomers
- El Salvador: Government Supporters Dismiss Bitcoin 'Protests'
- IMF Says Making Bitcoin a National Currency is an 'Inadvisable Shortcut'
- El Salvador Will Be a Serious Test for Bitcoin's Layer-2 Networks
---