Stocks 'May Very Well' Become Tokenized - SEC Chairman
The US Securities and Exchange Commission (SEC) invited innovators in the crypto space, saying that "our door is wide open" and that publicly traded stocks "may very well" become tokenized in the future.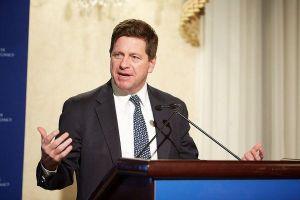 The positive stance from the SEC was ushered by Chairman Jay Clayton, who on Friday participated in a virtual conference on innovation & regulation of digital assets, hosted by the Chamber of Digital Commerce.
Further commenting on the issue of tokenization of existing financial assets, Clayton said that in addition to single stocks, even exchange-traded funds (ETFs) could end up in tokenized form if it "adds efficiency":
"We're willing to try that; our door is wide open," the SEC Chairman said, adding "If you want to show how to tokenize the ETF product in a way that adds efficiency, we want to meet with you, we want to facilitate that."
Also participating in the virtual conference was Brian Brooks, Acting Comptroller of the Currency, who noted that even just the fact that the heads of both the Office of the Comptroller of the Currency (OCC) and the SEC were participating in a conference on crypto innovation and regulation, "tells you a lot about the maturation" of the crypto industry.
In September, the OCC said that US banks can provide "services in support of a stablecoin project," and in July, they allowed all federally chartered banks in the US to provide cryptoasset custody services to their customers.
Brooks, Coinbase's former general counsel, further explained that his agency has spent time thinking about crypto and what it's really about.
"I think that anybody who's worked in the field knows that the original concept of bitcoin and all of these other innovations was not supposed to be to create some made-up investment asset," Brooks said, adding that there are already "plenty of things to invest in."
"We think at the OCC what's going on is something more fundamental, and it may be challenging to the existing bank regulations, which is why we need to clarify them," Brooks said.
According to him, networks are fundamentally more resilient and efficient than vertically integrated "controlled towers." This is contrary to how banks have traditionally operated, with central control functions that become "single points of failure" in the system, Brooks added.
"If a bank went down, really bad things happened," he said, noting that "networks don't behave that way."
"We see this [crypto] as more of an infrastructure issue than an investment asset issue – in its maturity," the US regulator said, noting that one reason many crypto-related businesses have gotten into trouble with regulators is because "we haven't reached maturity yet."
__
Watch the entire conference hosted by the Chamber of Digital Commerce below:
__
Learn more:
Crypto 'Is Now Finally Being Taken Seriously' By Taxman - PwC
Arthur Hayes & Co Run BitMEX 'Illegally,' Face Prison
---