Stellar Price Prediction as XLM Pumps Up 15% – Here's the Next XLM Target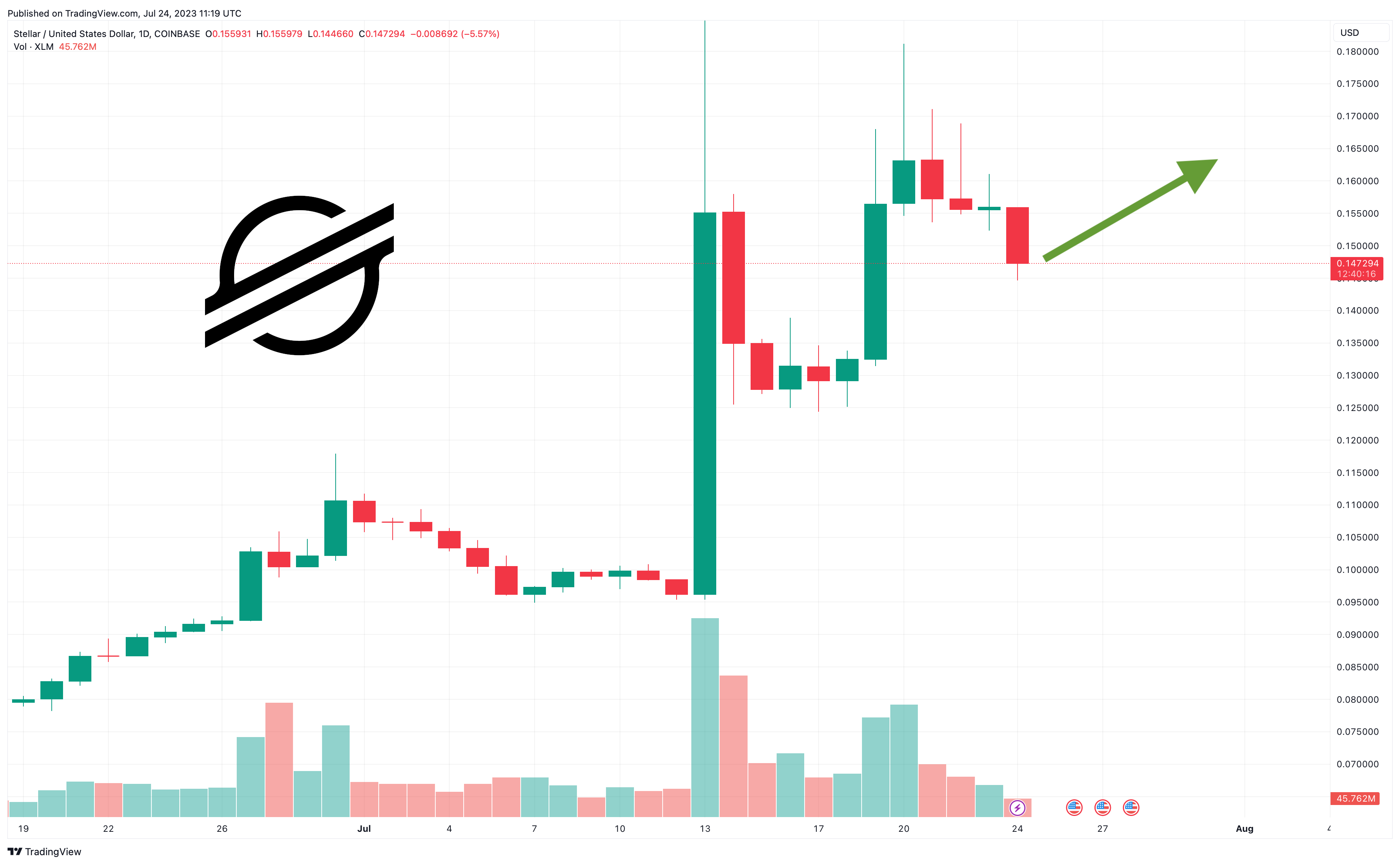 The price of Stellar (XLM) has dropped by 4.5% in the past 24 hours, sliding to $0.148076 following a 1.5% fall for the cryptocurrency market as a whole.
XLM's fall today mirrors that of XRP, with both altcoins correcting a little after their rallies from a week and a half ago.
Despite its fall today, XLM remains up by 16% in a week and by 63% in the last 30 days, with the altcoin also having risen by just over 100% since the beginning of the year.
And when it finishes its minor correction in the next few days, the cryptocurrency could easily witness further gains, especially with the ongoing expansion of Stellar as a network.
Stellar Price Prediction as XLM Pumps Up 15% – Here's the Next XLM Target
Stellar will likely need some more time before its current correction bottoms out, given that its indicators still remain somewhat elevated.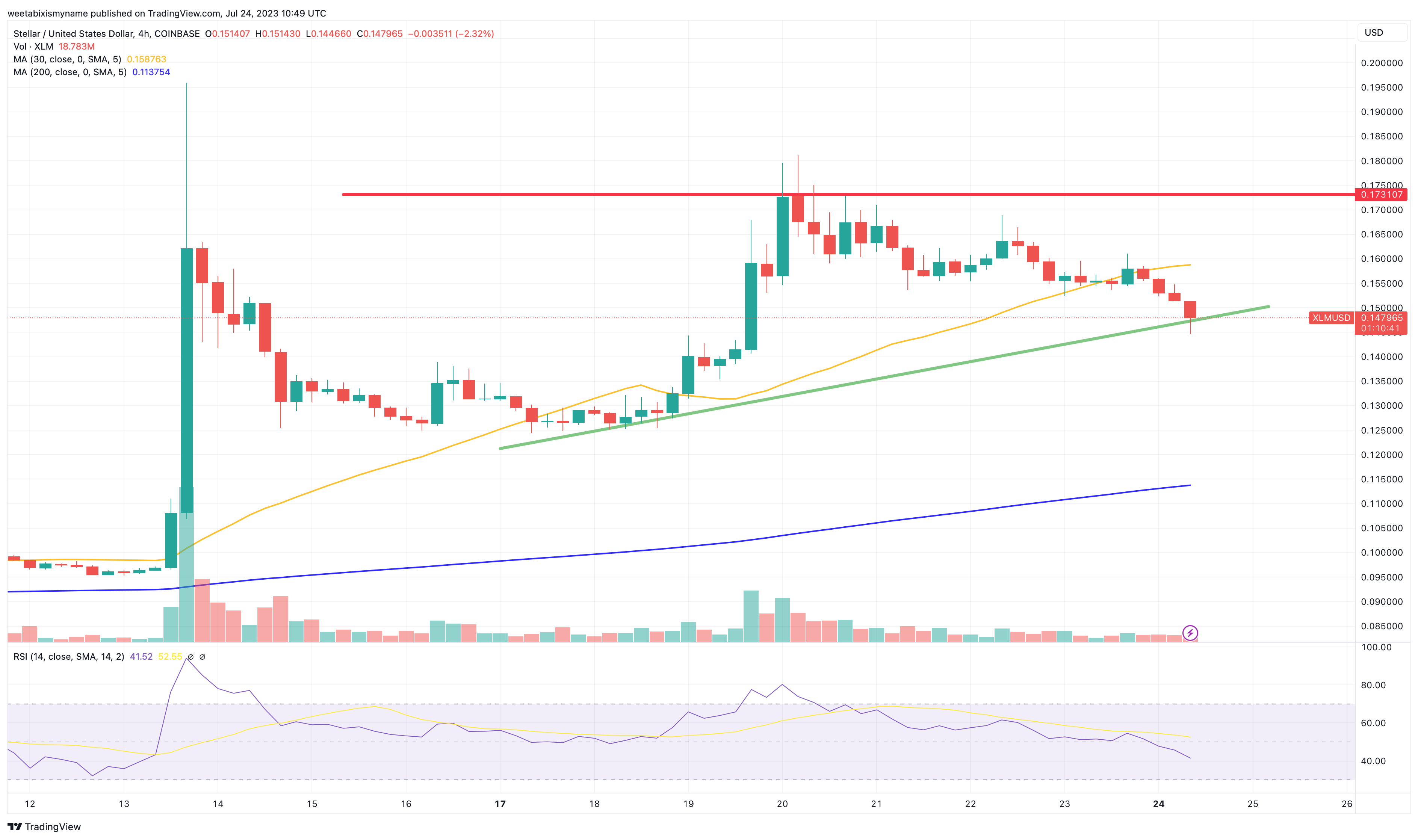 For example, its 30-day moving average (yellow) is still some distance above its 200-day average (blue), with coins generally rebounding strongly only after the shorter-term average has fallen below its longer-term counterpart.
Likewise, XLM's relative strength index (purple) has fallen below 50 in the past 24 hours and looks like it's on course to hit or fall below 30, at which point the altcoin may begin to recover.
It's possible that its support level (green) may fail to hold up today, something which would point towards further losses in the coming days.
However, it could be argued that such a correction was entirely necessary, and that when it's over XLM will begin steadily rising again.
It benefitted more than any other coin (besides XRP) from Ripple's partial victory against the SEC, given that it's also used largely for cross-border payments (much like XRP and Ripple).
Because of this victory, Stellar has been provided with more space to continue growing its business, with its latest quarterly review finding that the total number of accounts on its network rose by 8% in Q2 2023.
The report also revealed that it processed $419 million in transactions on its network, and that total operations rose by 21% year-on-year.
This points to a blockchain platform in growth, yet with the regulatory picture now improved for Steller, it could grow even faster in the future.
For this reason, traders can expect XLM to hit $0.18 again in the next few weeks and $0.25 in the next few months, before a bull market in 2024 potentially brings it up to $0.40 or higher.
Diversifying With Meme Tokens
It's possible that it may take XLM some time to reach significantly new heights, seeing as how its rally of the past week and a half has lost some momentum.
Some traders may therefore prefer to expand their portfolios with newer altcoins that show more potential for gains in the near term, with presale tokens being particularly promising.
One of the newest such tokens in the market is Evil Pepe (EVILPEPE), an ERC-20 meme coin that launched its sale last week.
It has raised in excess of $600,000 and has a target of $1,996,002, with its presale having just under nine days left to run.
With a total maximum supply of 6.66 billion, EVILPEPE aims to be a community-led meme token, with 90% of its supply being reserved for its presale.
By giving control of 90% of its supply to investors and its wider community, EVILPEPE will protect itself against big dumps or rug pulls, something which can happen with certain presales.
At the same time, holders will be incentivized by their larger stake to invest more in the token and also support it more, helping to grow its community.
This should help to provide EVILPEPE with a longer lifespan than many other meme tokens, while also helping it to rally big once it lists on exchanges in the next few weeks.
While time is limited, new investors can join the EVILPEPE sale by going to the official Evil Pepe website and connecting their crypto wallets, with 1 EVILPEPE token costing $0.000333.
And if it follows in the footsteps of PEPE token, EVILPEPE could easily rise well beyond $0.000333 once it's added to trading platforms.
Disclaimer: Crypto is a high-risk asset class. This article is provided for informational purposes and does not constitute investment advice. You could lose all of your capital.
---