Stellar Price Prediction as XLM Pumps Up 12% – Can Stellar Overtake XRP?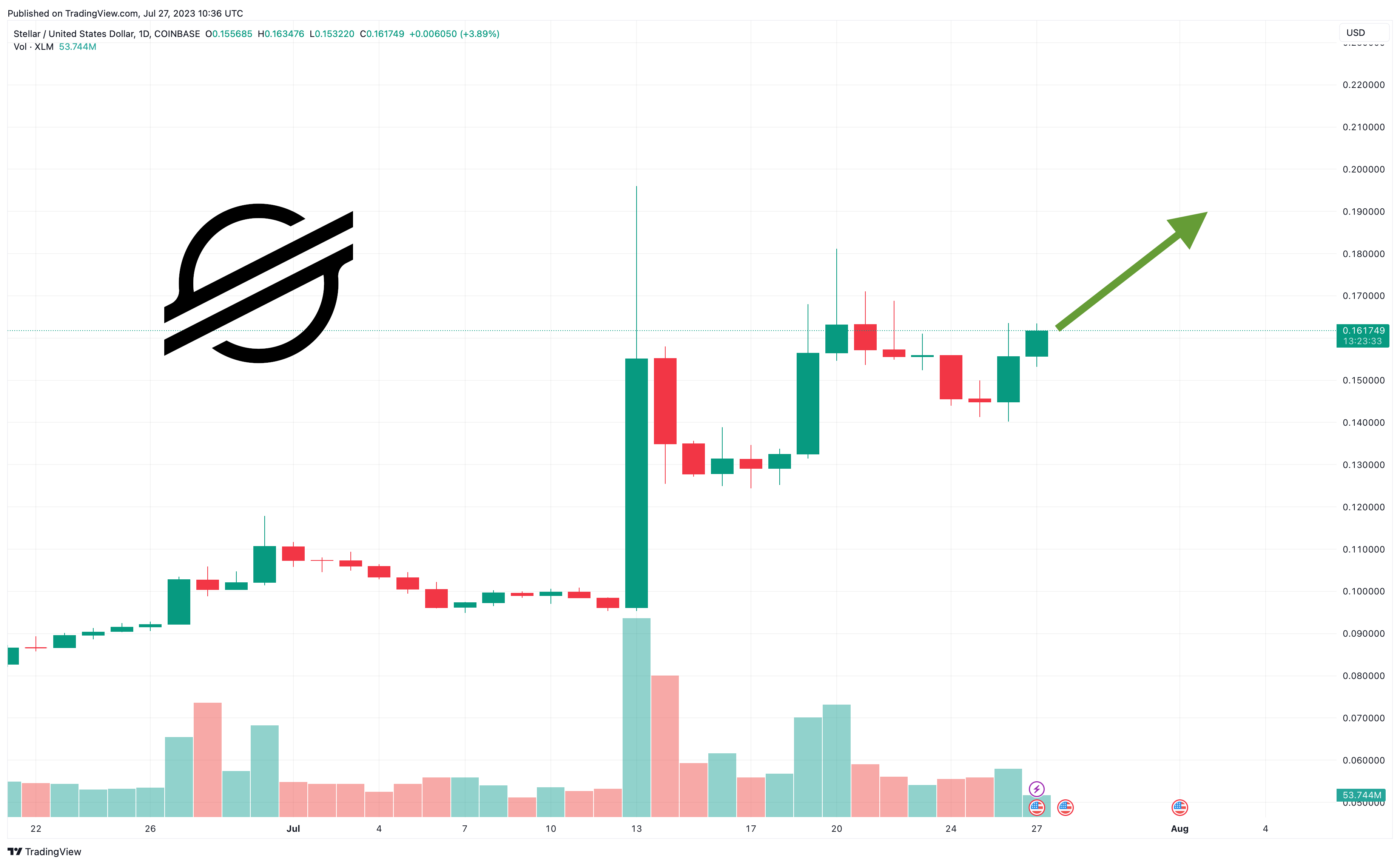 The price of Stellar (XLM) has jumped by more than 12% this morning, with its rise to $0.161942 representing a massive 72% gain in the last 30 days.
XLM is also up by an impressive 123% since the beginning of the year, with the cryptocurrency being the biggest beneficiary – besides XRP – of Ripple's partial victory against the SEC a couple of weeks ago.
And with Stellar witnessing some significant adoption and development in the past few months, there's a real chance that XLM could rise more vigorously than XRP in the near future, even if there may be too much of a gap for it to flip the bigger altcoin.
Stellar Price Prediction as XLM Pumps Up 12% – Can Stellar Overtake XRP?
XLM's chart probably counts as the strongest among any top-50 cryptocurrency right now, with its indicators pointing towards additional gains in the coming days.
Its 30-day moving average (yellow) has stopped falling and looks as though its about to begin rising again, while its relative strength index (purple) is nearing 70.
This signals some very strong buying momentum, and given that the RSI hasn't topped 70 yet, there's a good chance that XLM may continue to rise over the weekend.
It's also encouraging to note that XLM's support level (green) continues to enjoy a steady climb, suggesting that the coin won't be falling back down to its level prior to the Ripple-SEC ruling earlier in the month.
Not only has this ruling provided XLM and the wider market with some much-needed optimism, but in Stellar's particular case it has cleared the way for further growth and expansion, given that Stellar – like Ripple – is focused largely on cross-border payments.
On top of this, Stellar has already been growing steadily in recent months, helping to boost XLM's position further.
For example, the Stellar blockchain is the leading network in terms of off-ramp locations for the conversion of cryptocurrencies to fiat, as revealed by a recent report.
Stellar has also witnessed growing usage as the underlying blockchain layer for various stablecoins, a testament to its status as a scalable and affordable network.
This all points to further adoption for Stellar in the near and distant future, but while we may see XLM climb a few places up the leaderboard in terms of market cap, it's unlikely that it will overtake XRP anytime soon.
XRP is now the fourth-biggest cryptocurrency in terms of cap (XLM is the 21st), and with Ripple's partial victory against the SEC it's also likely to see further adoption, with Ripple recently announcing a partnership with the Republic of Palau to trial a XRPL-based stablecoin.
Still, XLM is likely to continue growing, with the altcoin set to reach $0.17 again in the next few weeks, before possibly reaching $0.20 by the start of the next year.
Newer Altcoins Can Rally Faster
Such progress may be a little too steady for some traders, who may therefore be tempted to look towards some of the more promising new altcoins in the market, including presale tokens that have the potential to rally big once they list on exchanges.
One such token is Evil Pepe (EVILPEPE), an ERC-20 meme coin that launched its presale only a week ago yet has already raised $1 million.
Its presale has just under six days left, with a hard cap of $1,996,002, or 90% of EVILPEPE's total supply of 6.66 billion.
Such a distributed allocation is likely a big part of the reason why EVILPEPE presale has been able to pick up such speed, with investors assured by the distribution that that the meme token will be highly decentralized, with little threat of big dumps.
This should help the coin to stay ahead of the pack when it lists on exchanges, with 2023 being a big year for meme tokens, which have provided investors with outsized gains during a period of (mostly) market stagnation.
New investors can join the sale by visiting the official Evil Pepe website and connecting their crypto wallets, with 1 EVILPEPE costing only $0.000333.
Such a price is likely to seem very cheap when EVILPEPE lists on trading platforms in around a week, helping its early investors to make a significant profit.
Disclaimer: Crypto is a high-risk asset class. This article is provided for informational purposes and does not constitute investment advice. You could lose all of your capital.
---