Solana Price Prediction as SOL Suddenly Blasts Up 8% in 24 Hours – Are Whales Buying?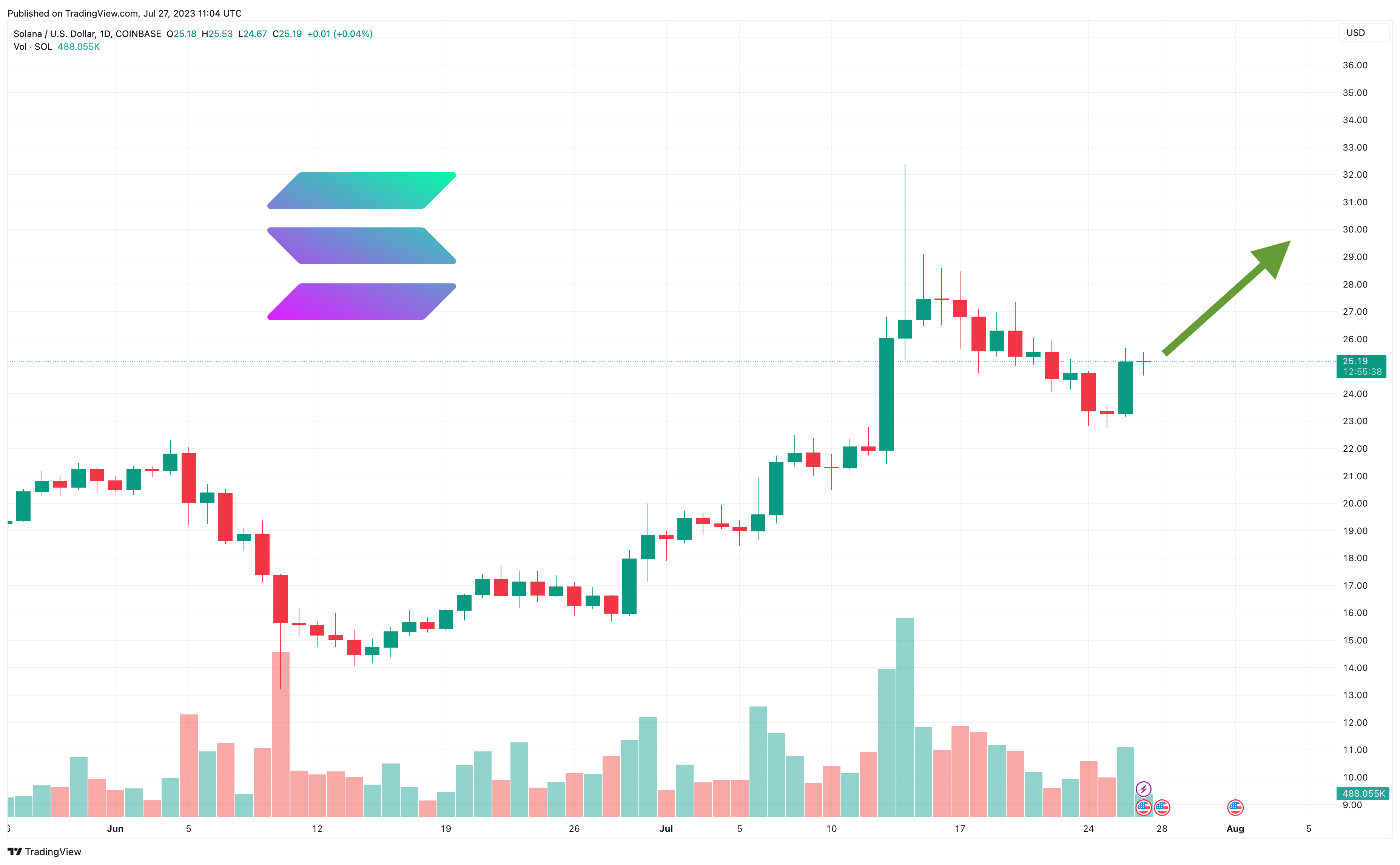 The Solana price has bounced by as much as 8% today, with its rise to $25.29 coming after the Federal Reserve pushed its base rate up by another 0.25% yesterday.
It's expected that this hike will be one of the very last of the current economic cycle, with this expectation helping to buoy the cryptocurrency market as a whole, with SOL now up by 52% in the last 30 days.
And with the altcoin also having recovered by around 150% since the beginning of the year, there's a real sense that SOL is on course to be one of the most profitable major cryptocurrencies of 2023.
Solana Price Prediction as SOL Suddenly Blasts Up 8% in 24 Hours – Are Whales Buying?
Now looks like a good time to buy SOL, at least judging by its chart and indicators.
The token's relative strength index (purple) has risen above 60 and looks set to continue, meaning that the buying momentum rushing towards it is only going to strengthen in the next few days.
Likewise, SOL's 30-day moving average (yellow) has flattened out after sliding downwards in the past week, suggesting that it could be about to launch a little breakout upwards.
Importantly, the altcoin's 24-hour trading volume has risen above $700 million in the past few hours, up from about $350 million only a few days ago.
This suggests that investors – including larger investors – have plowed into SOL's market, with whales potentially rallying behind the coin in a bid to boost its price and make some tidy profits in the coming weeks.
While there have be no reports of recent large whale transfers, last week did see the movement of just over $53 million in SOL from Binance to a private wallet, suggesting that whales may be accumulating the coin at the moment.
If so, we could really see SOL continue to climb in the short-term (if not for longer), helped along by the fact that Solana has been enjoying the restoration of its reputation in 2023.
Compared to 2022, which saw a number of damaging outages for the Solana network, this year has seen pretty much uninterrupted uptime, helping to drive faith that Solana will continue to be one of crypto's big layer-one networks for the forseeable future.
As such, SOL can be expected to reach $30 in the next few weeks, before potentially rallying up to $40 by the final weeks of 2023.
Staking with New High-Potential Altcoins
As positive as this anaylsis has been, investors should prepare themselves for the possibility that SOL's gains will be very gradual, requiring patience and a little faith.
This means that traders aiming for short-term and above-average gains may be advised to look elsewhere, with certain newer altcoins having the potential to beat the market in the near future.
One of these is BTC20, a new presale token that will offer an Ethereum-based version of Bitcoin, meaning that it combines the deflationary tokenomics of the original cryptocurrency with the ability to earn income via staking.
BTC20's presale has already raised more than $3.3 million in just over a week, with the speed with which it has raised this sum suggesting that it has quickly become popular with investors.
What's interesting about BTC20 is that its presale makes it available at $1, the price Bitcoin itself reached in 2011, back when only a select few had heard about it and took it seriously.
This means that the sale provides investors with the opportunity to compensate themselves for having missed out on BTC the first time around, with BTC20 also having Bitcoin's hard capped supply of 21 million.
The presale will make 6.05 million of this supply available, with the remainder being staked gradually over the course of 120 years.
Such a minting schedule makes BTC20 very hard as a cryptocurrency, yet the addition of staking potentially makes it even more profitable than the original Bitcoin.
New investors can join the sale by going to the official BTC20 website and using either USDT, ETH or fiat currency to buy the token.
Its price will be fixed at $1 for the entirety of the presale, yet there remains a very strong chance that it rallies big once exchanges begin listing it.
Disclaimer: Crypto is a high-risk asset class. This article is provided for informational purposes and does not constitute investment advice. You could lose all of your capital.
---