Solana Price Prediction as $500 Million Trading Volume Floods In – SOL Pump Incoming?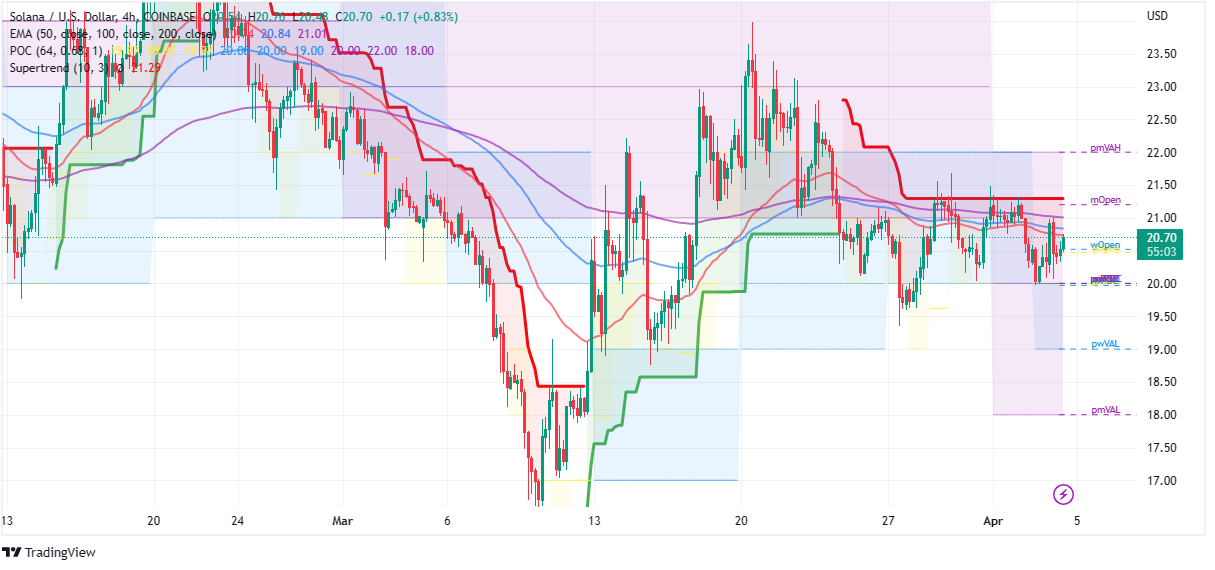 The SOL token, which powers the Solana smart contracts ecosystem, is currently trading at $20.1, 60% above the lowest price point in 2022, and 30% above the lows experienced in March 2023, indicating a significant upward trend.
Solana Price Shows Resilience, Hinting at an Impending Rally
In 2022, the Solana price experienced a sharp decline of approximately 95% due to the prolonged crypto winter and its unfortunate association with the collapsed FTX exchange and its founder Sam Bankman-Fried who praised the project several times.
However, 2023 has been a year of remarkable resilience and growth for Solana, with the token trading at highs around $27.
Despite a brief pullback in March, which saw the price test support at $16, Solana has managed to reverse the trend, trading slightly above $20 at the time of writing.
Analysts attribute Solana's comeback to the token being significantly oversold in December, encouraging investors to buy the dip.
On-chain and fundamental data from Messari revealed that the Solana ecosystem remained relatively stable throughout the turbulent collapse of FTX, including its staking and decentralized finance (DeFi) positions.
James Stautman, a researcher at Messari, commented on Solana's performance, stating, "Solana will continue to release a multitude of initiatives, including network upgrades, ecosystem developments, and community efforts, to name a few,"
Stautman's remarks suggest that the market may have overreacted to the FTX implosion, leading to a strong rebound in Solana's price, further supported by an overall upward trend in the 2023 crypto market.
"After a tumultuous year fraught with one challenge after another, light appears to be at the end of the tunnel heading into 2023," Stautman added.
Currently, the Solana price is poised for another significant breakout, as indicated by its technical outlook on the four-hour timeframe chart.
The support at $20 appears robust enough to maintain the uptrend, particularly as SOL confronts resistance at the 50-day Exponential Moving Average (EMA) (the red line), which stands at $20.72.
Although a break above the 50-day EMA is essential, bulls need to brace themselves for a stronger challenge at $21.00.
This is a confluence resistance area brought about by the 200-day EMA (line in purple) and the descending trendline, as highlighted on the chart.
A bullish outcome is highly likely, considering a buy signal from the Moving Average Convergence Divergence (MACD) indicator.
Investors and traders are likely to consider increasing their positions in SOL as long as the MACD line in blue holds above the signal line in red.
However, to do so, Solana needs to see inflow volume rise to surpass outflow volume. For now, consolidation could take precedence, as observed with the On-Balance-Volume (OBV) indicator, which currently indicates a negative volume flow of -28.73M.
Failure to break and hold above SOL's immediate resistance at the 50-day EMA and the confluence seller congestion at $21 may delay the breakout eyeing $24 in the short term.
Support would be expected to come in handy at $20 but if push comes to shove and overhead pressure overwhelms the bulls, Solana price may resolve to seek support at $16.00.
Evaluating Solana Price Short-Term Profitability
Traders considering increasing exposure to Solana on Tuesday should take note of certain factors.
For example, SOL is currently trading above its weekly open at $20.54, with the previous day's open at $20.02 serving as a strong support zone.
If liquidity from the $20 support level is robust enough to overcome resistance from the 50-day EMA, 100-day EMA, and 200-day EMA, Solana's price could potentially challenge the monthly open at $21.21.
It's important to note that a sustained drop below the previous day's open at $20.02 might cause Solana's price to retest the crucial support level at $16.
Nonetheless, investors should also be mindful of short-term support levels at $19 and $18.
For those looking to invest in SOL over a medium to long-term horizon, it is recommended to wait for the SuperTrend indicator (the thick line overlaying the chart) to flip below the price and change its color from red to green before initiating their positions.
Related Articles:
---