Solana Price Prediction as $300 Million Trading Volume Comes In – Can SOL Reach $100?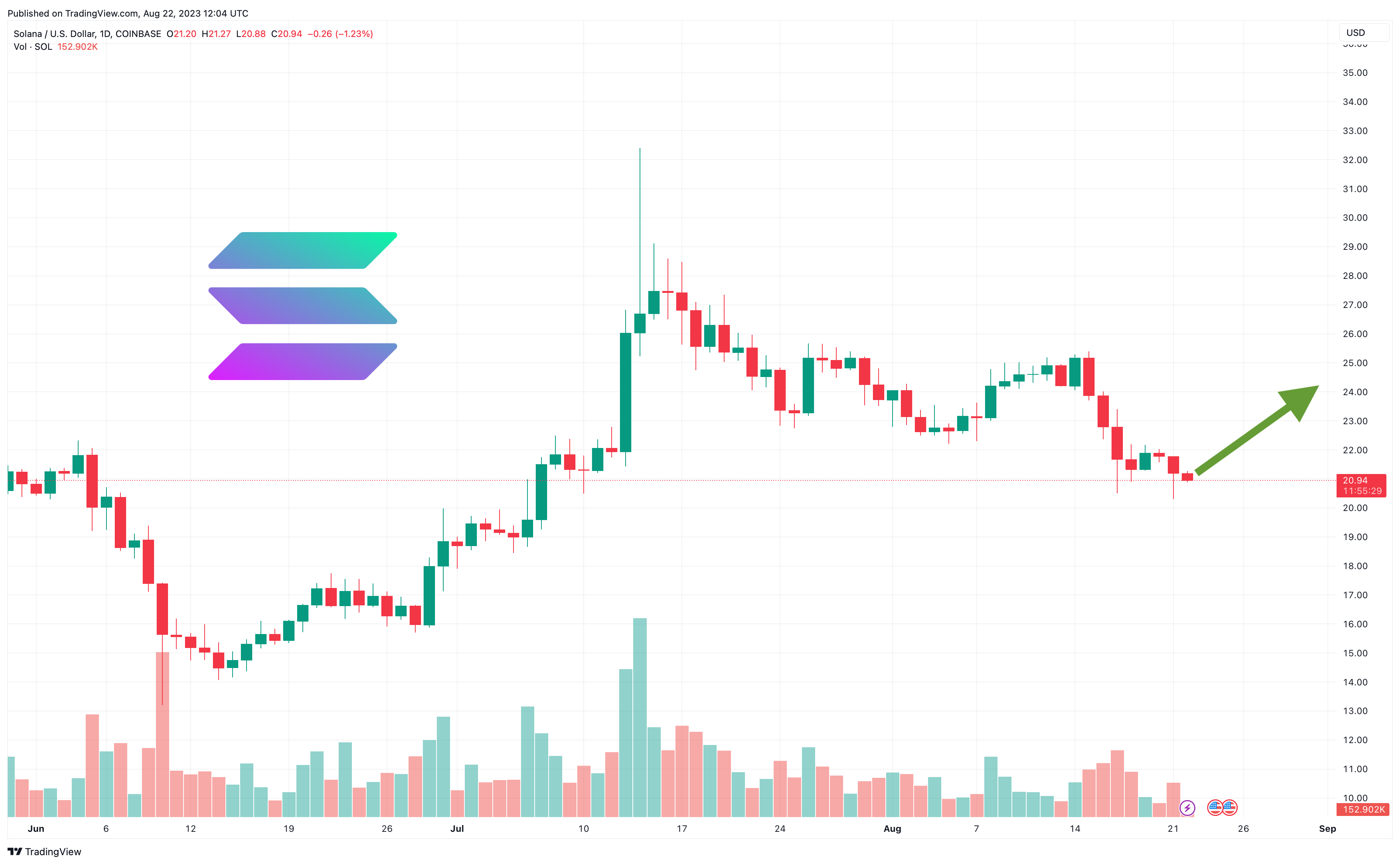 The price of Solana (SOL) has dipped to $21 today, marking a slight 0.4% loss in 24 hours and a 15% drop in the past week.
Despite these falls, SOL remains up by 110% since the beginning of the year, following the successful rehabilitation of Solana as a layer-one blockchain since a 2022 marred by outages.
And with SOL's 24-hour trading volume rising beyond $300 million, it's possible that this weekend's selloff will soon turn into a rebound, with the altcoin remaining oversold and undervalued relative to its fundamentals.
Solana Price Prediction as $300 Million Trading Volume Comes In – Can SOL Reach $100?
Solana's chart and indicators show that the altcoin is close to reaching a bottom of its recent downturn, with its relative strength index close to falling to 30 and possibly 20.
At the same time, SOL's 30-day moving average (yellow) is descending towards its 200-day average (blue), and once it falls below the longer term average it would be reasonable to conclude that the coin has bottomed out.
It will be interesting to see how Solana's support level (green) will hold up in the next few days, given that the altcoin has actually fallen through several short-term supports in recent days.
However, it's unlikely that it will fall or stay below its medium- and long-term supports, with the coin potentially bottoming at around $20 or $19.
From there, SOL should make a decent recovery, especially when nothing has fundamentally changed with Solana.
Solana's position remains as positive as it was prior to recent market-wide downturns, with the network recently celebrating 100% uptime in the past six months.
On top of this, Solana has also witnessed several important launches and expansions, with the Phantom wallet app, for example, rolling out a feature this week which enables users to be authenticated via only the use of their Solana addresses.
This points to growing usage of Solana, an impression backed up by the relatively high volume of NFT sales which are transacted on its network, for instance.
Given this steady growth, it's likely that SOL will return to $25 in the next few weeks, before making it to $30 or $35 in the latter months of 2023.
New Altcoins Offer More Potential
Solana's progress from here on out may be gradual though, leaving traders having to look elsewhere if they seek shorter term, above-average gains.
There are numerous sources of such gains, however, with presale tokens being particularly lucrative for those who manage to invest early.
While there are several promising presales happening right now, one of the most interesting belongs to Launchpad.xyz (LPX), an all-in-one Web3 platform that launched the presale for its native LPX token in July and has raised more than $1.3 million.
Due to launch in the final quarter of the year, Launchpad.xyz boasts a range of valuable features for users looking to delve further into the growing Web3 space.
This encompasses Web3 wallet addresses, a hub for play-to-earn games, a presale launchpad, a trading terminal, as well as trading signals and market intelligence.
Launchpad's ambition doesn't stop there though, since its ecosystem will also include a DEX and an NFT marketplace, as well as the ability to create and trade fractionalized assets.
Another thing that makes LPX even more attractive as an investment prospect is that it will be used to pay for platform fees and subscriptions, to obtain discounts, and also for staking.
As such, it will have much more utility than many other new coins, with the coin likely to grow in price in tandem with Launchpad's overall growth.
It's easy enough to join the coin's presale, with investors simply needing to go the official Launchpad.xyz website.
1 LPX costs $0.0445, a price that could end up seeming very low when the coin lists on trading platforms in the very near future.
Disclaimer: Crypto is a high-risk asset class. This article is provided for informational purposes and does not constitute investment advice. You could lose all of your capital.
---