Smaller Investors Intrigued by Bitcoin More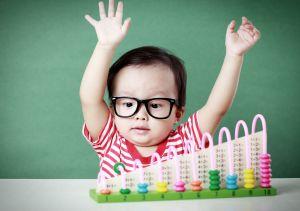 Private investors in the U.S. are still not showing serious signs of interest in bitcoin, according to a new report. However, it's the smaller investors, those whose investments are below 100,000 USD, who know more about the most popular cryptocurrency and are the most intrigued by it. But this comes with a twist - despite they're intrigued, they won't be buying bitcoin soon.
The report, courtesy of Wells Fargo, an American bank, and Gallup, an American management consulting company, draws a correlation between these smaller investors and their age, saying younger males are more familiar with cryptocurrencies than seniors and women. The report also says that younger males are also those who can't afford to invest much – this is a category with less than 100,000 USD in investments.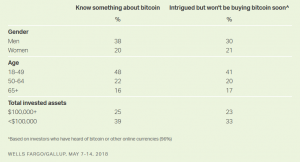 This second quarter report is entitled Wells Fargo/Gallup Investor and Retirement Optimism Index survey, and was conducted in May, among almost 2,000 U.S. adults with 10,000 USD or more invested in stocks, bonds or mutual funds, within or outside a retirement savings account.
The report paints a picture of a digital asset that's yet to make significant gains among investors of any kind. It says that just three percent of men and one percent of women own bitcoin. Three percent of those aged 18 to 49, and one percent of those aged 50 and above.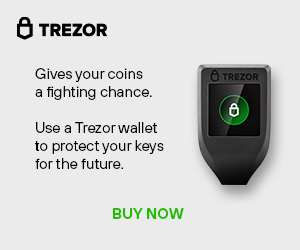 Bitcoin is more present among the wealthier population, but even there it's fairly slim: just three percent of those earning 90,000 USD or more have bitcoin. Among those with lower income, just one percent.
So, what's holding bitcoin back? According to this report, the risk factor. Three in four investors (75%) consider bitcoin to be a 'very risky' investment, with another 23% saying it's 'somewhat risky'. Just two percent consider it 'not too risky', leaving none saying it's not risky at all.

The report concludes that most U.S. investors prefer to play it safe with their investments, opting for security over growth. But the younger generation, intrigued by the technology, might drive it forward, faster.