Shibie Coin Price Prediction for 2023 - 2030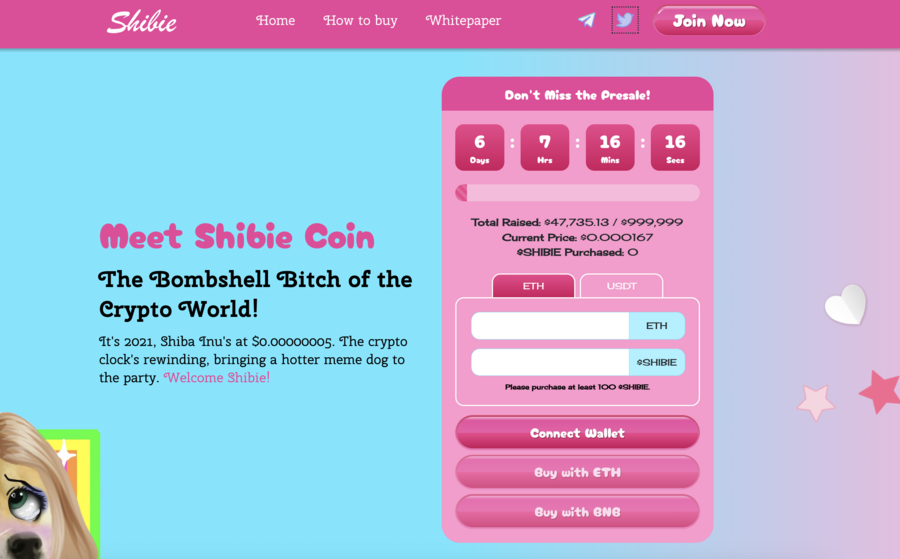 Shibie Coin is a trending new meme coin that blends Shiba Inu's exciting unpredictability and upside potential with Barbie's charm.
Much like the early days of Shiba Inu, the Shibie Coin presale offers a chance to buy this unique token for a mere $0.000167 USDT.
With its cultural relevance, innovative AI-backed community engagement, and planned CEX listings, could Shibie Coin recreate Shiba Inu's success? Our Shibie Coin price prediction analyzes this and more, providing predictions for 2023, 2025, and 2030.
Shibie Coin Price Prediction Summary
End of 2023: Shibie Coin can potentially surge to $0.00033 USDT by 2023's end, nearly doubling its presale value. This uptick is based on increasing market exposure through planned CEX listings and improved community engagement via an AI Shibie Telegram Bot.
End of 2025: Amid continuous marketing efforts and a dedicated community built through tokenomics, Shibie Coin might touch $0.0011 USDT. Its unique blend of Shiba Inu and Barbie and anticipated improvement in platform tech could help it grow and attract more users.
End of 2030: Given its core values of humor, elegance, high-stakes speculation, and community spirit, Shibie Coin could reach $0.01 USDT. Real-world use cases and more partnerships are critical to driving demand and achieving this surge.
Shibie Coin Price History
Shibie Coin is an emerging crypto presale that combines the playful Shiba Inu dog with Barbie's iconic charm, aiming to attract the early Shiba Inu investors, who profited massively. The Shibie Coin's appeal is similar to Shiba Inu's early days in 2021 when it was just $0.00000005.
According to the Shibie Coin whitepaper, that platform offers 60% of its token supply - amounting to 6,000,000,000 tokens - via a single presale phase.
The aim? To raise nearly $999,999. Each token is set at a discounted presale rate of $0.000167 USDT. Furthermore, the platform has set aside 10% of tokens for future crypto exchange (CEX) listings to increase visibility and accessibility.
However, Shibie Coin's strategy might not appeal to everyone, especially those preferring traditional, less volatile investments. The coin's charm lies in its cultural relevance and speculative value, which could be an obstacle for more cautious investors.
In summary, Shibie Coin's history can be broken down into:
A unique fusion of Shiba Inu and Barbie's cultural charm.
Offering 60% (6,000,000,000) of the total tokens in a one-stage presale.
Allocation of 10% supply for future CEX listings.
Presale token price at $0.000167 USDT, aiming to raise a hard cap of $999,999.
Shibie Coin Price Prediction 2023
Shibie Coin, currently valued at $0.000167 USDT, can see a potential upswing after its planned listing. This can considerably expand its market footprint, thus paving the way for a rise in its price.
Moreover, specific milestones on Shibie Coin's roadmap could trigger its uptrend. One instance is its projected listings on centralized exchanges (CEX) for Q3 2023. The CEX listings can increase Shibie Coin's market exposure, eventually creating more demand.
Also, it's vital to consider the competition. If Shibie Coin can differentiate itself from the masses via its unique strengths, it will gain more traction in the crowded crypto market.

Additionally, the proposed launch of the AI Shibie Telegram Bot, aimed at improving community engagement, could boost its user count, adding another layer of charm to the $SHIBIE token. As the community grows, so does the likelihood of demand, which could influence the token's value.
Considering these factors, a price surge to $0.00033 USDT by the end of 2023 is plausible, indicating a nearly 100% rise from its existing price.
Shibie Coin Price Prediction 2025
As we venture into 2025, several key strategic moves could impact Shibie Coin. The project's roadmap suggests potential for further expansion. For example, the ongoing marketing efforts could spark curiosity and raise awareness about the token, thus drawing more users and investors.
Also, the project has reserved 90% of its tokens for the community for the presale phase, more liquidity, and CEX listings.
Its community-focused appeal, as seen in its tokenomics, could help it build a dedicated community, a crucial factor for a meme coin's growth.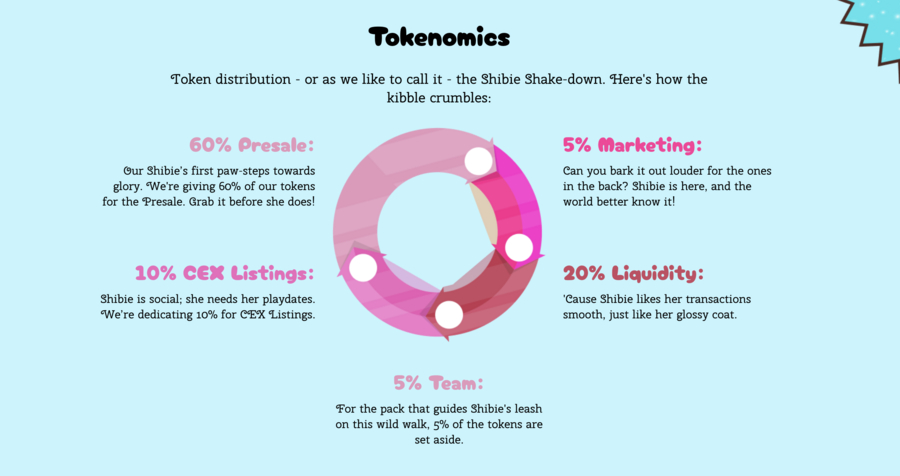 Also, keeping an eye on the technology updates is crucial. Crypto tech updates can significantly boost the development of a platform. Any tech advancements in Shibie Coin's platform could further boost its appeal.
Lastly, it's critical to understand the role of community sentiment. A positive swing in sentiment, perhaps due to a successful project update or a favorable market trend, can boost Shibie Coin's price.
Considering these aspects and presuming a growing crypto market, Shibie Coin's price might touch $0.0012 USDT by 2025.
Shibie Coin Price Forecast 2030
Looking ahead to 2030, the future of Shibie Coin might be guided by its core values: humor, elegance, high-stakes speculation, and, most importantly, community. The coin could see a consistent price increase as the Shibie community grows.
Integrating Shibie Coin into real-world use cases can also impact its valuation. For instance, partnerships with online merchants for transactions or integration into gaming platforms could help the token grow.
Also, the specifics of the coin's supply, distribution, and burning mechanism can significantly impact its price. If Shibie Coin introduces an effective coin burn or staking mechanism, it might reduce supply and drive demand.
Given Shibie Coin's charm combined with its potential for strategic growth, the price of Shibie Coin could surge to reach $0.01 USDT by the close of 2030.
Possible Highs and Lows of Shibie Coin
Shibie Coin's unique blend of Shiba Inu and Barbie can help the coin become one of the top low-cap crypto projects despite the inherent risk of presales. We have outlined expected lows and highs as follows:
| | | |
| --- | --- | --- |
| Year | Possible Low | Possible High |
| 2023 | $0.00016 | $0.00033 |
| 2025 | $0.0009 | $0.0012 |
| 2030 | $0.008 | $0.01 |
What is Shibie Coin?
Shibie Coin is a hot new meme token on Ethereum that combines the charm of the Shiba Inu dog and Barbie doll. It mirrors the lively character of Shiba Inu, Barbie's elegance, and the unpredictable world of cryptos.
Shibie, the token's mascot, brings a fun element to $SHIBIE, creating a vibrant community that enjoys the thrill of crypto trading.
Moreover, Shibie Coin focuses on building a solid community using a community-centric tokenomics model. This model encourages user engagement and promotes a sense of belonging among community members.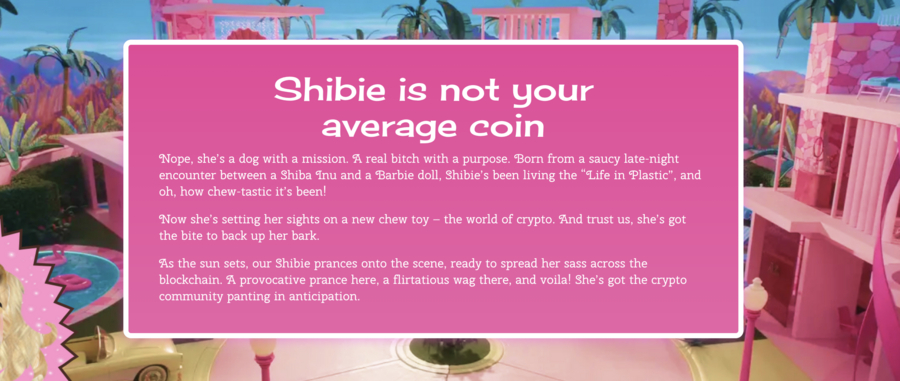 Shibie Coin is set to debut on decentralized exchanges (DEX) and aims to increase its reach through CEX listings. Its launch strategy hopes to appeal to many meme coin enthusiasts.
Shibie Coin's distribution plan includes a total supply of 10 billion tokens, with 60% for presale, 20% for liquidity, 10% for future CEX listings, 5% for marketing, and 5% for the team. This strategy, known as the "Shibie Shake-down," aims for a balanced token spread to support its long-term vision.
Moreover, Shibie Coin's team aims to bring a new perspective to the crypto space. With $SHIBIE, it's not just about transactions but about engaging in a vibrant community that seeks to reimagine crypto norms.
You can enter the Shibie Coin Telegram channel to keep up with the latest updates.
| | |
| --- | --- |
| Presale Started | July 2023 |
| Purchase Methods | ETH, USDT |
| Chain | Ethereum |
| Hard Cap | $999,999 |
| Min Investment | 100 tokens |
| Max Investment | N/a |
What Influences the Shibie Coin Price?
A mix of project-specific and macroeconomic factors can affect the Shibie Coin price. Let's take a look at some of them below;
Community Support: Shibie Coin thrives on its vibrant community. Their active participation, investment, and organic promotions can drive demand for $SHIBIE, influencing its price. The more active the community, the higher the potential value of $SHIBIE.
Market Trends: The overall trends in the crypto market significantly impact the price of $SHIBIE. As a meme token, Shibie Coin's value can fluctuate significantly during bull runs and downturns, mirroring the general market sentiment.
Listing and Accessibility: As $SHIBIE plans to list on various decentralized and centralized exchanges, the ease of access and trading volume on these platforms can influence its price. More listings can increase visibility, impacting the token's price.
Regulatory Impact: Since Shibie Coin is a token on Ethereum, any crypto-related regulations can affect the price of $SHIBIE. For example, limitations on Ethereum could impact the functionality of Shibie Coin, which could decrease its price.
How to Buy Shibie Coin?
This section outlines the five simple steps to buy the Shibie Coin token;
Step 1: Set Up Your Wallet
Start with setting up a digital wallet compatible with the Shibie Coin presale. MetaMask is a reliable option with a user-friendly app and browser extension.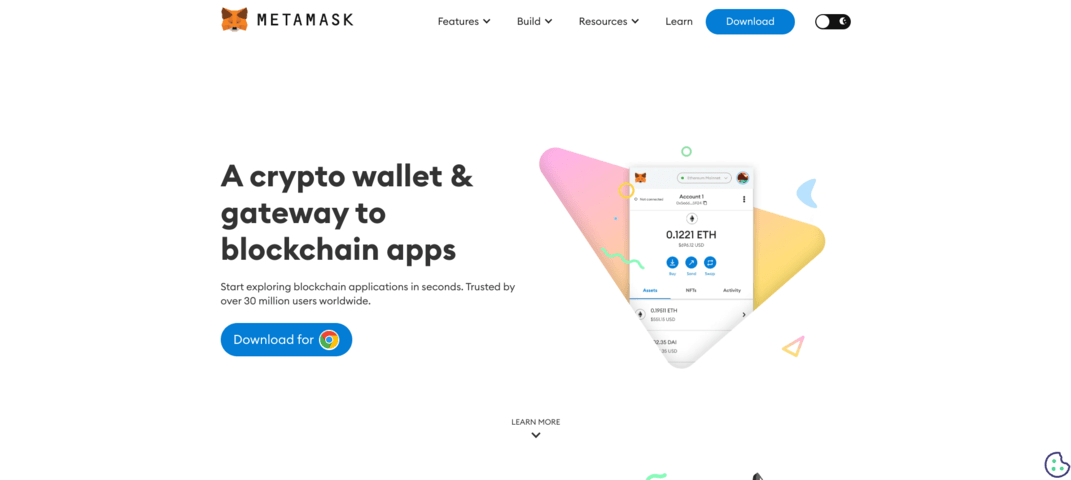 Step 2: Get ETH/USDT/BNB
The Shibie platform accepts ETH/USDT/BNB as payment. Hence, you need to obtain one of these before buying $SHIBIE.
You can do this on any trading platform and then move it to your wallet. Some wallets even offer the option to buy these cryptos directly.
Step 3: Connect Your Wallet
Click 'Connect Wallet ' to link your wallet with the presale page.' You can use MetaMask or any other suitable wallet for this connection. Once connected, select the crypto you wish to trade for $SHIBIE tokens.
Step 4: Buy Shibie Coin
Decide the amount of crypto you want to spend, and click 'Buy $SHIBIE Tokens.' Follow the next steps to confirm the transaction.
Step 5: Claim Your $SHIBIE Tokens
Once you've purchased, you can claim your $SHIBIE tokens on the platform's website after the presale ends. To claim them, visit the website, click 'Claim.' You can follow the Shibie Coin Twitter handle to get the latest updates on the claim dates.
Conclusion
Shibie Coin stands out by combining Barbie's cultural charm with Shiba Inu's potential growth. Its success as a meme coin largely depends on expanding its community and market acceptance.
But thanks to thoughtful tokenomics and a well-defined future roadmap, Shibie Coin showed the potential to grow over the coming years. Early buyers can grab the $SHIBIE tokens in its ongoing presale at $0.000167 to capitalize on this upside potential.
References
https://www.blockchain-council.org/blockchain/blockchain-real-world-use-cases/
https://www.worldbank.org/en/news/podcast/2021/12/22/how-crypto-technologies-could-revolutionize-development-the-development-podcast
https://coinmarketcap.com/currencies/shiba-inu/
https://money.usnews.com/investing/cryptocurrency/articles/will-cryptocurrency-regulation-affect-crypto-prices
FAQs
What is the Shibie Coin token?
Shibie Coin is a new meme token that combines the charm of the Shiba Inu dog and Barbie. It aims to build a vibrant community around its mascot, Shibie, based on a community-centric tokenomics model.
Is Shibie Coin a good investment?
Investing in any crypto carries certain risks and should be considered in your overall investment strategy. Given its unique concept, detailed roadmap, and community-focused model, Shibie Coin could see growth, with predictions estimating a value of $0.00033 USDT by the end of 2023.
Disclaimer: The Industry Talk section features insights from crypto industry players and is not a part of the editorial content of Cryptonews.com.
---