Shiba Inu Price Prediction as SHIB Spikes Up 4% – Can SHIB Reach $1 in the Bull Market?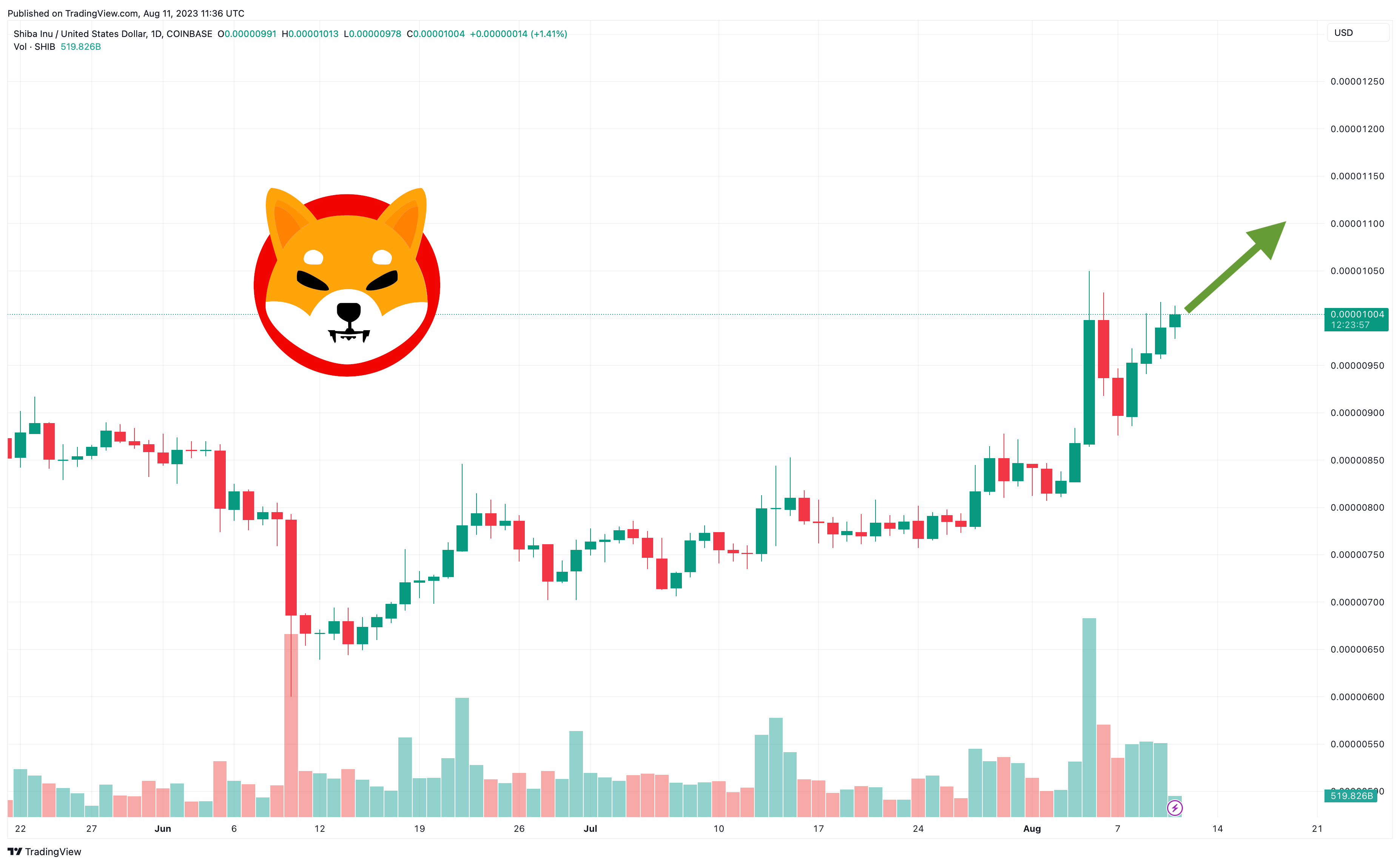 The price of Shiba Inu (SHIB) has risen by as much as 4% today, with its move to $0.00001003 coming as the cryptocurrency market as a whole barely moves in the past 24 hours.
SHIB is now up by 16% in the past week and by 33% in the last 30 days, with the imminent full launch of the Shibarium layer-two network helping to boost the meme token after a series of delays.
And with Shibarium likely to boost usage of SHIB and the expansion of the Shiba Inu ecosystem, it's likely only a matter of time before the altcoin enjoys even more sustained growth.
Shiba Inu Price Prediction as SHIB Spikes Up 4% – Can SHIB Reach $1 in the Bull Market?
SHIB's chart and indicators are in a very healthy position at the moment, with the meme token looking like one of the strongest cryptocurrencies in the market right now.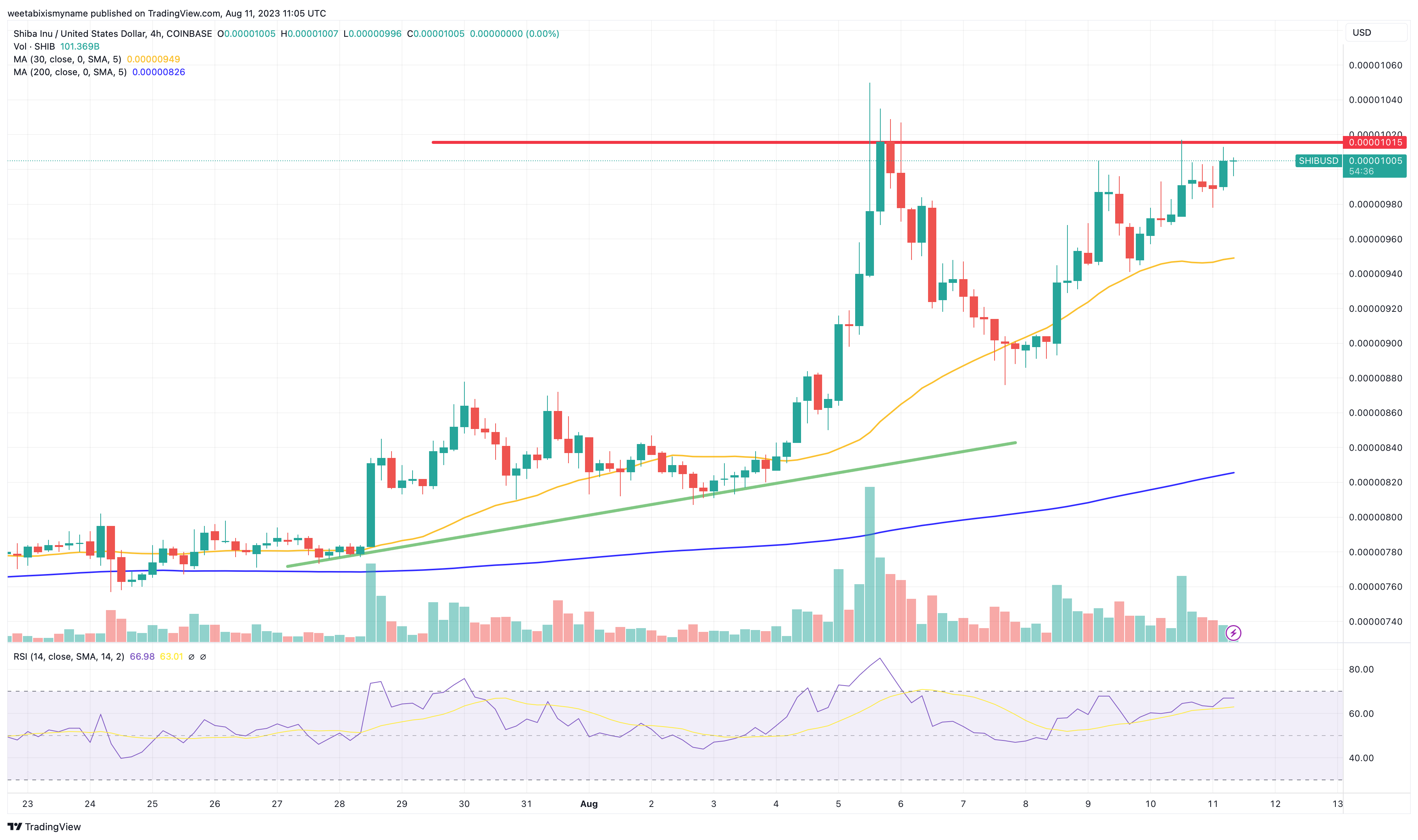 After a surge and then a dip last week, the coin's relative strength index (purple) is climbing once again towards 70, indicating strong buying momentum that hasn't quite become overdone just yet.
SHIB's 30-day moving average (yellow) is also looking very good, with the indicator rising further above the coin's 200-day average (blue), which again reveals that new buyers continue to push the token upwards.
And while it's hard to say for just how much longer SHIB's strength will continue, it's fairly safe to say that it has conslidated around new, higher levels, with its support level (green) showing consistent growth over the past few weeks.
The reason for all this positivity is that it really does seem as though the long-awaited Shibarium layer-two network is about to get its full release in the next few days or weeks, with developer Shytoshi Kusama posting at the end of July that he and his colleagues were "gearing up to launch" the platform.
This post, along with other comments and hints, has helped raise excitement about SHIB in the past few weeks, yet expectation has been heightened even further by more recent updates.
Most notably, developers yesterday revealed that at least three significant partnerships have been agreed in relation to Shibarium, underlining how the layer-two network will likely boost usage of Shiba Inu and adoption of SHIB.
And in conjunction with the also-soon-to-be-released Shibacals (NFT-based collectibles), Shiba Inu could witness some big growth in the coming months, especially if SHIB: The Metaverse arrives towards the end of the year.
As such, it's credible to see SHIB rising to $0.0000150 in the next couple of months, before potentially reaching $0.000020 or $0.000030 by December.
When Shiba Inu Meets Barbie
It's possible that the launch of Shibarium has already been priced in by the market, meaning that further growth is likely to be gradual and a direct result of organic adoption and usage of SHIB.
In other words, SHIB may make only gradual progress over the next few months, something which may disappoint traders looking for shorter-term gains.
However, there are a number of promising new altcoins and meme tokens in the market, as well as presale tokens that could explode once they list on exchanges.
And one of the most interesting of these is Shibie (SHIBIE), a new ERC-20 coin that mixes the meme-worlds of Barbie and Shiba Inu.
Despite beginning only last week, SHIBIE's presale has already raised over $300,000, which represents more than 60% of the sale's hard cap ($500,000).
The sale is therefore likely to end very soon, giving would-be new investors only a limited period of time in which to grab some SHIBIE at what will probably be a big discount.
The presale is offering the meme token at $0.000167, with 60% of SHIBIE's overall supply of 2,107,202,300 allocated to the sale.
This makes SHIBIE a very decentralized cryptocurrency, especially for a meme token, and in combination with its playful memes and marketing, it's likely to succeed in assembling a broad and healthy community of holders.
New buyers can acquire some SHIBIE before it sells out by visiting Shibie's official website and connecting their software wallets.
SHIBIE will list on trading platforms as soon as the sale ends, which is likely to be in the next couple of weeks.
Disclaimer: Crypto is a high-risk asset class. This article is provided for informational purposes and does not constitute investment advice. You could lose all of your capital.
---